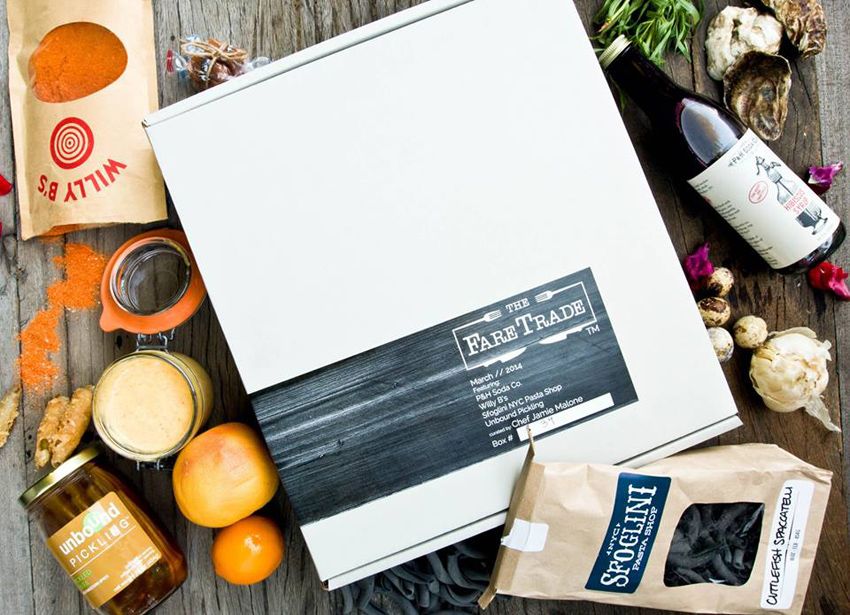 Photos Courtesy of The FareTrade
We are loving the uprising of monthly members' clubs that have been popping up all over the place, from men's shaving clubs to cute DIY project boxes, and the culinary world has seen quite a few. You can join ones that send you unique coffee blends or ones that target craft beer enthusiasts, but The FareTrade really stands out to us as the one we want to sign up for immediately.
Founders Jake Ahles and Max Block met during their sophomore year at Pitzer College in Southern California, both with a passion for trying new recipes and exploring all that local farmers' markets had to offer. After moving to Los Angeles, Jake found himself working as a line-cook and Max ended up a publicist for the hospitality industry — both developing relationships with chefs, farmers, mixologists, and restaurateurs. The friends also traveled across America, coming into contact with artisans from many different cultures, and collected various epicurean goods and ingredients along the way.
The duo noticed that there seemed to be a disconnect between food enthusiasts and the leaders in the fields, which is why they started The FareTrade as a re-inspired "culinary members' club." They wanted to "connect the food community at large and strengthen the relationships between consumer, purveyor, and chef."
When you sign up for the monthly basket of culinary goods ($65), each curated by one of the nation's top up-and-coming chef talent, you get gourmet, restaurant-quality recipes and a peek at what small-batch artisans are up to. The food goods (four to six per box) are sourced from all over the country and are aimed to create a unique epicurean experience. Along with the box, you also get access to chef-helmed video tutorials, articles and tips to help you really master your new kitchen goodies.
According to Max Block, all of the ingredients are organic and never processed. While they don't necessarily offer box options that adhere strictly to a specific diet (like vegan or gluten free), you can opt out of the membership at any time — although we recommend just opting out of the next month's box if you don't like the offerings (they always announce what it will be on the first of each month). Depending on who the chef curator is for any given month, they'll be doing lots of different boxes based on various styles, like baking and mixology.
April's basket is curated by James Beard Best Chef: West 2013 Semi-Finalist Mark Estee, chef and owner of CAMPO in Reno, NV. With the materials, members are shown how to make beef carpaccio with whole grain mustard, grana padano fricco, and ruccola campo "ribbolita" soup, along with Drunken Monkey budino with cookie crust and crispy pork trotters with chipotle-olive tapenade.
The FareTrade is as straight-forward as you're likely to get, without any hidden tricks (as far as we can tell anyway) and is an exciting exploration of the culinary world from the comfort of your own kitchen!