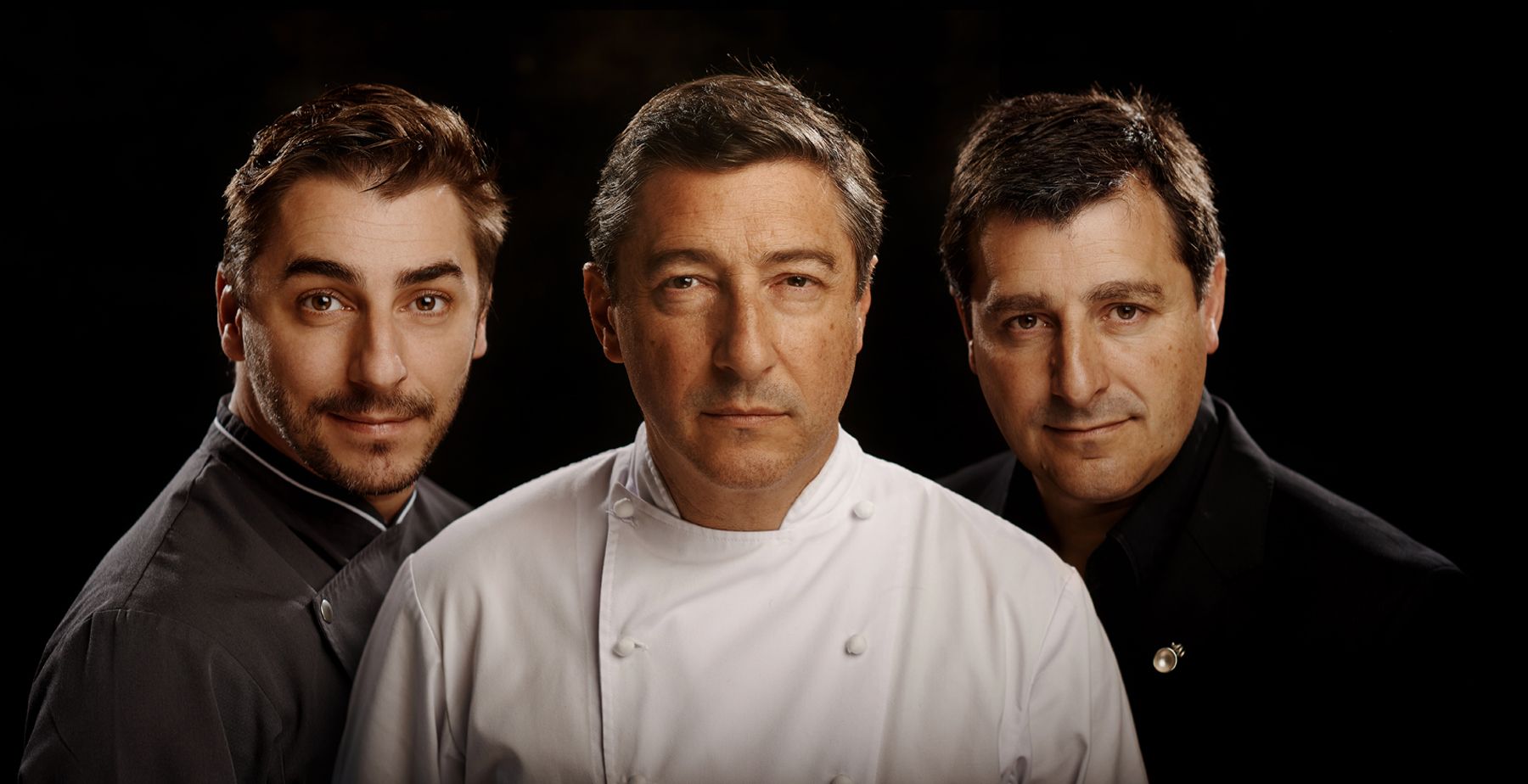 Photo Credit: El Celler de Can Roca
Even after decades of accolades, including three Michelin stars and repeat appearances at number one on the "World's 50 Best Restaurants" list, the three Roca brothers at the helm of El Celler de Can Roca place family at the heart of what they do. If Joan Roca i Fontané, the oldest brother and head chef of the legendary restaurant, had to define success, it would look like this: "Family, work, health, hospitality and generosity." This isn't a surprise, considering his two younger brothers—Josep, who is the sommelier, and Jordi, the pastry chef—are just as integral as he is to the operation and success of their empire based out of Girona, Spain. All three of them refer to their individual roles as, "the salt mind, the liquid mind and the sweet mind" or "three heads and one hat." To illustrate this, each table at the restaurant is adorned with three rocks at its center, a nod to their first surname, Roca, which means "rock" in Catalan.
The success of the brothers' empire can really be attributed to their parents, who owned restaurants in Girona: a city that is just about an hour north of Barcelona in the Catalonia region of Spain. Joan tells JustLuxe he knew he wanted to be a chef at an early age. "I was just eight years old when my mother ordered a cooking apron for me from the tailor. It was a very special present. I loved being in the kitchen and helping my mother at our parents' restaurant after school." His parents opened up Can Roca in 1967, which was a hybrid bar and restaurant, a structure pretty commonly found in Spain.
Photo Credit: El Celler de Can Roca
After working there throughout his childhood, Joan eventually graduated from the inaugural class at The Girona Catering School in 1983, as did his brother, Josep, in 1985. Almost immediately after that, Joan and Josep opened El Celler de Can Roca directly next door to their parents' restaurant. It was in these early stages that some of their most iconic dishes were born, in particular lobster parmentier with black trumpets. This dish still can be found on the menu, as a tribute to, "the clients that remain faithful to El Celler over its history." In 1989, Joan spent a season at now-shuttered El Bulli, which greatly informed his creative thinking. Joan and Josep then visited Valencia, where they dined at Pic, and decided it was all haute cuisine from there on out. The rest is history: they received their first Michelin star in 1995, the second in 2002 and their momentous third star in 2009. The San Pellegrino "World's 50 Best" recognition followed: they were awarded the number one spot, earning the title of Best Restaurant in the World, for the first time in 2013 and received it again in 2015.
As for how their lives are intertwined with that of the restaurant's, Joan says, "El Celler de Can Roca is a kind of style of living. All three of us live in the restaurant area, which is where we were born. We grew up playing games in our parents' restaurant and our grandmother was also a cook, so for us, this restaurant-oriented lifestyle is completely natural and makes us happy." Their humble beginnings have now grown into what is a veritable restaurant empire, which includes the original Can Roca; Mas Marroch, an event space; Roca Moo, a fine dining restaurant in Barcelona which boasts its own Michelin star; Rocambolesc, an artisan ice cream shop in Girona and La Masia, which is a farmhouse they co-opted to become a training and research space.
The Rocas have also teamed up with Spanish bank BBVA to embark on a series of "world tours," during which they visit world gastronomic destinations to promote innovation, commitment, responisbility, leadership, and global outlook in the food industry. They host a pop-up in each city, which mirrors the experience diners would have if they visited El Celler de Can Roca. This year, they will travel to London, Hong Kong, Phoenix, San Francisco and Santiago de Chile and at the end will select two culinary students from each city, providing them with a scholarship to work in the El Celler de Can Roca kitchen for four months. Dovetailing off of these tours is their designation by the United Nations as Goodwill Ambassadors for United Nations Development Program, which taps on the Roca's knowledge for training programs that are intended to improve market conditions for farmers and small-sized agricultural enterprises.
Photo Credit: El Celler de Can Roca
The brothers, along with fellow Catalan chefs Carme Ruscalleda, Santi Santamaria and brother-chef-duo Ferran and Albert Adria can be credited with putting Catalan cuisine on the map. Not with creating or shaping it—the region has a storied and intense culinary history—but with making this area of northeast Spain a must-go for anyone who's serious about food. Culture is at the very heart of what, why and how these chefs cook. Catalonia is a proud region with a strong nationalist undercurrent, a vibrant separatist movement and its own language, Catalan, which is a completely different language from Spanish, though it is also in the Romance family. Even when discussing their receiving a third Michelin star, Joan says he is most proud that this international recognition, "brought economic and tourism enhancement to our region." Joan also notes that, "you cannot separate the intangible forces of culture, tradition and memories from what you cook. [Famous Catalan author] Josep Pla said, 'you are what you eat' and, of course, we are what we cook." He insists that cooking isn't political, but feels a strong responsibility to represent Catalonia to the world. "More than a responsibility—it's an honor," he corrects me.
Photo Credit: El Celler de Can Roca
We asked them about the pressure to continue to produce at such a high level. How hard is it to maintain other-worldly standards over a 30-plus-year career while also constantly innovating? Joan said he doesn't feel any pressure to maintain anything nor to receive the same accolades year after year. "We have a restaurant project that is going to celebrate its 30th anniversary this year. We are more concerned with developing it rather than paying attention to what's said outside, which in the end isn't under our control at all. We remain committed to creativity and excellence, keeping our passion as on the first day. What else can you do?" He also reaffirms the brothers' commitment to its customers. "The only thing that matters is that the client is satisfied and wants to return, regardless of whether the restaurant is number one or number two, three or fifty, or whether we have three stars or two."
When discussing their diners, Joan said, "If market were no object, I'd cook the same things I'm cooking now. Our restaurant project was born from what we dreamt to be when we were very young, and we're still cooking what we want." Their hallmark is innovation, which is a word that terrifies some restaurants that are afraid of alienating their consistent client base. This doesn't faze the brothers. Joan reminds me that those who come to eat at El Celler de Can Roca expect this. "We've been innovative for 30 years, so this is something in our DNA and we are very committed to it." After so long in business, Joan knows his customers well, explaining, "We are very lucky to receive openhearted guests at the restaurant. They come to us emotionally open and daring to experience our proposal for them."
Photo Credit: Jackie Bryant
If you dine at El Celler de Can Roca, you can expect extreme creativity and a white-glove experience that's second to none. You arrive through a secluded garden, which leads into the glass-paneled maze of a dining room that encircles a courtyard. The restaurant has received a lot of attention for its amuse bouche presentations, the first of which arrives to each individual diner in the form of a bonsai tree. Caramelized olives stuffed with anchovies from L'Escala hang from its branches, as Christmas ornaments would. This is an exceptionally Catalan dish, but they depart from their homeland for the next snack, as they call it, which is called The World. It arrives on a tree stump obscured by a paper lantern and features five small bites, each representing a different country: Korea, Peru, China, Mexico and Morocco.
Photo Credit: El Celler de Can Roca
The menu then explodes into 14 or so more courses, taking you through Catalan, Spanish and world culinary history, while playing with techniques and textures in an unexpected way. For example, a shrimp is never just a shrimp. One of their signature dishes is a deconstructed Palamós prawn, which was cooked sous vide and then lightly grilled. A velouté of prawn head and seaweed decorates the meat, while the fried legs were served on the side. Part of the juice from its head, often considered the most delicious part, was made in to an oil which appeared throughout the dish. If that hadn't been enough, a plankton sponge cake allows the diner to soak up whatever is left. This particular dish is meant to evoke grilled fresh prawns and gambas al ajillo, two traditional Catalan and Spanish shrimp delicacies, with a decidedly modern twist. Another untraditional preparation with devoutly Catalan ingredients involves pork belly with silvery sardine skin laid across, meant to trick the diner into thinking they're about to consume the classic Mediterranean fish, when in reality they're eating Spain's national animal, the pig. Other popular dishes include langoustine with cocoa bean sauce and an electric-hued marinated red mullet with figs and prickly pear foam.
The wine list is exclusively Spanish, with more esoteric varietals and funkier wines being showcased, like a white Rioja Reserva from R. López de Heredia Viña Tondonia, which is usually famous for its reds. As for the food, there are several options. They offer rotating tasting menus of the chefs' choice and a more staid and static à la carte option. Joan described the selection process: "Our menus change without a calendar following two variables: nature and its seasonable movements and a dish running its course. When the creativity of a new dish or a new version is done, it moves off the tasting menu and onto the permanent menu."
Photo Credit: Shutterstock
The three brothers work very closely together, with no component lording over the other. Dessert, main courses and wine are intended to work in perfect harmony and what one chef does greatly influences and affects the others. Joan considers themselves "craftsmen," though this is a designation he reserves for only certain cooks. "I don't personally consider myself an artist, but a craftsman. Cooking has some things in common with art, like creativity and the possibility to be a channel by which feelings can be expressed, as well as to be able to tell stories. The ability to do this or not depends on who is cooking, though." He also thinks cooking can be a religious and intellectual experience, asking, "Why couldn't it be? It's a human expression."
At the end of the day, it comes back to their shared dream as a family, which began back in the 1960s. Joan reminisces over his career, unable to pinpoint a specific moment where he was most proud. "It's more than an exact moment in time. My proudest moment has been the maturation of a dream come true: the consolidation of my restaurant project with my brothers; to feel integrated in powerful creativity and teamwork with them." This extends to all of their customers, who he again referred to as openhearted and seeking an emotional experience—concepts dear to any innovator's heart. "Another thing I am very proud of is having a filled restaurant every day, opening the doors of our place and receiving openhearted guests who are ready to experience an emotional journey through what we cook for them."
Photo Credit: El Celler de Can Roca
As for future plans, Joan is vague but romantic in the way that only a very happy and satisfied man can be: his goal is, "to make this present moment last indefinitely." With all of the energy, passion and creativity coursing through Joan Roca's veins, its endearing to hear what his favorite dish is, especially when considering he is a person who is constantly creating and producing. "I love to cook varieties of rice! But my mother's recipe is my favorite."