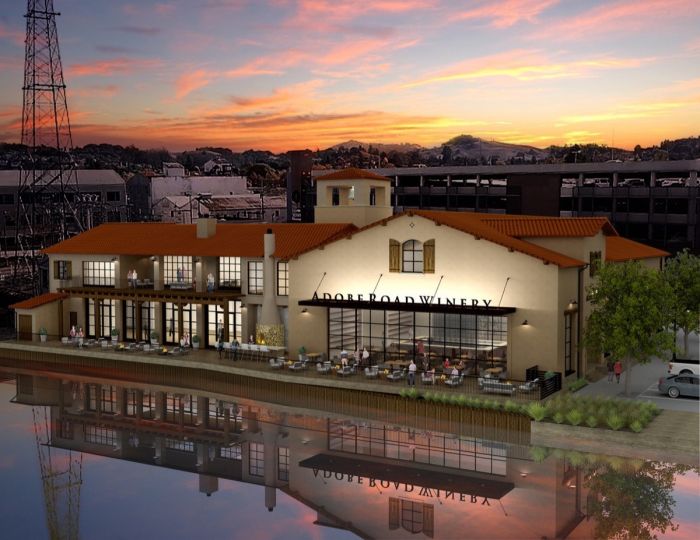 Rendering of Adobe Road Winery Entertainment Center, photo courtesy of Adobe Road Winery
Petaluma might once have been relegated as a stop on the way to more established wine destinations in Northern California, but the small Sonoma County town is having a moment. Visitors are discovering what locals have long known – Petaluma's laid-back vibe is fun and inviting. Contributing to the welcoming energy is Adobe Road Winery, founded by former racecar driver and CEO of The Racer's Group, Kevin Buckler.
Buckler and his wife, CFO Debra Buckler, saw an opportunity in the bourgeoning historic city to create a winery offering experiences that don't yet exist in the wine world. The duo started Adobe Road in 2002 with the goals of crafting wines that exemplify the true essence of California's most revered winegrowing regions, and to eventually build an innovating and exciting winery project. After examining the wine hospitality landscape in Napa and Sonoma, the two settled on downtown Petaluma for their future home. "We fell in love with the Petaluma community, its old-world atmosphere and authenticity—it just feels right for us," says Buckler, who has competed at the highest level of professional sports car racing, winning some of the world's most prestigious endurance races such as the 24 Hours of Le Mans and the 24 Hours of Daytona."We are the first winery in the downtown area, just as Petaluma is taking off."
Debra and Kevin Buckler, photo courtesy of Adobe Road Winery
While visitors can schedule tastings at the winery's current tasting room at the Great Petaluma Mill, it's Adobe Road's plans for the future that have the community buzzing. The boutique producer of small, handcrafted lots of select varietals and extraordinary, cutting-edge blends recently broke ground on a 16,000-square-foot Petaluma winery and entertainment center set to open in Fall 2020.
The future downtown riverfront complex will feature a state-of-the-art winery production center, interactive tasting room, outdoor pizza oven, a 120-person banquet facility, upstairs VIP area and party deck, and a first of its kind motorsports museum. As Petaluma Mayor Teresa Barrett said at the groundbreaking ceremony, "A wine tasting room and a race car showroom in your own town. Who else has that?"
Easily accessible from the Bay Area at the gateway to Sonoma and Napa wine country, Adobe Road's future wine and entertainment oasis is highly anticipated by the local community. Petaluma dignitary Onita Pellegrini, CEO of the Petaluma Chamber of Commerce, expressed her support of the new project and its impact on the local community. "There's an energy in Petaluma we haven't seen in a long, long time," says Pellegrini. "Partners like Adobe Road are what's bringing it. This is going to be a tourist destination but it's also going to be a community place."
"Our facility will have something for everyone," says Buckler. "Whether you're a wine lover, car enthusiast, or looking for a great facility for staging an offsite retreat, Adobe Road Winery will offer something for everyone."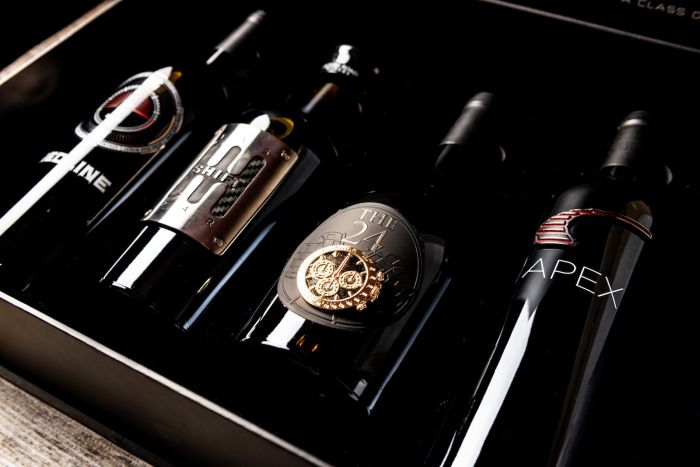 The Racing Series, photo courtesy of Adobe Road Winery
Adobe Road Winery's newest line of wines, The Racing Series, makes a great gift for wine and racing enthusiasts alike. Inspired by founder Kevin Buckler's days on the track, the set is a celebration of Buckler's two biggest passions – fast cars and fine wines. The Racing Series is comprised of four ultra-premium, California red wine blends:
APEX: A blend of Cabernet Sauvignon, Syrah, Merlot and Petite Sirah with a stunning metal Apex curbing on the bottle. To a race car driver, the apex is the optimal line of the corner and winning depends on hitting the perfect apex.
REDLINE: A rich blend of Cabernet Sauvignon, Zinfandel, Syrah, Petite Sirah, and Malbec. The bottle is silkscreened with a vintage tachometer representing Kevin's very first victory.
SHIFT: A daring combination of Zinfandel, Barbera, Grenache, Petite Sirah, and Carignane. The bottle sports a cutting-edge, metal label that resembles a vintage, gated shifter and the cork is topped with a five-speed shift knob.
THE 24: A Rhone-style blend of Grenache, Mourvedre, and Syrah, with Malbec for added spice and character. The beautiful metal chronograph label pays homage to the Rolex timepiece, which counts down the thrilling 24-hour races at Daytona and Le Mans.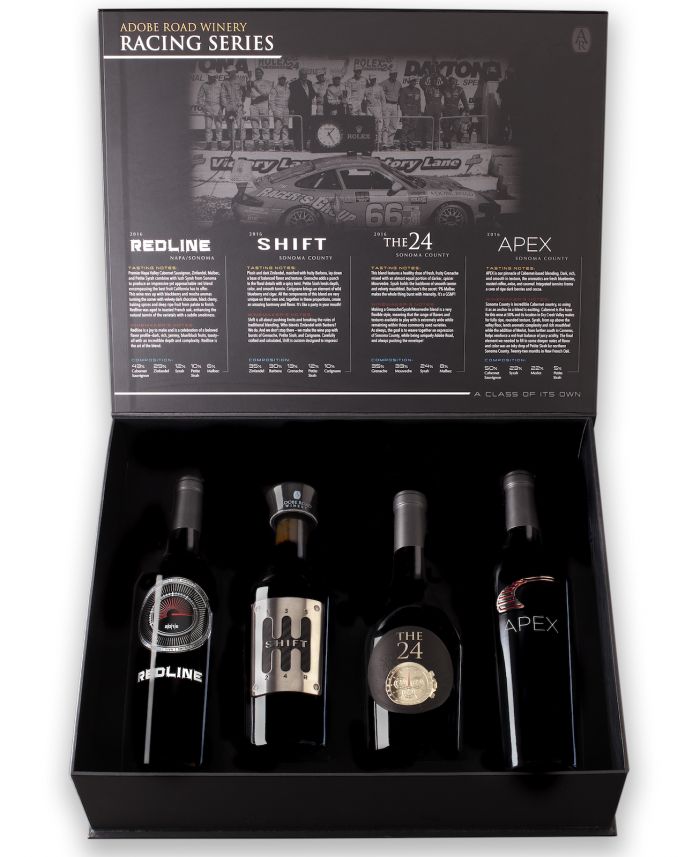 Photo courtesy of Adobe Road Winery