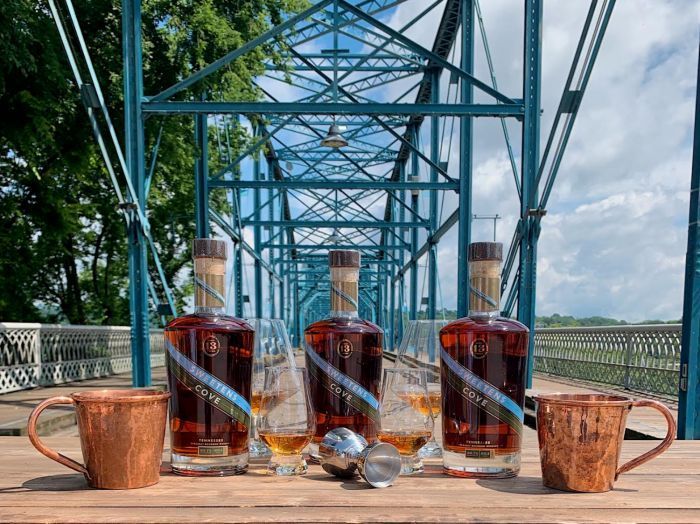 (credit: Sweetens Cove)
Sweetens Cove, a 13-year aged, Tennessee bourbon whiskey, was inspired by and given its namesake by a celebrated public nine-hole golf course outside Chattanooga, Tenn., Sweetens Cove Golf Club. Coincidentally, or not, this course is co-owned by NFL legend Peyton Manning, who is also considered to be one of Tennessee's favorite sons. Manning, along with other notable sports figures, including world tennis champion Andy Roddick and two-time NFL Champion Eli Manning, launched Sweetens Cove Spirits Company in May 2020 by releasing the brand's first limited-edition spirit, with only 13,500 bottles available for purchase.
With a price tag of $200 apiece, the initial bottles of Sweetens Cove quickly sold out as did the brand's subsequent batch release in July, thanks to the celebrity backing along with the notoriety of the woman behind the blending. Marianne Eaves began her career as an intern with Brown-Forman in 2009, eventually rising to the role of Master Taster in 2014 and then to Castle & Key and eventually became the first female master distiller in Kentucky. During her career, she trained under Chris Morris at Woodford Reserve which earned her a spot on Forbes 30 under 30 among many other career accolades such as one of America's Top 40 under 40 Tastemakers by Wine Enthusiast Magazine.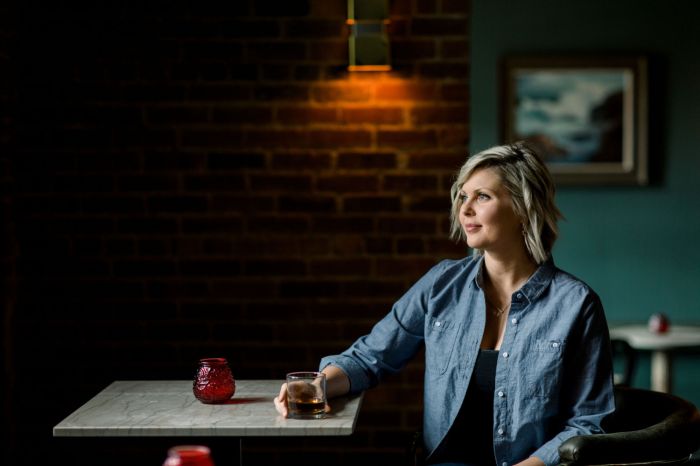 (credit: Sweetens Cove)
"I am really proud to be a part of the Sweetens Cove team and helping to shine a light on the excellence of Tennessee bourbon. From a lot of 13-year-old Tennessee produce bourbon barrels, I had the pleasure of hand blending five unique batches," said Marianne Eaves. "I'm so grateful that the team wholly trusted my talent, provided me with beautiful barrels and allowed me to create exquisite expressions of the character that was already there. As Sweetens Cove's master blender, my goal is to create unique, complex, nuanced blends that provide a complete pallet experience. Something with a round mouthfeel with an essence that lingers. All five batches are different, they range from fruity to Okie to sweet and nutty, truly something that I believe all can appreciate."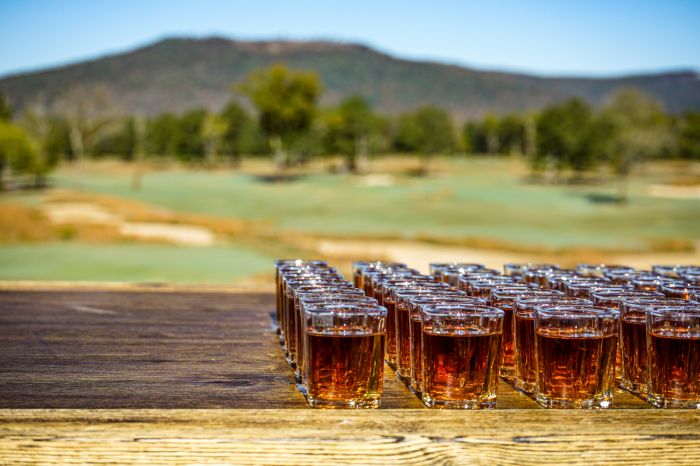 (credit: Sweetens Cove)
At the end of a gravel road in the Sequatchie Valley, Sweetens Cove Golf Club is a quirky award-winning public golf course that has been called golf's "Field of Dreams" thanks to its picturesque landscape and pristine course design. Its founders refer to the course and surrounding scenic area as "a rare, magical place to be protected, preserved and shared."
When Manning, Roddick and others (including famed CBS broadcaster Jim Nantz) decided to purchase the scrappy nine-hole public golf course with no clubhouse and very little plumbing in 2019, they quickly recognized that a version of the same magic could be bottled as an ultra-premium bourbon that upheld the course's mantras: artisan, premium and to-be-discovered. They also wanted to build upon one of Sweetens Cove's most unique traditions -- downing a celebratory shot of whiskey, for first timers on the first tee.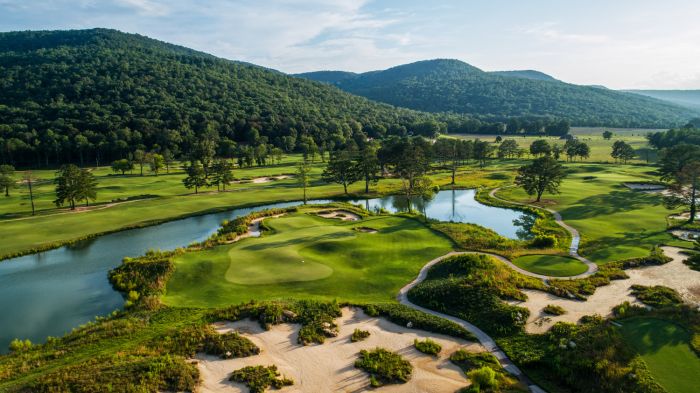 (credit: Sweetens Cove)
"We got into this to create something special inspired by the spirit and beauty of the golf course. And so, this friendship and camaraderie that we share reflects the nature of our golf course journey which was a path of discovery, hidden treasure and authenticity to Tennessee and this special place," says Mark Rivers, co-founder of Sweetens Cove Spirits."We just needed the right chef in the kitchen, and Marianne Eaves is the A-list player we sought out. She's a star. She's a critical part of the team and our role is to stand next to her and behind her to build a good business and a strong brand while creating a company that can stand the test of time."
Just like the Sweetens Cove brand, Marianne Eaves was born in Chattanooga and she says it has always held a special place in her heart. She led the team in purchasing 100 exclusive barrels of 13-year aged Tennessee product that was being housed in a warehouse in Kentucky and brought them back to Tennessee where Eaves tasted and charted out each barrel. From those 100 barrels, Eaves blended five different batches and set aside only four barrels that were truly unique and worthy of a single-barrel release. The Sweetens Cove Foursome goes on sale this month in Tennessee only and includes four separately sold bottles sourced from these standout casks.
Packaged in a 3 x 750ml case and provided in a commemorative, collectible design, the Foursome has a final proof between 50%-52% ABV and is a true Tennessee treasure.