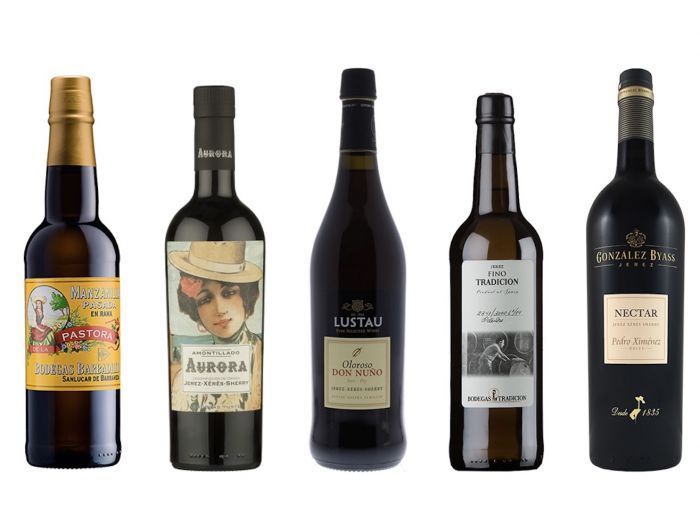 In the heart of Andalucía, a trio of coastal towns guard one of Spain's great wine classics – Sherry. This oft-overlooked and unique wine is fortified with a small amount of brandy, joining the ranks of Port, Madeira, and Marsala, yet the category's range of styles and expressions means that there is always something new to discover.
The vineyards that produce the Palomino Fino grapes that will ultimately become Sherry are centered around Jerez de la Frontera, Sanlúcar de Barrameda, and Puerto de Santa María near Cadíz on the stark white albariza soils. The proximity to the Atlantic Ocean and the sea breezes from the Gulf of Cadíz, called poinente, mediate the extreme temperatures that affect the surrounding area, creating the ideal environment to grow the grapes and age the wines in historic bodegas.
Sherry begins its life the same way as all other wines; the sugar in grape juice is fermented into alcohol before being aged in barrels. This is where it takes a turn. The wine is aged under a layer of flor, a veil of Saccharomyces yeast that develops and either protects from or allows for controlled oxidation of the wine, giving it bready flavors and determining its final style. Flor is an essential part of creating Sherry, feeding on the oxygen in the barrel, protecting it and creates flavors of sea spray, citrus and bread dough for Fino and Manzanilla styles of Sherry. If flor does not form, the wine will have a rounder, fuller texture as well as darker, nuttier, and richer flavors found in Amontillado, Palo Cortado, Oloroso, and Pedro Ximenez styles.
The wine is then aged in a solera, the unique system for Sherry wine where various vintages are blended together fractionally down rows of large barrels. Within the system, wine a single age is kept in a criadera, a group of 600-liter American oak barrels. Several criadera with various ages of wine are grouped together to form a solera where wine from the oldest barrels in the system is drawn off for bottling that in turn makes room to bring wine down from the youngest to the oldest barrels. This cycle of continuous, fractional blending creates unique non-vintage wines with intense, layered flavors that are unlike any others in the world of wine.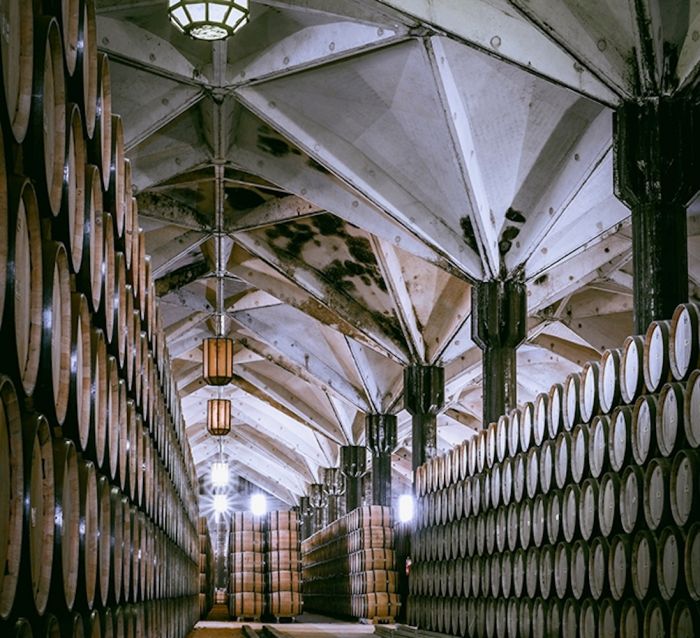 Photo: Christopher Coates
Seven main styles of sherry can be divided up into several different categories: Dry and Sweet (or Sweetened), Biological or Oxidative. Finos and manzanillas start the Sherry spectrum and are generally considered the start of the dry styles. They are the leanest and palest of the Sherries which are aged biologically under a layer of flor for their entire lives. If these styles are left to age and the flor dies, it becomes an amontillado with slightly nuttier flavors while still maintaining the characteristics from its previous life under the layer of flor. The next step is a palo cortado, which spends less time under the flor than an amontillado and thus is richer and rounder. It's a bit of a half step between amontillado and the next style: oloroso. Oloroso never spends time under flor and is the only style to undergo full oxidative aging. It's full, nutty and almost syrupy with the impression of sweetness, although most styles are completely dry. For truly sweet sherry, pedro ximenez is made from dried grapes of the same name and are a naturally sweet, raisiny, oxidative style. The final style has a variety of names, cream being the most common, and is the sweetened style of sherry most commonly associated with holidays and kind British grannies.
Ready to sample? Here are some recommended producers:
Fino: Bodegas Tradición Fino Viejo Saca de Mayo ($40)
The majority of Fino sherries have an average age of about 3 years, this fino Viejo has an average age that's four times that. It's at the edge of when the flor dies on a fino and the wine begins to oxidize into an Amontillado. It has notes of brown butter, lemons and a rich, almost sourdough yeastiness. It's rich, intense and ready for food.
Manzanilla: Bodegas Barbadillo Manzanilla Pasada Pastora ($19)
An homage to Barbadillo's first Manzanilla brand, the Pasada Pastora is an unfiltered style of sherry designed to preserve all of its delicate flavors. Its bright gold in color and deliciously yeasty on the nose, with nuts and chamomile. Complex and elegant on the palate with saline notes as well as dried orange peel and bitter herbs.
Amontillado: Bodegas Yuste Aurora Amontillado Sherry ($25)
Initially rich and almost buttery, this deep golden Amontillado begins with notes of sweet spice and toasted nuts. It quickly evolves into an incredibly structured wine with salty toasted almond, walnut husk, and bitter orange flavors.
Oloroso: Lustau Almacenista Oloroso Don Don Nuño ($30)
After 12 years of careful oxidation, this oloroso is dark bronze whose flavors are as intense as the color suggests. Nutty and incredibly rich, this has notes of smoky wood, toffee, and brown sugar with flavors of bitter chocolate, baked chestnuts, dried apricots, and orange. It ends as intensely as it begins, with a tangy slightly citrusy aftertaste. It can be paired with gamey meats and cured cheeses.
Pedro Ximenez: Gonzalez Byass Nectar Pedro Ximenez ($32)
Nectar is a young and sinfully sweet PX showing rich aromas of raisins and figs with hints of honey, syrup, chocolate, and cinnamon spice. It's rich and chewy, with good acidity which alleviates the sweetness. Perfect with desserts such as vanilla ice cream, black chocolate, and cheesecake.