The Inn at Zaca Creek. Photo by Danielle Honea Photography
Buellton, one of Santa Ynez Valley's cluster of appealing towns, historically has not been considered a vacation destination. But this small, Highway 101-adjacent metropolis, perhaps best known as home to Pea Soup Andersen's restaurant, as well as the location of the movie Sideways, boasts many charms, one of which is the newly opened Zaca Creek.
Go expressly to experience Zaca Creek's distinctive stone-walled suites, or make The Tavern your ultimate destination. Either way, one is not complete without the other. The Inn's six rooms are a short stroll from The Tavern; a reservation ensures that guests can fully and safely indulge in The Tavern's creative libations and extensive wine list.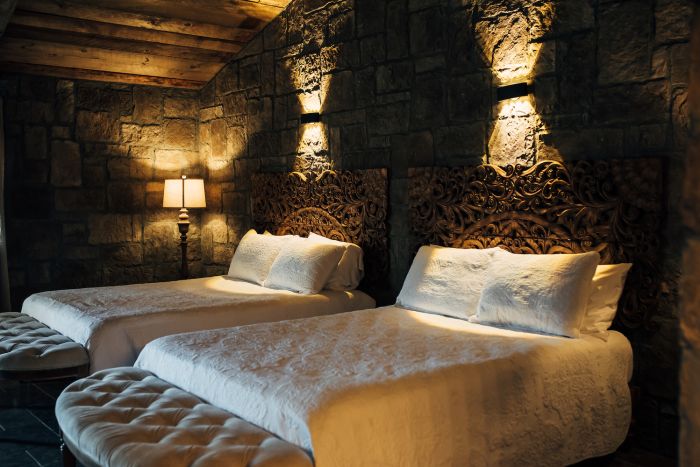 Suite at The Inn. Photo by Michelle Ramirez Photography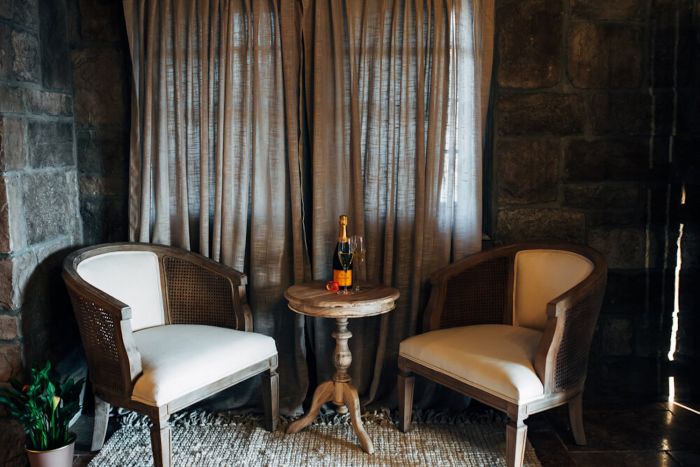 Suite at The Inn. Photo by Michelle Ramirez Photography
Originally built by the founding Buell family of Buellton, the Zaca Creek property is reimagined in the image of a 17th century English countryside inn and tavern. Set amongst rolling hills with valley views, the site blends old and new while maintaining Old World design reflected in the rustic shake roof and hand carved alder doors. The Inn features six unique, host-free suites with hand-troweled brick walls and artisan-crafted woodwork. Curated lighting design illuminates the rustically romantic spaces. Each features King or Double Queen beds, large screen 4k televisions, DirecTV, Nespresso Vertuo Coffee machines, and large bathrooms with either rainfall showers, soaker tubs, or both.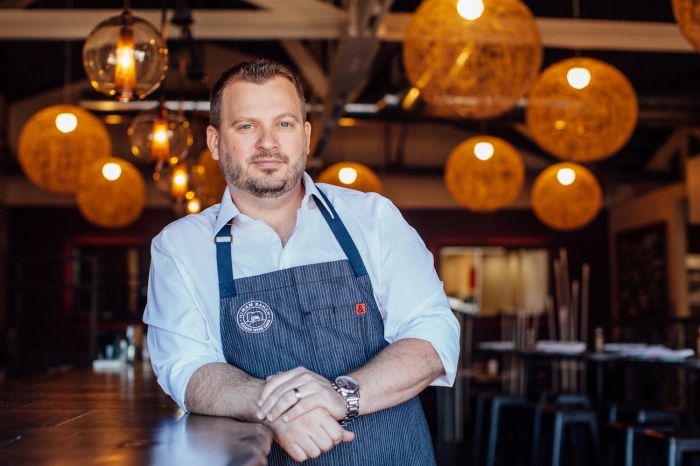 Chef Cullen Campbell. Photo by Jill Richards Photography
Since its August 2020 opening The Tavern quickly has become a 'go-to,' convivial, dining destination. Executive Chef Cullen Campbell showcases the best of Santa Ynez Valley's varied purveyors within his incredibly diverse and creative menu that features fare from burgers, briskets, and steaks, to farm-fresh organic produce, to locally caught seafood including Purple Hotchi, abalone, Grassy Bar oysters, and local spiny lobster.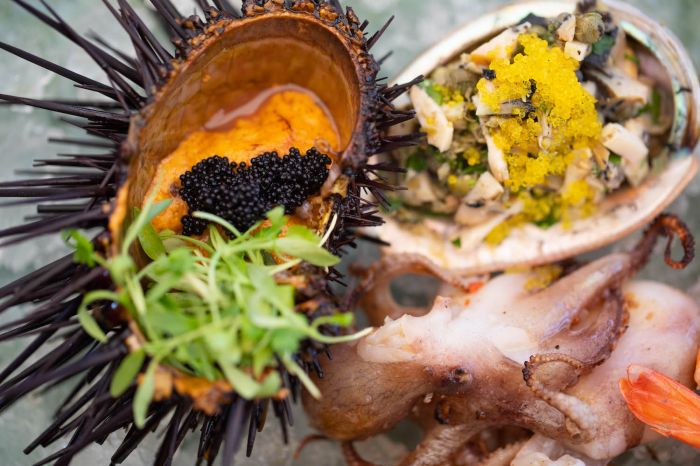 Photo by Danielle Honea Photography
His expertise with French and Italian classics is well illustrated on his sectioned menu that features Crudo, From the Ground Up, For Your Health, Pasta, and Mains. This is food that is every bit as beautiful as it is delicious. Ora King Salmon crudo swims in a red beet ponzu with shaved radish. Buttered Dungeness Crab is served in a whole crab shell. Even a simple dish of Grilled Snap Peas is Instagram-worthy.
Campbell's unique twists on old favorites steal the show in dishes such as Crispy Duck with crepes, pickled mustard seeds, and seasonal farm herbs. Tender Escargot swim in crème fraiche butter, garlic, and parsley. His Caviar Lasagna features delicate chilled pasta layered with crème fraiche and Calvissius caviar.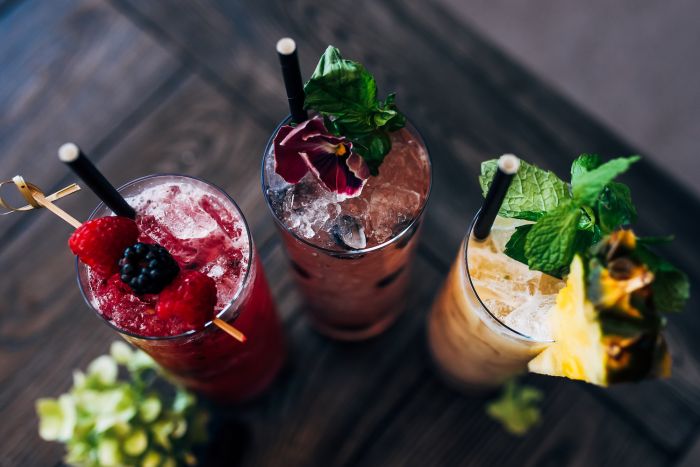 Photo by Michelle Ramirez Photography
Caviar lovers will find joy in another menu item – the JCB Caviar House Martini featuring caviar-infused vodka and garnished with a hearty bite of Calvissius caviar. "The best dirty martini of your life," our server stated correctly.
The Tavern's spirits & cocktail program preserves the allure of the original Tavern Bar, and aims to highlight and enhance the old-style feel. From the most sought-after bourbons and ryes, to the most region-centric agave flavors of tequila and mezcal, guests can taste through a hand-picked selection. The highly curated and extensive wine list features local favorites as well as international selections.
The Zaca Creek site also features an all-inclusive venue particularly devoted to weddings and large groups. Soon to open is a hillside bio-lagoon with cascading waterfalls, cabanas, and outdoor bar area. Multiple event spaces will accommodate up to 200 guests, in both indoor and outdoor settings.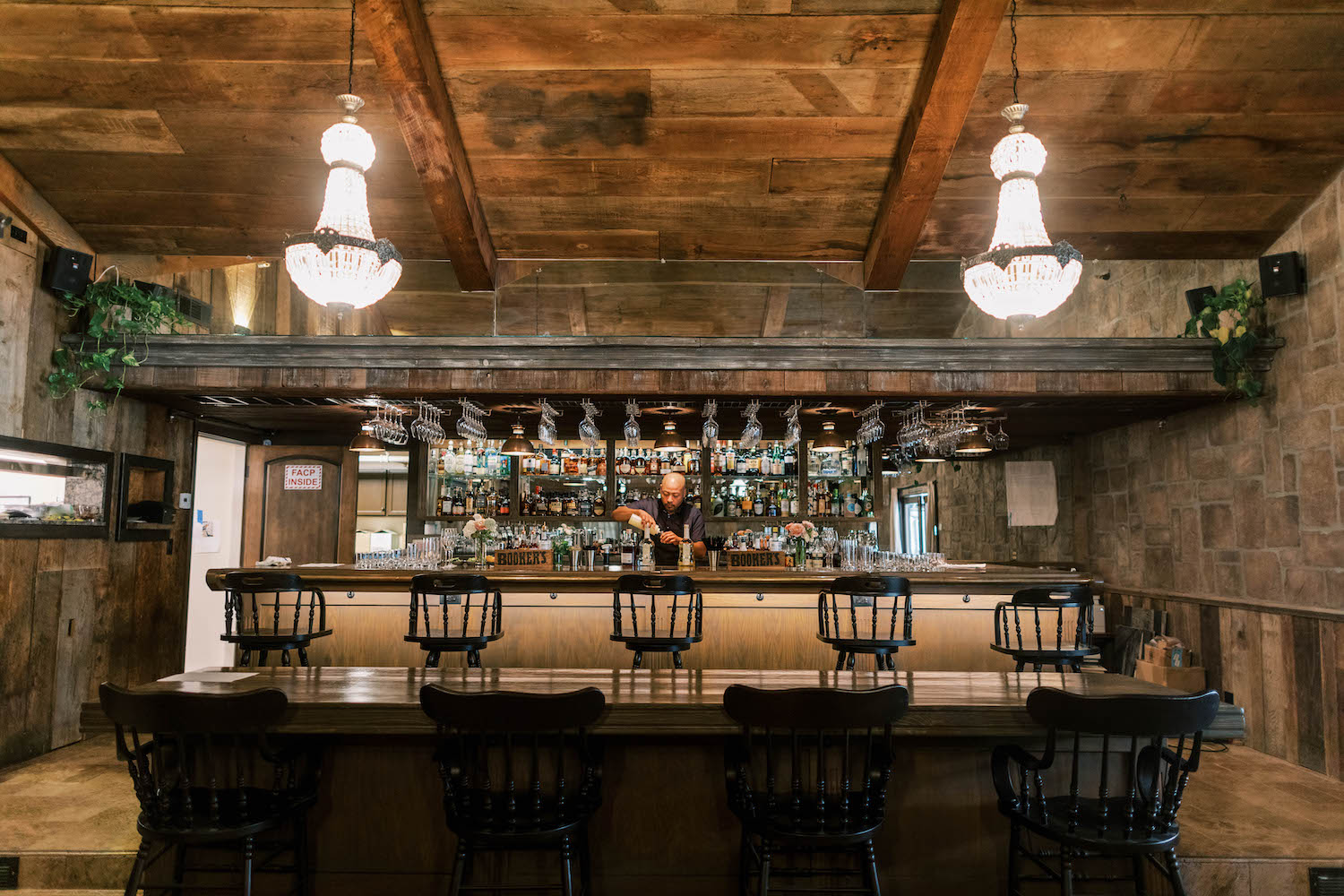 The Tavern Bar. Photo by Danielle Honea Photography
Photos courtesy of Zaca Creek, 1297 Jonata Park Road Buellton, CA