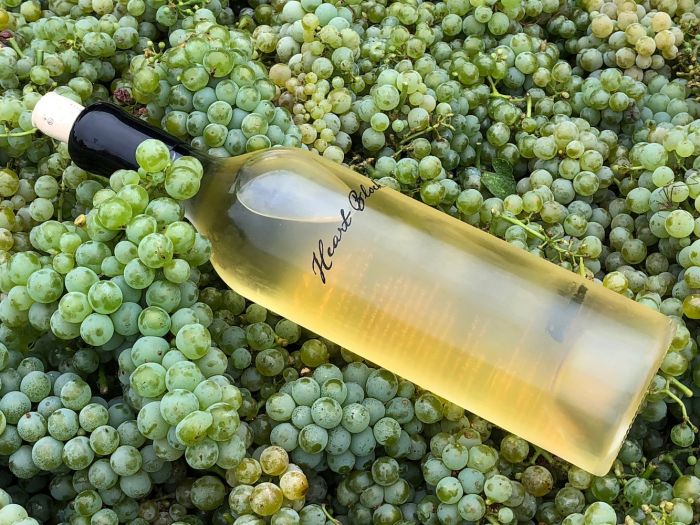 2017 Gamble Family Vineyards Heart Block Sauvignon Blanc. Photo courtesy of the winery
While humans have been making wine for more than 8,000 years, and some of Europe's oldest vineyards are more than a thousand years old, Vitis vinifera grapes have been cultivated in the United States for only about 200 years. This means that while France's Grand Cru vineyards are well-known and well-established, many of the United States' top vineyards only recently have been discovered and established. As specific sites produce high quality, unique wines year after year, some US vineyards are emerging as our own domestic "Grand Crus."
As Thanksgiving approaches, this quintessentially American holiday is a wonderful time to celebrate our home-grown wine culture. Consider trying wines sourced from these famed US vineyards this holiday season:
2017 Gamble Family Vineyards Heart Block Sauvignon Blanc: from Gamble Vineyard, CA ($95)
In Yountville, California, Gamble Family Vineyards' eponymous Gamble Vineyard is planted to the Sauvignon Musque clone (a third generation of the original bud wood brought from the Loire in the 1950s) and the Preston clone (descended from the Graves region of Bordeaux). The farming regime emphasizes regenerative agriculture methods. Grapes from this vineyard are used by esteemed producers such as Sinegal, Hourglass, Riverain and Covert, as well as for Gamble's own Heart Block Sauvignon Blanc.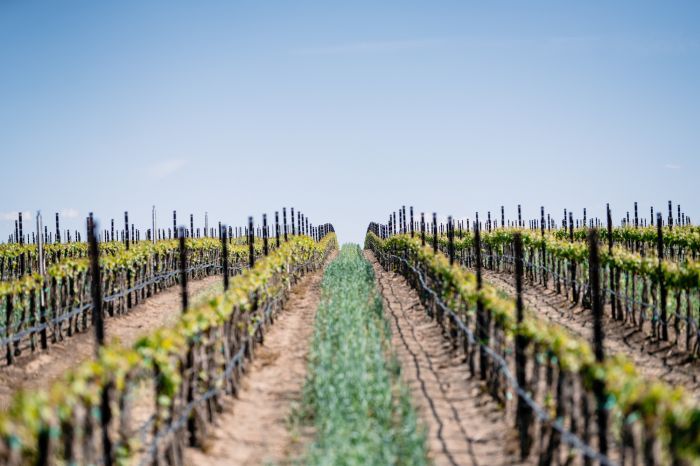 Quilceda Creek Champoux Vineyard. Photo courtesy of the winery
2018 Quilceda Creek Columbia Valley Cabernet Sauvignon: from Champoux Vineyard, WA ($200)
Planted in 1972, the Champoux Vineyard in the Horse Heaven Hills AVA is one of Washington State's oldest vineyards and has contributed to five 100-point scores from Wine Advocate and two 100-point scores from Decanter for Quilceda Creek's Columbia Valley Cabernet Sauvignon bottling. Majority owners of the site, the Golitzin family of Quilceda Creek controls the vineyard operations for the team's portion of the vineyards, creating seamless Cabernet Sauvignons year in and year out.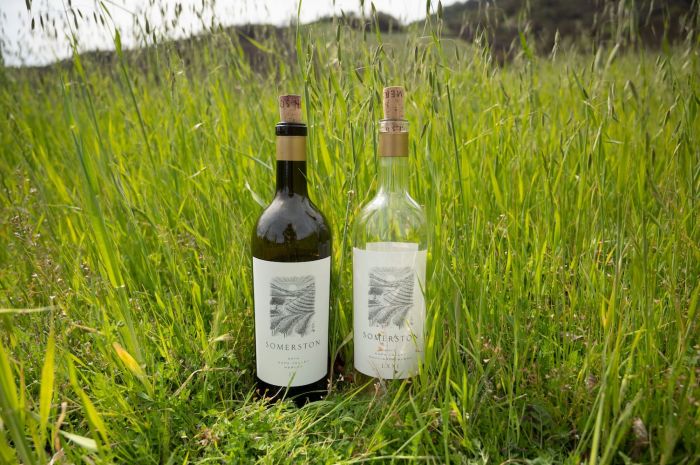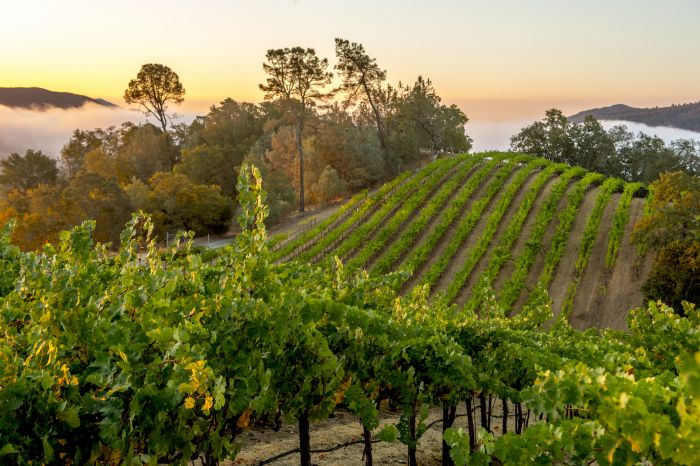 Somerston Estate Block 60. Photos courtesy of the winery
2016 Somerston Estate Cabernet Sauvignon Block 60: from Somerston Estate, CA ($175)
Winegrower Craig Becker, who has overseen all farming and development at Somerston Estate since its inception, is solely focused on delivering quality. Each year, fruit from one standout block that speaks to the character of the land is bottled into Somerston's block-designate label. The Somerston Estate Cabernet Sauvignon Block 60 is a beautiful representation of the best the estate has to offer. Since the estate's founding in 2006, several of the 1,682-acre estate's 140 vineyard blocks have also been a long-term fruit source for top winemakers such as Andy Erickson, Heidi Barrett, and Kirk Venge.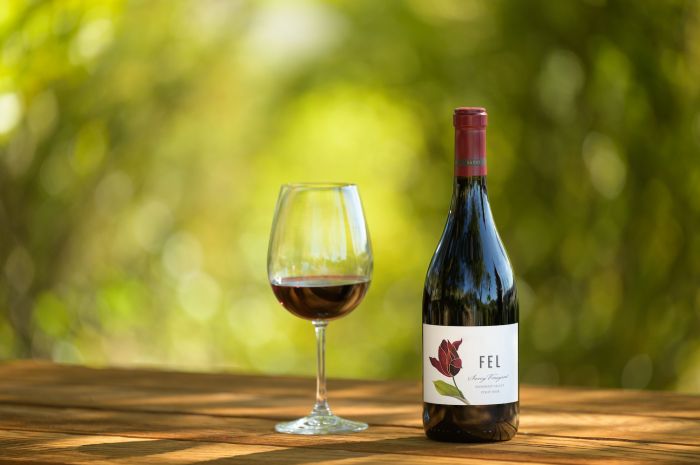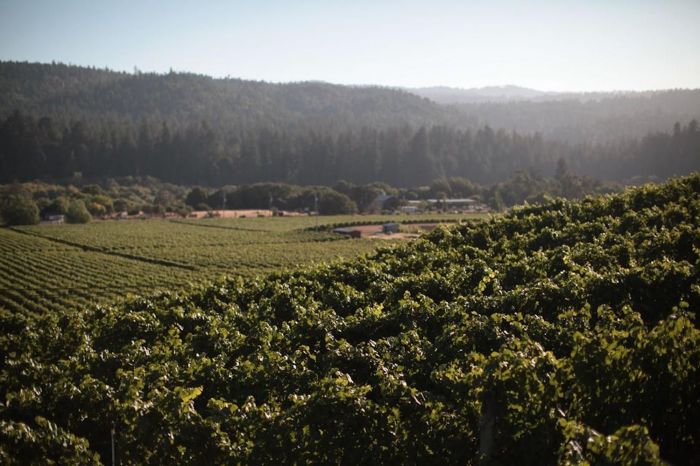 FEL Savoy Vineyard Pinot Noir (above) & FEL Savoy Vineyard. Photos courtesy of the winery
2019 FEL Savoy Vineyard Pinot Noir: from Savoy Vineyard, CA ($75)
The Savoy Vineyard - first developed and cultivated in 1991 by Richard Savoy who owned the seminal San Francisco bookstore Green Apple Books - is hands-down one of the most revered chardonnay and pinot noir vineyard sites in the Anderson Valley. Recognizing this "crown jewel," vintner Cliff Lede purchased the vineyard in 2011 as the cornerstone of FEL, a brand he named for his mother, Florence Elsie Lede. This southwest facing, gently sloping 44-acre vineyard is planted to a diverse array of Dijon and heritage Pinot Noir and Chardonnay clones, and is divided into 34 sub-blocks, each of which are carefully managed by FEL Winemaker Ryan Hodgins to maximize quality. The FEL Savoy Vineyard Pinot Noir is a perfect bottle to share with loved ones for the holiday season. Additional top vintners who source from this incredible site include Littorai, Radio Coteau, Peay, and more.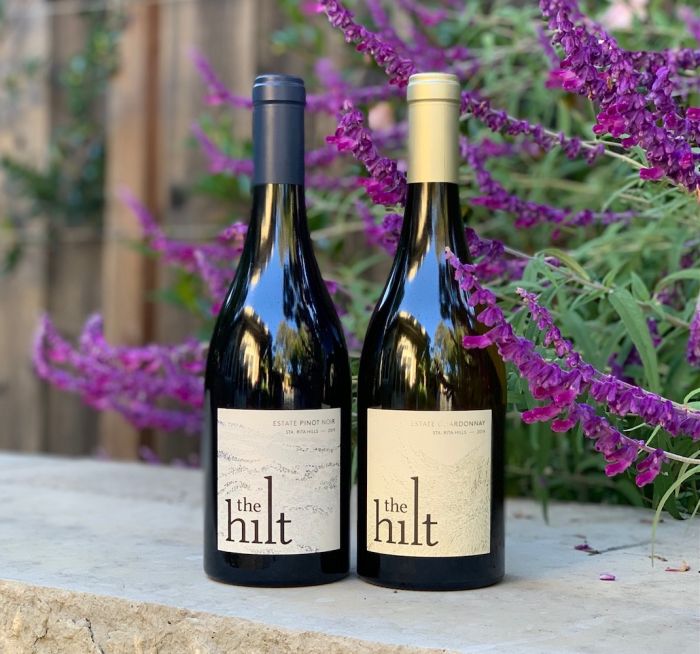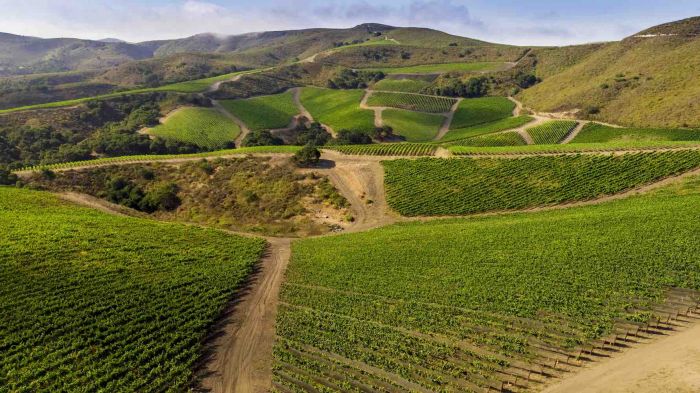 The Hilt Estate Pinot Noir & Estate Chardonnay (above) & The Hilt Radian Vineyard. Photos courtesy of the winery
2019 The Hilt Estate Chardonnay: from The Hilt Estate, CA ($50)
Located in the Sta. Rita Hills AVA, The Hilt Estate is composed of 3600 acres of land and two renowned vineyard sites, Radian and Bentrock. Each vineyard site consists of 100 acres of vines planted to pinot noir and chardonnay. The growing conditions in the Sta. Rita Hills area are harsh: strong winds, sandy diatomaceous soils, high altitudes, and a variety of micro-climates. But winemaker Matt Dees recognizes that while extreme, these conditions are also perfect for low yields of concentrated, complex grapes. As a result, the wines that are being produced from The Hilt Estate are better than they ever have been and are catching the attention of critics, buyers, collectors, and enthusiasts globally. The Hilt's 2019 Estate Chardonnay is tense and full of vibrancy and kinetic energy. In addition to The Hilt, producers who source from Radian and Bentrock include Babcock, Dragonette, Ken Brown, Liquid Farm, and more.