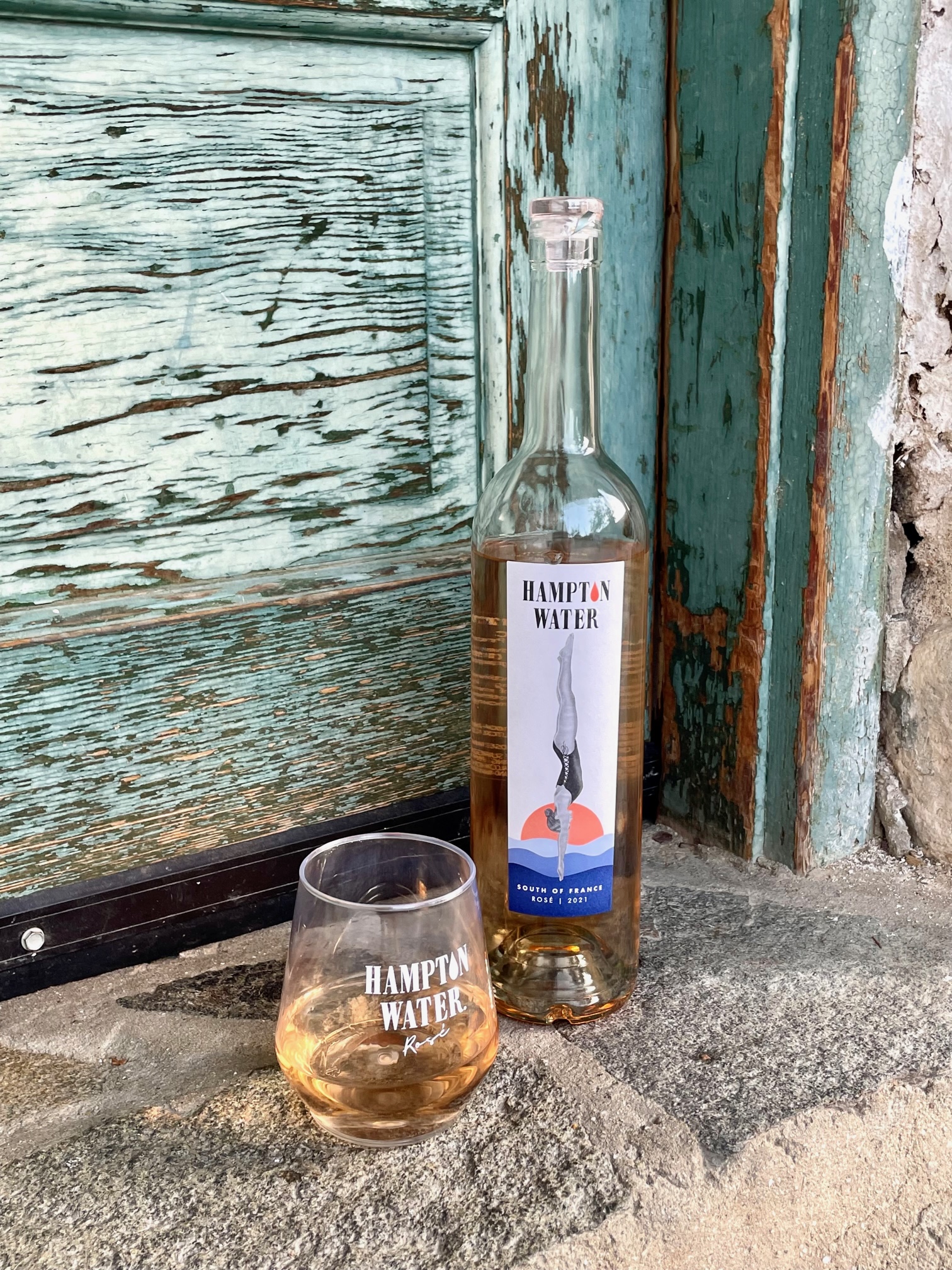 Casa Cody - photo by Jill Weinlein
The last Wednesday of each month, Casa Cody, a charming bed and breakfast in the heart of Palm Springs, offers guests Wine Wednesdays. They kicked off this special day on May 31 and will continue on the last Wednesday of every month until the end of 2023.
Complimentary wine tasting curated by the hotel's favorite wine purveyors, include Hampton Water Rose'. This is rockstar Jon Bon Jovi and his son, Jesse Bon Jovi's wine. Together with Ali Thomas, they created the full concept of the brand, and hired famed French winemaker, Gerard Bertrand to make a rock star-style easy-drinking rose'.
On their Hampton Water website it says, "The best French wine and the Hamptons laidback style - Hampton Water'.
This quintessential summer rose' is made with 60% premium Grenache grapes and a blend of 15% Cinsault, 15% Mourvdre and 10% Syrah grapes that traditionally thrive in the French Mediterranean.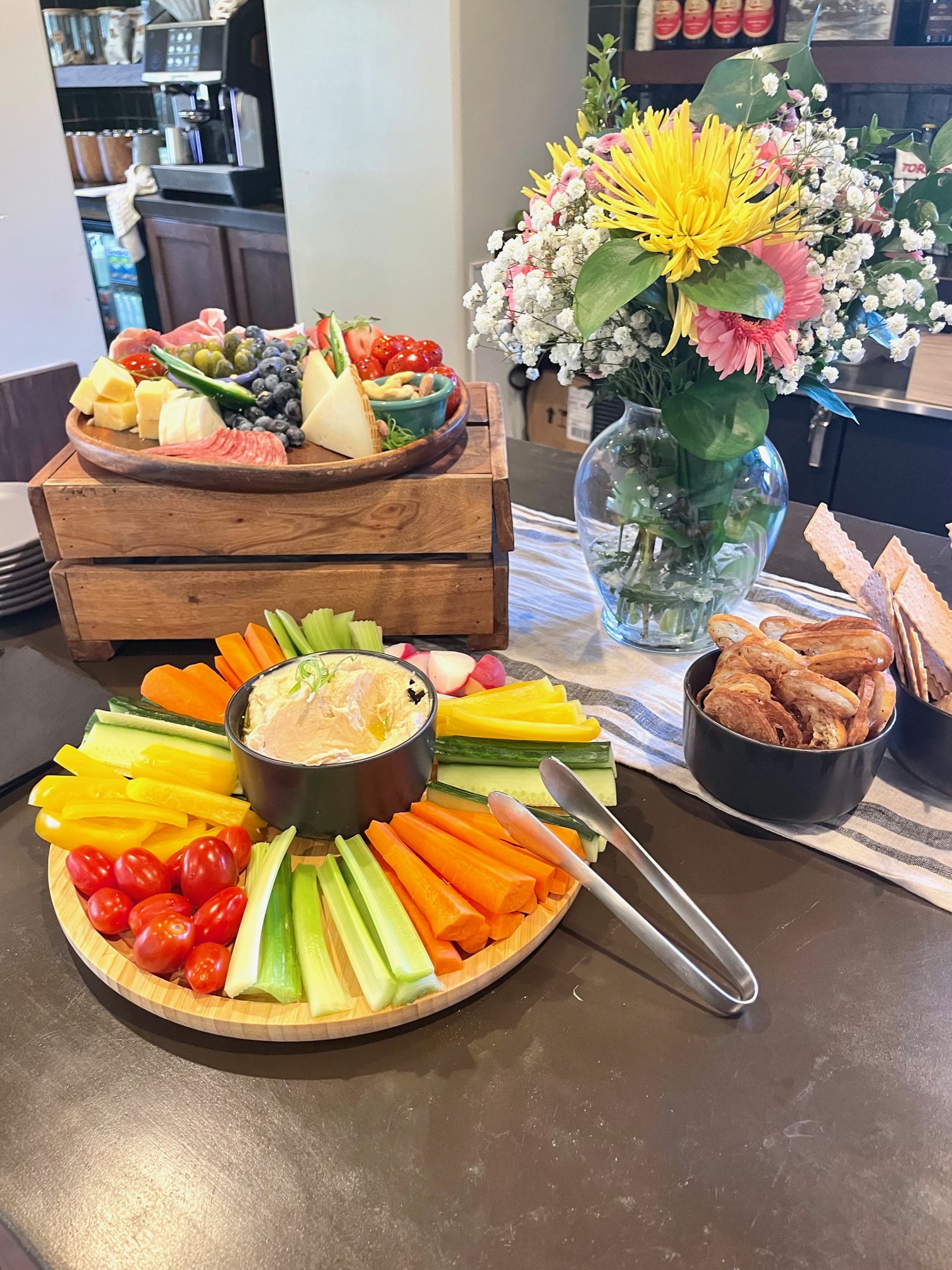 Jill Weinlein
Also on Wine Wednesdays, the Marketplace at Casa Cody offers large plates of complimentary crudites, fruit, cheese, sliced meat, crackers and bites from their own epicurean kitchen for guests to enjoy with glasses of wine.
Those who seek more will receive a discount on all the food and beverages listed on the full menu. Artisan inspired offerings include bottles of wine, charcuterie, Lo-Fi natural wines, Mikkeller craft beers, and canned beverages.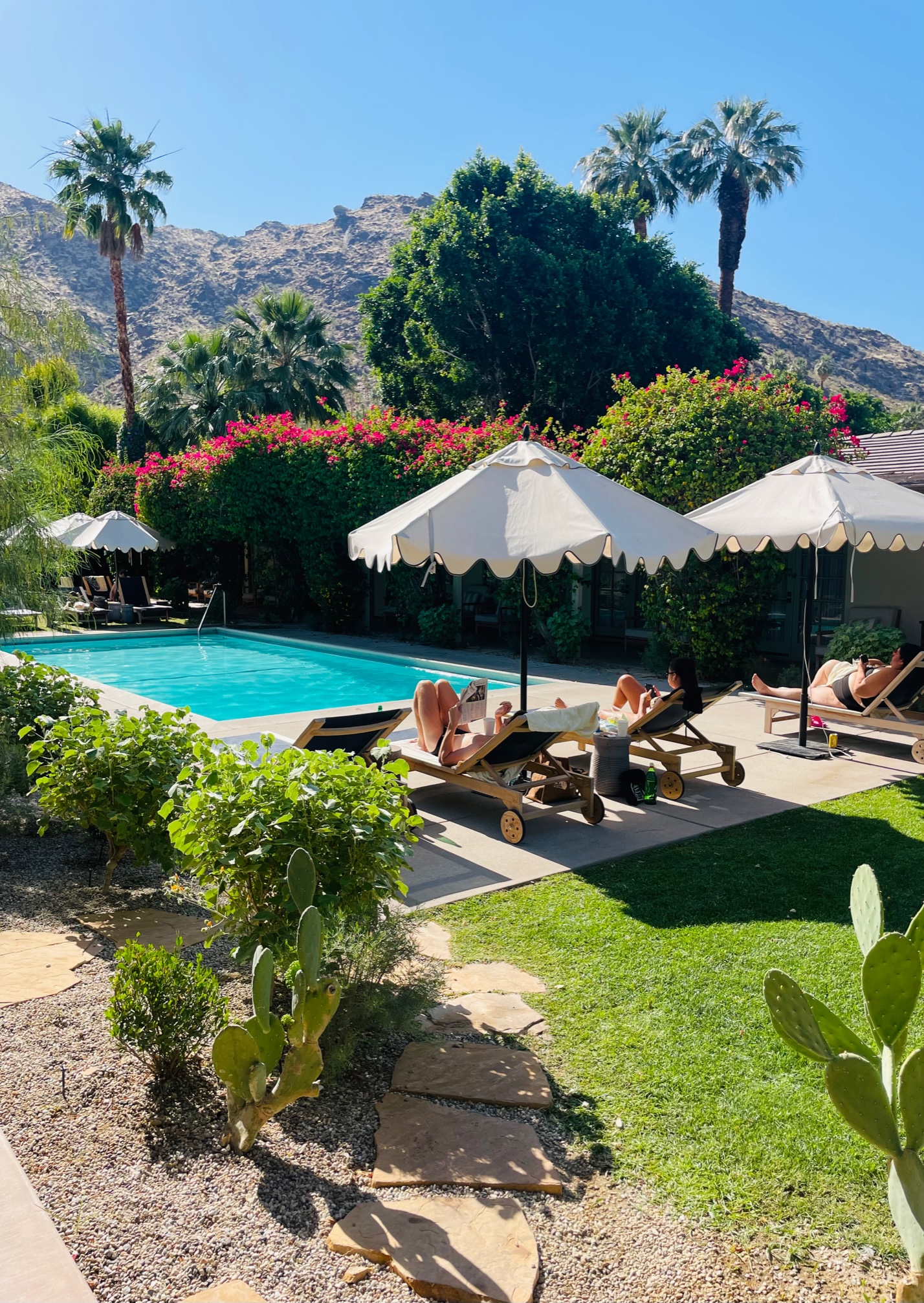 Photo of Casa Cody - Jill Weinlein
Casa Cody is a compilation of 1900 through 1950 architecture that makes up this charming boutique hotel complex, Founded by Harriet Cody, a cousin of Buffalo Bill, throughout the years, celebrities and prominent people have stayed in the spacious guest rooms and Adobe House.
Historical elements throughout the property include Harriets Cottage, the Winter House and McCallum Era stone walls. It was classified a historic preservation site in the city of Palm Springs on October 15, 2008.
The property offers a desert residential feel with its row of ranch-style 'Old West' style L-shaped guest rooms. Many rooms look out onto one of the two sparkling pools or grassy area and fruit trees. Inside each room are Spanish decor elements including saltillo flooring, wood armoires, cane and wood chairs, soft leather couch, and beautiful green tile in the shower and kitchenette.
The location is within blocks of Palm Springs shopping, dining and museum district.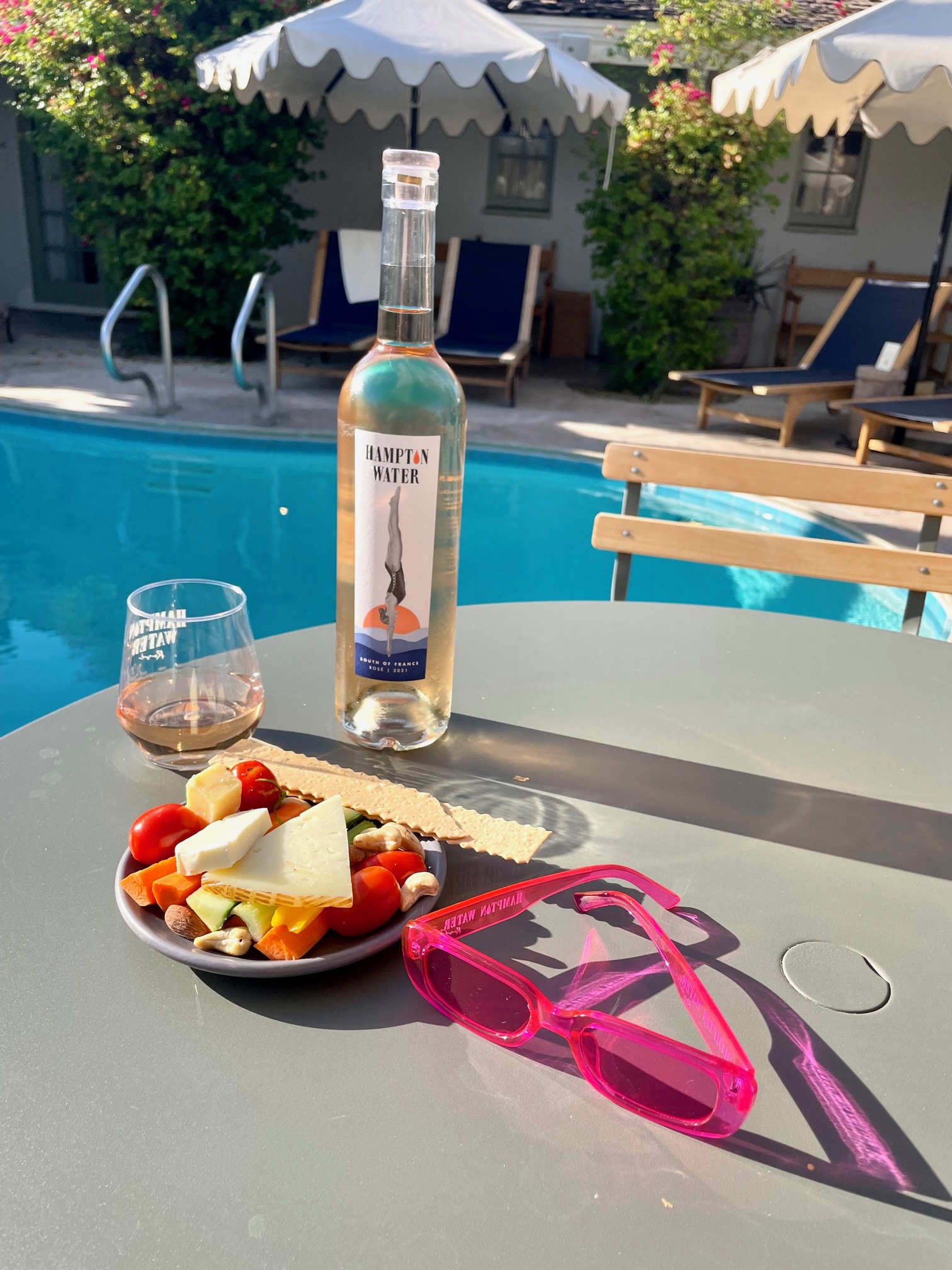 Jill Weinlein
Use the promo code: WINE25 on Wine Wednesday for a discount. The staff will also try to upgrade guests based on availabilty.
A light breakfast is complimentary at Casa Cody from 7 to 10 a.m. All day drinks and a dining menu is available from 11 a.m. to 10 p.m. Enjoy drinks and food items at the bistro tables around the pool.
The quiet two-acre, adult-friendly compound is also dog friendly. Guests with a well behaved dog will have a pet fee added to their stay.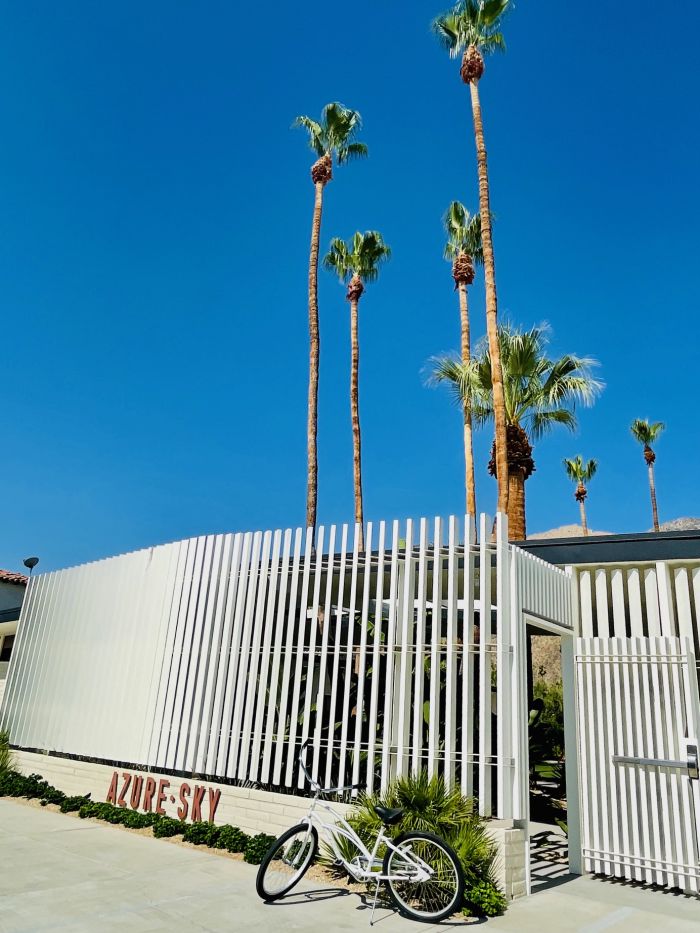 Azure Sky - photo by Jill Weinlein
Celebrating its one year anniversary, Azure Sky Palm Springs' kicks off its first anniversary with discounts and a welcome bottle of Santa Barbara County Notary Public Rose' wine.
Originally built in 1959, Azure Sky offers unobstructed views of the San Jacinto Mountains. The property provides a peaceful sanctuary among desert landscape. Some rooms have swinging hammocks for star gazing at night. Guests are within walking distance of Villa Royale, Ace Hotel, Bar Cecil, and other neighboring boutique hotels and restaurants.
Starting on June 1 to September 15, guests can receive saving of up to 25% at this 21+ and over boutique mid-Century modern hotel. The 14-room thoughtfully decorated hotel rewards guests staying two nights or longer. Receive a Summer Splash 15% off a room when staying two nights, and 20% off a stay of three nights. For those who chose to play and work a little while staying four nights, the room will receive a 25% off savings.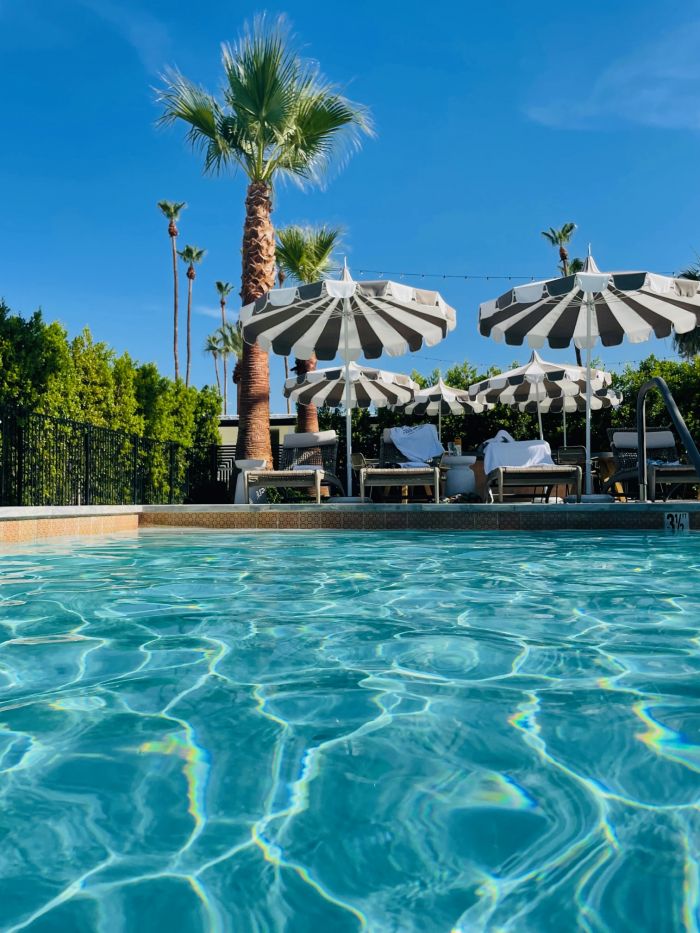 Jill Weinlein
This sanctuary for guests includes an oversized sparkling blue pool with two shallow ends that are perfect for relaxing and imbibing with a glass of rose'.