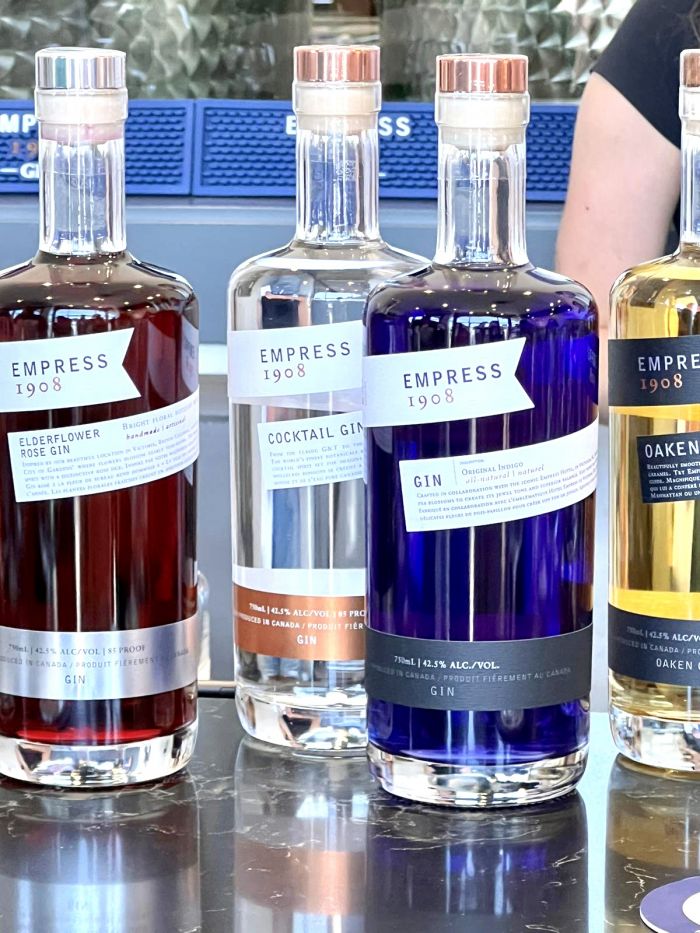 Jill Weinlein
The family-run small batch Victoria Distillers has been making premium spirits in Canada for over 10 years. With their success, they secured a waterfront facility in Sidney, British Columbia to make some of the best handmade spirits on Vancouver Island.
Walking into the distillery, visitors step into a small tasting room and retail shop. Bottles of gin, rum and liqueurs line the walls. Visitors have the opportunity to taste the spirits and purchase bottles at this location.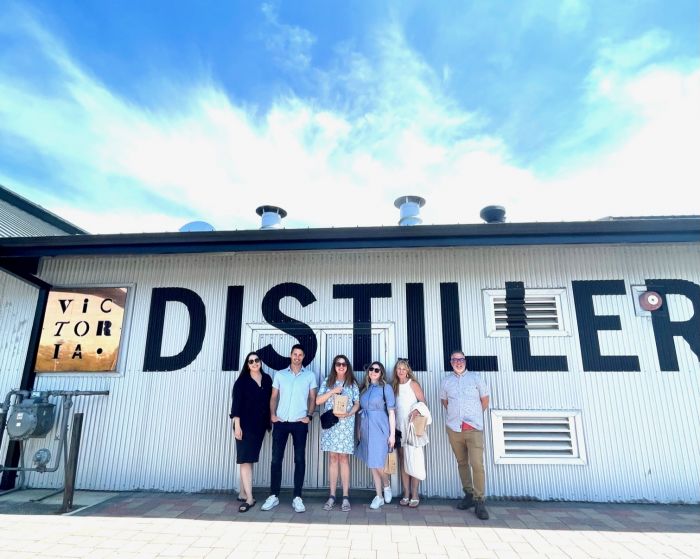 Jill Weinlein
Peter Hunt, President of Victoria Distillers was the Master Distiller for 9 years, before he became President. With a Master's degree in molecular biology, he led the distillery team in a collaboration with the Fairmont Empress Hotel to create Empress 1908 Gin. His team includes Master Distiller and chef Phil Lecours who has been at the distillery since 2010, and mixologist and distiller Dave Clark. This team offers their culinary skills and flavor knowledge in making award-winning spirits.
'Since 1908, travelers from around the world have visited the majestic Fairmont Empress Hotel' said Hunt during a gin tasting. 'We wanted to make something special honoring this iconic hotel. We explored the teas in the Empress tea room and tasted over 20 different teas to infuse into our gin.'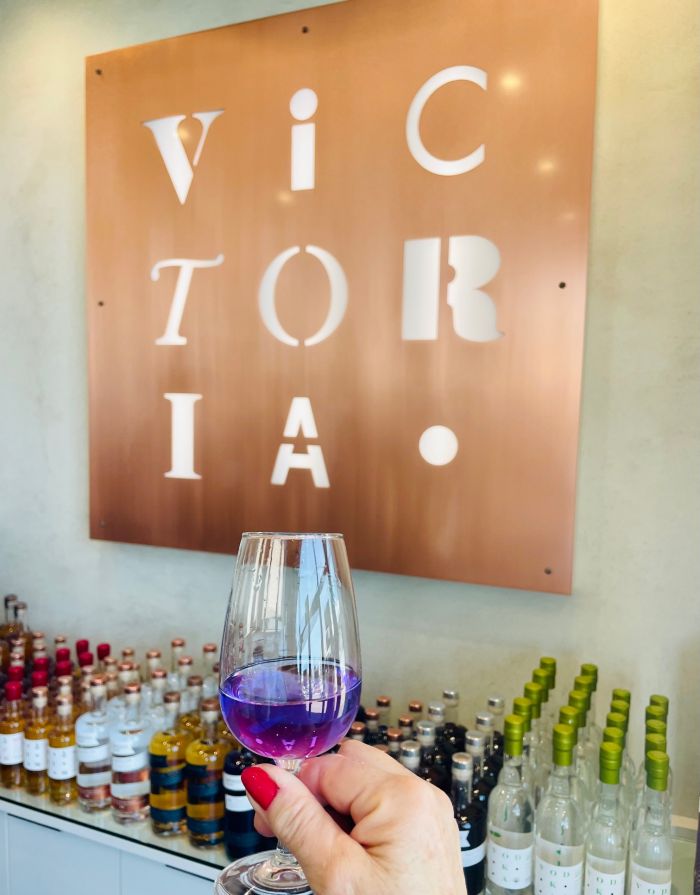 Jill Weinlein
They selected Fairmont Empress House Tea blend, Blue Suede Shoes. It's a black tea made with butterfly pea blossom that opens with a smooth sweetness and finishes with mild noisette rose notes.
In 2018 they launched the beautiful Empress 1908 Gin in the United States. This great quality spirit offers an exquisite indigo color due to the tea added in the distilling process. Robust citrus notes from grapefruit peel, and floral rose petals from the tea, plus exotic warm spices from cinnamon and ginger give this gin an herbal warm earthiness. This lovely gin earned a Gold Medal at the New York World Wine and Spirits Competition.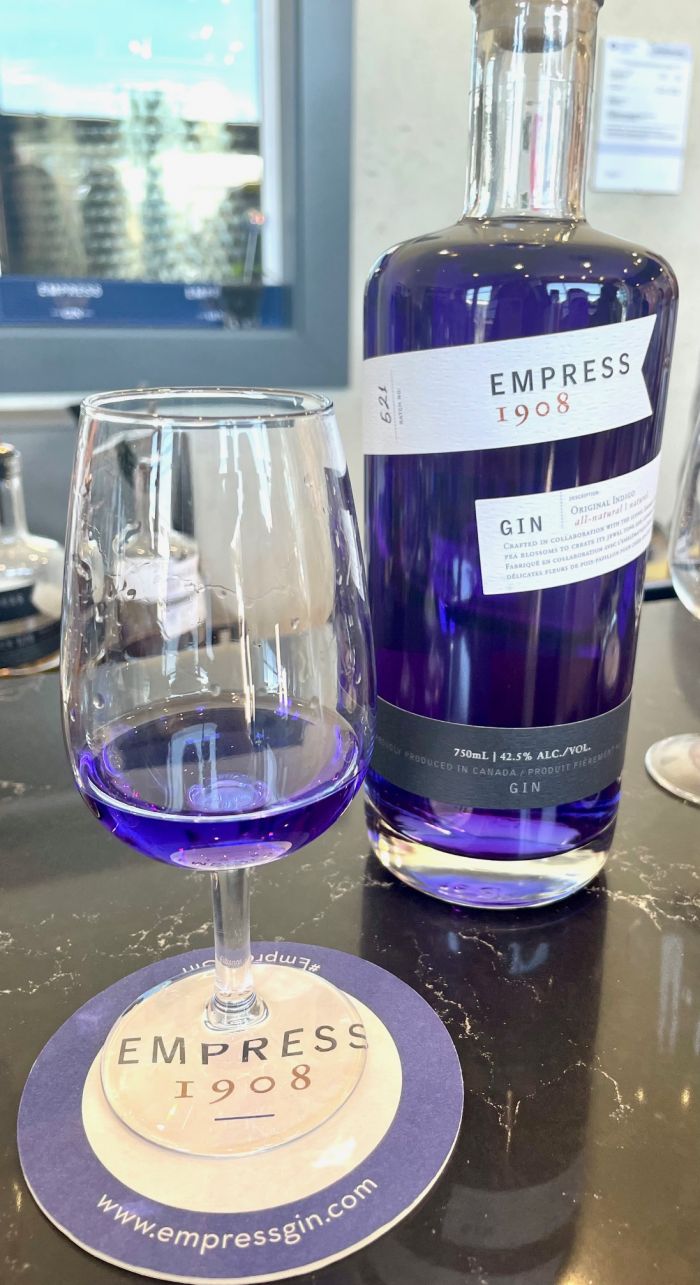 Jill Weinlein
'Victoria B.C. loves to drink Negronis,' said Hunt. During the pandemic, social media posts entertained and enlightened homebound imbibers about The Empress 1908 Gin. 'Fans enjoyed the pine notes of juniper and lovely indigo color,' he said.
Reels of Empress & Tonic cocktail demonstrations mesmerized viewers of how Empress 1908 gin mixed with a pour of premium tonic water, turns the appealing dark purple color to a beautiful lighter lavender hue. Adding a slice of grapefruit enhances the citrus notes creating a visually beautiful and refreshing gin beverage.
Orders increased dramatically, and the team ramped up production.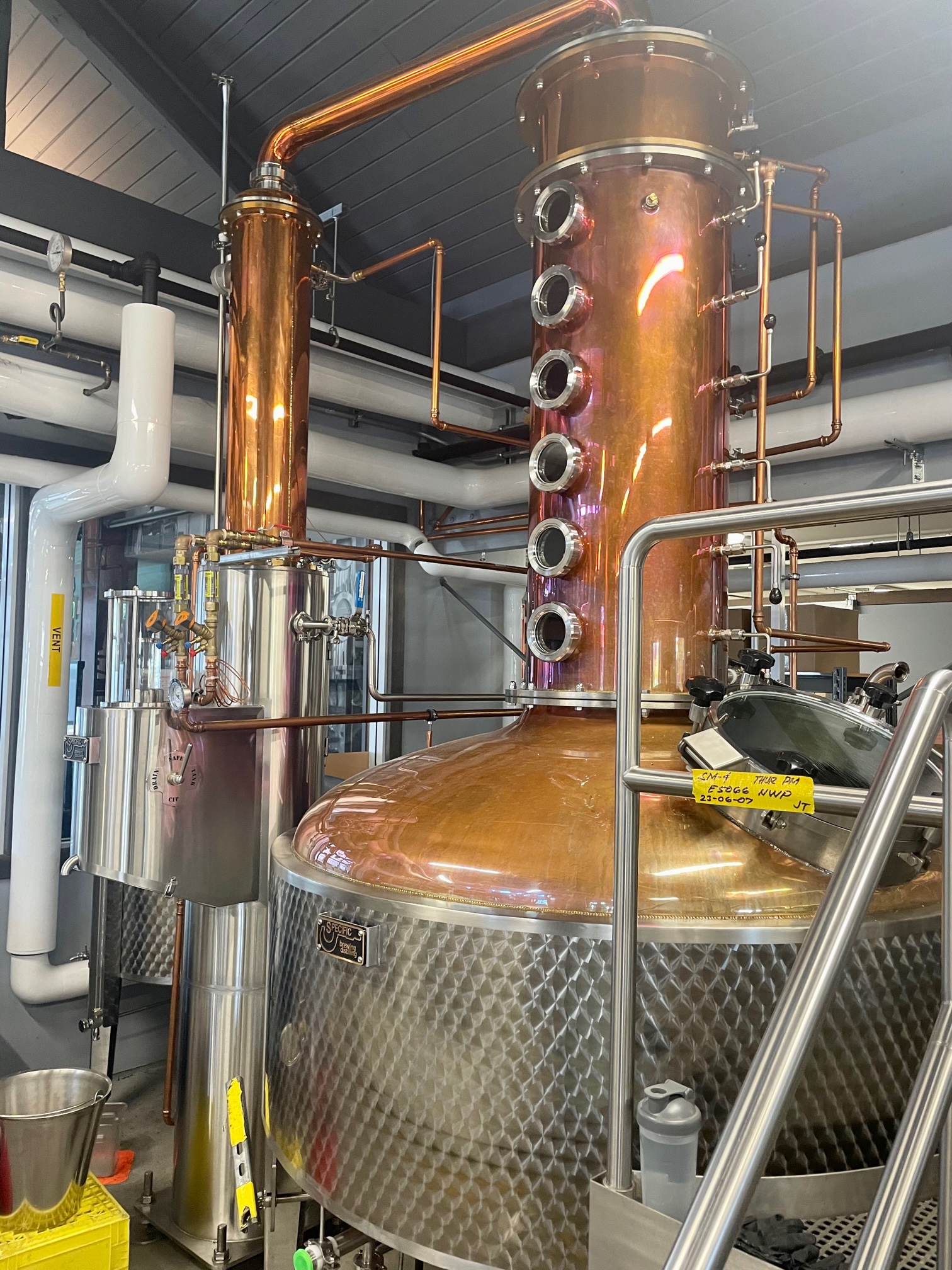 Jill Weinlein
Inside the distillery the copper pot stills produce a range of spirits including their award-winning gin. 'Each copper pot costs $250,000,' said Hunt.
The talented team working hard to meet the demand besides Hunt, includes chef Phil Lecours, now a Master Distiller. He has been working at the distillery since 2010. Dave Clark, is a talented mixologists who is also one of the talented Distillers. Both of their knowledge and experience brings creativity and an expertise in flavor profiles.
These copper pots produce a range of spirits using 'the world's best-tasting water in Canada', said Lecours. 'We use the highest quality ingredients from around the world to make our spirits.'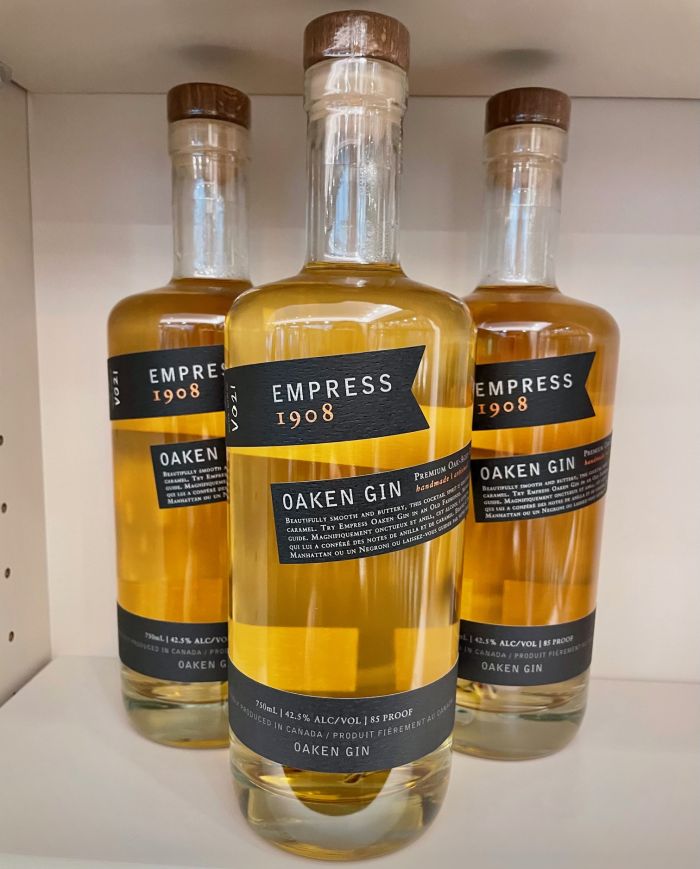 Jill Weinlein
When they make the Empress 1908 Oaken Gin, it gracefully matures in oak barrels. This spirit offers soft vanilla notes with full buttery caramel sweetness on the finish. It's great for making an Old Fashioned, Manhattan or Negroni.
This spirit won a Double Gold in the San Francisco Spirits Competition in 2016.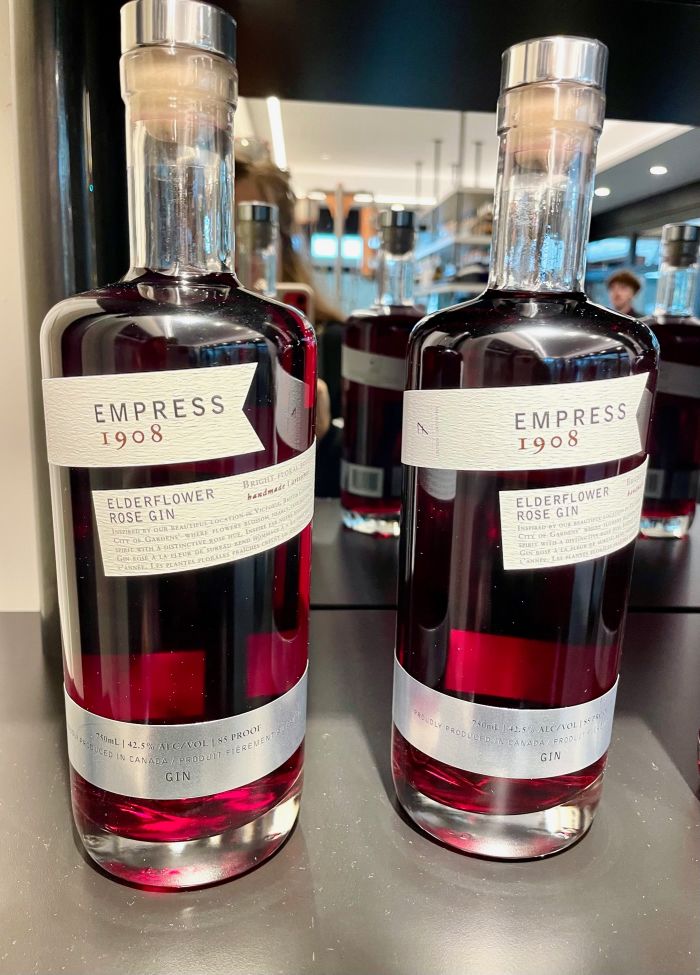 Jill Weinlein
Inspired by nearby Victoria, British Columbia, the Empress Elderflower Rose Gin pays homage to 'The City of Gardens,' where flowers blossom nearly year-round. There are 9 fresh floral botanicals creating delicate hints of citrus and spice and a distinctive all-natural rose hue. This color adds a touch of excitement to cocktail creations with a hint of sweetness and soft juniper notes.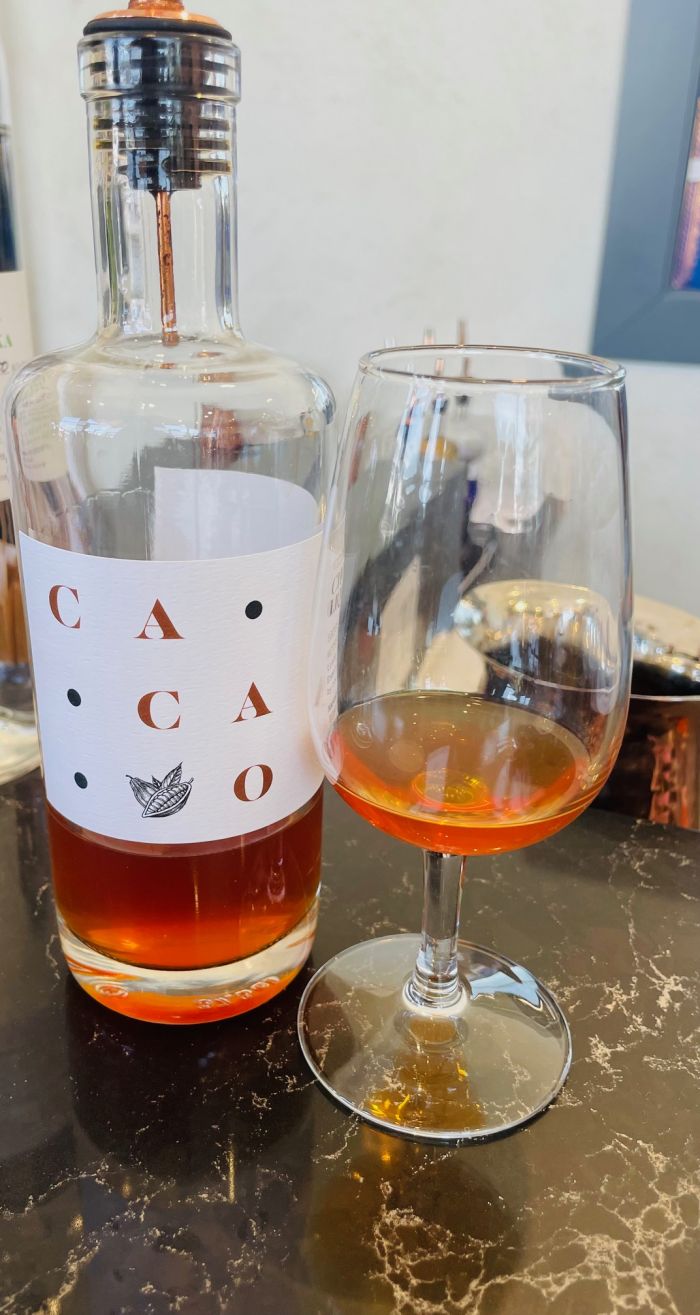 Jill Weinlein
Victoria Distillers also makes a Cacao liqueur made from fair trade cacao nibs and husks grown in Ecuador at Costa Esmeraldas Farm. They also macerate Victoria BC's Sirene Chocolate Makers to refine the pure cane chocolate flavor spirit. It's reminiscent of a gourmet dark chocolate bar and is ideal to sip as an after-dinner drink. 'It's delicious poured over vanilla ice cream,' said Hunt.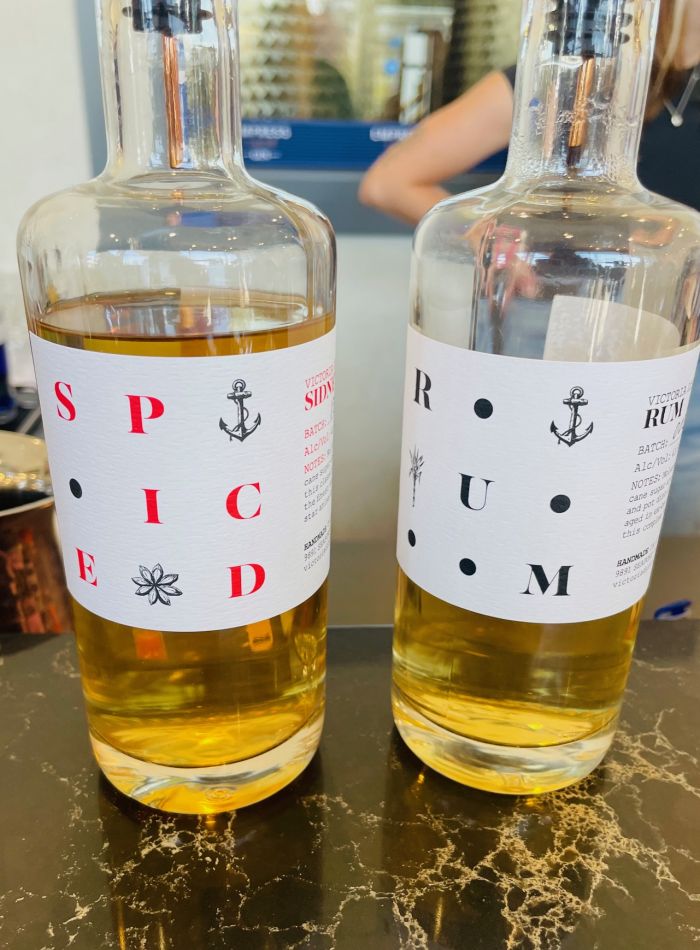 Jill Weinlein
Another fine spirit made at Victoria Distillers is Sidney Spiced rum. Made in a copper pot still with molasses and Level Ground Trading's fair trade organic cane sugar. The distillery team adds organic vanilla beans, orange peel, ginger root, star anise seed and orris root to produce a warm and complex rum. Drink alone for bright citrus notes and a subtle sweetness or add to a tropical Mai Tai.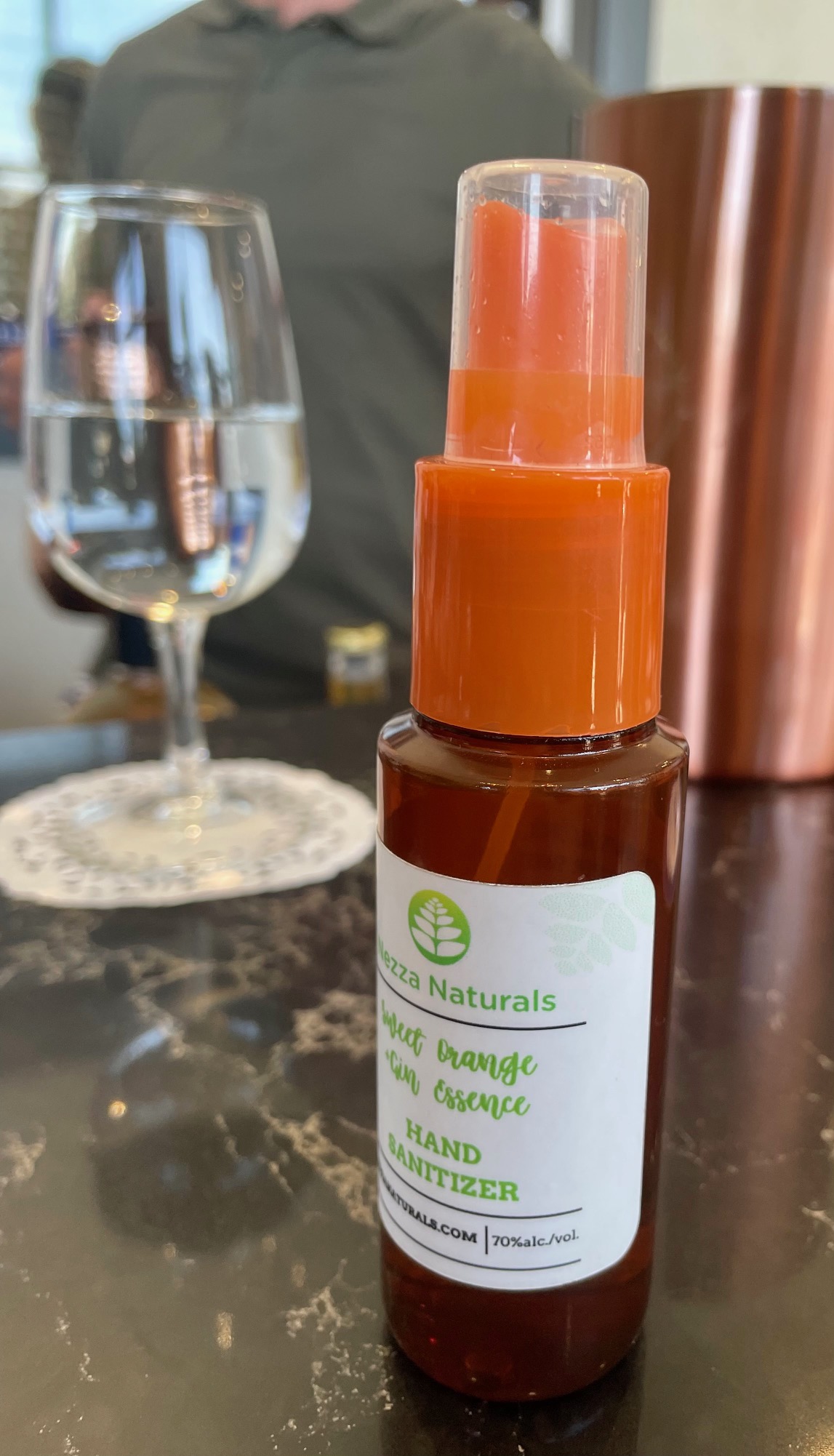 Jill Weinlein
At the beginning of the pandemic, the distillery also made hand sanitizers offering a sweet orange and gin essence for hosptials and other essential workers in Canada.
Hunt collaborated with Nezza Naturals to create a hand sanitizer using the leftover alcohol byproduct from Empress 1908 gin. In an interview, Hunt said, 'The alcohol byproduct is about 90 per cent ABV, and blending it with water, Nezza Naturals sweet essential oil and vegetable glycerin we created a hand-sanitizing spray that is 70 per cent alcohol.'
This hand sanitizer was given to hospitals, medical and dental clinics, firefighters, police officers and first responders, food banks, daycares and grocery store staff.
Victoria Distillers is open to the public on Thursday through Sunday for tastings and purchases from 12 to 5 p.m.