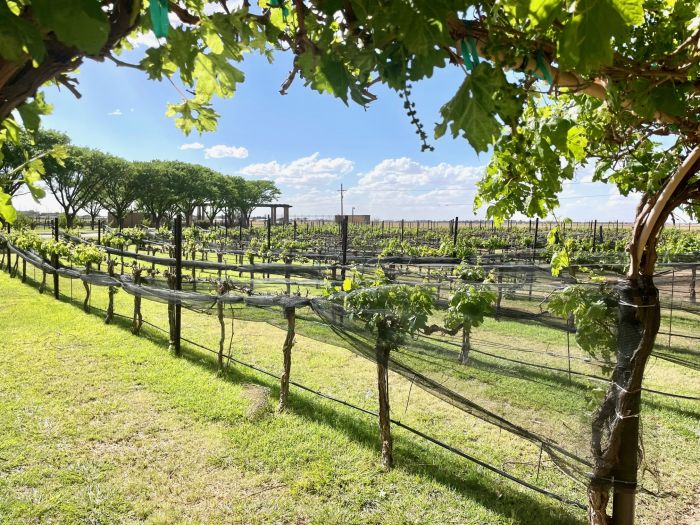 English Newsom Vineyards - Photo by Jill Weinlein
Lubbock may not be as big as Houston, Dallas, or Austin in Texas, however this city located in the High Plains is the 11th largest city in the Lone Star State. Besides being the birthplace to rock 'n' roll legend Buddy Holly, and Texas Tech University, it's also home to award-winning wineries.
Texas viticulture and winemaking is young compared to the West Coast regions of California, Oregon and Washington state, yet the warm Texas High Plains climate is conducive to growing more than 80% of Texas wine grape production. Growing in fertile Lubbock soil known for growing cotton, when the sun and heat ripen the grapes, high quality Texas wine is made.
The Texas High Plains AVA is a sub-region of the Great Plains, stretching from Amarillo in the north to the New Mexico border and extending just south of Lubbock. Grapes and wine have been produced in this region since the early-1970s, and High Plains vineyards have become a major supplier to wineries throughout the state.
Since wine tasting is becoming a leading tourism attraction in Lubbock, here are three wineries that are worthy of a visit.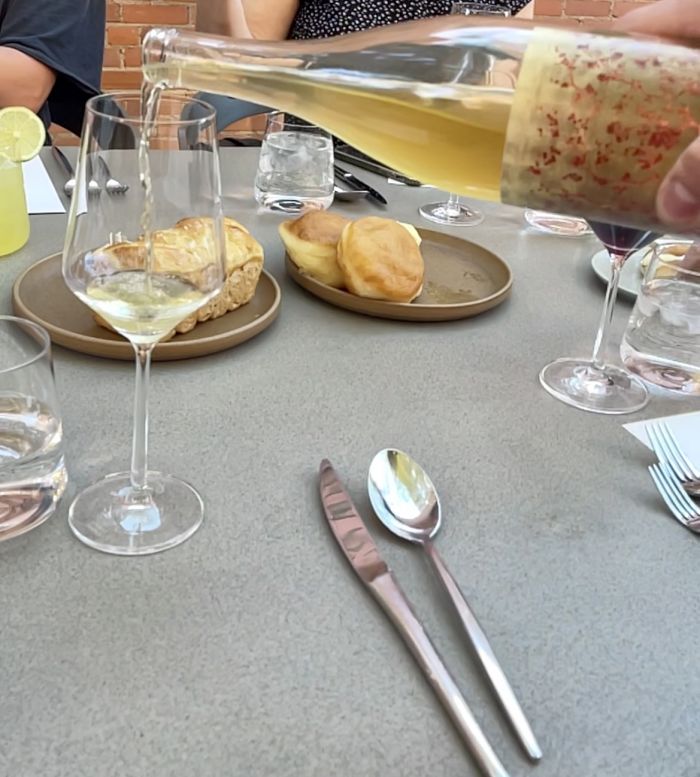 'The Queen' - Photo by Jill Weinlein
At the twice nominated James Beard semi-finalist McPherson Cellars, winemaker Kim McPherson makes a dry white Viognier named 'The Queen'. It's a unique wine fermented in it's golden skins. This style of winemaking is usually for red wine, but McPherson does this with white grapes. He bottles it without any filtration and serves it at his winery.
'The Queen' is also featured on the wine list at the Queen's English, a Cantonese restaurant serving Hong Kong dishes with a twist in Washington, D.C., and on the wine list at James Beard nominated chef Walter Finn's nearby Nicolett restaurant in Lubbock.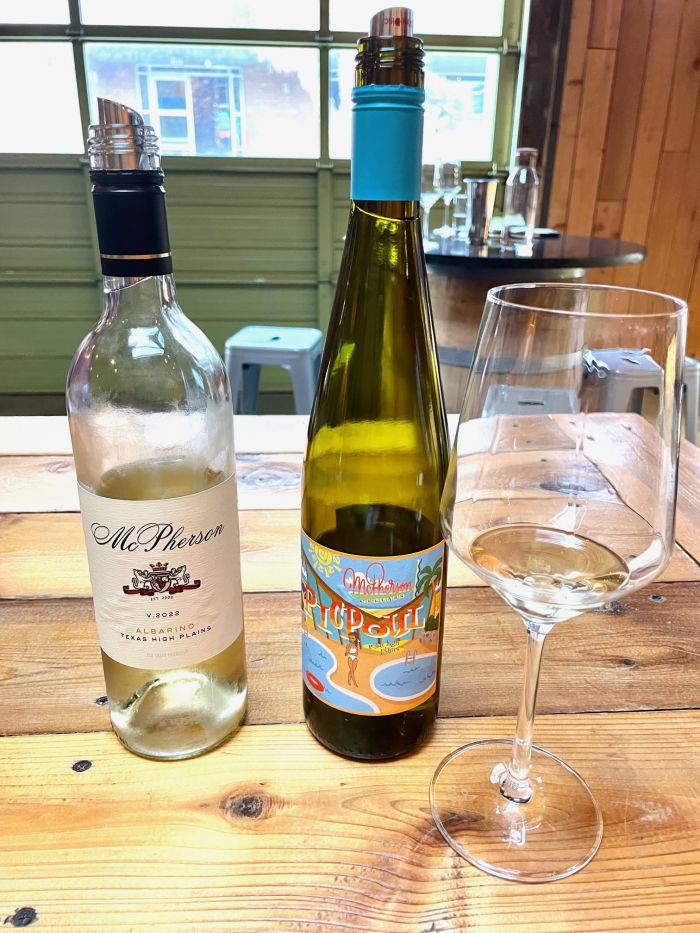 McPherson Cellars - Photo by Jill Weinlein
The grapes that grow well in Texas include Picpoul Blanc, a French Mediterranean variety that offers naturally high acidity, bright citrus and melon flavors. The Cinsault is another French grape that is similar to a Pinot Noir. It's fresh and vibrant, juicy and fruit-forward.
Kim McPerson's father Clinton 'Doc' McPherson was a pioneer in making wine. Growing up by his father's side, Kim acquired an old Coca-Cola Bottling Factory and turned it into a tasting room, event space and wine making facility. His dad planted the first Sangiovese grapes in Texas in the 1960s. This medium-bodied red grape grows well on the sun-drenched High Plains. McPherson's wines made with Sangiovese grapes offer aromas of ripe dark cherry, dark plum, and boysenberry framed by dusty earth, powdered cocoa, and savory herbs.
Many of the award-winning wines are from grapes grown at Sagmor vineyard in southeast Lubbock. McPherson planted Sangiovese, Cabernet Sauvignon, and Touriga Nacional for his Estate wines. He partners with Terry County growers Lahey Vineyards, Castaño Prado Vineyard, Lepard Vineyards, Lost Draw Vineyards, and Reddy Vineyards to make his award winning wines.
Awards in 2023 were received at the Pacific Rim Wine Competition, Los Angeles International Wine Competition, San Diego Winemaker Challenge and the Jefferson Cup competition. Tastings and tours of these wines are available on Tuesday through Saturday from 12 to 7 p.m.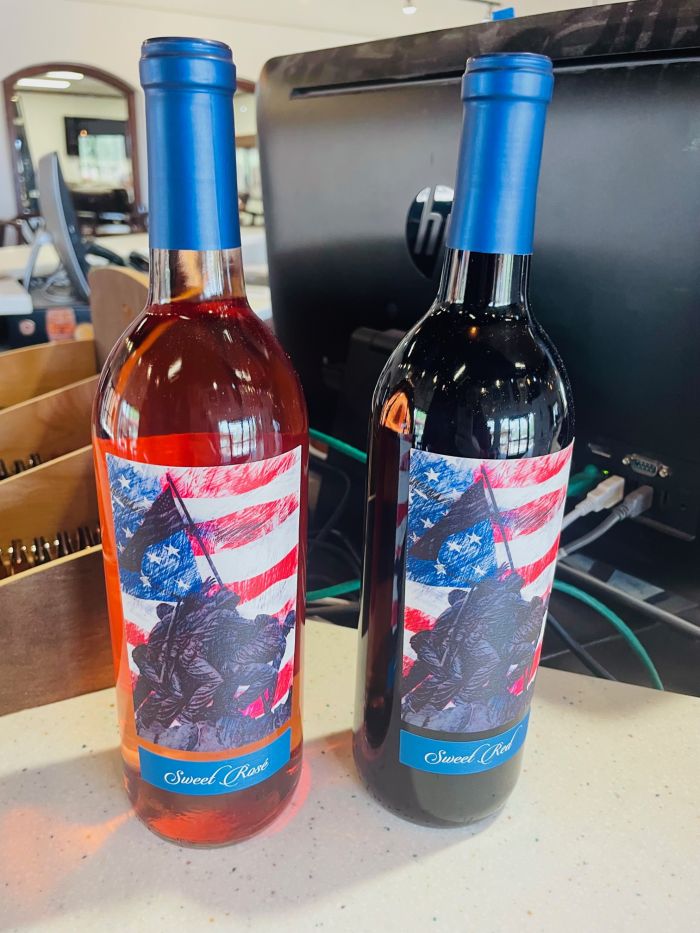 American Wine Made in Texas - Photo Jill Weinlein
One of the oldest and largest best selling premium wineries in Texas is Llano Estacado. Established in 1976, winemaker Jason Centanni makes different varietals at the facility behind the luxury tasting room. Translated into English as the Staked Plains, this region in the Southwest is home to two U.S. Presidents. Both Presidents George H. W. Bush and his son George W. Bush., served these local Texan wines at White House dinners.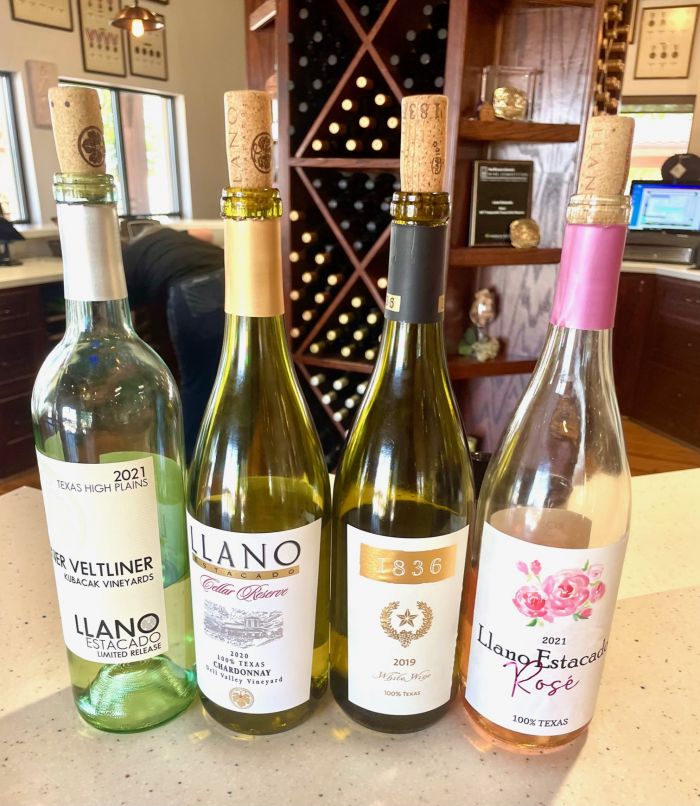 Llano Estacado - Photo by Jill Weinlein
They offer wine tastings and tours where visitors can sample a variety of Llano Estacado award-winning wines. The winery also has a beautiful courtyard and offers tours of their production facilities.
Guests can participate in a guided tasting of (6) one ounce pours of a variety of red and white wines in the large tasting room. They also offer a self-guided flight of (4) two ounce pours of a variety of wines you choose.
Sommelier Tour & Tastings are on certain dates starting at 1 p.m. and 3 p.m. Visitors enter the production side of the winery to see the pressing, fermenting, bottling and labeling process. While learning the history of Llano Estacado Winery, visitors get to taste some of the wines directly from the barrels and tanks while on the tour.
Tastings are from Tuesday through Saturday from 12 to 5 p.m. Happy Hour is available on Tuesday through Friday from 2 to 4 p.m. On Sunday the facility opens at 1 to 5 p.m.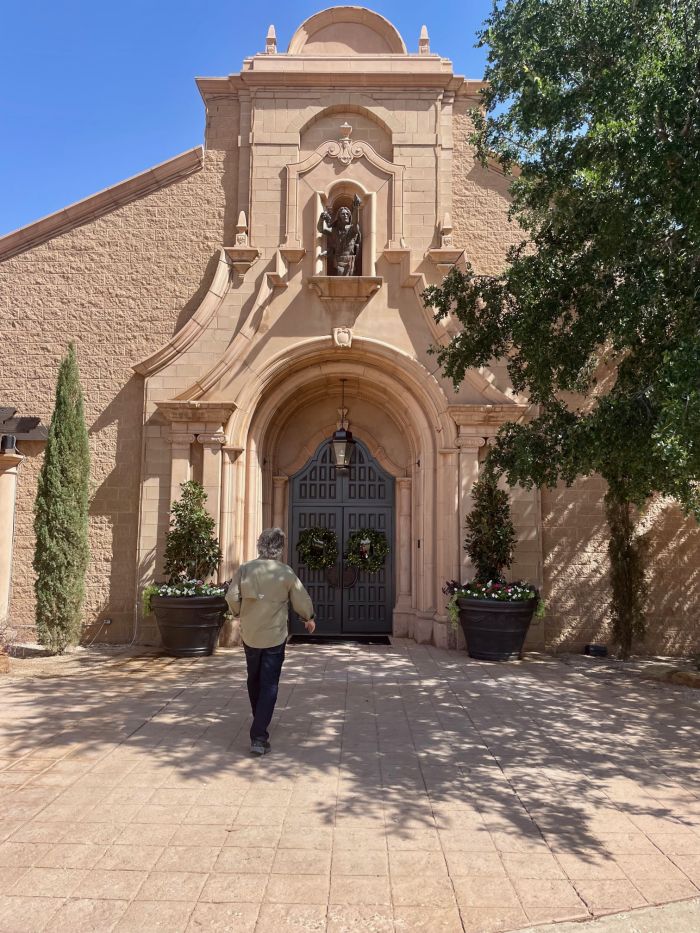 English Newsom Cellars - Photo Jill Weinlein
English Newsom Cellars is one of the only wineries in the region that grow their own Estate grapes. This gives the winemakers complete control over all aspects of making their award-winning Texas wines. Two West Texas families united to create some of the best varietals made at this premier facility. They focus on every detail of quality from the vines in front of the facility to the bottles they sell and pour in the tasting room.
Texas grape grower Steve Newsom planted Picardan grapes in 2017. In France, this rare varietal is used as a blending grape, and was at risk of going extinct. Newsom planted four-acres of Picardan vines in the High Plains, an ideal climate to grow this light bodied varietal. It's pleasing pale straw color offers aromas of green apple, pear and lemongrass. The flavor profile includes apricot, peach and nectarine. International and national judges have awarded this Picardan wine various medals.
Entering the tasting room of English Newsom, the architecture and grounds are an exquisite backdrop for weddings, celebration parties and photo opportunities.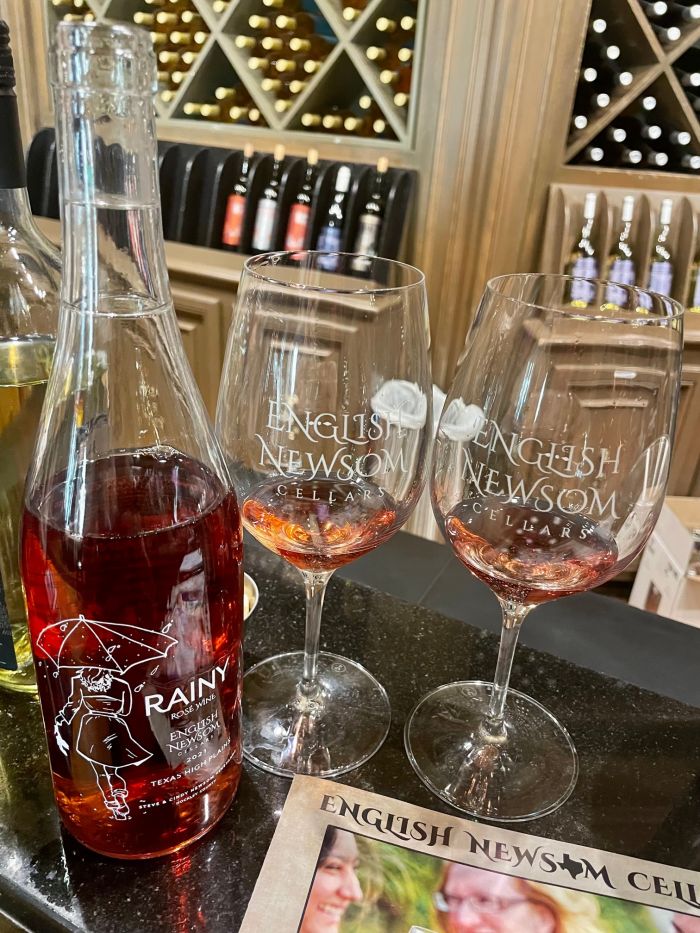 English Newsom Cellars - Photo by Jill Weinlein
Their Rainy rosé is the quintessential summer wine offering a beautiful rose gold color. This medium body wine provides strawberries and cream notes with flavors of Jolly Rancher watermelon candy and a floral bouquet.
They grow the Sagrantino grape, also known to grow well in Italy's Umbria region. This grape provides the most tannic bitterness, but also the highest level of antioxidants. Winemakers at English Newsom age this wine in oak barrels to help smooth out the bold tannins. This creates a soft and silky texture. The gorgeous garnet color has aromas of licorice, bourbon, and leather on the nose. The medium body carries dried cherry, raspberry, brown sugar, and smoked cedar to the palate with a long finish. Akin to a Spanish Rioja, this wine pairs well with smoked sausages and charcuterie and cheeses.
English Newson Cellars is open to the public for tastings on Tuesday through Friday at 1 p.m. On Wednesday, Friday and Saturday they stay open until 9 p.m. The tasting fee is $15 per person for (5) two ounce pours of white, rose and red wines. Keep the souvenir glass for $5.
When exploring Lubbock, Texas be sure to stop into one or all of these friendly High Plains wineries. They are an ideal spot for a respite, and to learn a little about wine and the people who make this city a special place to visit.