Francis Ford Coppola Winery: Sonoma's Oscar-Worthy Wine Experience
Everyone has an unforgettable and favorite scene from The Godfather. It may be the kiss of death from Michael to his brother Fredo or the severed horse's head put in the bed of an unfortunate who refused a family request. Or from Apocalypse Now, the scene with Robert Duvall, as bombs rain down and explode around him, belts out: "There's nothing like the smell of napalm in the morning". These scenes are part of who we are as a culture, cinematic gold for generations created by a virtuoso of the silver screen. Francis Ford Coppola happens to be a man of many talents, one of which is winemaking. In the hills of northern Sonoma County, Francis Ford Coppola shares his passions for wine, good food, and film in an Oscar-worthy winery experience at the Francis Ford Coppola Winery.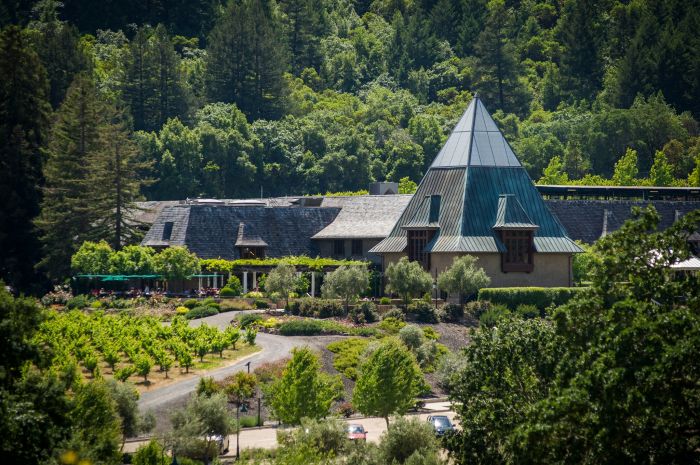 It's been called the wonderland of wine, and once you see it, you could not agree more. Your first thought will be: why does this winery have a massive Olympic size pool? But this is not an ordinary winery. It is a place where many come to spend the day, enjoying the gorgeous surroundings amongst the vineyards and in the California sunshine. There are facilities to enjoy with friends and family including the pool, bocce courts, and the entertainment pavilion. Francis Ford Coppola's love for la dolce vita is visible at every turn with fantastic food options to enjoy as well.
Francis Ford Coppola: A Man of Many Talents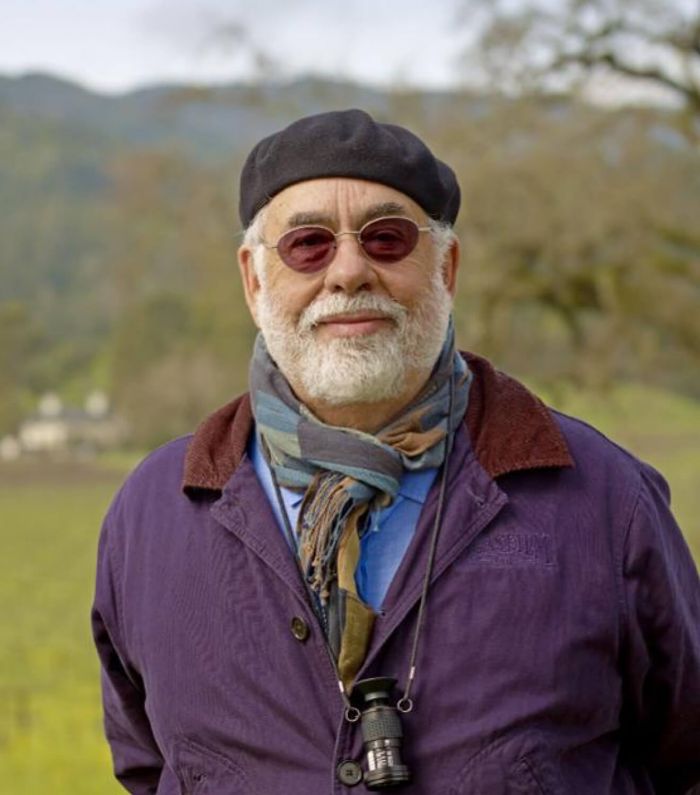 Francis Ford Coppola's talent as a film producer is unquestionable. He has won five Academy Awards and countless other accolades for his films from BAFTAs, Golden Globes, the Golden Lion from the Venice Film Festival, and Palme d'Or from the Cannes Film Festival. But his passions go beyond cinema as he celebrates his own culture as an Italian-American along with his love of wine and food. He recalls growing up in New York where his grandfather and uncle produced homemade wine in their basement. The love of good food and family is part of who he is. He shares these passions in his magnum opus to the love of wine, food, and film at the Francis Ford Coppola Winery in Sonoma County.
The Unmissable Francis Ford Coppola Winery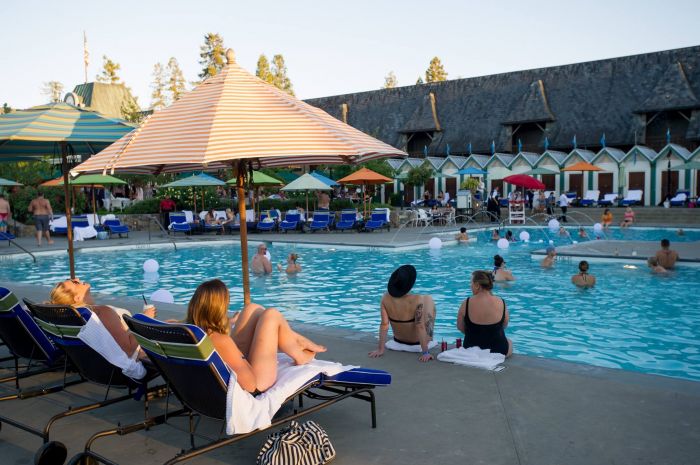 It has been called the Disneyland for the wine lover and with good reason. The design was fashioned after Tivoli Gardens in Copenhagen which left an impression on Coppola while he visited there. You'll see the similarities in the design, the entrance gates, and, the clock tower as well as the experiences that go far beyond wine. This is Coppola's tribute to the good life. He shares: 'When we began to develop the idea for this winery, we thought it should be like a resort, basically a wine wonderland... A place to celebrate the love of life.' The estate is a place to spend the day, rent a cabana and relax by the pool, have a long lunch with friends or family, and yes, to enjoy Sonoma's wine and wine culture.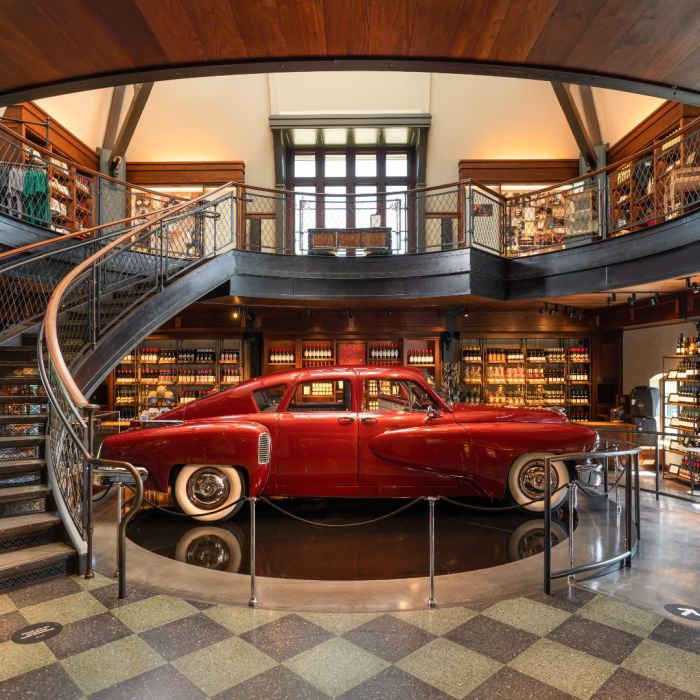 Fans of Coppola's life in cinema will be fascinated with the mini museum of his films with memorabilia from his most renowned movies. There are props, costumes, and memorabilia including Vito Corleone's desk from The Godfather, Dracula's medieval armor from Bram Stoker's Dracula, and props from Apocalypse Now.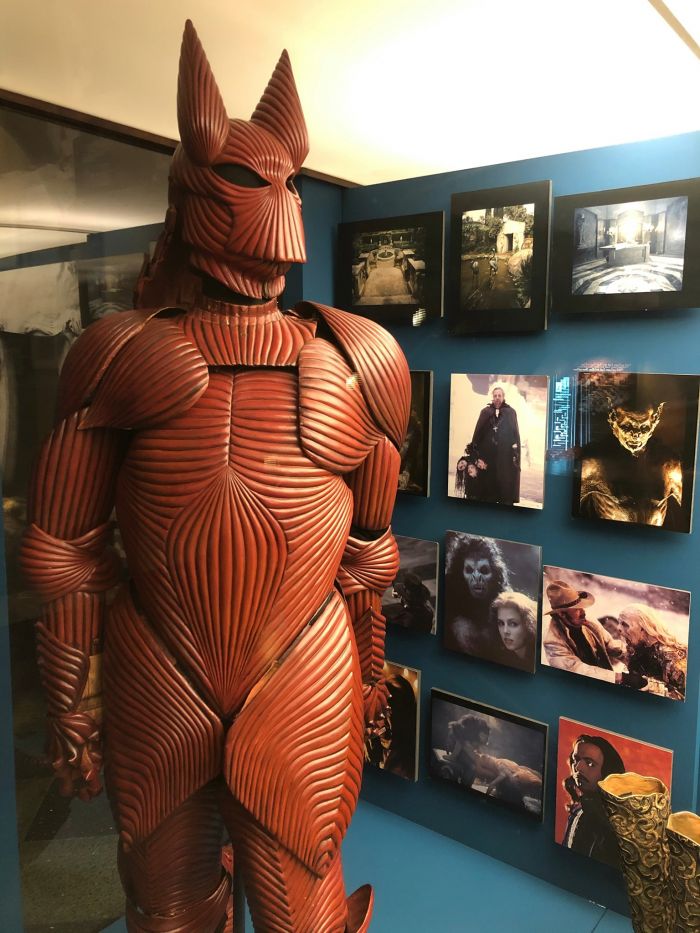 You'll also see a 1948 Tucker car from Tucker: The Man and His Dream amongst other fascinating pieces from film history. You'll also see many of his accolades including the actual Oscars and Golden Globes on display as well as some of his other awards from his celebrated career.
The Estate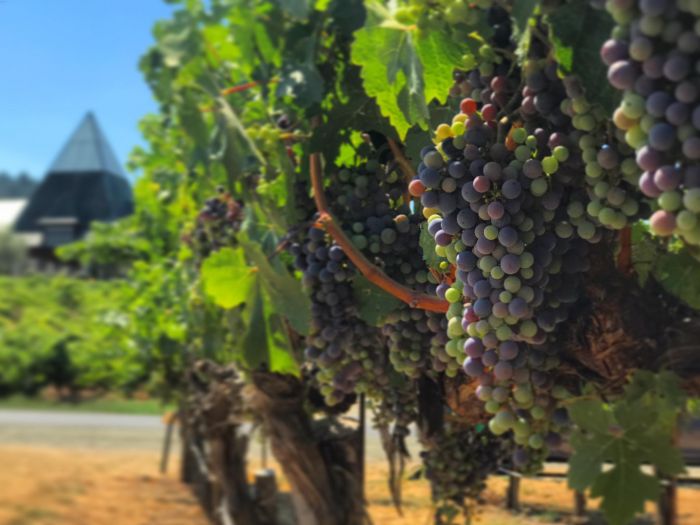 The estate sits on 27 acres of vineyards in the Alexander Valley appellation, a region known for producing top California Zinfandel and Cabernet Sauvignon. Sonoma is an area dedicated to sustainability and conservation and the Francis Ford Coppola Winery is a leading example of ethical farming and sustainably.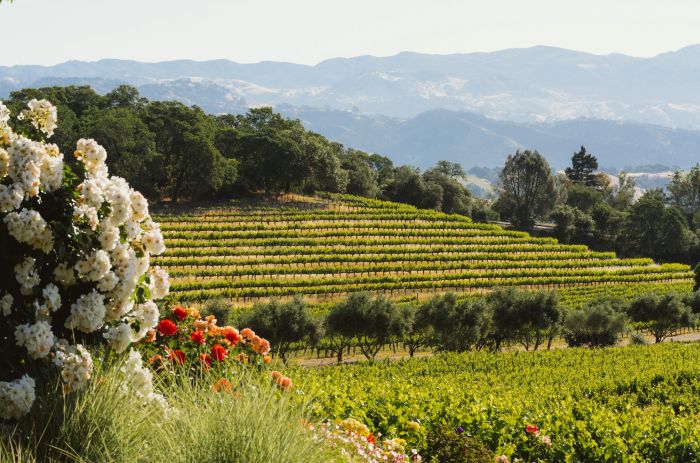 The winery was certified as 100% sustainable in 2019. For their substantial wine offerings, fruit is sourced from regional producers who provide certified organic produce. The winery was a past winner of the California Green Medal Award where awardees are recognized for their advanced sustainability practices and innovation in both viticulture and winemaking.
Getting down to Business: Wine Tasting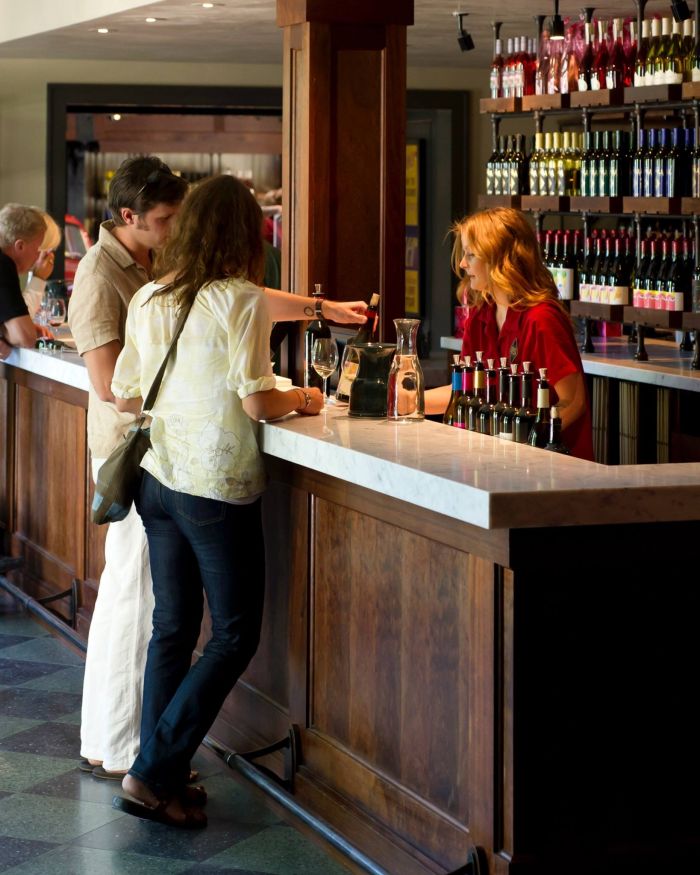 The star of the show at the Francis Ford Coppola winery is, of course, the wine. There are several wine tasting experiences from the more casual experiences at the bar or the more formal experience led by a wine expert in the upstairs gallery. The winery produces over fifty wines that range from sparkling to dessert wines. All have a special story to tell, beginning with the labels of beautiful artwork from personal friends of the maestro. The label from Directors Cut line of exclusive wines shares a bit of movie making from a century ago with the zoetrope which is the cylindrical lightbox that animates photos and was the first moving picture device.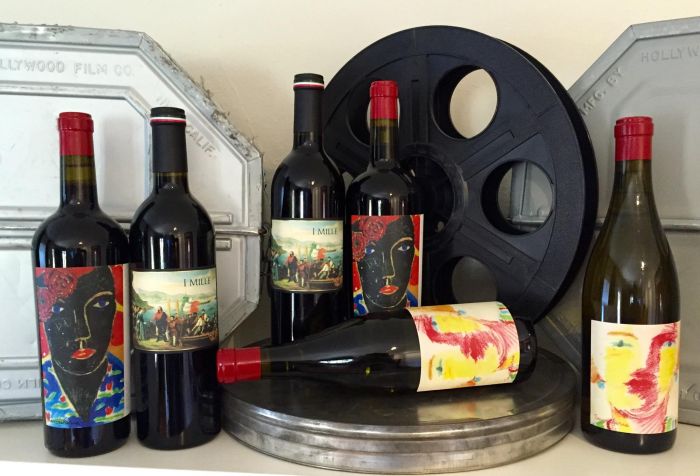 A good place to begin in your exploration of their wines is with the First Flight tasting. Here you'll have four truly exceptional wines. The wines tasted are from their small-batch reserve wines and made available online, to their wine club members or while at the winery. The tasting begins with the Francis Coppola Reserve Viognier a light and crisp aromatic wine with notes of nectarine, apricot, and citrus. With its natural acidity, it pairs well with shrimp pasta with white sauce or perhaps a blackened salmon dish.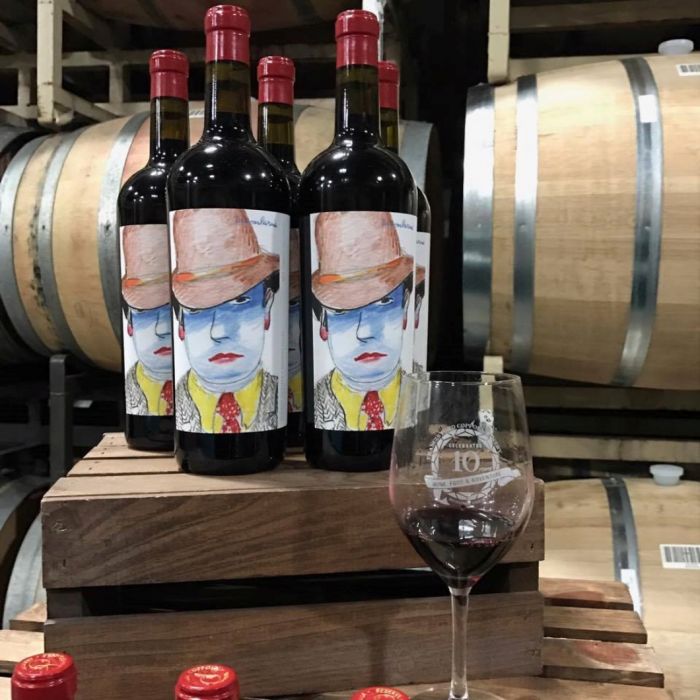 Next up is the Francis Coppola Reserve Pinot Noir which offers the classic varietal's notes of strawberry and black cherries. This wine's light body, velvety tannins, and natural acidity are made for pairing with classic Italian dishes such as tomato-based pasta like marinara with meatballs or a pizza with gooey mozzarella and cooked in a wood-fired oven.
The Francis Coppola Reserve Petite Syrah is rich, dark, and complex with flavors of clove, licorice, ripe plums, and blueberries. These wines are made for cellaring to reach their full potential. With the wine's firm tannins and savory notes, it pairs extremely well with barbecued meats or Argentine asado such as the rack of lamb served at the winery during lunch. The last red in the tasting is the Francis Coppola Reserve Cabernet Sauvignon which offers notes of cherry and clove and is packed with tannins. This dark, rich, and full-bodied wine also pairs well with grilled meats.
One of the most popular grape varietals grown in America and Sonoma, in particular, is Zinfandel. And forget that god-awful sweet white zinfandel with zero character that tastes like grape juice. In its intended form, Zinfandel is a fantastic red wine, rich and full-bodied with silky tannins, perfect for pairing with grilled meat or a casual gourmet burger. Francis Ford Coppola produces several highly regarded Zinfandels such as the Director's Cut Dry Creek Valley Zinfandel which offers complex flavors and a long finish.
The fruit comes from mature vines and is blended with Petite Syrah and Cabernet Sauvignon then aged in French oak barrels. Expect a wine with a full body and balanced structure with flavors of wild berries, black pepper, and oak. Zinfandel is America's wine the way Bordeaux is to France or Sangiovese is to Italy. This wine from Francis Ford Coppola Winery is the one to put back on your wine list and your dinner table.
Gastronomy: Molto Bene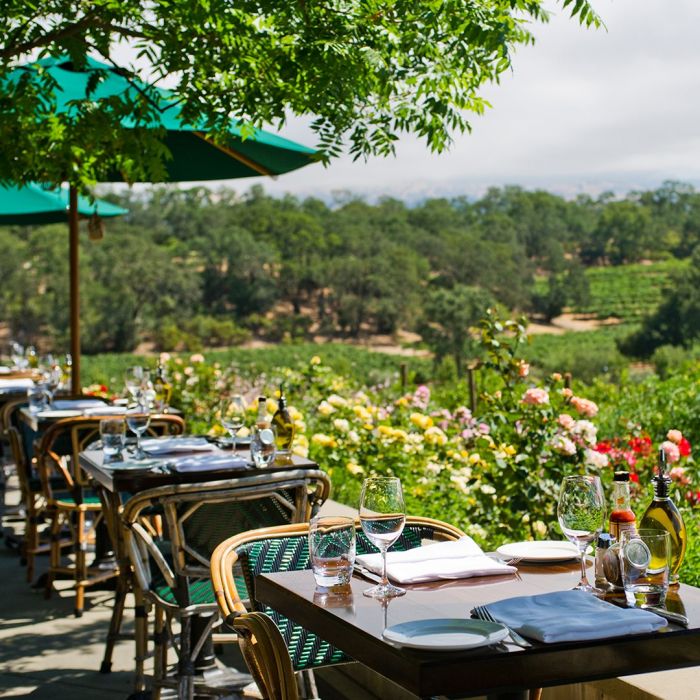 Part of enjoying wine culture and the good life is to have food and wine with friends. The Rustico restaurant does just that with an offering of Francis Ford Coppola's favorite dishes with a focus on classic Italian recipes and Argentine asado. All of these are created to perfectly pair with their wines. Guests can dine inside in the casual setting while most will opt to dine alfresco on the terrace overlooking the gardens and vineyards.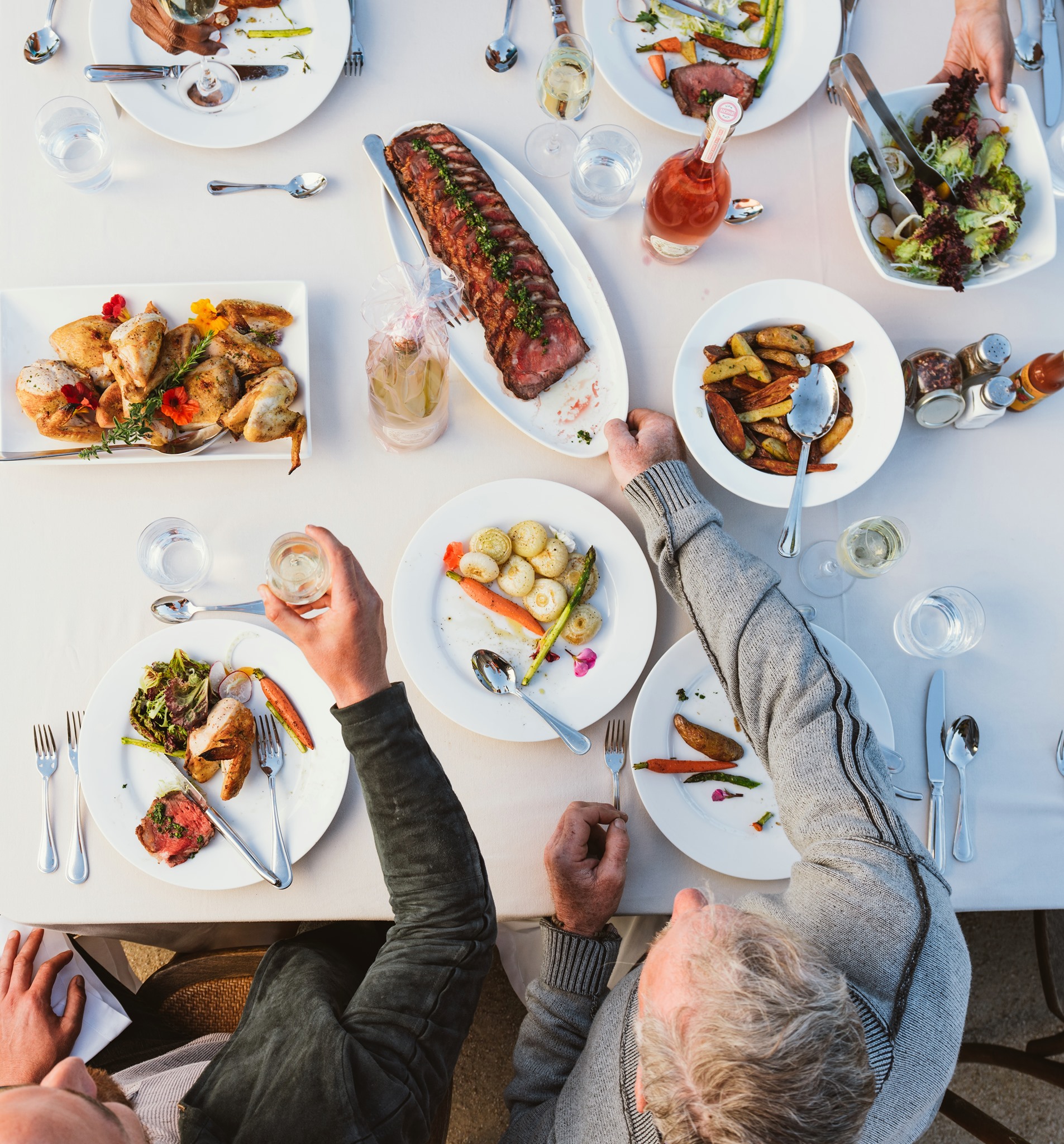 The dining experience is exactly what you'd expect if you were hosted for a meal by Francis Ford Coppola himself. Family-style dishes, uncomplicated and made from fresh and locally sourced ingredients, many from the property's organic herb and produce garden. The menu is comprehensive with a range of dishes and begins with a savory donut, a simple but delicious surprise served hot in a paper bag. Not to miss are the wood-fired pizzas that would do any Italian proud such as the authentic Neapolitan-style pizza Sofia Prosciutto di Parma, wild arugula, and Parmigiano Reggiano on a crunchy crust. One signature dish that is sure to please is actually an Armenian dish that Coppola learned from a friend. The Rack of Lamb Madame Bali is marinated in pomegranate juice and red onions for three days and then grilled to perfection on the Argentine parrilla. Molto Bene!
Bravo Mr. Coppola, Bravo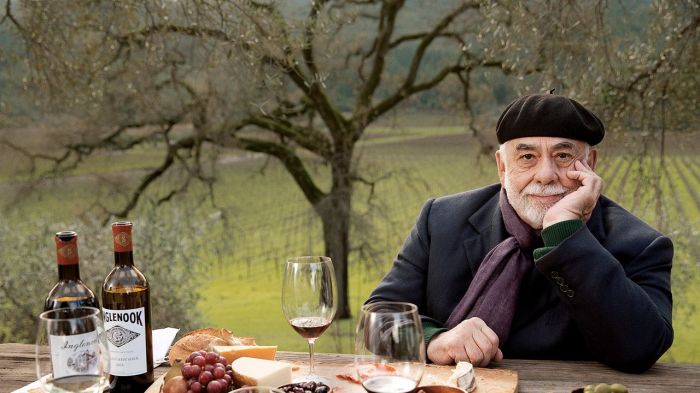 Francis Ford Coppola is film-making royalty. For those fortunate enough to visit the Francis Ford Coppola Winery, they will get to experience his talents beyond film in a winery experience like no other. Part recreation and entertainment, part film appreciation, it is his homage to the good life and made for enjoying food, film, and friendship. The Francis Ford Coppola Winery is clearly Sonoma County's Oscar-worthy oenocentric experience