Mila Pantovich View Profile

Lifestyle Editor | JustLuxe
Snag the "World's First" Custom DJ Controller Courtesy of umidi
Dec. 5th, 2013 | Comments 0 | Make a Comment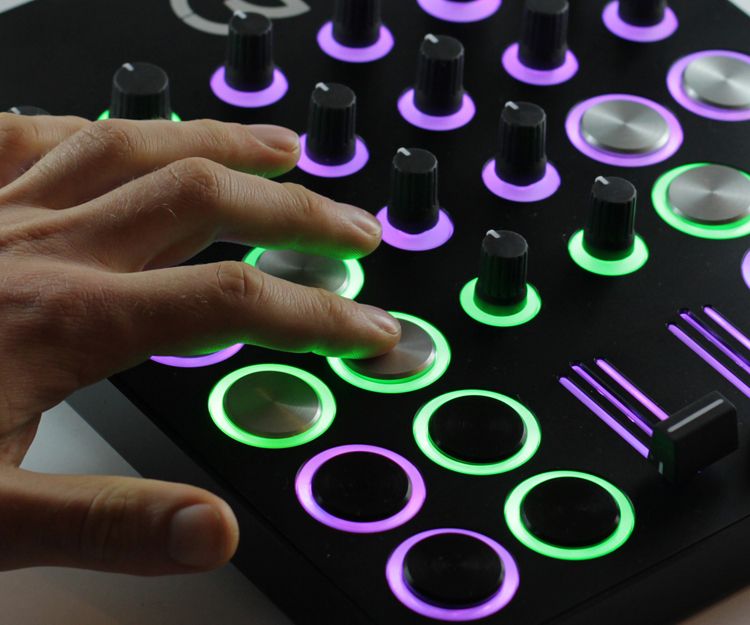 Photos Courtesy of umidi
If you're a DJ, you'll want to pay attention to this one. umidi has started a Kickstarter for their new custom DJ controller, which they're calling the "world's first" — probably because they let you design it to your exact needs and will ship to anywhere in the world. Promising unmatched customization, you can choose up to 36 components on the 6x6 grid, which includes knobs, faders, encoders, jog wheels, and aluminum push buttons. You can even choose an image to be laser etched on the background!
There are nine different colors available for the components, allowing you to create whatever scheme you want. There's even nine light pattern styles, each one unique. With 288 RGB LEDs, umidi promises that you can do whatever you want with their control, including visualize your mixing and create custom start-up sequences. You can even dictate what the lighting shapes around the components are — if you like dashes, maybe little dots or full blocks of color, go for it!
While you can choose an image to be etched onto the controller (either your own image or one of their templates), the images are limited to black and white. That shouldn't be a problem though, not considering how colorful you can make the rest of it.
The controller is made with a single piece of aluminum and is less than an inch thick. At less than three pounds, this will be the easiest thing to pack up with you to future gigs. Compatible with Mac OS X, Windows and Linux, you don't need any drivers as this controller is simply "plug and play."
For $895, you can get yourself one umidi DJ controller, with free shipping to USA and Australia. Snag a limited edition white one (which will be numbered 10-35) for $983 or a controller from the very first batch of 10 (also numbered) for $1,083. If you want to go crazy and really class it up, for $4,532 you can buy the only 24K gold umidi — perfect for that Jay Z party you've been asked to DJ.
You can get started on your umidi designs right now, and once they are ready to accept orders — around late January or early February — you'll be notified by the company.