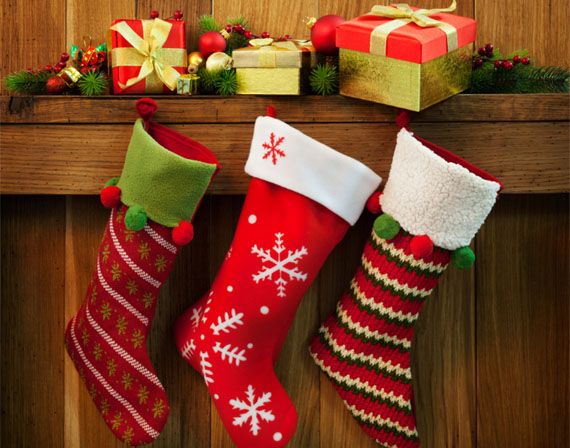 My favorite
holiday gifting
category is the stocking stuffer. Just when everyone thinks the parade of presents has ended, out come the stockings stuffed to the gills with yet more goodies. The small, fairly uniform sizes of stocking stuffer gifts only add to the air of mystery of what this ever-so-special sock will bear. Here are some size-appropriate gift ideas as you make your list and check it twice.
Fornasetti Profumi per La Casa Incense Box
$245
The brilliant Barnaba Fornasetti has turned his artistic attention towards the notion of home fragrance in combination with decorative objects that elevate a room's ambiance. World-renowned perfumer Olivier Polge of International Flavours and Fragrances (IFF) created the first Fornasetti fragrance,
Otto
. This is a decorated ceramic lid/burning receptacle and wooden box that contains 80 incense sticks. The scented incense sticks include such fragrances as thyme, lavender, orris and cedarwood, which enhance the natural environment while ethereal incense notes at the base evoke a dream-like dimension of Fornasetti's graphic poetry. This is a unique luxury gift that'll stimulate multiple senses.
Audi Xikar Lighter
$89
A modern look that matches its accentuated elegance, this Audi-branded lighter comes complete with two cigar punches (7mm & 9mm). It activates its powerful jet-flame through a light push of the thumb. Sized at 2.5" w by .5", this high-quality, sleek, and sophisticated lighter also features the globally recognized Audi rings logo. This is a great stocking stuffer for the cigar lover who will enjoy the additional features of convenience. A classic and elegant gift item this and any season.
Mophie Juice Pack Air
$79.95
Get on-the-go power for the iPhone 4 in a light-weight and ultra-thin external rechargeable battery case. The Mophie Juice Pack Air is designed to virtually double the time you have to rock, talk, surf and send with your iPhone 4! This sleek solution is a rechargeable external battery that is concealed inside of a protective form-fitting case. It offers users the full protection of a hard-shell case while providing virtually twice the battery life of the iPhone alone — all in an ultra-thin, light-weight, low-profile design. Compatible with both AT&T and Verizon form-factors, and available in black, red, and white, this external battery case not only protects the phone, but is also prevents the "red-bar" blues. 
Victorinox Swiss Army Slim DUO USB
$523.99
The Victorinox Swiss Army Slim USB drive offers its users iron-clad data protection in a waterproof and shock-resistant slim design. Offered in seven heritage and "pop" colors like silver, blue, orange, pink and green, these USBs are perfect stocking stuffers, and come in a wide range of storage capacities. The Slim line joins Victorinox Swiss Army's current offering of flash memory devices, which boast the most sophisticated USB data encryption technology available and provides consumers with unmatched protection for their digital data.
Zippo Hand Warmer
$19.95
You want to be able to enjoy the great outdoors, whether skiing, winter walks, or waiting for your child's soccer practice to end when it's cold outside. Now you can more comfortably with the Zippo Hand Warmer. Available in black and metallic, it can slide into your pocket with its high-polish finish and a sleek, thin design. It's virtually odorless and stays warm for up to 12 hours. Plus, it's reusable with Zippo lighter fluid and includes a convenient filler cup and warming bag. While it burns lighter fluid, it does not produce a flame. It's a "hot" item to slip into someone's stocking this year.
X-mini Max II Capsule Speaker
$49.90
The X-mini is a revolutionary pocket-sized speaker that packs explosive volume and bass over ten times its physical size. Featuring an extendable vacuum that mimics the resonance of a sub-woofer, the X-mini Max II Capsule Speaker provides crisp, full-bodied sound and volume. Just twist and lift to unveil a pair of ultra-portable stereo speakers. Thanks to a social "Buddy-Jack" design, users can connect one X-mini Max II Capsule Speaker to another, forming an endless "daisy chain" of self-powered, bass-enhanced portable speaker systems.
ila Security SPORT
$34.99
Fill your loved one's stocking with peace of mind in the form of stylish personal safety accessories. It's been reported that, when feeling threatened, women often lose the ability to scream as fear-induced adrenaline courses through their bodies. Named after the Hindu Goddess of Speech, "ila," the alarms in the collection are designed to scream on their behalf in order to shock and disorientate any potential attacker or thief, and to attract attention. Small and indisputably powerful, ila Security's alarms unleash 130 decibels on their unsuspecting target. Clipped unobtrusively to clothing, the ila SPORT is easily activated with one hand by pressing a button at the top of the gadget, and it can be disarmed with a small on/off switch to avoid false alarms.