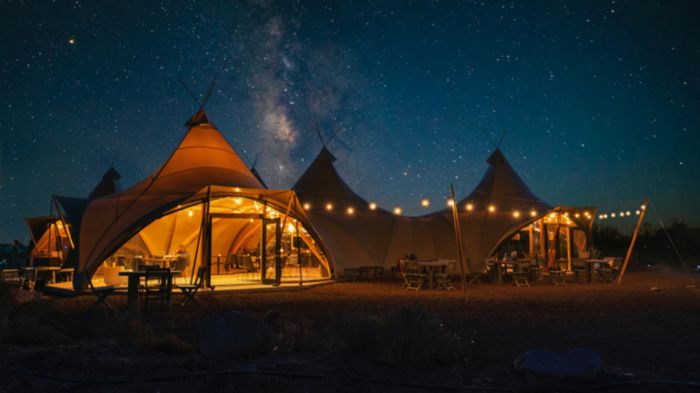 (credit: Courtesy of Under Canvas)
Outdoor hospitality leader Under Canvas which currently operates nine locations in the United States just announced its collaboration between Crystal Mountain Resort to introduce Crystal Sky Camp. Slated to open July 2021, Crystal Sky Camp will be located in the shadow of Mount Rainier within National Forest Service land, 6,000 feet above sea level. Only accessible by chairlift, the camp will offer a truly luxury mountaintop experience.
Catering to group adventures of any kind, the camp features 20 safari-inspired tents which can accommodate up to 40-50 guests. Offering panoramic views of the picturesque mountain range in Washington State, Crystal Sky Camp is designed to provide guests with an immersive, mountaintop experience with all the comforts of a first-class resort.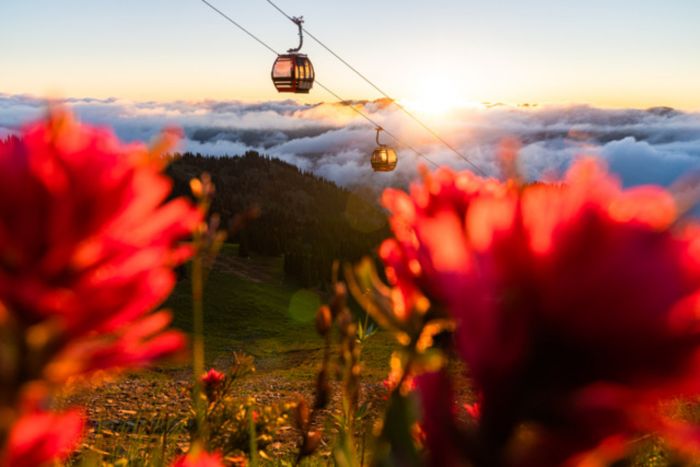 (credit: Colton Jacobs)
"We are thrilled to be partnering with Crystal Mountain to bring to life this exclusive, alpine adventure retreat," said David DiFalco, Chief Operating Officer at Under Canvas. "In a time where so many are looking to reconnect - be it, corporate groups, weddings or reunions - Crystal Sky Camp offers the ideal destination for a memorable outdoor escape."
Offering one of the most unique and adventurous arrival experiences, the camp can only be accessed via two exhilarating chairlift rides. Designed for group buyouts and events - perfect for weddings, group retreats and social gatherings of all types – guests can be one with nature, surrounded by luxurious accommodations of course, in their Safari-style canvas tents. These tents, which are exclusive to the Under Canvas brand, offer plush king-sized beds with luxurious linens, wood floors with rug accents, outdoor and indoor seating options, wood-burning stoves and high-speed Wi-Fi.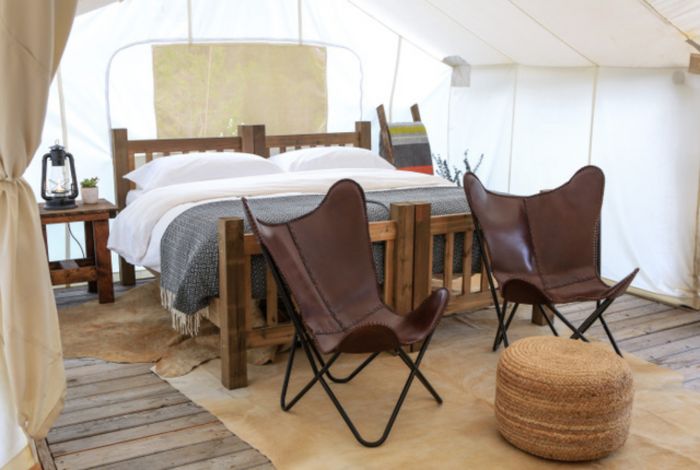 (credit: Courtesy of Under Canvas)
Featuring all the comforts and conveniences of a luxury all-inclusive resort, in a non-typical setting, guests will enjoy amenities such as daily housekeeping, daily meals as well as beverages, transportation to and from base area, indoor and outdoor camp activities and access to the camp's very own high-powered telescope. Guests will also have a dedicated Camp Concierge and support staff as well as exclusive use of Crystal Mountain's modern Campbell Basin Lodge. Upgrades are available for guests looking to elevate their experience to even further heights with a full list of adventure activities, which can be found here.
"The combination of the picturesque and expansive beauty of Crystal Mountain, with Under Canvas' expertise to connect guests with the outdoors feels like a winning experience for the adventure-minded. This Is going to be a bold and unique adventure for a lucky few," said Adam Sutner, Vice President of Business Development for Crystal Mountain.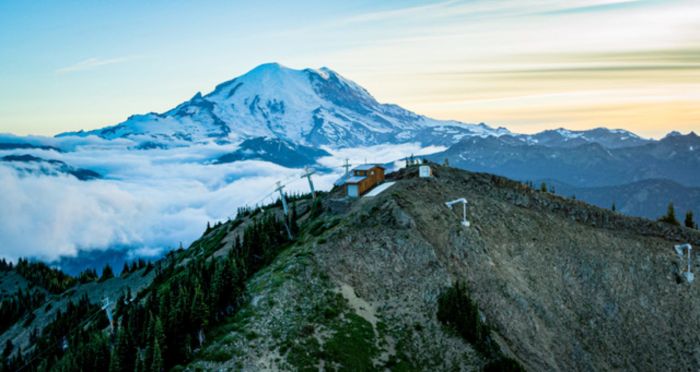 (credit: Steep Motion)
Exclusively designed to bring groups together in the best possible way, groups can experience a fully curated and customized experience with their buy-out of the on-mountain site. The inaugural season for Crystal Sky camp runs from July 1 - September 31, 2021 and will continue seasonally for three years.