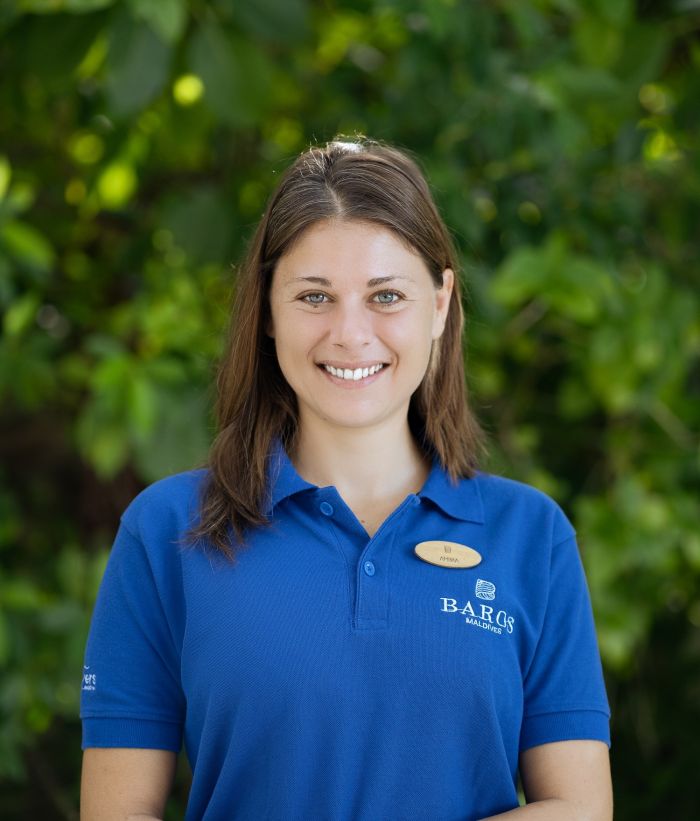 Baros Maldives
Originating from Italy, enriched with a distinctive Spanish heritage, Ambra embarked on her extraordinary journey in the Maldives in 2014 as an esteemed diving instructor. With an illustrious career spanning prestigious Maldivian properties, she joined the esteemed Baros Maldives in 2017, assuming the esteemed role of Base Leader for the opulent diving, snorkeling, and water sports operation in 2020.
Boasting an awe-inspiring record of over 5,500 dives and armed with a distinguished degree in Oceanography and Marine Science, Ambra's unwavering ardor resides in the captivating depths of the ocean. Throughout her illustrious tenure in the diving industry, Ambra has acquired an extensive repertoire of knowledge in the art of coral restoration techniques and the discernment of exotic tropical fish, knowledge she eagerly imparts to discerning guests and discerning tourists alike. Through the art of diving instruction, exclusive guided underwater excursions, and immersive nature walks, Ambra has masterfully realized her vision of harmoniously fusing marine sciences with the opulent realm of luxury tourism.
This sublime amalgamation has elevated her to the esteemed position of enlightening individuals on embracing a more refined, reverential, and mindful approach to the natural environment. Her resolute mantra, "we are all privileged voyagers on the same extraordinary vessel," eloquently underscores the universally profound essence of environmental awareness and protection. Ambra firmly believes that irrespective of one's circumstances, the actions and repercussions concerning the environment reverberate universally, impacting all fortunate enough to indulge in the lap of luxury.
1. What makes Baros' marine life special to you?
The abundance of marine life and its high biodiversity makes Baros House Reef an exciting place to snorkel or dive – there is never a boring moment here. In any season and weather conditions, there is always something special or unusual to encounter.
2. What does your role as the resident marine biologist on Baros entail?
Ensuring the well-being of both Baros House Reef and the nearby dive sites. Enhancing guests' fundamental environmental awareness with a delightful tourist-oriented approach. Offering comprehensive presentations on specific subjects, presented in a clear and accessible manner that caters to all audiences.
3. Can you tell us about some of the research projects you've worked on?
As our primary objective is to raise environmental awareness, we do not engage in formal research activities per se. However, we actively undertake experimental coral plantation and coral regeneration projects, employing various techniques to assess optimal growth conditions, suitable techniques, and coral species required.
4. What's your favorite part about being a resident marine biologist?
I would say, one of the most rewarding aspects of being a resident marine biologist is the ability to captivate and engage guests through basic yet impactful knowledge about the environment and marine life. By sharing simple and accessible information, I have the opportunity to inspire and guide guests towards adopting responsible practices in the water and fostering a deep respect for our oceans.
5. How important is it for hotels and resorts to focus on environmental sustainability?
Regrettably, the emphasis on eco-friendly and sustainable practices in the hospitality industry often seems more like a trend than a genuine commitment stemming from a sense of responsibility. But, tourists are increasingly discerning when it comes to evaluating how resorts and hotels address sustainability. Demonstrating care, responsibility and active engagement in environmental conservation not only creates a positive impression but also significantly enhances the guest experience.
In terms of underwater conservation, those involved in the field can comprehend and witness the pressing need for taking action to protect and aid coral reefs. The urgency to safeguard and support these fragile ecosystems is evident to those involved in this domain, especially for a country such as the Maldives where most of the tourism and local livelihood is dependent on the marine ecosystem.
6. Can you highlight one memorable experience you had as a marine biologist at Baros?
A young lady made the decision to pursue a career in marine biology, drawing inspiration from my lifestyle as a diving instructor and my deep involvement with ocean conservation and knowledge.
7. Which changes could you observe in maritime life in the last few years? What are the biggest successes?
Despite the numerous adverse impacts brought about by the COVID-19 pandemic, the temporary halt in tourism has revealed some positive changes in marine life. While the duration of this pause may be relatively short, it has demonstrated the accelerated regeneration of reefs following damage. Notably, at Baros, both the coral plantations and the natural reef experienced a remarkable surge in growth, leading to a healthier and more vibrant reef ecosystem compared to its previous state.
8. Why is it important for guests to be involved? What can guests do to help protect the marine life at Baros?
In a nation where a significant portion of revenue stems from water activities carried out by tourists, it becomes crucial to impart knowledge about responsible water practices and instill a deep respect for the environment. Recognizing that we are visitors in this marine ecosystem is paramount. Our impact on the reefs is more substantial than we might realize. Therefore, to ensure the provision of exceptional services and maintain the elevated standards of a five-star resort, it is imperative to protect and preserve the ocean surrounding our island. This understanding underscores the reason why we attract and cater to tourists.
To actively contribute to the protection of marine life at Baros, guests can play a vital role. They can engage in environmentally friendly practices, such as practicing responsible snorkeling and diving techniques, refraining from touching or damaging coral reefs and properly disposing of any waste generated during their stay. Moreover, guests can participate in educational initiatives and awareness programs we organize, such as the coral sponsorship and coral cube initiatives - empowering themselves with knowledge about marine conservation and promoting sustainable behaviors both during their visit and beyond.
About Baros Maldives: The Maldives Icon - Baros is an award-winning luxury private island resort in the Maldives, a short 25-minute speedboat ride from Maldives International Airport. This tropical haven is home to 75 sophisticated villas framed by a seemingly endless powder-soft white beach and a glittering lagoon surrounded by a world-class house reef. It's paradise personified.
Welcoming guests since 1973, Baros has spent decades honing its services and cultivating its environment, making it the Maldivian Icon. An award-winning resort, and a member of Small Luxury Hotels of the World, Baros is celebrated for its authentic spirit, legendary service, outstanding comfort and understated elegance.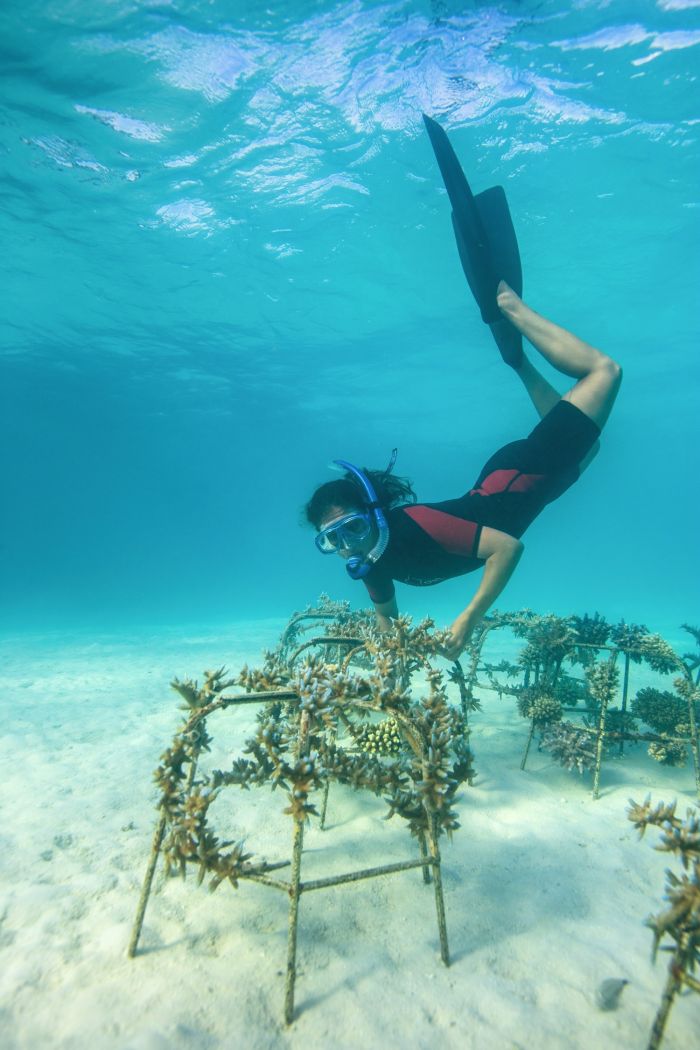 Baros Maldives
Underwater and Coral Reefs