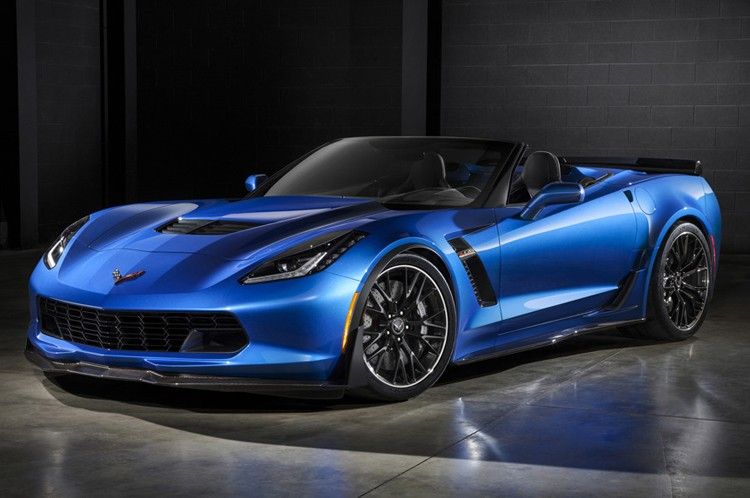 Photos Courtesy of Chevrolet
There are two types of people who buy Corvettes: people who want to go fast, and people who want to look like they're going fast. The former would often go for one of the more performance-focused versions, like the track-tuned Z06, while the latter would often opt for the convertible. But now both have come together with the release of the new 2015 Chevrolet Corvette Z06 Convertible. Revealed at the New York Auto Show recently, the Z06 Convertible offers the best of both worlds — the hardcore performance of the Z06 coupe with the wind-in-your-hair driving experience of the Stingray convertible.
"The Z06 Convertible is a world-class supercar in every sense," says Mark Reuss, Executive Vice President, Global Product Development. "Only a handful of convertibles in the world bring more than 600 horsepower and 600 pound-feet of torque. Even fewer can match the advanced technologies, aerodynamic design, and visceral driving experience of the Z06 Convertible."
Reuss is right; to get as much power and performance as you'd get from the Corvette Z06 Convertible, you'd have to spring for something like the McLaren 650S we drove in Spain recently (with 641hp on tap, it goes for over $280,000). The Ferrari 458 Spider, Audi R8 Spider, Porsche 911 Turbo S Cabriolet and Aston Martin Vanquish Volante all command similar prices, but offer less than 600hp. While Chevrolet has still yet to release official output and pricing information for the Z06, it promises to deliver "at least" 625hp and 635 pound-feet of torque, and pricing is expected to come in at around $100,000.
For all those zeroes, you'll get the same 6.2-liter supercharged V8 as the Z06 coupe, as well as the same seven-speed manual (or available eight-speed automatic) transmission, Magnetic Ride Control suspension, 19-inch wheels (20 inches in the back), Michelin Pilot Super Sport tires, Brembo steel (or available carbon-ceramic) brakes and aerodynamic upgrades, and a folding fabric roof that can open and close at speeds of up to 30 miles per hour. Of course the 2015 Chevrolet Corvette Z06 Convertible will be capable of going much faster than that. You'll just need to determine if you want to let the elements in before you reach those speeds.
"Our mission with the seventh-generation Corvette was to make the performance levels more accessible, enabling drivers to exploit every pound-foot of torque, every 'g' of grip and every pound of downforce. It's a philosophy we introduced with the 460-horsepower Corvette Stingray — and one that's even more relevant with an estimated 625 horsepower at your beck and call," says Corvette chief engineer Tadge Juechter.
"Until recently it was not possible to create a lightweight, open-roof structure strong enough to cope with the braking, cornering, and acceleration of Corvette's top performance models. The frame for the Z06 convertible leverages advancements in computer-aided engineering, metallurgy, and manufacturing techniques — many of which were not available just five years ago."