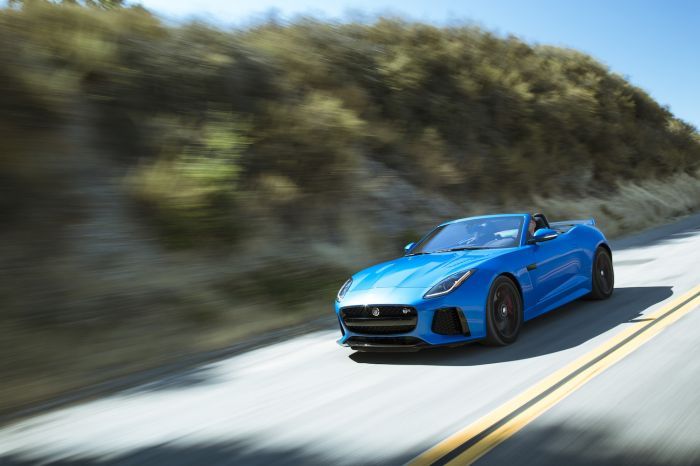 Photo Credit: Jaguar
Each year, in addition to the actual goings-on during Monterey Car Week, aka Pebble Beach, there's the whole undertaking of getting around in a style suitable to the posh events themselves. This leads to a form of automotive one-upmanship which we've engaged in for several year's running. The satisfaction of turning heads in a place like Pebble Beach where Ferraris are a dime a dozen can't be conveyed with mere words. This year our success was assured thanks to Jaguar and Land Rover, and in particular their exclusive Special Vehicle Operations divisions, which build everything from bespoke cars for Bond films to exquisitely enhanced versions of their road cars for clients who crave something even sexier.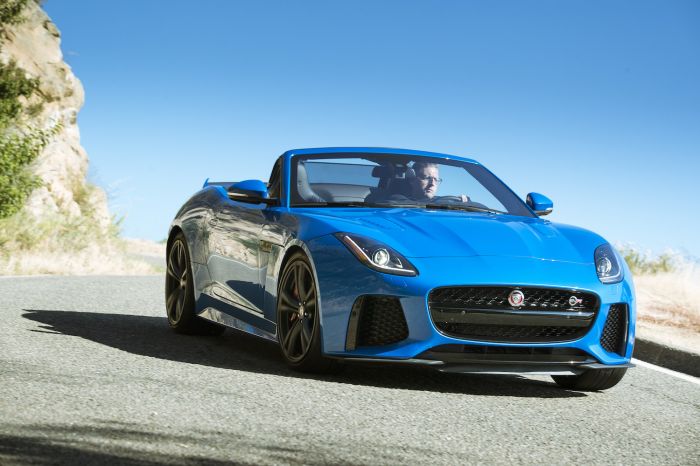 Photo Credit: Jaguar
Starting off at the beautiful Ritz-Carlton, Bacara resort in Santa Barbara, we received our enviable assignment: test out the incredible Jaguar F-Type SVR Convertible, Jaguar's most powerful series production road car ever, and the Range Rover Sport SVR, the most powerful Land Rover ever, on the scenic 320 mile journey to Monterey, after which the F-Type SVR would be ours for the remainder of the weekend's festivities. Both designed, engineered and built in Britain, the rip-snorting roadster (starting at $125,000) and ür-SUV (starting at $113,600) can compete with—and handily defeat—any cars in their respective class, with effortless elegance and the sort of well-bred menace that agent 007 is known for.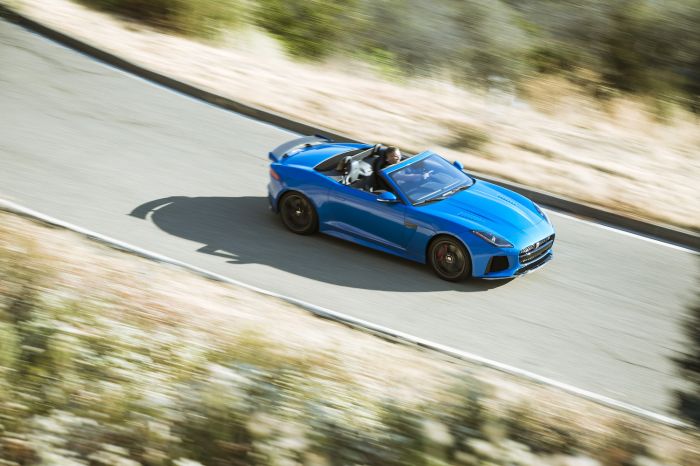 Photo Credit: Jaguar
The Bond references are inevitable, but the heritage of Jaguar in particular runs deeper than that. Everyone from Steve McQueen and Humphrey Bogart, to Keith Richards and Brigitte Bardot were devoted Jaguar drivers, most favoring the F-Type's direct predecessor, the iconic E-Type, though it shares DNA with every beautiful car the storied marque has ever produced. In the F-Type SVR Convertible, it's hard not to feel like the King of Cool climbing into his famous Jaguar XKSS—and that's a good a measure of the successful job Jaguar has made of building cars that are utterly contemporary, yet imbued with the brand's high-octane history.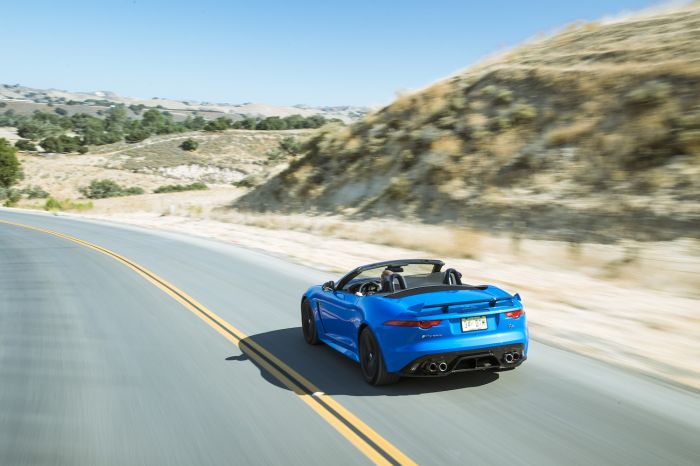 Photo Credit: Jaguar
Developed to exploit the lightweight aluminum-bodied F-Type's full potential while retaining its inherent day-to-day drivability, the F-Type SVR can do 0 to 60 mph in a blistering 3.5 seconds—faster than the Aston Martin V12 Vantage—and can hit the magic 200 mph mark on a suitable track. It packs the latest evolution of the Jaguar's 5.0-liter supercharged V8 engine boasting 575 horsepower and 516-lb.ft. of torque. According to Jag, "everything which contributes to the vehicle's performance and handling dynamics has been meticulously re-evaluated, re-engineered and optimized" by Special Vehicle Operations, and it shows.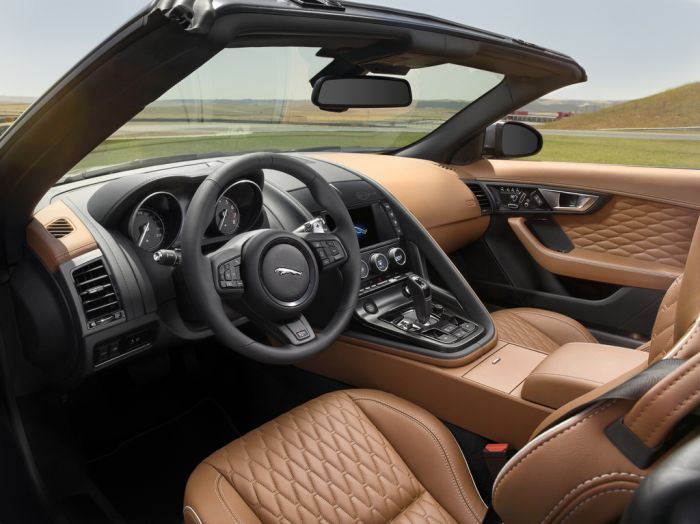 Photo Credit: Jaguar
The styling cues and aerodynamic enhancements over the stock F-Type are obvious from the exterior, but in all but the brightest paint colors they remain subtler than those on a comparable hairy-chested, Italian two-seater. A new lightweight Inconel titanium exhaust system also enhances performance, but equally importantly it delivers an even more distinctive and harder-edged exhaust note than the base F-Type, which has become renowned for its beautiful sound. The bespoke interior meanwhile also goes the distance with beautiful detailing and the latest Jaguar infotainment system which supports smartphones and even has an Apple Watch companion app. Its 14-way SVR performance seats, finished in Jet leather with a custom Lozenge Quilt pattern, contrast stitching and micro-piping, headrests embossed with the exclusive SVR logo and super-cool anodized aluminum shift paddles, are a heady combination of supercar and Savile Row.
Photo Credit: Jaguar
Using the InControl Remote app drivers can lock and unlock the doors, check key information such as fuel level or mileage, locate the car on a map, set the climate control system temperature to pre-condition the cabin and even start the engine. Personalization options let you spec body and roof colors, wheels, textures and color combinations, and various accessories and add-ons. You can go stealth or full exotic, draw as much attention as you want or keep a stiff upper lip, so long as it's compatible with the wide smile that's going to break out every time you apply your foot to the gas.
Photo Credit: Land Rover
The supercharged Range Rover Sport SVR is another beautiful beast whose true colors are best known to the lucky fellow in possession of the key fob. SUV's just don't have this kind of performance and handling, and traditional thinking is they simply aren't capable of it. Of course, Land Rover has stood conventional thinking on its head, and the Range Rover Sport SVR is capable of accelerating from 0-60 mph in 4.5 seconds with an (electronically limited) top track speed of 162 mph. Its 5.0-liter supercharged V8 engine produces 550 hp and 502 lb-ft of torque.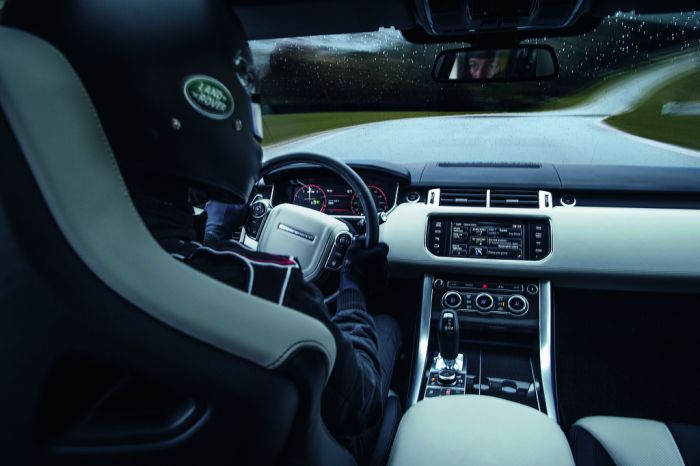 Photo Credit: Land Rover
As John Edwards, Managing Director of Jaguar Land Rover Special Operations puts it, "A thorough range of revisions specially developed by Land Rover's Special Vehicle Operations combine to make [the Range Rover Sport SVR] even more distinctive both inside and out, as well as taking its dynamic capabilities to the next level without impacting on comfort, refinement or all-terrain versatility. The Range Rover Sport SVR is truly the world's most capable performance SUV." To drive an SUV that handles better than some sports cars is a truly one-of-a-kind experience, and even if you aren't piloting one to Pebble Beach, it's one we can't recommend highly enough. It may change your thinking about SUVs forever.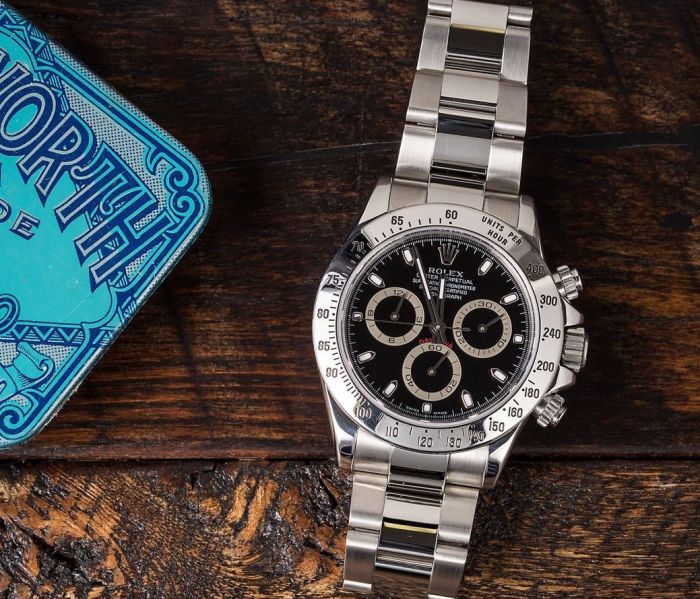 Photo Credit: Bob's Watches
To further assist us on our journey we asked Paul Altieri, founder of online Rolex boutique / exchange Bob's Watches and one of the world's top Rolex collectors, to select a watch for our epic excursion to and around Pebble Beach. He had no hesitation in choosing the iconic Rolex Daytona, the most coveted racing-inspired sports watch ever made. "Paul Newman helped make the Daytona famous and few men ever had more natural, easy elegance than he did," Altieri says. "It's really a 'tool' watch for calculating speed and to be sure many race car drivers—the ones with style—wear it. But it also says you have plenty of money, and are a cut above the Submariner crowd. It says 'I like fast cars and beautiful women find me attractive.' It's actually a hell of a watch."
A hell of a watch, a hell of a car, a hell of an SUV and the heaven that is Pebble Beach for anyone interested in all of the above. Not something we're likely to forget in this lifetime.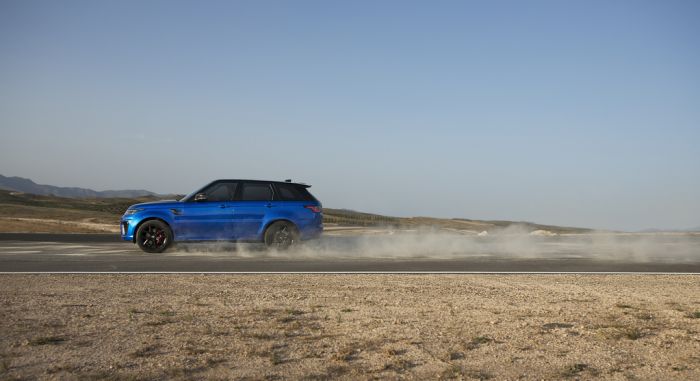 Photo Credit: Land Rover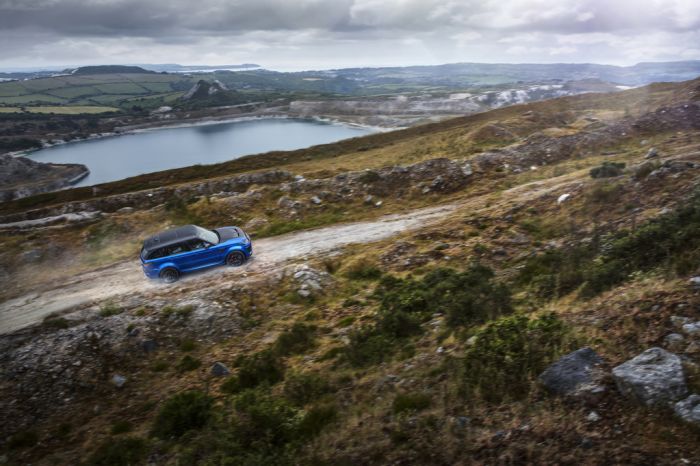 Photo Credit: Land Rover
Photo Credit: Land Rover