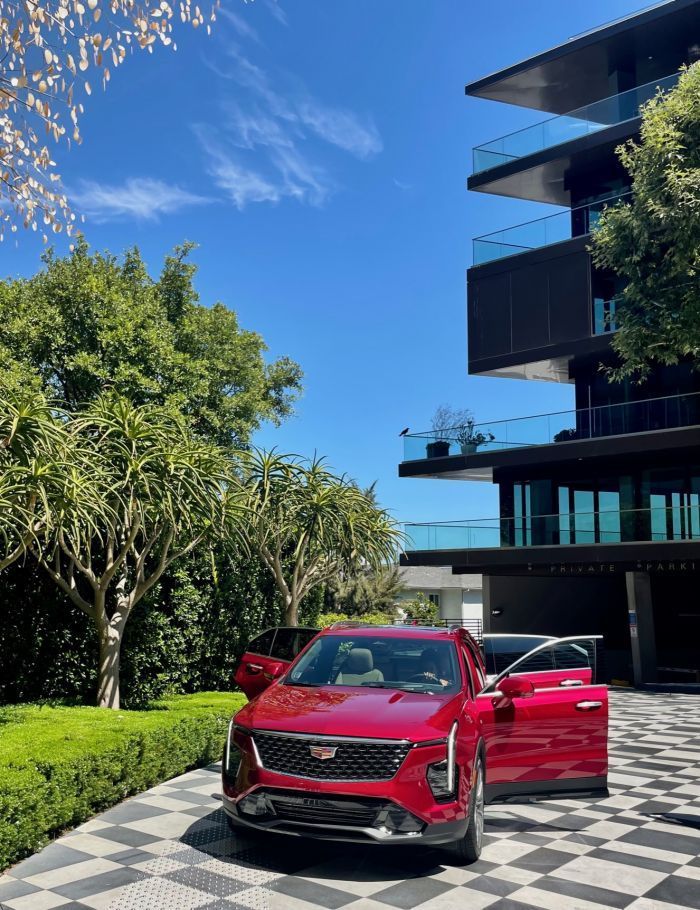 Cadillac Xt4 - Photo by Jill Weinlein
Cadillac revealed it's new 2024 XT4 vehicle during a hosted lunch at Merois on the rooftop of the Pendry West Hollywood. The spirited compact nimbly maneuvers through the streets of Los Angeles with ease. According to Rory Harvey, Global Cadillac Vice President, "XT4's balance of dynamic style, drivability and luxury has made it a favorite."
The new forward looking design comes in Radiant Red, a popular exterior color, plus three new exterior colors: Emerald Lake Metallic, Midnight Sky Metallic and Deep Sea Metallic. There are also new interior color and trim choices.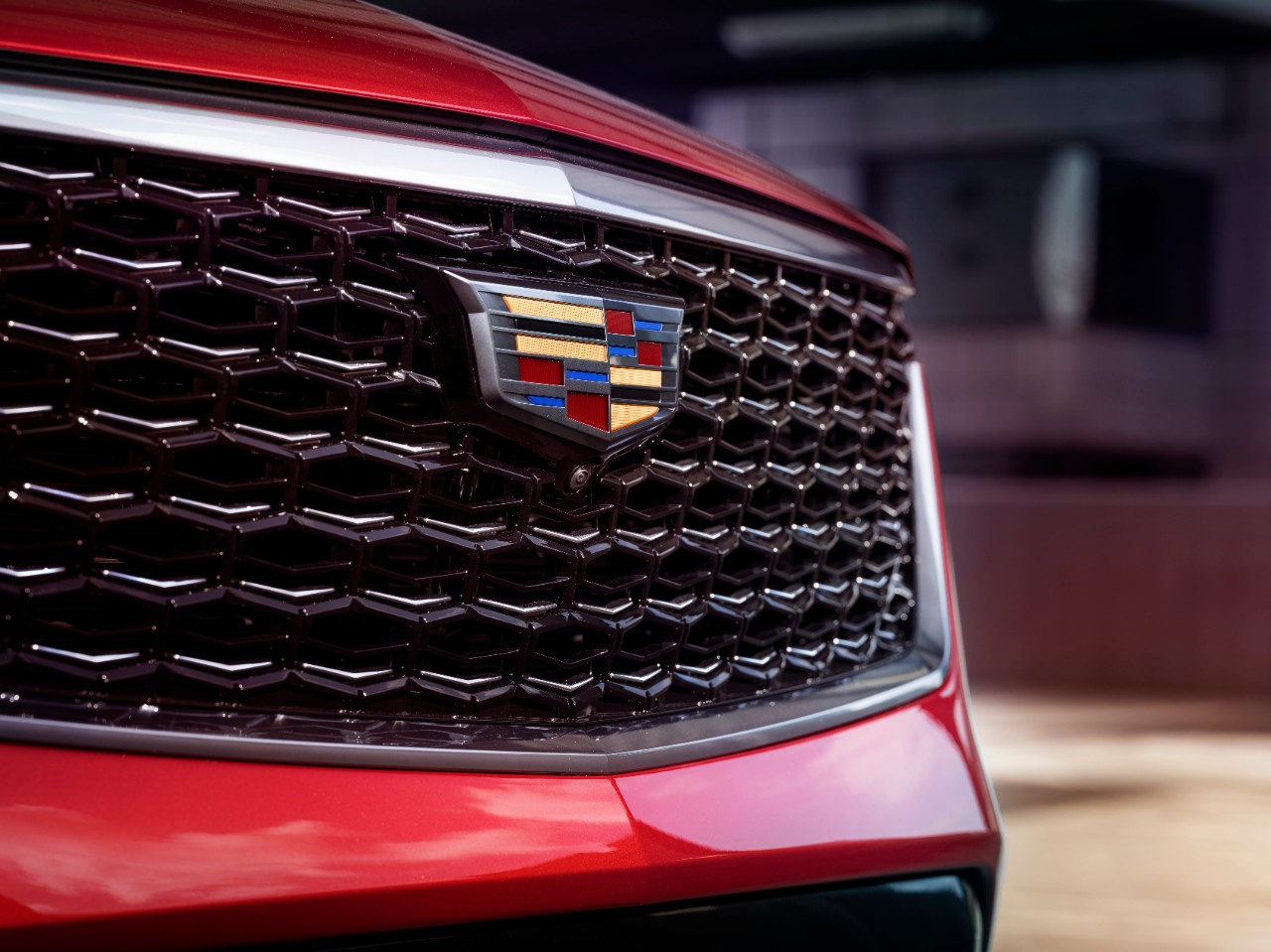 Courtesy of Cadillac
New for the 2024 is an eye-catching grille design. Each uniquely shaped cell of the grille is dipped in deep black gloss.
Another striking new design feature is the LED headlamps. The vertical signature lighting integrates sleek refreshed headlamps and daytime running lights.
"The 2024 XT4's exterior styling — with signature vertical lighting cues and enhancements — advances Cadillac's design standard," said Bryan Nesbitt, executive director, Global Cadillac. "Complemented with a redesign of the interior instrument panel, fashionable embroidery patterns on the seating and a feeling of front row spaciousness — the new XT4 is distinctive and audacious."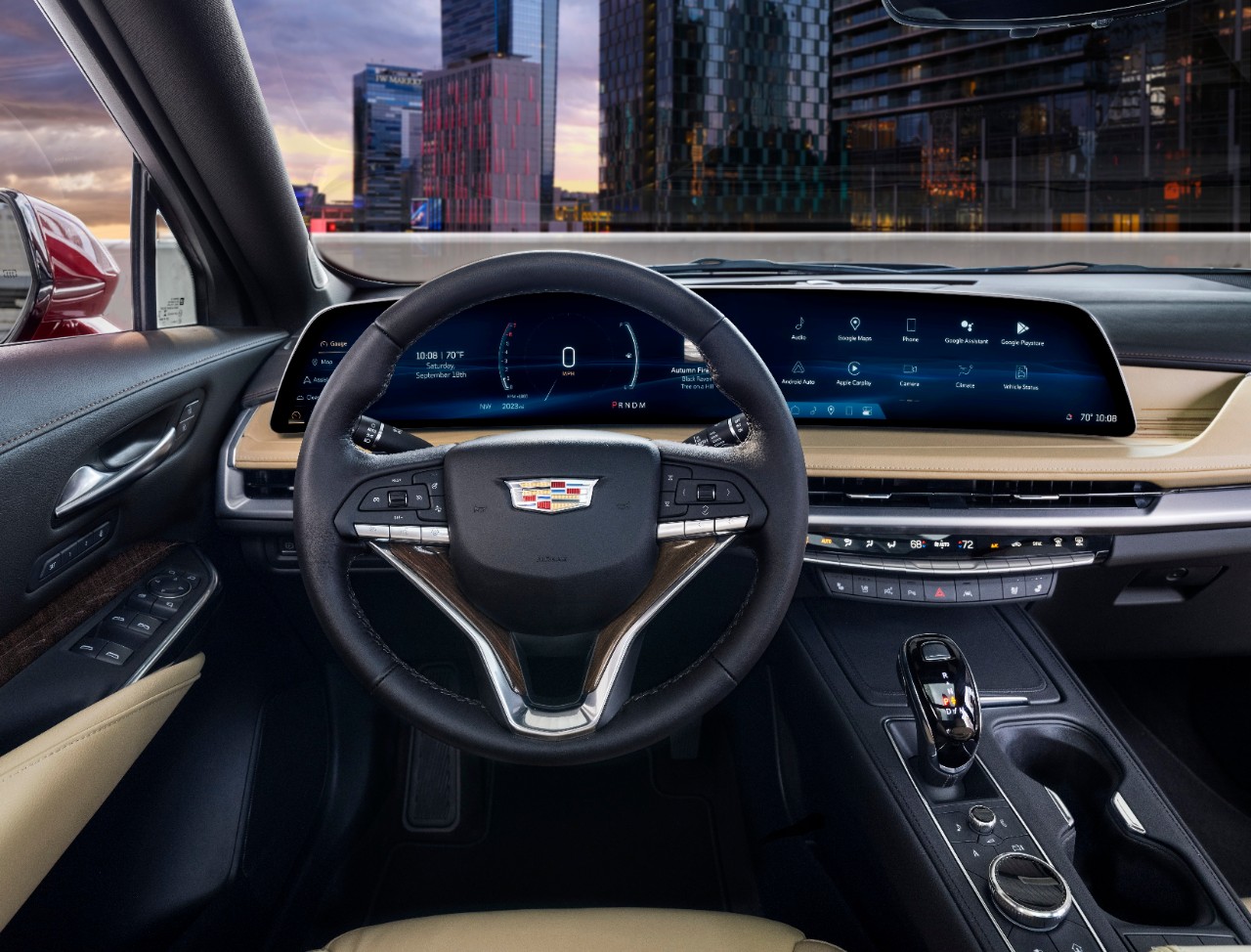 Courtesy of Cadillac
'The clientele purchasing a 2024 Cadillac are conquest customers,' said Whitney Lewis, Senior Manager, Product and Brand Communications. 'They are millennials, single or young families coming from different mainstream vehicle brands, such as Chevy or Toyota. About 50% of new Cadillac purchasers are moving up to Cadillac as their first luxury car.'
Gary Mack, Creative Designer for Cadillac is proud of the new interior design. 'It's more tech forward in ambience,' said Mack. 'Drivers appreciate the new 33-inch diameter LED color touchscreen. It's like the one in the LYRIQ. We pushed the IP (Instrument Panel) down and forward to give the driver a sense of spaciousness.'
This new floating screen design is wrapped and stitched. 'The sculpted vents are made out of real aluminum. We use genuine authentic materials.'
Interior decor is based on model: Luxury, Premium Luxury or Sport. Drivers appreciate the new AKG 14-speaker audio system. The new, advanced Virtual Cockpit System is the foundation for the XT4 infotainment system and connectivity features. Google's built-in infotainment experience and Alexa's built-in capabilities are available by touch and voice command.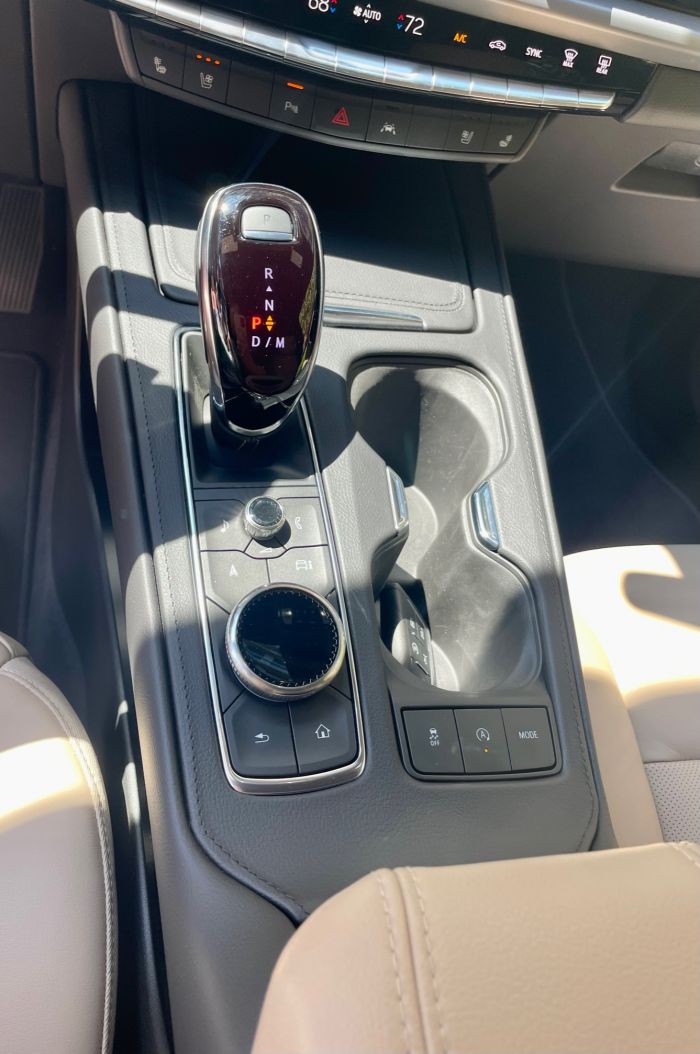 Cadillac XT4 - Photo by Jill Weinlein
What helps to make the XT4 an ideal city car are dozens of standard safety and driver assistance technology features. New upgrades include blind zone steering assist, rear cross traffic braking, and front pedestrian braking with bicycle detection.
The lane keep assist offers a lane departure warning. Those seeking an Active Safety Package on the Premium Luxury and Sport models will have adaptive cruise control, intersection automatic emergency braking, plus new speed limit assist traffic sign recognition.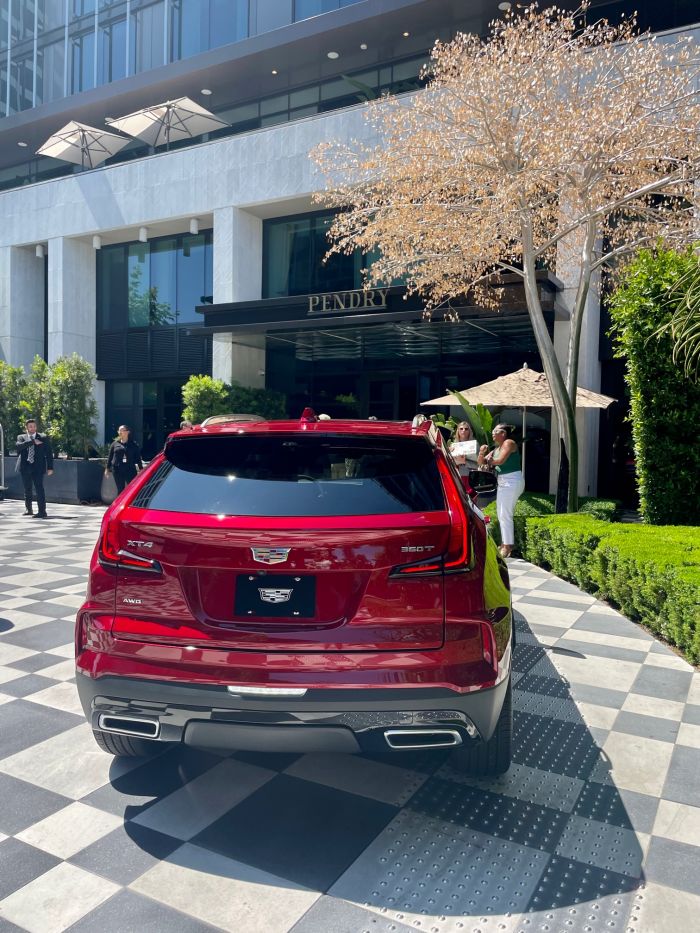 Cadillac XT4 - Photo Jill Weinlein
Cadillac has a new #Someday campaign inspiring potential Cadillac drivers to seize the most out of now. 'Life is what happens when we're busy making other plans. We must never wait a moment to enjoy it to it's fullest. To live in the present. To embrace the now. To make the best of every single second, and never let it pass us by.'
According to Cadillac, 'The 2024 XT4 doesn't put the future on hold. With bolder design, richer comfort and craftsmanship, and the most cutting-edge technology, the Cadillac XT4 makes sure the future belongs to those who choose to be iconic today.'
Cadillac XT4 - Photo by Jill Weinlein
Driving a Cadillac complements the lifestyle you are living. The luxury car company believes, 'Someday never just comes, you have to go and get it.' They selected two creative individuals to make their #someday dream come true.
Cadillac helped emerging musician Stoop Lee achieve his dream of 'Someday I'll Be Heard.' They teamed up to help him hear his music in the new XT4 immersive AKG 14-speaker audio system. This listening experience offers concert-like sound for the driver and passengers.
Artist Christina Kwan #Someday dream is to paint a mural in every city. Cadillac helped her take her paints and supplies to different cities to express her art and make her dream come true. It's time for your #Someday to be Today.
The production of the 2024 Cadillac XT4 takes place at GM Fairfax Assembly facility in Kansas, and the vehicles will be available this summer. The base price starts around $40,000.