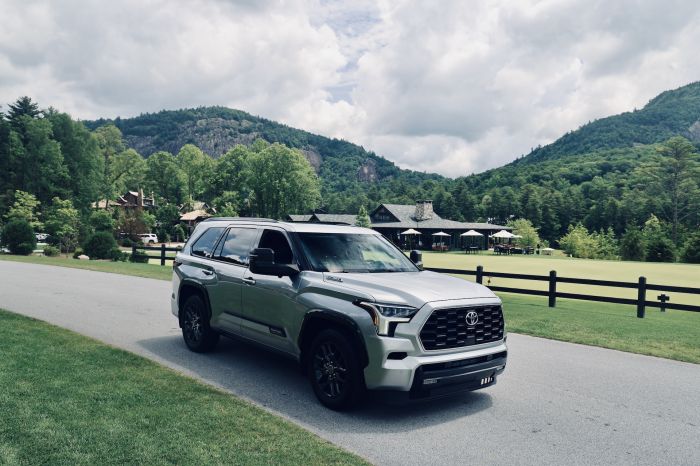 Stinson Carter
The new Sequoia Platinum is a vehicle I did not expect to love as much as I did. Toyota is not currently offering the Land Cruiser in the US, and the Sequoia's luxe trim level is a worthy option for anyone who wants that same balance of utility and luxury. It's a surprisingly nimble three-row SUV with a hybrid engine that makes it very fast to accelerate and also relatively easy on gas.
I had an opportunity to take a road trip in the new Platinum edition Sequoia from Charleston, South Carolina to the Blue Ridge Mountains luxury haven, High Hampton Resort. It comfortably held four people and our luggage, its hybrid V6 engine handled the steep elevation of the mountain passes brilliantly, and it arrived at High Hampton in style.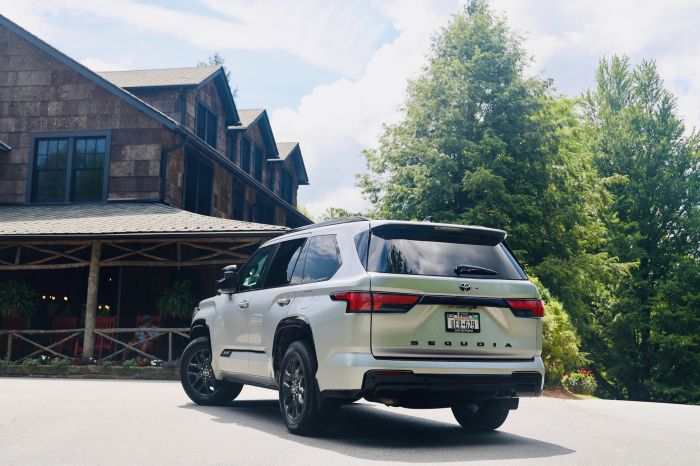 Stinson Carter
A note on the destination, High Hampton has been around since 1922, but has only become a truly world-class luxury travel destination over the past few years under new ownership. With golf, hiking, a private lake, and farm-to-table gourmet meals included in your stay, it's a place you check in and won't want to leave.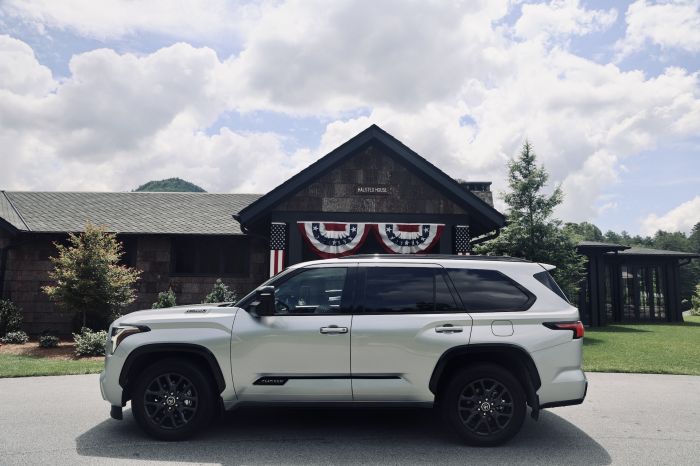 Stinson Carter
DESIGN
This is a brand-new body style for 2023, and it's the most visible improvement. Gone is the bubbly Sequoia body style of the past, and in its place is an angular, stone-jawed monolith. I've always had hesitation with the Sequoia from a design standpoint because of the rounded lines, but this new body style is far more angular and assertive. The upscale interior strikes a nice balance of Toyota's utilitarian aesthetic with more luxe touches like leather trim, and a large dash-mounted screen, and a panoramic moon roof.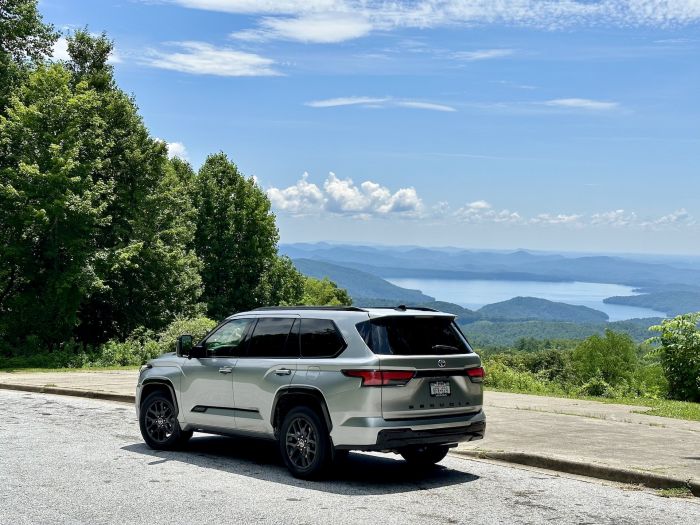 Stinson Carter
EXPERIENCE
Here's where the Sequoia all comes together. It feels very large in a city, but because of the awareness you get with the 360-degree backup camera, even in downtown Charleston, it never felt unwieldy. Then you get it out on a highway and it's just brilliant. The Force Max twin turbo Hybrid V6 produces 437 horsepower and 583 pound-feet of torque. Not only does this help if you're towing a boat, but on a road trip going up a mountain and passing tractor trailers, you have so much quick power on tap. Speaking of towing, the 4WD Platinum can haul just over 9,000 pounds. The interior is comfortable, and the ride is quiet. I averaged between 20 and 21 mpg on the trip, which felt very good for a vehicle so large.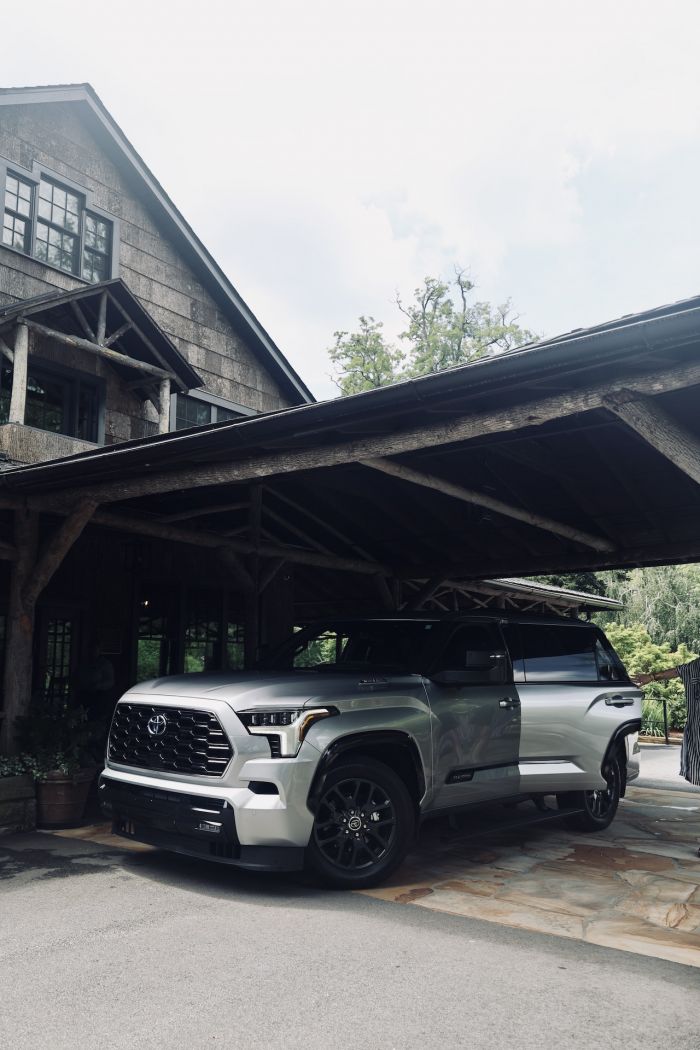 Stinson Carter
The only negative I experienced was that the larger side-view mirrors, which would be ideal for towing one's boat or Airstream, are so big that together with the front pillars that are also wide they create a blind spot for the driver. This is not an issue driving on the freeway, but when you're on mountain roads with hairpin turns, or in a city turning onto small roads, I found myself moving my head to look around that combo of mirror and pillar to make sure I was judging my distance correctly with oncoming cars and obstacles. Another thing to mention is that the automatic running boards are great for any shorter riders but can take some getting used to if you're approaching it when they emerge. (I got a couple of shin dings in the process of this review.) But the height is a serious plus––there was flooding in Charleston a day after the vehicle arrived, and the Sequoia was tall enough to stay out of trouble. I would feel very confident in a flood-prone city like mine with the Sequoia as my primary family SUV.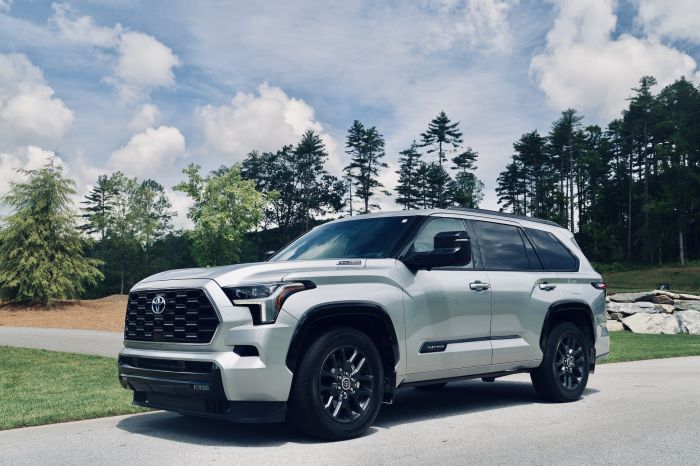 Stinson Carter
CONCLUSION
I got behind the Sequoia for the first time with a sense of curiosity, and a week later after a mountain road trip, I was sad to see it go. Assuming you can get your hands on one and can find a dealer with the integrity to sell it for MSRP, the Platinum Sequoia costs a hair under 80k. And trust me when I say that you feel every penny of it in the experience of driving it.