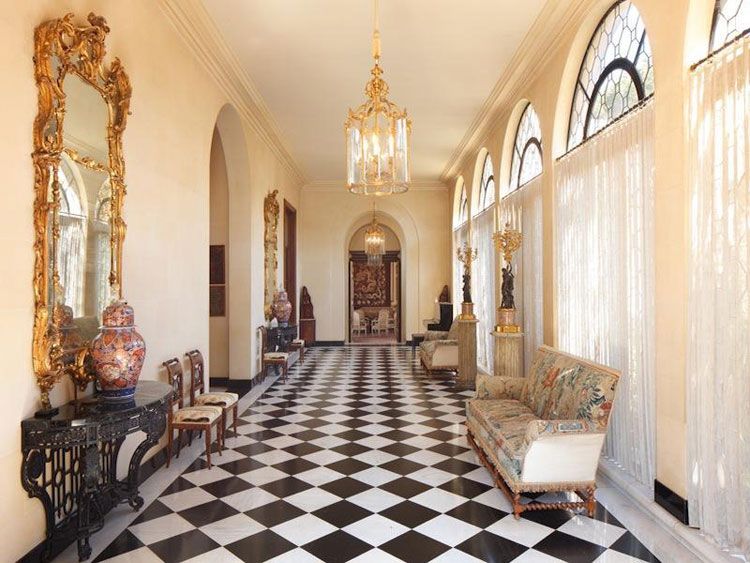 Photos Courtesy of Sotheby's
The San Francisco area is known for many great things: the Golden Gate Bridge, Alcatraz and Ghiradelli Chocolate, but if you're in the market for a
luxury home
with Tuscan-style architecture and a few acres, generally your search will come up empty. This is of course unless you head half-way between San Francisco and the Silicon Valley to the rustic town of Hillsborough.
Listed by
Sotheby's
, this historic estate boasts a stunning seven bedrooms, nine bathrooms, a spacious ballroom, a flower-arranging room, and a swimming pool designed by landscape architect Thomas Church. Of course, in true early 20th century fashion, the mansion also comes with the necessary six staff rooms.
Decorated by the renowned interior designer Anthony Hail, this home positioned on approximately 47-acres, has an interior that features ornate public rooms with a sophisticated style that many only see in photographs and period films.
Views of the surrounding
San Francisco
skyline and the East Bay are accompanied by a formal and serene garden. The park-like grounds are sure to provide the future owner with a rare amount of privacy for an area that is known for being particularly urban.
Currently owned by 75-year-old Christian de Guigne IV, this exquisite estate comes with some rather surprising terms, says
Curbed
. The hilltop mansion has been in the de Guigne family for more than 150 years and the fine print on this home is that de Guinge is retaining a life estate on the property, which will permit him to live out the rest of his life in the house following the sale. It seems like he'll have exclusive access to the main house and wouldn't be limited to where he can roam, meaning that the home comes with a built-in roommate. It's definitely a strange detail but maybe it will be just like having an eccentric old grandfather staying with you.
Along with its long list of luxurious amenities (and an aging chap), this sprawling piece of real estate also comes with a $100 million price tag.