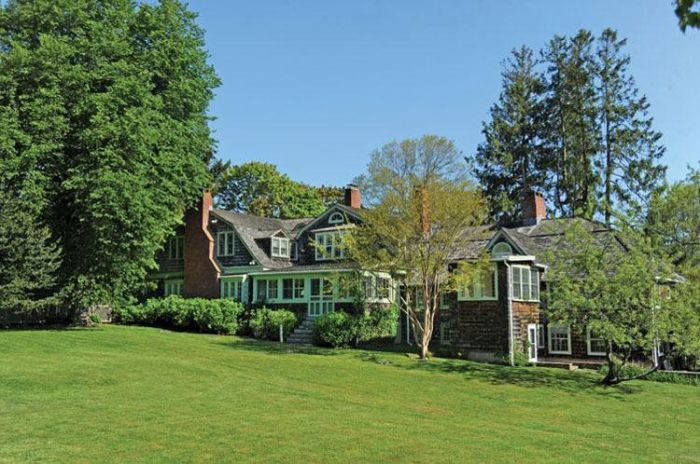 Photos Courtesy of Saunders
Built in 1892, this property was formerly the boardinghouse for the William Merrit Chase's Shinnecock Hills Summer School of Art. While the charming Southampton
luxury home
may no longer be filled with affluent artistic patrons, to this day it remains an area still known as the Art Village.
Listed by
Saunders
, a collection of shingled cottages surround the former art studio in this farmed compound. With its narrow country lanes and massive century old trees, the cultured 9 Studio Lane is fashioned in a romantic and timeless way that would certainly have me swooning.
According to
Curbed
, this property was once used by renowned artists such as Rockwell Kent, Grosvenor Atterbury and Katherine Budd, and is also right next door to the summer home of fashion designer Kate Spade. This sprawling 2.9 acre property also happens to be the largest in the charming Art Village and contains a freestanding 1920's-era ballroom that looks worthy of Fred Astaire and his partner in crime, Ginger Rogers. While the listing doesn't specify what the property is used for now, it would definitely be a great vacation retreat for any big family, or even a large group of friends looking to spread out.
Emphasis was placed on maintaining the homes' historical character; however, many aspects have been updated including new cedar roofs, kitchen, baths, and heating and electrical systems. Because of the previous use as a camp, the main house features eight bedrooms, six bathrooms, three fireplaces, a formal dining room, a large eat-in kitchen, a family room, three generous porches and a brick terrace.
A picturesque outdoor garden goes well with the rolling green fields surrounding the estate. History and a charming country design are combined to create a great choice for any artist with $4.75 million to spare.