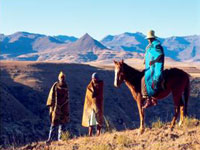 Overview:
Enclosed by South Africa on all sides, but separated from it by the huge Drakensberg and Maluti mountain ranges, the mountainous kingdom of Lesotho is small and rounded in shape, situated on a plateau of over 3,281ft (1,000m) with peaks reaching to heights of more than 10,000ft (3,000m). Sani Pass is a breathtaking entry-point into Lesotho from South Africa's Drakensberg National Park and is the gateway to the 'Roof of Africa' scenic route, linking the magnificent scenery of the two mountain ranges.
Popularly described as the 'Kingdom in the Sky', the lofty highlands are characterised by majestic mountain scenery, crisp mountain air and the simple serenity of the traditional lifestyles of its people. Pony trekking is one of the finest ways to experience the Lesotho highlands, with time spent in remote Basotho villages scattered among the grassy hills, where waterfalls saturate the surrounding rocks with rainbow-coloured mist and crystal clear streams criss-cross the landscape. The region is also perfect for those who prefer to test the sure-footedness of their own two feet, with miles of solitary scenery to appreciate, an abundance of trout in the rivers and dams and the assurance of a warm and friendly welcome in the rugged mountain hamlets. The central highlands is home to the highest waterfall in southern Africa, the Maletsunyane Falls near Semonkong (meaning 'Place of Smoke'), which thunders from a height of 624ft (192m) and is at its most spectacular during the summer rainy season.
From the heights of the Maluti Mountains, the land descends to the western lowlands where all the major towns are to be found and where two thirds of the population live. Maseru, the capital, is a fascinating city of contrasting modern and traditional lifestyles. Blanket-clad horsemen sidestep the traffic jams on their way to market, and woven handicrafts are displayed on the busy pavements outside new glass buildings filled with self-important office workers.
Time spent in Lesotho will allow visitors to obser