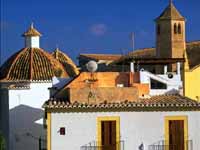 Overview:
Budget airlines and affordable fares have turned Spain into a beach resort haven for northern Europeans wishing to escape their own (sometimes) damp and dreary climates. With sun-bleached beaches and a favourable rate of exchange for most travellers, it's easy to see why Spain is such a popular choice for an unforgettable beach holiday in Europe. An incredible 53 million people visit Spain each year (the second most in Europe after France), and the country has earned its formidable reputation as a tourist haven.
Some may feel that the Canary and Balearic Islands have been overrun by tourists, and this is true to some extent - Tenerife, Lanzarote and Mallorca have become synonymous with cheap package holidays and warm beer, and Ibiza's reputation has, for some, been tarnished by the revellers frequenting its famous dance clubs and beach parties. However even in these crowded resort areas you will find many magical, unspoilt corners awaiting discovery.
Spain is comprised of numerous autonomous regions, offering great variation within one country. The hundreds of miles of Mediterranean coastline provide ample opportunity to get off the beaten track, and the country's vibrant cities and colourful festivals will amaze and delight even the most seasoned traveller. There is the Spain of Gaudi, Dali, and Picasso, of Goya and Velazquez - proudly displayed in Madrid's museums and galleries.
Spain's Pamplona is a unique experience of thundering streets that vibrate to the rhythm of man and beast during the annual running of the bulls, and while the whole country celebrates each February with the Carnaval, no place does it better than Sitges. Barcelona is Spain's showcase of the unique architectural style of Gaudi's bizarre organic turrets and balconies. For a more provincial experience, the Valencian town of Buñol goes wild every year with the La Tomatina festival, a time when the region's surplus tomatoes - following the annual harvest - are dumped on the streets and pelted about in a friendly riot.