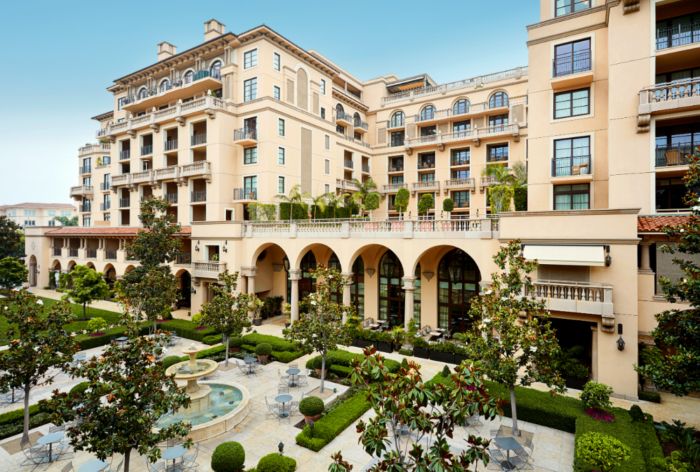 (credit: Montage Beverly Hills)
Located between Beverly Drive and Canon Drive in the famed 'Golden Triangle' of Beverly Hills, Montage Beverly Hills stands proud with decadence and modern elegance. Built in November 2008, the hotel features 201 guestrooms, including 55 suites and 20 privately-owned Montage Residences, the traditional Gornik & Drucker barbershop, multiple dining options and a world-class spa. It was the first Gold LEED Certified hotel in Southern California and the first hotel to receive the Environmental Media Association (EMA) Green Seal for Hospitality (2018) thanks to its sustainable commitments and continual socially responsible business approach.
The city-hotel is in the heart of one of the most glamorous zip codes in the country, if not the world, and invites guests to: retreat to a private, poolside cabana and savor rooftop views of the Hollywood Hills, dine on their outdoor terrace, sip whisky at an exclusive reservation-only bar and many more luxurious accommodations rich in both modern comforts and the classic ambiance.
While all rooms and suites come with standard amenities like: mosaic-tiled bath with oversized tub, 500 thread count Fili D'oro bedding and monogrammed pillows, Residence 7A truly is a marvel of opulence. Inclusive of three bedrooms with two masters and three-and-a-half bathrooms, the 3,865 square-foot Residence 7A occupies the top floors of the hotel. It features large living room with a fireplace and a media and entertainment room, guests can also make use of the gourmet full service eat-in kitchen and private wine cellar that can hold over 600 bottles of wine. And for those that want just a tad more privacy, make use of their private elevator access to the suite.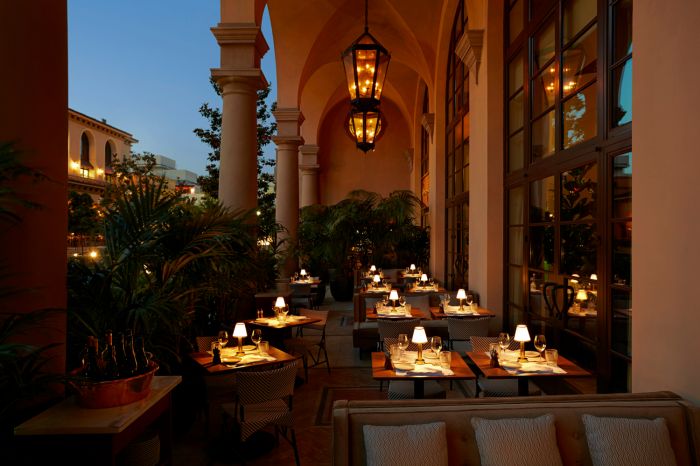 (credit: Montage Beverly Hills)
Dining at Montage Beverly Hills is presented to guests in four forms: in-room, The Café, The Rooftop Grill and The Restaurant. international offerings and signature dishes are featured 24-7 by in-room dining while The Café serves a wide-selection at breakfast and lunch along with healthy to-go options. Alongside the rooftop pool, The Rooftop Grill highlights a seasonal menu of Californian cuisine and offers panoramic views of the Hollywood Hills. At The Restaurant, the beautiful and vibrant décor is met with Modern American cuisine with options for guests to dine indoors our outdoors on the lawn-facing patio.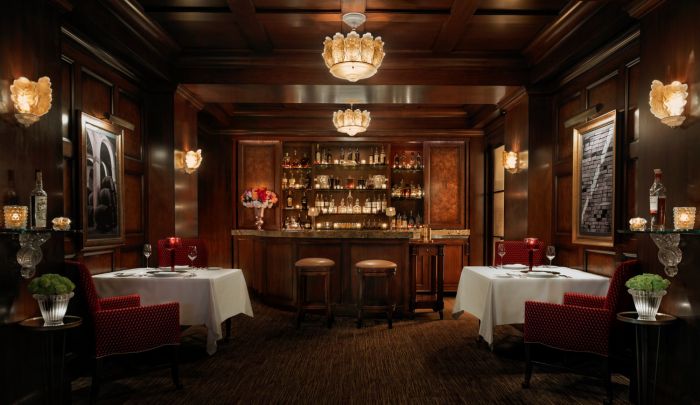 (credit: Montage Beverly Hills)
Whether you are looking to grab a drink before dinner, have a truly one-of-a-kind drinking experience or end your night with a balance night-cap, the hotel offers three distinct offerings. The Café, located adjacent to The Restaurant showcases a robust cocktail program complemented by an all-day dining menu, while The Bar just across is a lounge-like setting with live music playing Tuesday through Saturday evenings.
As the only official U.S. outpost of The Macallan Single Malt Whisky, £10 offers guests the crème de la crème of spirits from around the world. Bartender Cash Black leads guests on a journey through stories and in-depth knowledge of the spirit in an intimate but convivial social atmosphere. While sipping on rare spirits served in Lalique crystal glassware poured over your choice of four ice options like the ice sphere of water imported from the Scottish Highlands, guests are transported to Speyside, Scotland.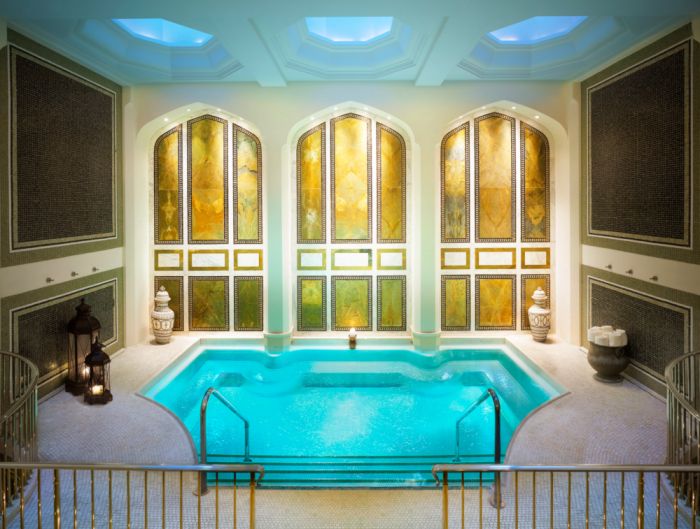 (credit: Montage Beverly Hills)
Launched in 2016 with Swiss skincare brand partner, L.RAPHAEL Genève, Spa Montage was the first and only West Coast destination to offer L.RAPHAEL's state-of-the-art facial and body treatments as well as premium skincare products to be one of only two designated L.RAPHAEL spa locations in the United States. At the heart of the lavish 20,000 square foot urban sanctuary is the co-ed Mineral Wellness Pool which was inspired by the great Moroccan bathhouses.
Inside a grand sunlight atrium with mosaic tiles and beautiful coffered ceilings, the co-ed pool has added natural hand-harvested mineral crystals that are sourced from an underground seawater lake, gently massage the muscles and joints, stimulate circulation and provide numerous other health benefits. Along with separate men's and women's locker rooms which each feature a sauna, steam room, jacuzzi and shower, the facility has 17 private treatment rooms offering highly advanced beauty programming including the Oxy Star Anti-Pigmentation Treatment, the "Secrets of the Dead Sea" Tightening and Toning Body Treatment and many others.
To enhance your stay, take advantage of the hotel's partnership with Cadillac and enjoy complimentary chauffeured transportation to neighboring destinations in the newest luxury vehicles from the Cadillac fleet. Another partnership worth noting is Montage Beverly Hills partnership with The Private Suite offer guests a seamless experience from airport arrival and hotel check-in to check-out and LAX flight departure with luxury accommodation, private TSA screening and a team of eight people assigned to each guest's accommodations.
Find more superior accommodations in the Justluxe Best Luxury Hotels list.