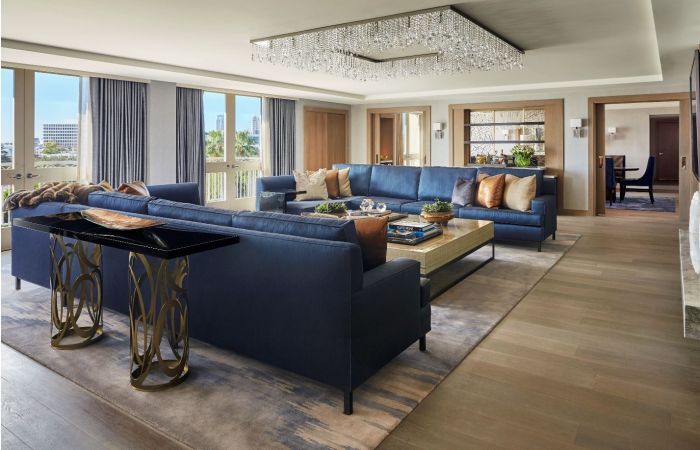 Photos Courtesy of Viceroy - Presidential Suite
Overview
With four distinct types of residential suites which include: Beverly Suites, Icon Suites, Royal Suite and Presidential Suite, the residencies at Viceroy L'Ermitage Beverly Hills are available for nightly as well as providing monthly short term to annual leases too. Situated on the 5th, 6th, 7th and 8th floors of the hotel, the residences range from 1,200 ft2 to the opulent 3,700 - 4,400 ft2 Presidential Suite.
Private Executive Office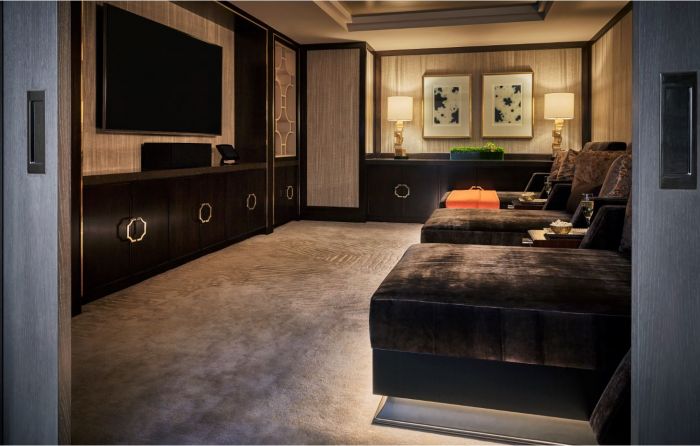 Entertainment room
Starting with Beverly Suites, each suite features a king bed and two balconies which present views of the Hollywood Hills. Along with a grand seating and lounge area and Kitchenette, complete with a mini-bar refrigerator and microwave which provides ample room to host in the separate dining space which seats four. The beautifully designed Icon and Two-Bedroom Icon Suites are beautifully designed and a sophisticated vanity bathroom and separate living space made for entertaining. With three balconies offering sweeping views from the Hollywood Hills to Downtown Los Angeles, the Royal Suite is a premier choice for luxury accommodations in Beverly Hills. Those who stay in this suite, which can be connecting and sold as Two Bedroom Royal Suite, enjoy features like a separate dining space which seats eight under beautiful chandeliers brought in from Austria with high-quality craftsmanship, marble-trim fireplace, a special gift and personal shopper exclusively to Saks Fifth Avenue's Fifth Avenue Club.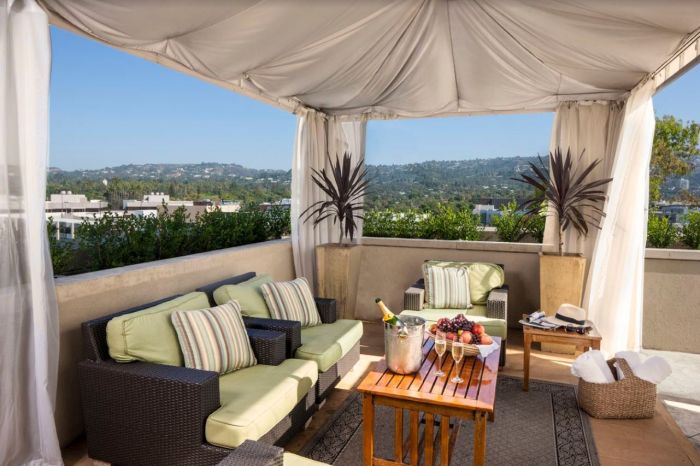 Balcony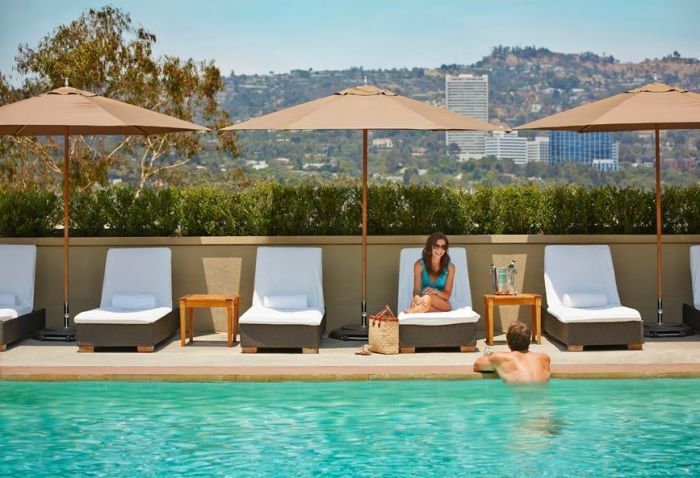 Pool
Perfect for longer-term stays, families, very special occasions and intimate events, the Presidential Suite is a lavish exclusive enclave. Showcasing modern glamour and an abundance of light and spaciousness, thanks to its five balconies with views of Beverly Hills and Los Angeles, this suite also includes a private executive office and home theater. Take advantage of its full luxury kitchen with Italian Dada finishes and professional appliances as well as its stocked refrigerator to enjoy a meal in the separate dining area with a table for 12. Presidential Suite guests have access to luxury transportation and the same special gift and personal shopper exclusively to Saks Fifth Avenue's Fifth Avenue Club to those of the Royal Suite.
Property info:
Location: 9291 Burton Way, Beverly Hills, California 90210 USA
Units: 14 Residential Suites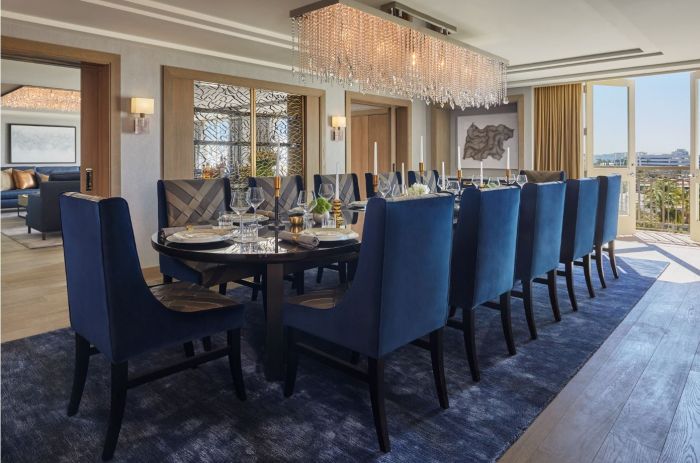 Separate dining area
Restaurant