All Images Credit Marina Bay Sands
Indulging in Singapore's Big Deal, The Marina Bay Sands
Cities around the world have their man-made icons that become the identity of the destination, instantly recognizable by all. New York has the Statue of Liberty, Paris has the Eiffel Tower, London has Big Ben. The small country of Singapore has one as well and it happens to be the most expensive hotel in the world to build. It is the Marina Bay Sands.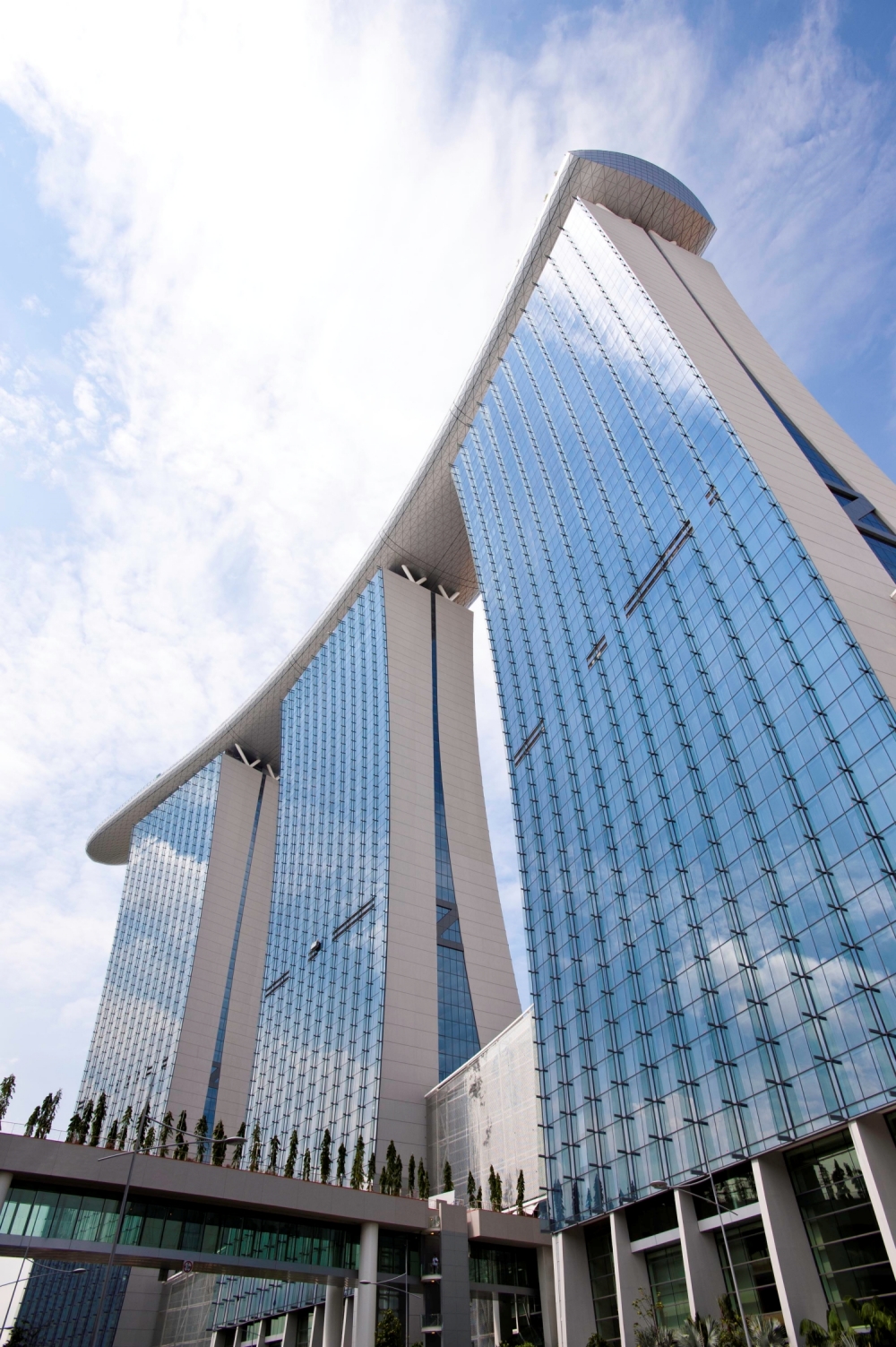 The Marina Bay Sands is much more than arguably the most spectacular hotel in Asia. At over six billion dollars, it the most expensive hotel in the world. The Marina Bay Sands is in a word colossal and a tri-towered behemoth that rises 57 floors to dominate Singapore's city skyline. The SkyPark is cantilevered across the top of the three towers in a three-acre continuous structure that from afar looks like a boat and contains several dining and entertainment venues as well one of, if not thee, most stunning rooftop pool in the world.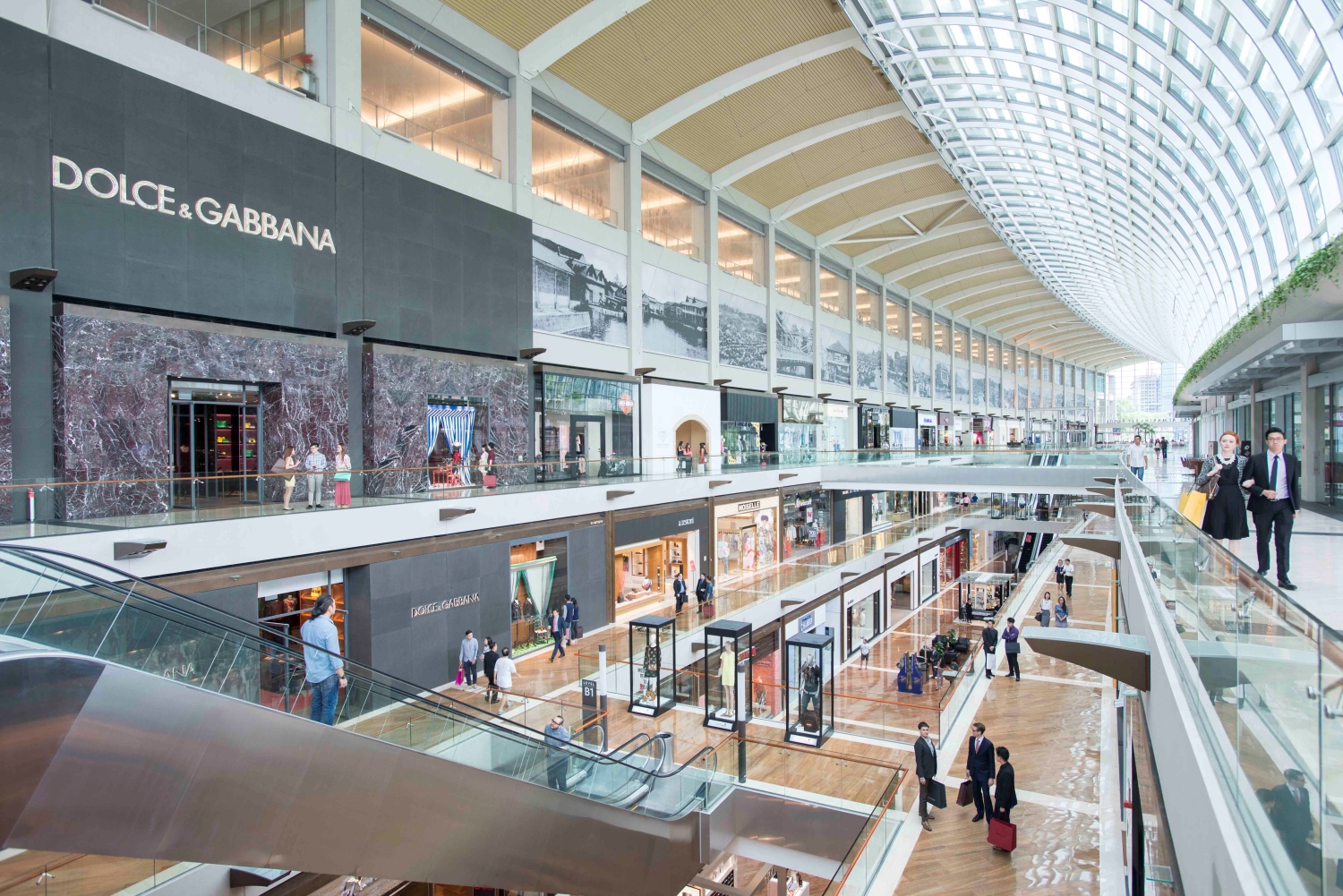 Inside the Marina Bay Sands is a self-contained mini-city offering a cornucopia of entertainment and pleasures. The beau monde peruse their shopping mall of 170 luxury and premium brand stores filled with the baubles, fashion in brand outposts such as Chanel, Prada, Gucci, Hermès, Chopard, Salvatore Ferragamo, and Cartier or in the world's largest Louis Vuitton store. A la The Venetian in Las Vegas, a waterway runs through the mall where guests in gondolas float along to marvel at the sights and sounds. The canal is fed by a massive Rain Oculus feature that collects rainwater that gushes as a waterfall into the mall from four stories above.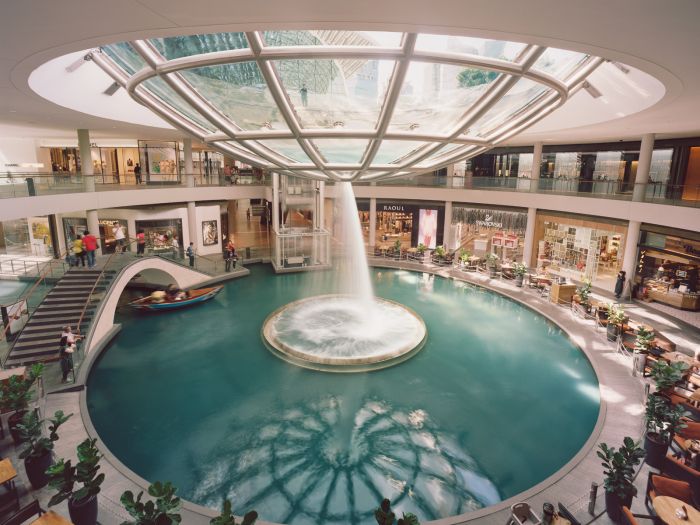 There are 80 eateries that run the gamut from Michelin star level cuisine to casual coffee shops with celebrity chef restaurants including Bread Street Kitchen (by Gordon Ramsay), Cut (by Wolfgang Puck), Waku Pizzeria and Osteria Mozza (by Mario Batali), Long Chim (by David Thompson) and DB Bistro & Oyster Bar (by Daniel Boulud).
The entertainment options range from Las Vegas-style mega-clubs to quaint bars to outdoor parks. And yes, a casino that feels more like a day on the Las Vegas Strip than in the quaint country of Singapore. There's even an ice-skating rink and a world-class Arts and Science Museum. Marina Bay Sands is, in short, offers the over-the-top of everything in an impressive destination unto itself.

The parallels between Las Vegas and the Marina Bay Sands are no accident. From the mega clubs, dining and shopping options and of course the 160,000-sf gaming space with everything from blackjack to baccarat all spread out on 500 tables and 1,600 chiming and blinking slot machines. The Marina Bay Sands is the Singapore outpost for the Las Vegas Sands Corporation which has another foothold in Asia with their Venetian Macao. The Sands has been able to export the Las Vegas lifestyle to the other side of the globe and with unmitigated success.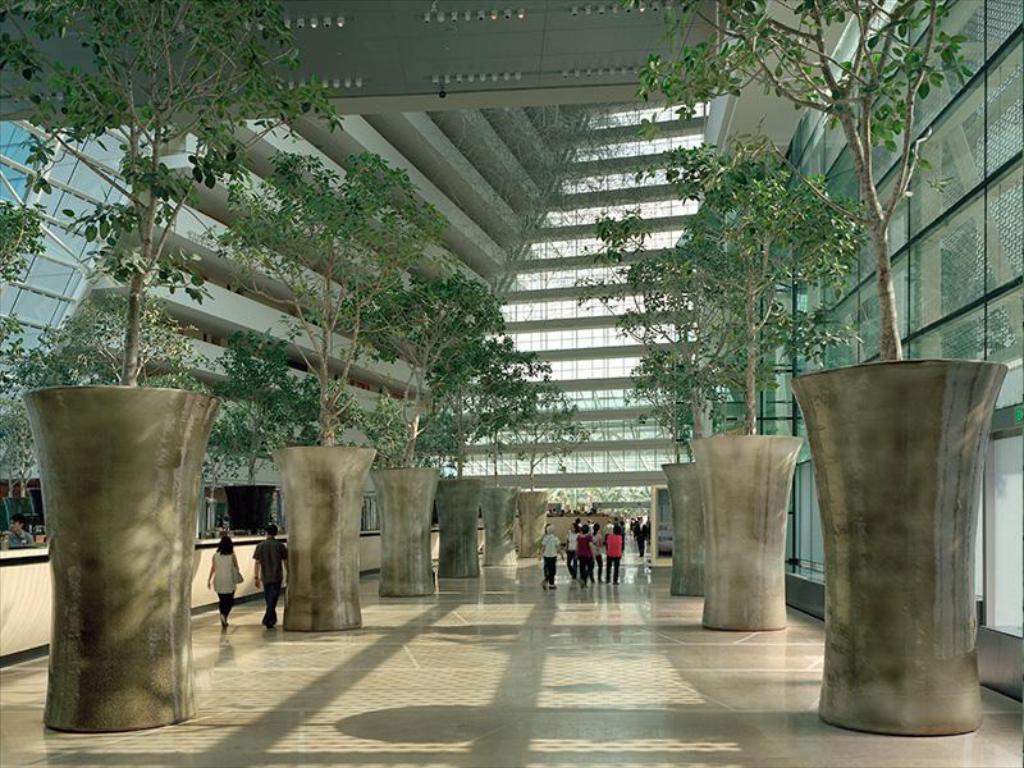 The external views of the Marina Bay Sands are incredible and only rivaled by what you'll see inside. The atriums of the glitzy lobby soar 23 stories high with windows that flood the space with natural light only interrupted by several large-scale art installations, massive sculptures and dramatic artworks throughout the space. Walking inside feels like you are walking a few city blocks from one tower to the next under a canopy of towering trees in 83- 20 ft, golden stoneware vessels as you pass a dizzying array of more shops and restaurants to consider. Visitors from all over the city come to the complex for shopping and dining or just sightseeing so the lobby area can at times feel more like an airport terminal than a hotel lobby.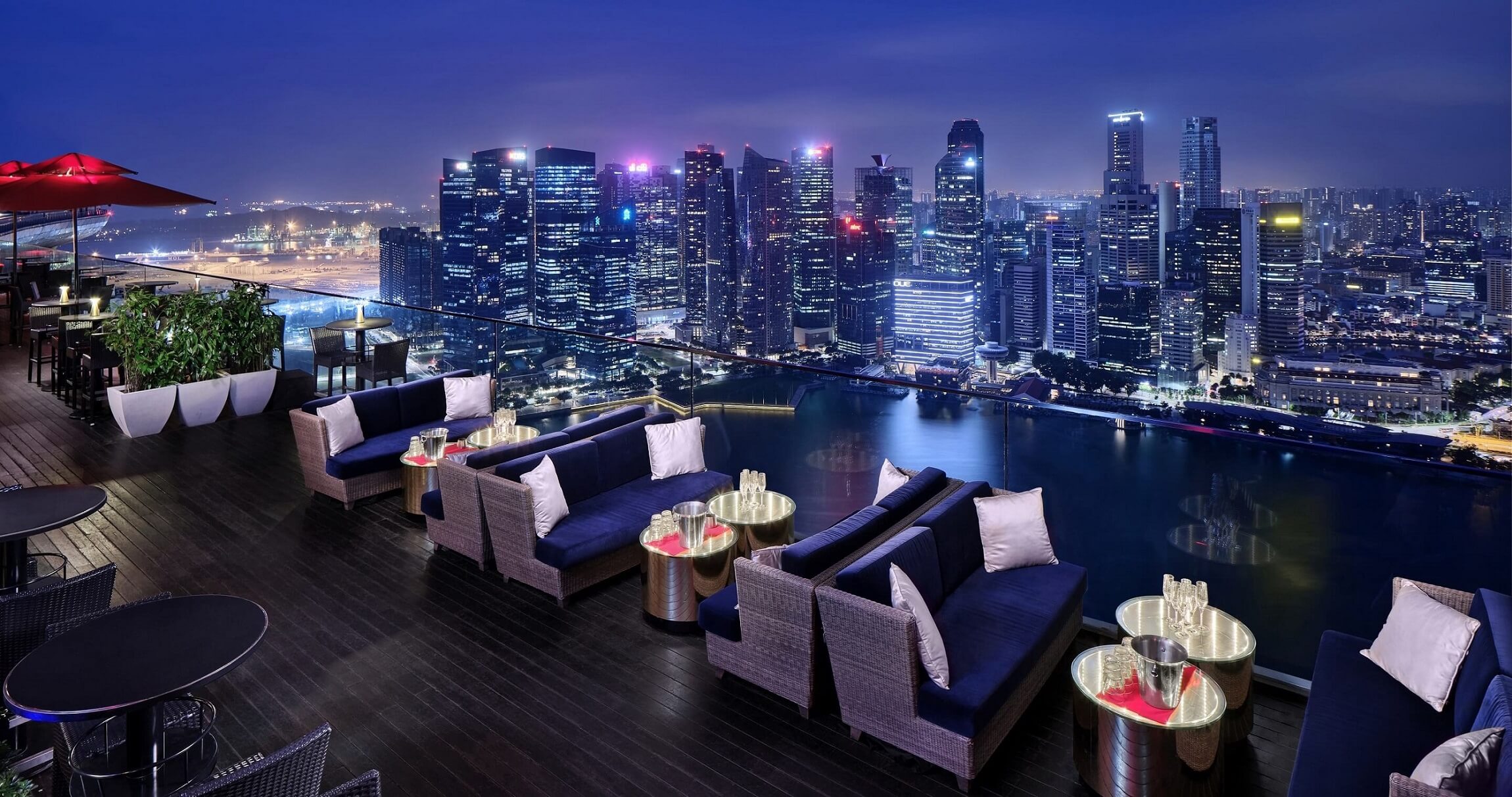 Ce La Vi Singapore
The Marina Bay Sand and the SkyPark in particular are an architectural marvel that appears as the hull of a ship precariously balancing across the towers. Within tower three is the rocket ship-like elevator that whisks guests, with ears popped, 57 floors to resort's apex. The SkyPark is an immense three acres of viewing space, restaurants, Lavo and Cé La Vi night clubs and the largest infinity-edge pool in the world.
Overlooking the glittering expanse of the Singapore city skyline, pool-goers frolic in the crown jewel of the Marina Bay Sands, snapping photos, while others laze about on chaise lounges as the staff dash about to bring a cooling cocktail.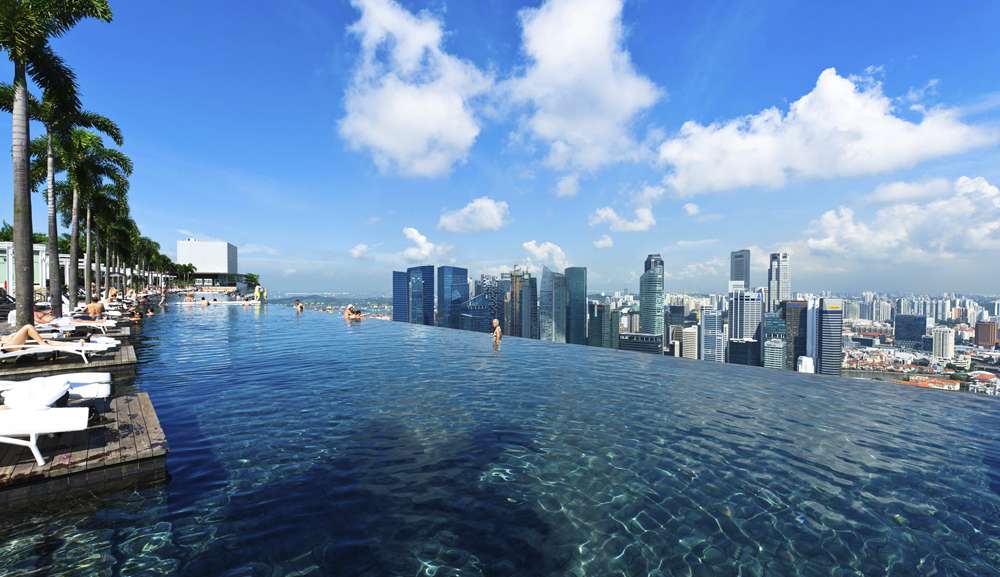 The most famous infinity pool in the world boasts a length of three Olympic sized pools and sits 700 ft above ground. There are actually three interconnected pool spaces that extend 490 ft from end to end on with one for children, one for families and one for adults only, all of which are reserved for hotel in-house guests only. The length of the pool is decked with a sea of chaise lounges under shady palm trees with pool attendants dashing about with cocktails and casual bites. There are also jacuzzi tubs away from the pool where couples can spend time away from the crowds. Many guests will make a day of lounging about, working on their tans, or having lunch at Spago or Cé La Vi.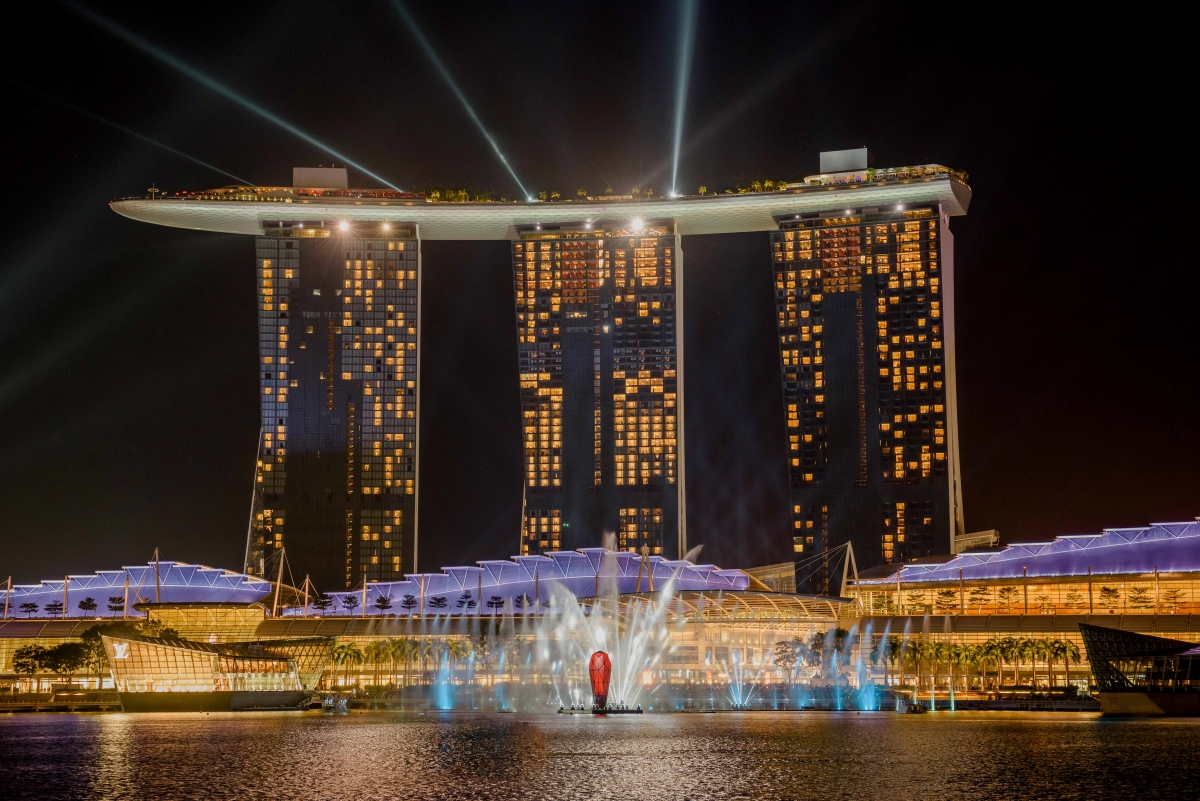 Another import from Las Vegas is the Spectra light show that takes place twice each evening. For 13 minutes, lasers throw infinite beams into the sky while dancing with water and sound to create a spectacular show that can be seen from the observation deck, guest room and from around the city.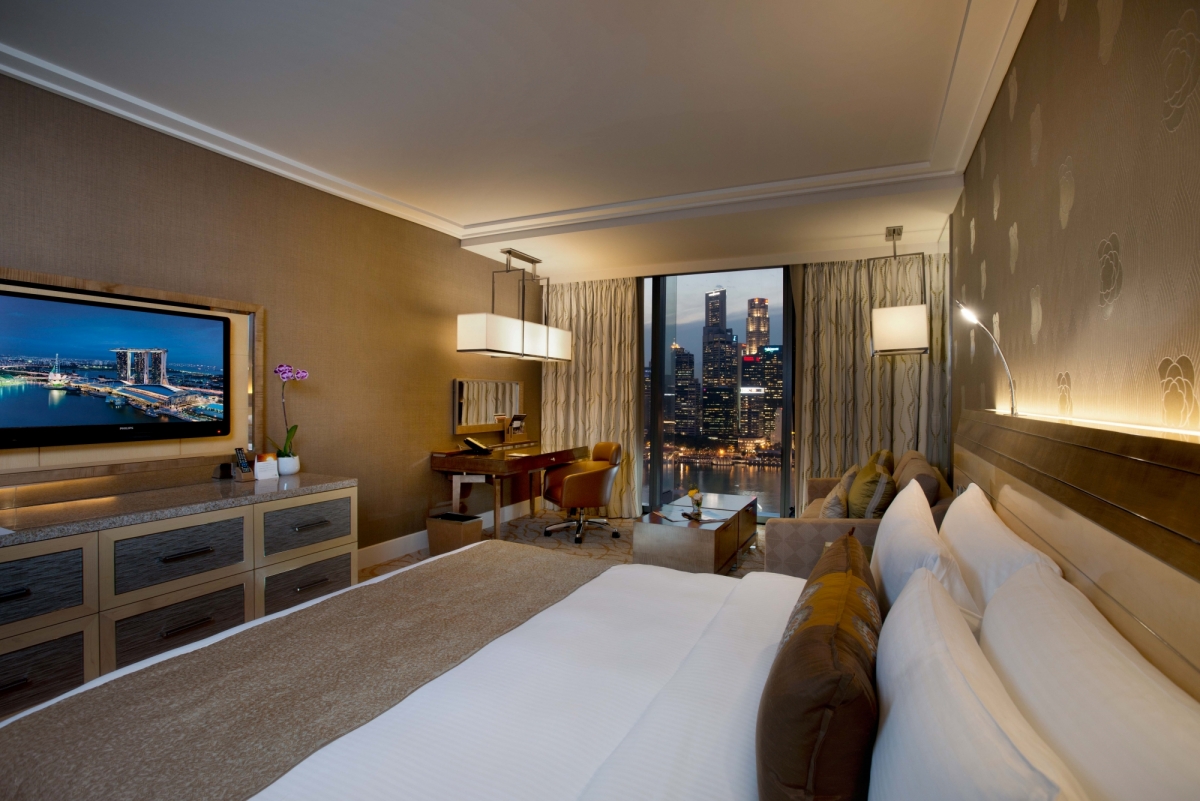 This is not your countryside boutique hotel by any stretch. Quite the opposite with 2,561 accommodations spread over the three towers that range from entry level rooms to impressive penthouses made to impress any high roller. Expect the luxury hotel experience with a calming color palette of natural tones, luxurious wood and marble furnishings. Premier Room feature bathroom with deep-soaking bathtub. The most impressive feature of the rooms is the floor to ceiling sliding doors and views, especially from the higher floors, of the harbor and downtown skyline or the views of Gardens by the Bay and the ships crossing Singapore straight beyond. What tops that is knowing that you will sleep and wake up and stay and play in the Marina Bay Sands, one of the most spectacular places in the world.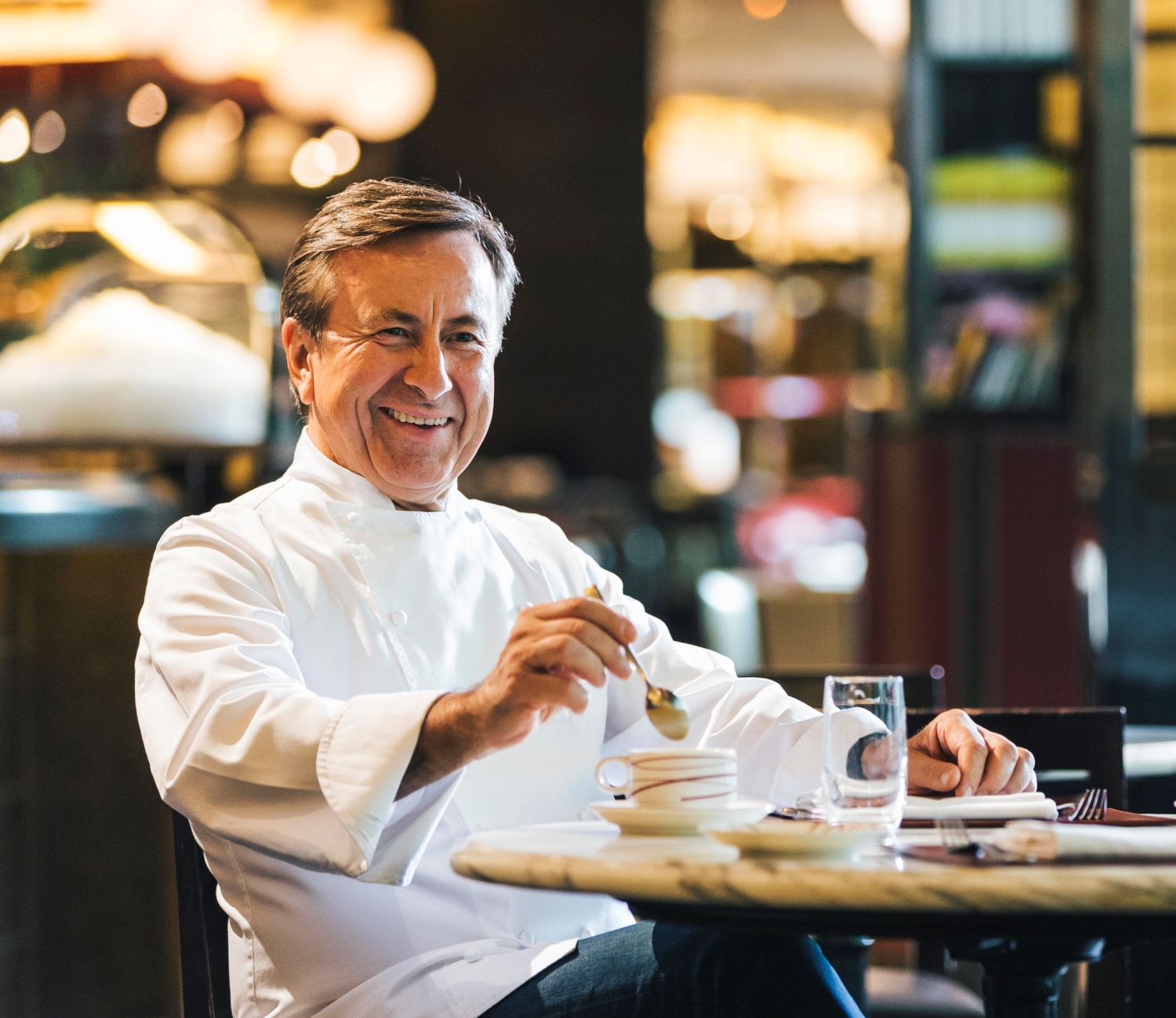 Chef Daniel Boulud
With more than 80 dining options to choose from, guests staying at the Marina Bay Sands are clearly spoiled for choice. One eatery worthy of at least one night during your stay is celebrity chef Daniel Boulud's award-winning restaurant, db Bistro & Oyster Bar by Daniel Boulud.
The casual-chic eatery is located within the mall so dining is as if you are seating at a café where you can indulge in some people watching along with your cuisine. Indoors is a French bistro with red leather banquets, white marble tables and bistro style chairs. Just past the entrance is a gargantuan spread of Singapore's widest variety of oysters with 30 varieties flown in weekly from the United States, France, Canada, New Zealand, Ireland or oysters from Kumamoto dressed with a tangy yuzu topping.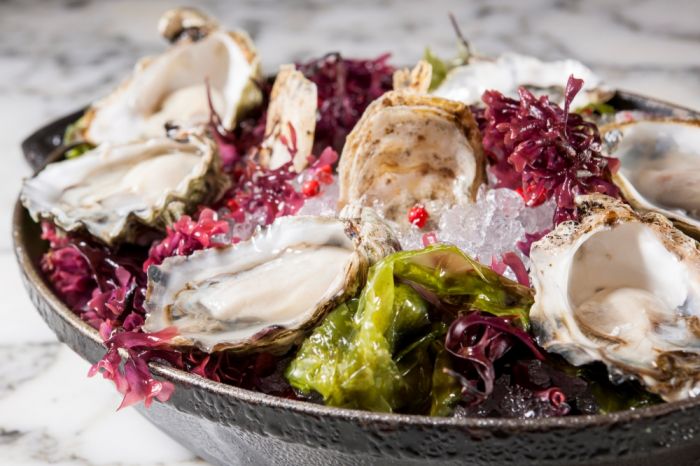 db Bistro & Oyster Bar is a top-notch surf and turf restaurant with dishes created using classic French techniques, simple, yet done to perfection The seafood is fresh and varied from Boston lobsters and Alaskan king crabs to caught wild and sustainably sourced Bigeye Tuna, Snapper, John Dory, Moonfish or Blue Cod grilled, fried, roasted or steamed as you like. The menu is extensive with everything from butter-drenched escargot to a good offering of top-notch steaks, poultry burgers, and salads as well.
Any self-respecting French bistro must have an enviable cellar of wine and the db Bistro & Oyster Bar passes with an offering of 500 labels which pair well with any dish. The cocktails are a standout as well. Beyond the amazing cuisine, the experience is made all the better by the attentive and switched on staff.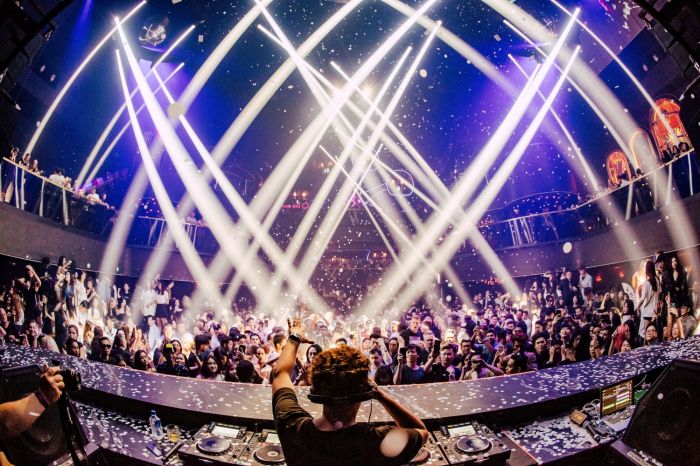 Another import that the Marina Bay Sands direct from Las Vegas is the entertainment. From a theatre with Broadway-style shows to a movie box office they've got it all. The nighttime party scene is sensational with hot spots such as Ce La Vie and Lavo on the 57th floor. Their mega club, Marquee Nightclub, is amongst the top in Asia. Akin to their clubs in New York City, and Las Vegas, Marquee is a totally over the top adult playground where swanky revelers get a bird's eye view from a revolving Ferris wheel, a slide that descends three stories down to the bottom floor. The vibe is electrifying with the visual eye candy displayed on an ultra-high-tech 65 ft 8k video screen and light show while a who's who list of international DJs keep the dance floor packed until sunrise. Elsewhere in Marquee, the party is on another level with roped-off VIP sections, with sexy hostesses toting bottles of sparkle adorned bubbles to Singapore's well to do set. Singapore after all the is the home of Crazy Rich Asians and they are there, en mass, spending loads and popping bottles.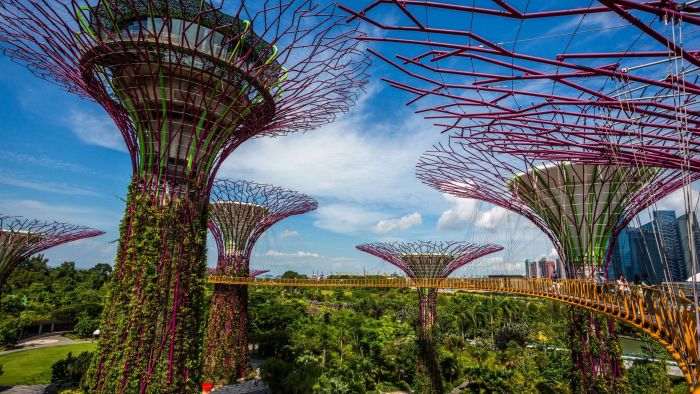 The Marina Bay Sands is located next to another Singapore attraction, the Gardens by the Bay. This futuristic garden is straight out of a scene from Avatar and is more of a theme park where instead of superheroes or Disney characters, the focus is on flora and fauna.
The park is located on 250 acres studded with 16 story tall man-made supertrees which are space-aged metal structures with a skywalk offering panoramic views of the city. Nature lovers and budding horticulturalists can explore an unmatched plant world of open-air gardens and exhibits. The main attractions are two gigantic air-conditioned conservatories filled with manmade cloud forest and mist-filled landscape of rare vegetation. In the evening guests are treated to a spectacle of light and sound and the neon lit supertrees in the Garden Rhapsody performance.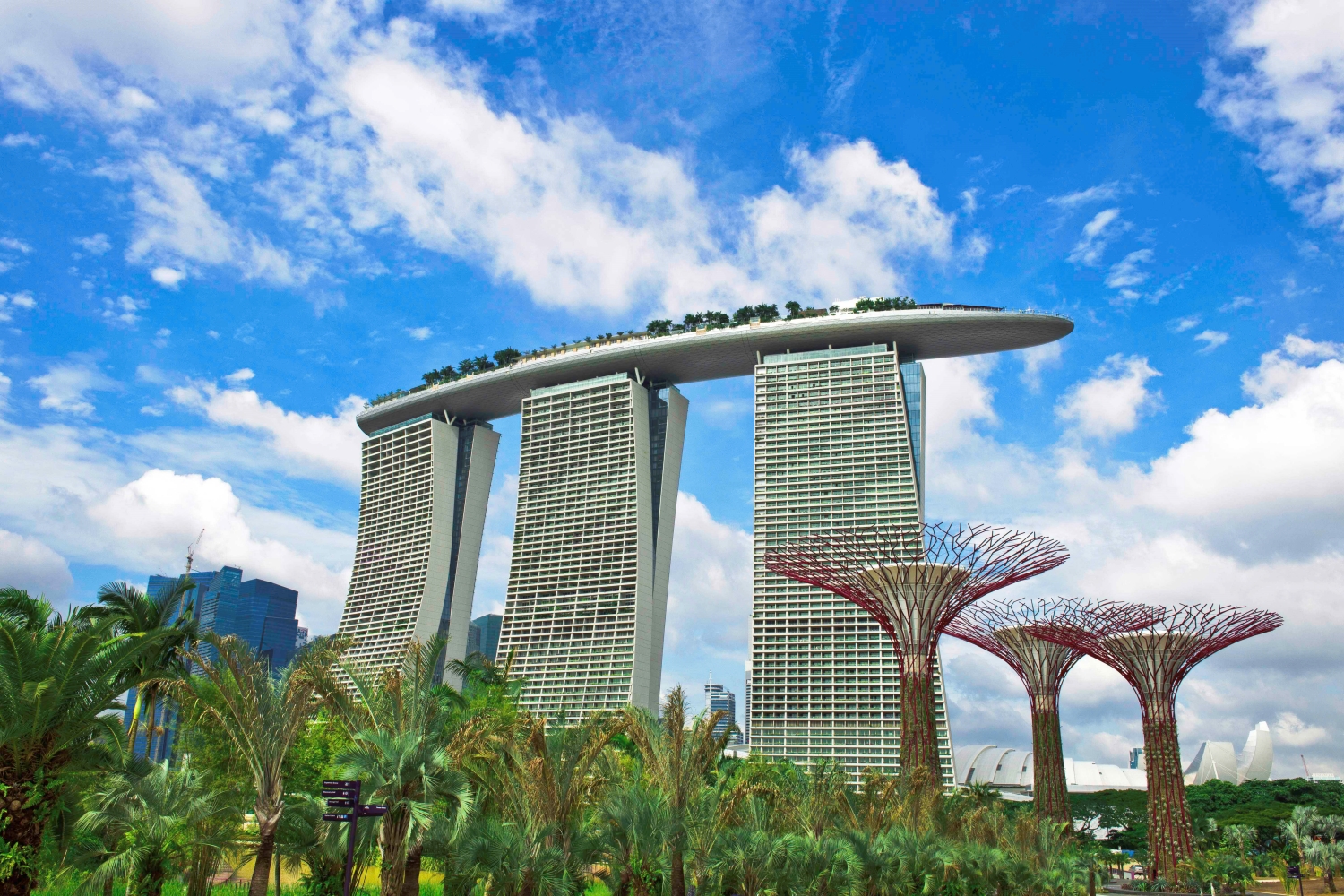 The Marina Bay Sands is akin to taking a sip of water from a fire hydrant. This completely over the top complex is in an indulgent adult playground with everything from world-class shops restaurants and night clubs to posh accommodations and the incredible rooftop infinity pool. As massive and daunting that the Marina Bay Sands may be, for some inconceivable reason, it's not enough. They are in the plans for building another tower with a whole new set of experiences to have and riches untold.