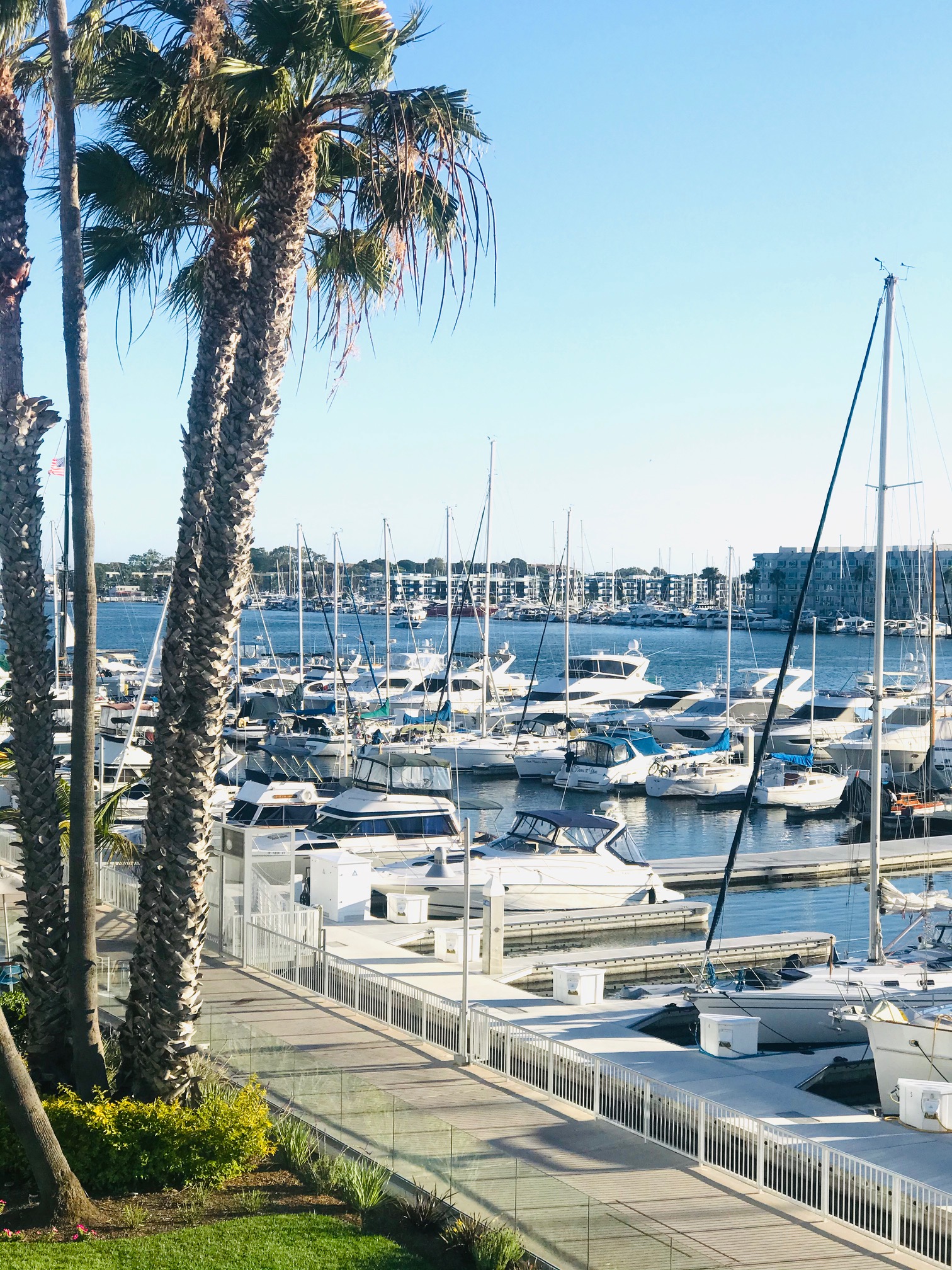 Jill Weinlein
Sitting on the balcony of a marina view room at the Marina Del Rey Hotel, one can watch luxury sailboats unfurl their sails while leaving the main channel to heel in the wind. Seagulls cry overhead as fishing boats return from a day at sea. Just at that moment, guests staying at the Marina Del Rey Hotel will gain a sense of renewal and peace, as if the world's health pandemic doesn't exist.
The three-story, 164 seaside guestrooms and 9 suites boutique hotel recently re-opened in June 2020, welcoming guests seeking a change of scenery. The management and staff follow rigorous cleanliness standards, as well as CDC and local health mandates.
As part of Pacifica Hotels, the Marina Del Rey Hotel follows the Pacifica Pure Stay principles to take significant measures to safeguard the health and safety of guests and the staff.
Jill Weinlein
Guests and staff must wear a face covering when entering the lobby, upon check-in at the temporary plexiglass barrier and throughout the hotel. A pre-wrapped mask will be given if necessary, along with a guest room key card, a small welcome hand sanitizer gift, and a COVID-19 fact sheet with hotel policies regarding distancing and personal protective equipment.
Hand sanitizing stations are located at entrances, elevators, SALT Restaurant and Bar, and the pool deck. Increased frequency of sanitizing high touch areas include elevator button panels, handrails, door handles, and the entry doors.
Electrostatic sprayers are utilized during guest room cleaning and public/common areas.

Courtesy of the Marina Del Rey Hotel
The waterfront hotel features 164 updated rooms and 9 suites overlooking the city, pool or marina. The 650 sq. ft. Grand one bedroom corner suite offers an expanded balcony with marina views.
Guests can be assured their room is clean from the moment they approach the door. A clean seal notification sticker indicates the room has not been accessed since being thoroughly cleaned.
Increased disinfection efforts include television remote controls, door, furniture and water faucet handles, nightstands, telephones, in-room control panels, and light switches.
Guestrooms no longer have coffee service, minibar offerings, iron, ironing board, collateral, pen, paper, magazines and directories. Coffee makers, irons and ironing boards are available upon request to allow enhanced cleaning of items.
Small Lather bath amenities are wrapped after sanitization. Guests are encouraged to bring the products home after their stay.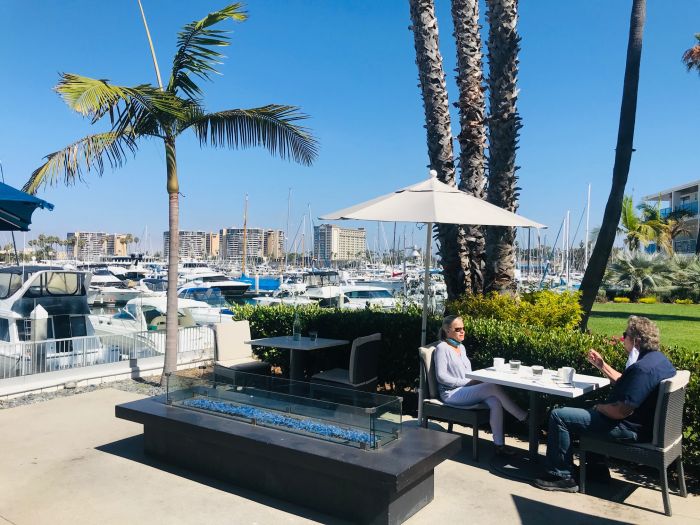 Jill Weinlein
In mid-June, SALT Restaurant and Bar reopened offering a new health and well-being protocol for team members and guests. The restaurant follows all local ordinances regarding restaurant hours and dining restrictions, as well as the guidance of the CDC and local health departments.
Guests must wear a face covering when entering the restaurant and while walking to the restroom or back to their guest room. Servers wear masks and face shields when taking diners orders, entering the kitchen, and delivering food to guests.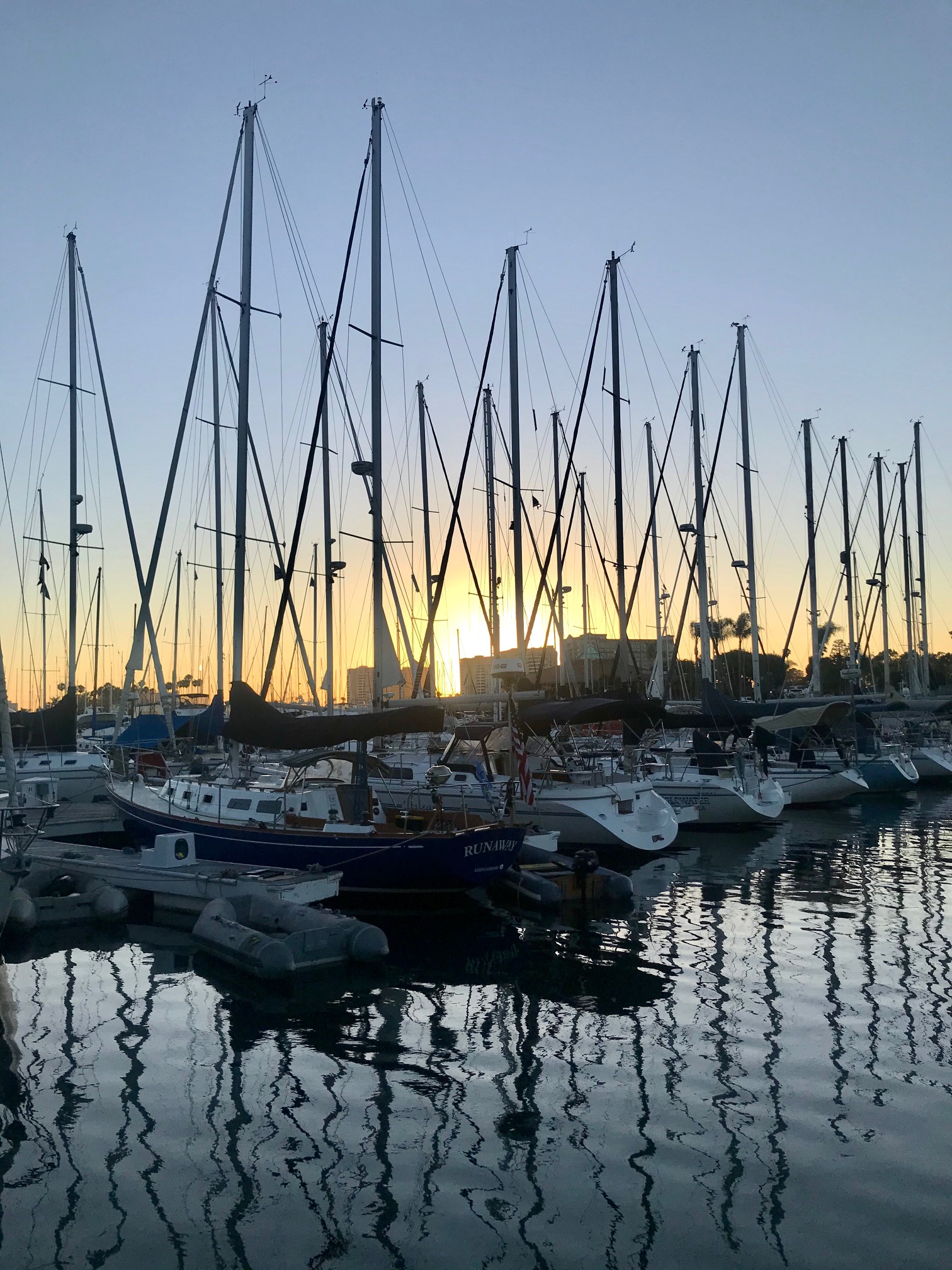 Jill Weinlein
For guests not ready to dine outside among others at socially distanced 6+ feet apart tables, they can order off the SALT menu and have their meal delivered in takeaway containers to their room door. Dining on the ground floor guest patio or elevated balcony while watching a watercolor sunset is spectacular in the evening.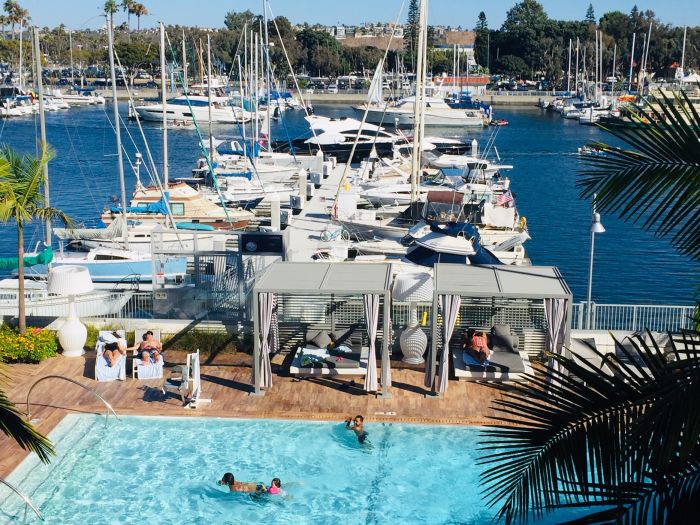 Jill Weinlein
You will always find a lounge chair, daybed and room to swim at the outdoor heated infinity swimming pool and deck. To protect guests and staff, pool reservations can be made upon check-in for 90 minute increments based on the new maximum capacity protocol. Pool towels are distributed upon check-in during guests reservation time.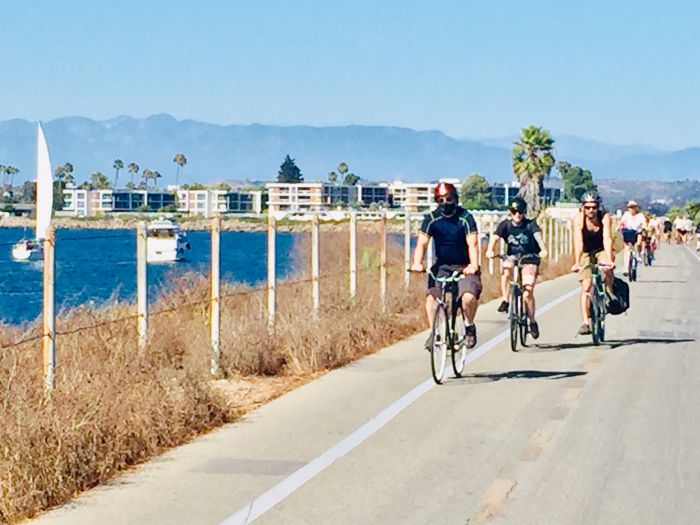 Jill Weinlein
Other outdoor activities include miles of paved bike paths for visitors to explore. The hotel provides bicycles with a basket and lock for $5 an hour or $25 for the day. The staff at the front desk can arrange paddleboard, boat and kayak rentals upon request.
With travel uncertainty, guests can have peace of mind with the hotel's flexible cancellation until 6 p.m., the day prior to arrival for select stays through December 31, 2020.
Pacifica Hotels is offering a website exclusive 'Hello Neighbor' Discover California summer special with 30% off hotel rooms now through 8/31/20. Staycations must be booked direct and are valid for stays through 12/31/20. Enter promo code: CARES.