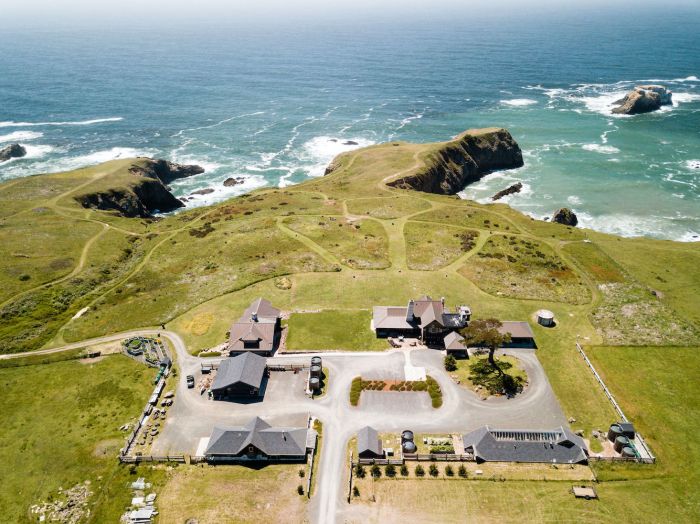 Photo: The Inn at Newport Ranch
Spacious, tranquil, and scenic. These Mendocino County attributes lure travelers seeking to truly get away from it all, and Fort Bragg's The Inn at Newport Ranch more than delivers. Located roughly 175 miles north of San Francisco, the enchanting luxury Inn is part of a 2,000-acre coastal cattle ranch featuring more than a mile of oceanfront cliffs, three miles of ridge tops with panoramic coastal views, and 20 miles of world class hiking and biking trails threading through the redwoods. With this much space to roam, guests will never find themselves bumping into one another, making this the perfect current escape for those with travel trepidation. (The Inn exactingly follows current CDC and government guidelines.)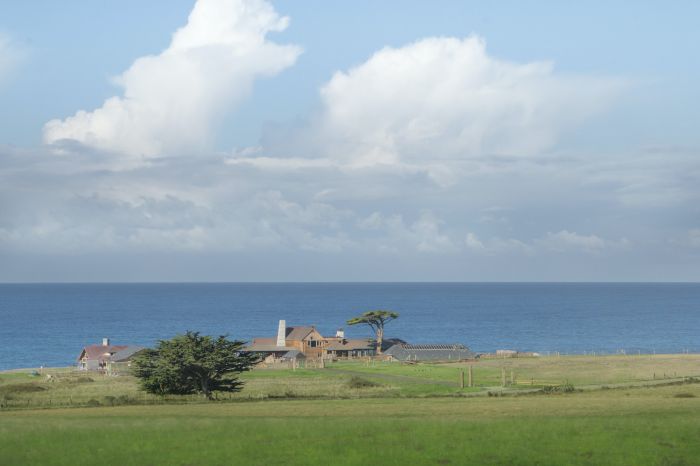 Photo: The Inn at Newport Ranch
Founder Will Jackson sought to replicate the spirit of nineteenth century westward expansion when he bought this land nearly 35 years ago. His desire to share the beauty and adventure of the topography culminated in his building of the sumptuous and intimate boutique Inn. Stunning artisanal design that reflects the area's shipping and logging heritage includes headboards and furniture crafted from enormous felled redwoods, a 20-foot-wide walk-in stone fireplace, and a building supported from base to cathedral-like ceiling by 24 individual redwood trees. Guest rooms, multi-room suites, and a complete ranch house are scattered throughout the property. Each is uniquely decorated in various Craftsman-esque themes and furnished to provide the ultimate in comfort. Several of the accommodations include full kitchens and some have private hot tubs.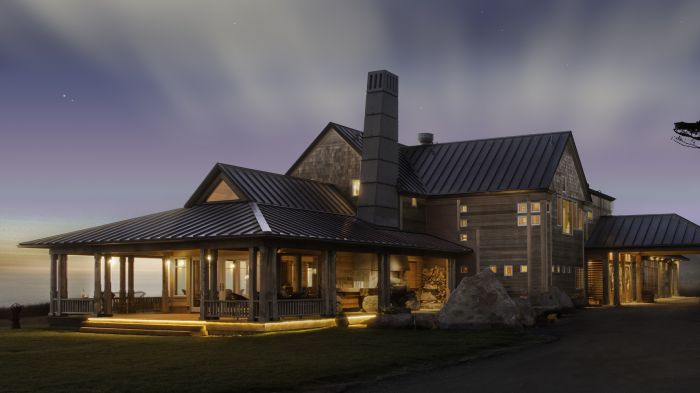 The Main Inn. Photo: Brendan McGuigan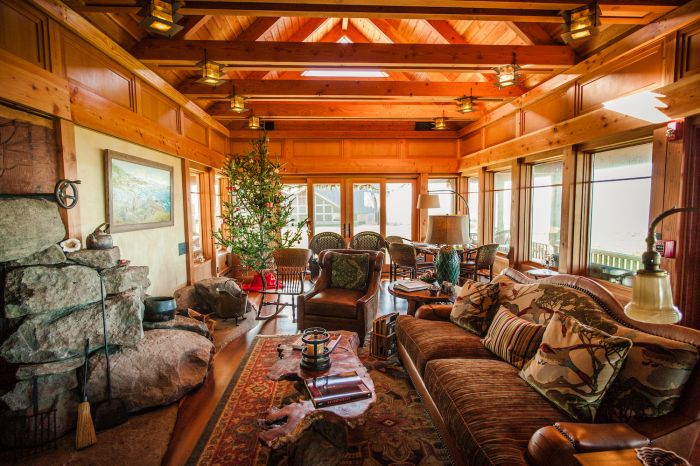 Main Inn Living Room. Photo: Dave Mathews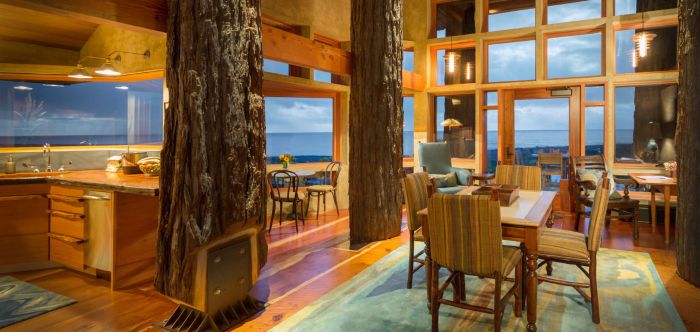 Redwood House, Grove Suite. Photo: Dave Mathews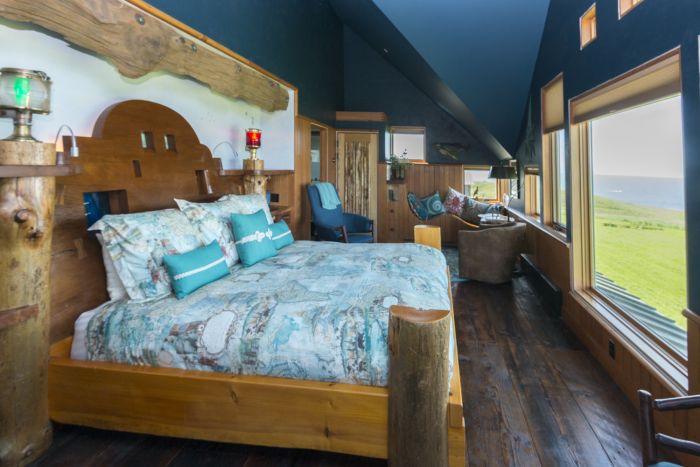 Main Inn, Captain's Quarters. Photo: The Inn at Newport Ranch
A 6 – 7pm nightly happy hour features appetizers as well as a choice of local wines, beers and deliciously crafted cocktails made with premium spirits, and offers the opportunity to either commune with other guests or enjoy the solitude of a coastal facing view from the large covered porch. A three-course dinner, if desired at $75/person, follows; currently, guests are socially distance-seated either within the large dining room with floor to ceiling sliding glass doors open to the fresh air, or outside at tables of two with heat lamps warding-off the coastal chill. A bountiful made-to-order breakfast is included with each stay and includes a choice of sweet or savory items.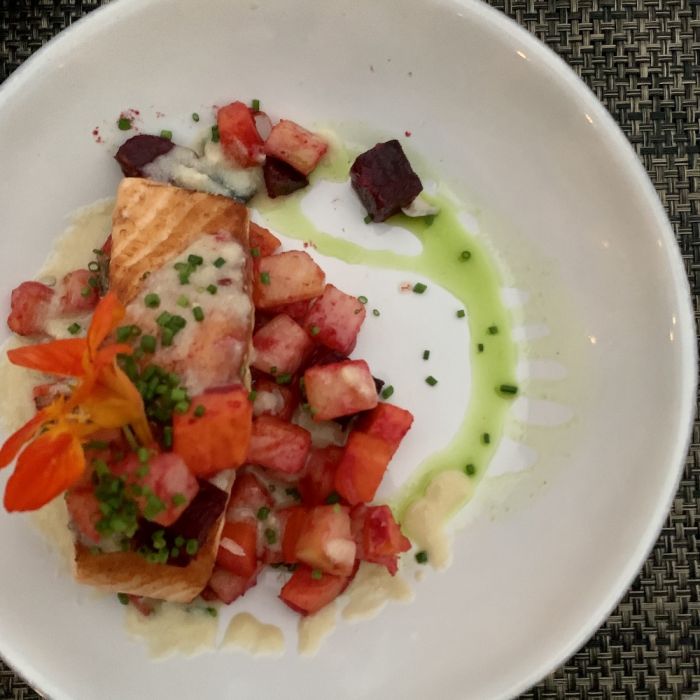 Dinner Entree. Photo: Fran Miller
Hike, bike, and horseback ride on the Inn's many trails, or better yet, explore the entire property via a guided UTV (utility terrain vehicle) tour. Throughout the two-hour adventure, the Inn's pro driver/guide traverses cattle-grazed pastures, coastline, and shaded redwood forests. Hop-out spots highlight glorious vistas. Few other California locations provide this topographical diversity, and it's breathtaking. Make sure though to set-out on foot to discover the property's multiple driftwood benches, each perched perfectly to capture dramatic views of the seaside cliffs and caves.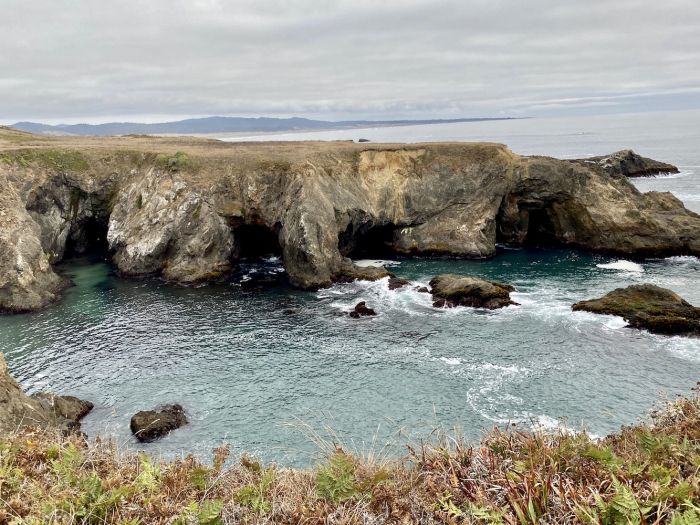 Photo: Dan Miller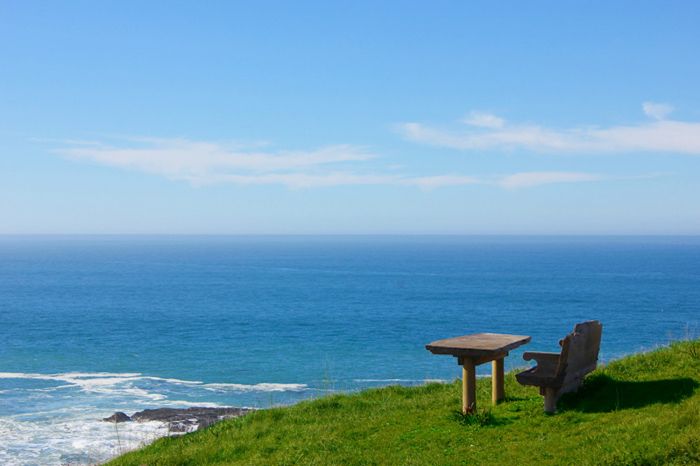 Photo: Dave Mathews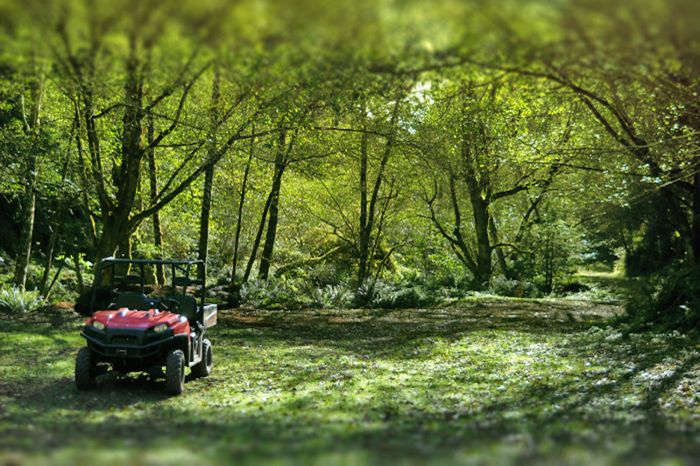 Photo: Dave Mathews
The Inn's 'neighbor' is Pacific Star Winery, visible north about a mile away. Wine lover or not, a visit to the stunning property is a must. The only California winery situated directly on the coast, Pacific Star features 15 awe-inspiring, seaside acres with naturally socially-distanced Adirondack chairs and picnic tables poised atop the bluffs overlooking the ocean. Founder and vintner Sally Ottoson makes and serves primarily Italian varietals sourced from inland growers with whom she has collaborated for decades. The charismatic and spirited Ottoson lives on the grounds above the winery. Native to the area, she has an encyclopedic knowledge of the entire region and is a wealth of information. Take a picnic and purchase a bottle, or enjoy a tasting flight of six wines while keeping an eye out for passing whales and dolphins.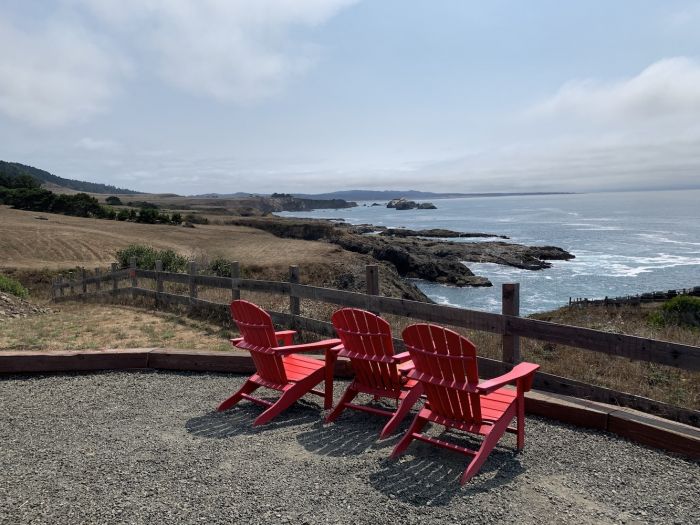 Pacific Star Winery grounds. Photo: Dan Miller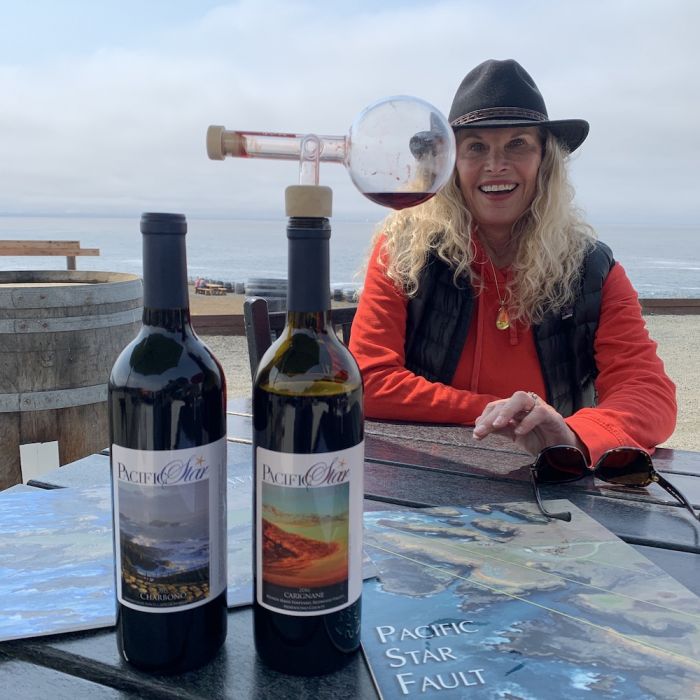 Sally Ottoson of Pacific Star Winery. Photo: Fran Miller