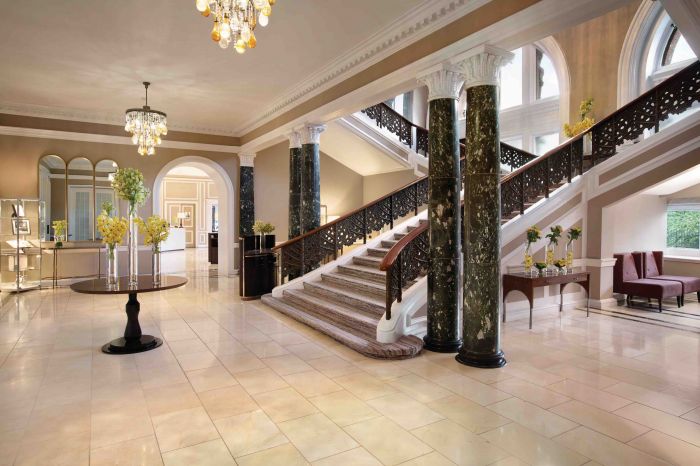 Photo courtesy of Waldorf Astoria Edinburgh
Such is the pedigree of Waldorf Astoria Edinburgh – The Caledonian, history records Gene Kelly dancing on the steps of its grand staircase and Laurel and Hardy enjoying a jolly ride on a luggage trolley.
In the annals of Scottish hospitality, surely no transformation has been as impressive as that of this high-quality property – from train station to luxury hotel, complete with spa and indoor swimming pool.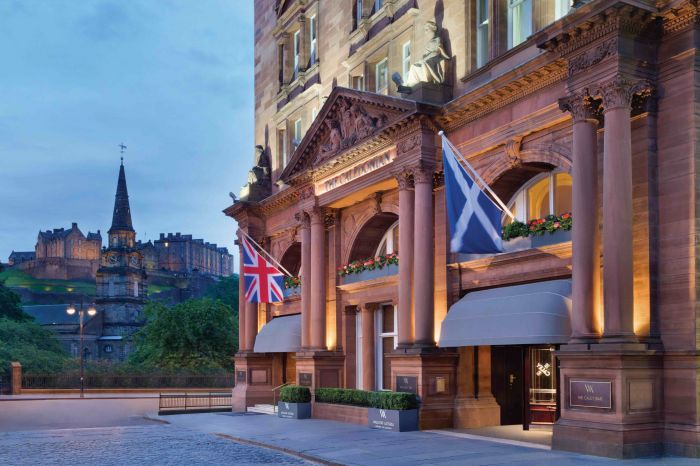 Photo courtesy of Waldorf Astoria Edinburgh
Originally opened in 1903 as the Victoria Station Hotel, it now features six floors with 241 rooms, including suites named after such Scottish notables as Sir Walter Scott, Robert Louis Stevenson and Alexander Graham Bell.
From the outside, the hotel's red sandstone walls stand out vividly against the busy downtown thoroughfare of Princes Street, featuring statues of four ladies representing the pillars of society – art, commerce, science and agriculture.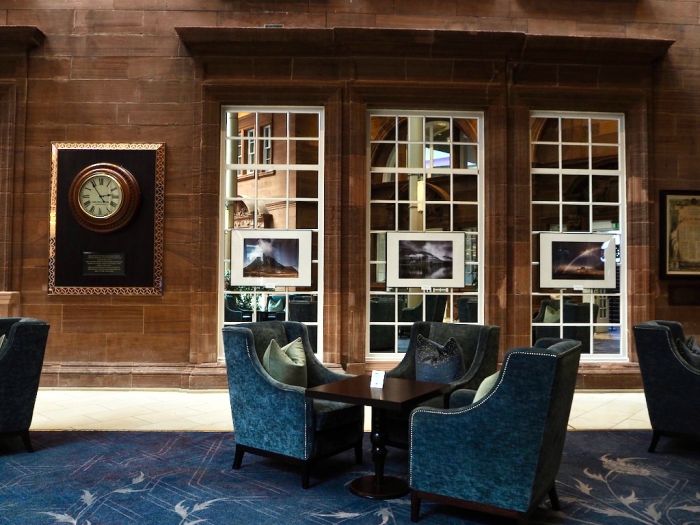 Columbia Hillen
Look closely and you may discern how the hotel's Caley Bar was once entrance to the old Princes Street Station, once part of the Caledonian Railway. This becomes more evident from inside the building where the station platform, still with its original sandstone walls, has been transformed into the spacious, high-ceilinged Peacock Alley in the lobby lounge where breakfast and afternoon tea are served. Named after the original 19th century gathering spot in New York's Waldorf Astoria Hotel where the wealthy and influential once mingled, I noticed the hotel was offering a pink-themed afternoon tea, including pink macaroons, in honor of Breast Cancer Awareness Month with a donation going toward the Pink Ribbon Foundation, which supports breast cancer victims. Here, the hotel organizes art exhibitions, enchanting photographs of the Scottish Highlands by Romanian photographer, Tiberiu Victor Tamas being on display while I was there.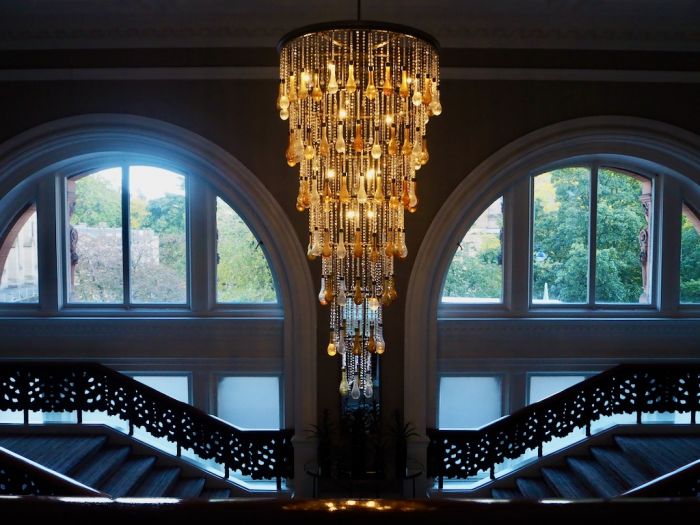 Columbia Hillen
Interesting artifacts here include the original 1890 station clock and several stained-glass windows. Train-track design on thick carpeting here is a singular signature, a passing nod to the property's illustrious history. Another reminder of its past is the decorative crests of cities the train once passed through that adorn the walls of the hotel's upper floors.
Reflecting its prestigious reputation, furnishings and design here are plush and graceful, including a crystal chandelier dangling along four floors and a sweeping cast-iron grand staircase, its railings designed on the theme of Nature, with a filigree of trees and foliage.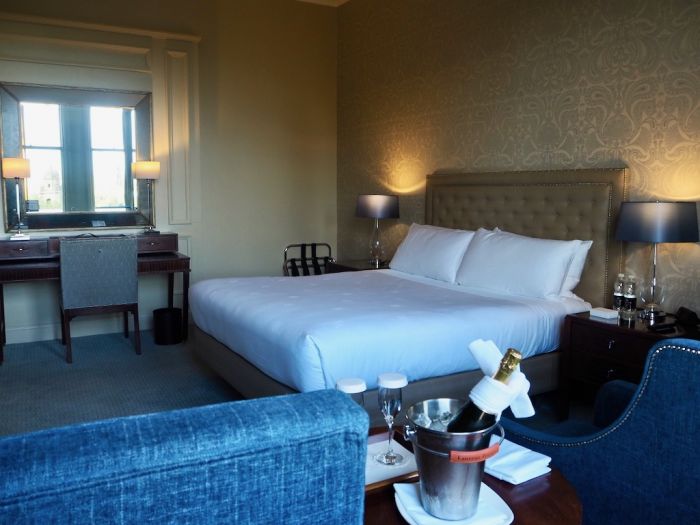 Columbia Hillen
Events play an important role in the activities of the Waldorf Astoria Edinburgh, with its ornate Castle Suite, featuring frescos of golden eagles, seagulls and pheasants and other Scottish wildlife on its ceiling and walls seagulls, catering for around 260 people for dinner and 400 to 500 for stand-up cocktails.
Elsewhere, black and white photographs depicting scenes from the hotel's history enhance the hotel's entresol or mezzanine while the ground-floor Guerlain Spa offers a range of services from facials to pedicures, a 24-hour gym, indoor heated swimming pool, Jacuzzi and sauna.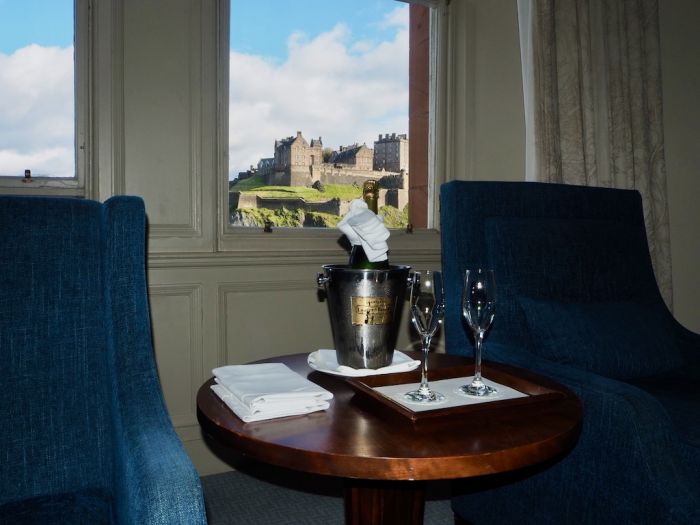 Columbia Hillen
Our spacious, high-ceilinged room offered terrific views over Edinburgh Castle, the 19th century St. John's Church and busy Princes Street. The highlight of our evening was relaxing on comfy armchairs enjoying a post-dinner dram of Scotch (with the traditional drop of water to help release the flavor) gazing out at the sparkling lights of the castle and activity in downtown Edinburgh. Comfy robes and the choice of a bath or shower with Tuscan Soul toiletries simply added to our overall comfort.
Furnishings included a built-in clothes cupboard, walnut writing desk, leather-covered drinks cabinet, an espresso machine and a kettle for tea. Framed photographs of the old Caledonian train station on the walls and Georgian-style sash windows and damask curtains created a heightened sense of tradition.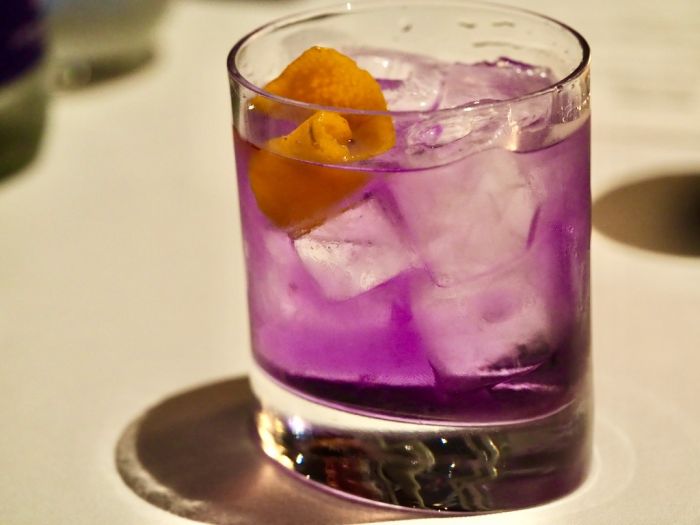 Columbia Hillen
We dined in 'Grazing,' a ground-floor restaurant with a menu created by chef-entrepreneur Mark Greenaway. To kick-off a leisurely evening, we sipped on a couple of innovative signature cocktails, a yuzu martini featuring vodka, elderflower, yuzu and lychee and an Empress Negroni, Empress Gin, bitter Bianco and dry martini. For non-drinkers, try a mocktail, perhaps a refreshing burst of berry flavors featuring raspberry, lemon and ginger ale.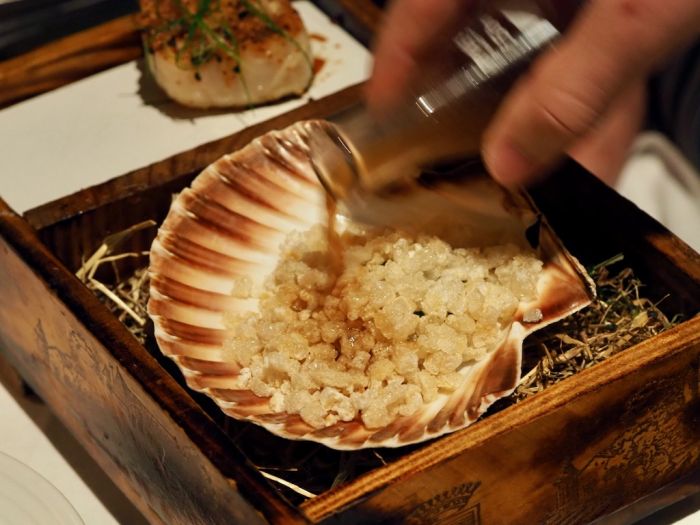 Columbia Hillen
Hankering for a mix 'n match type culinary evening, my companion and I opted for pan-roasted Orkney scallops and beef tartare as starters and roasted halibut, served with salt-baked beetroot and cauliflower, and fillet of Aberdeen Angus beef served with oxtail and potato roulade and Jerusalem artichoke, as mains.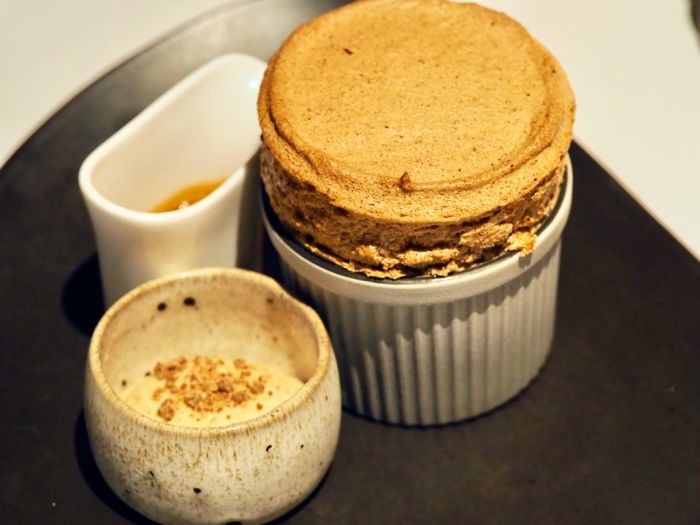 Columbia Hillen
As for desserts, well, there's enough diversity to suit most tastes. The signature selection – so sinful, the Church of Scotland really should be informed about it – was the delectable sticky toffee pudding soufflé with salted caramel and date ripple ice-cream.
For a hotel boasting more than a century of history right in the heart of downtown, Waldorf Astoria Edinburgh-The Caledonian should be high on your list of choices.