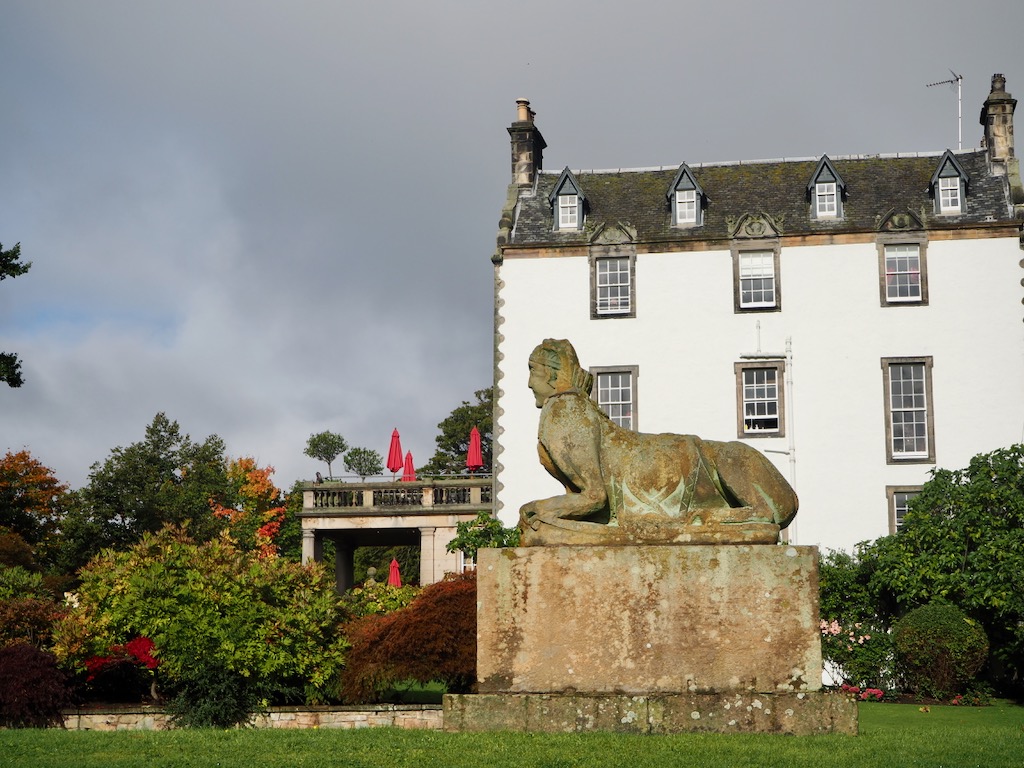 Columbia Hillen
So utterly sumptuous is Prestonfield House, a countryside mansion in south Edinburgh, it almost defies description.
Therefore, for the purposes of this article, it's probably best to step back from the blinding visionary feast it presents and begin at the beginning - entering through the property's sturdy main gates.
From here a stately driveway meanders past gently sloping meadows where a couple of shaggy Highland cows bearing a full rack of horns gazes defiantly at me from behind a fence. Two proud peacocks stride unafraid towards me in a dignified, head-jerking manner in what seems like an arrhythmic heavy-metal dance routine, two multi-colored spots of rainbow twitching across the grass.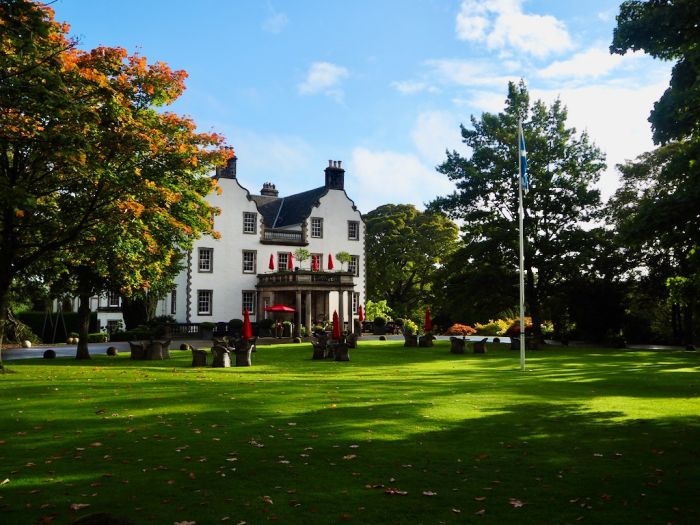 Columbia Hillen
A veritable cloak of trees, including chestnut, rowen, oak and yew provide an array of autumnal color, leaving a light carpet of leaves underfoot around the 20-acre gardens that enclose the property.
Up ahead, guests bask in weekend sunshine at wicker tables scattered around an open lawn fronting the mansion's exterior reception podium, sharing each other's company over leisurely Sunday afternoon drinks.
We do so also, two glasses of champagne in hand, enjoying a restful respite from driving. A silky black cat, as bold as brass, decides to join us, caressing our legs, and without much ado, leaping onto my lap for a better view of her surroundings.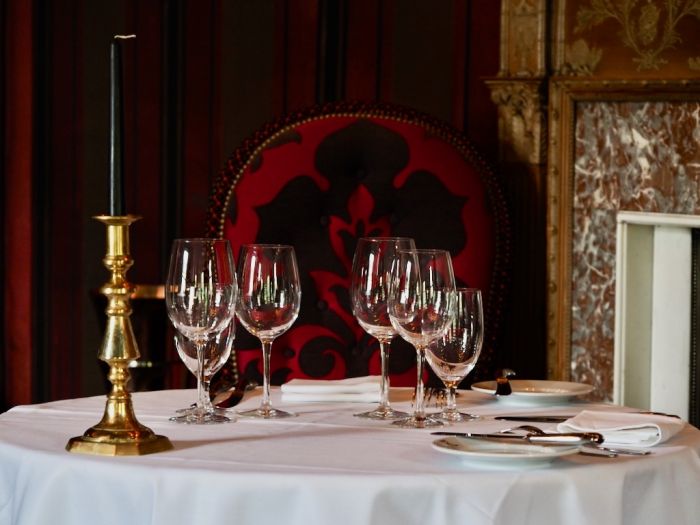 Columbia Hillen
From our table we could see Edinburgh's iconic volcanic hill known as Arthur's Seat, the Royal Holyrood Park and the ruins of Craigmillar Castle.
Prestonfield House, built in 1687 on a site known as Priestfield, once home to a wealthy monastery, was designed by Sir William Bruce, known as a 'gentleman-architect and the effective founder of classical architecture in Scotland.'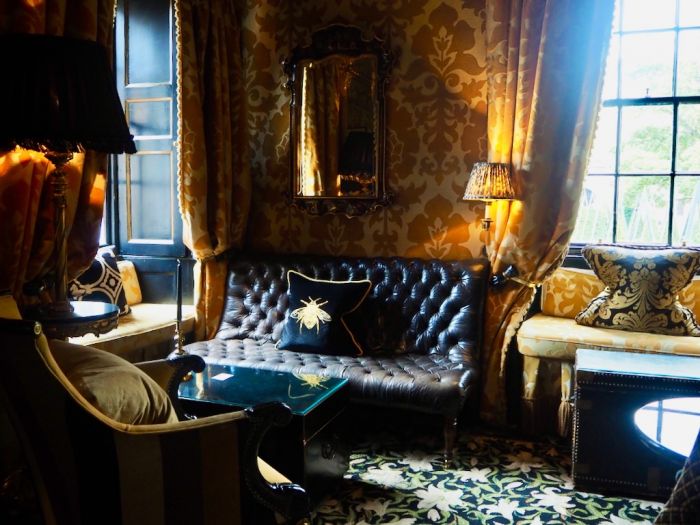 Columbia Hillen
Once an upmarket rural estate, present owner, chef and entrepreneur, James Thomson, who also owns Edinburgh's well-known Witchery by the Castle restaurant, has created uplifting exuberance and stately comfort.
One writer's description of the property is apt, 'Riotously rococo, with bedrooms straight from the pages of bodice-ripping romance.' Having stayed here for two delicious nights last month, I agree. As for the latter phrase, perhaps in my case some things are better left unsaid, leaving so much more to the imagination.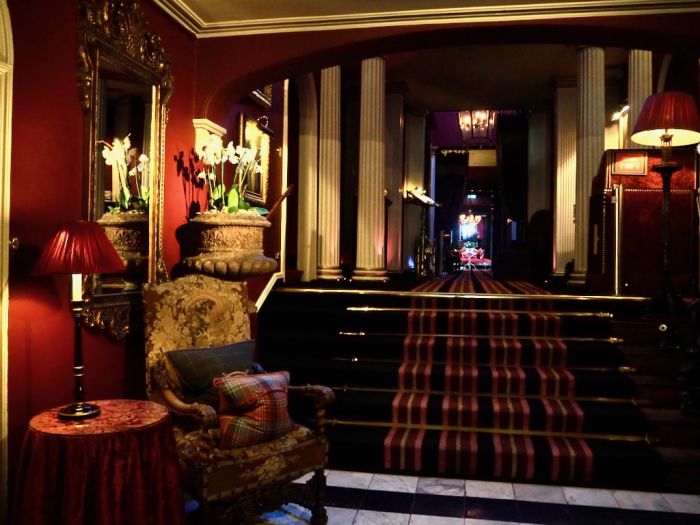 Columbia Hillen
To describe in detail the hundreds of intricate elements that make up Prestonfield's stunning centuries-old furnishings would take a book, not a mere article. Suffice it to say, they range from enticing four-poster beds, Queen Anne chairs, Chinoiserie decorated cabinets, silks, ormolu and a score and more of original pencil etchings, paintings and portraits.
Reflecting such a rich tapestry of history, it's no wonder notable figures ranging from British Prime Ministers such as Winston Churchill and Margaret Thatcher to actors such as the recently deceased Sean Connery and Oliver Reed, as well as Catherine Zeta Jones, and singers such as Elton John and Sandy Shaw have stayed here.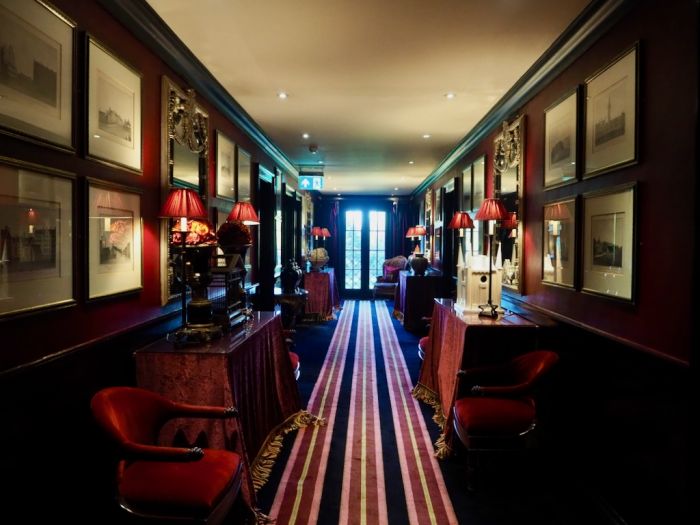 Columbia Hillen
General manager, Alan McGuiggan, has accomplished a fine task of creating a corps of friendly staff delivering efficient service without being overly indulgent. Indeed, interaction with staff was one of the many reasons we enjoyed our meals here, including a playful discussion on the name of the Scottish actor who played a strong role in the movie, 'Four Weddings and a Funeral.'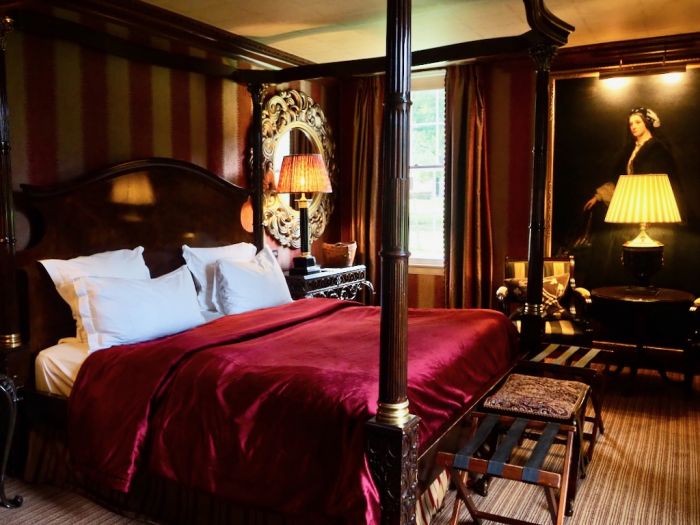 Columbia Hillen
Stepping into our ground-floor room was like stepping back in time.
Number five, one of 18 bedrooms and five suites, featured a sensuous red décor, and was richly furnished, including an ornately carved four-poster bed, big screen TV encased in an intricately-crafted cabinet, lacquered wood table lamps, cozy armchairs, heavy velvet brocade curtains, a marble-topped set of drawers and combined bathtub with shower, with Gilchrist & Soames and Penhaligon's toiletries.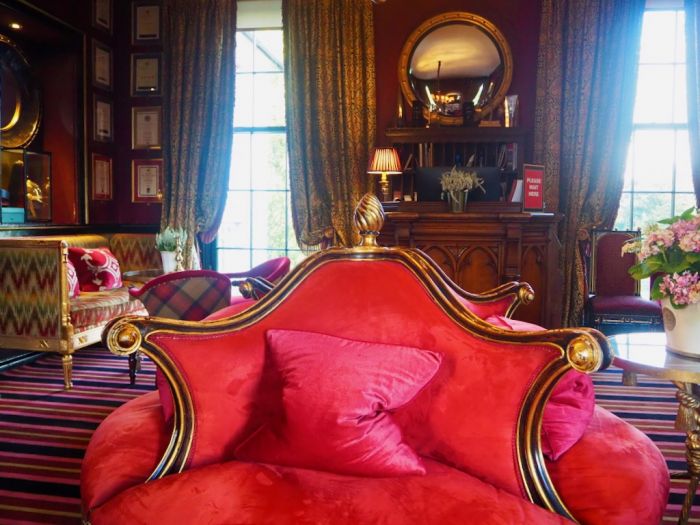 Columbia Hillen
A small sign on the inside of our door highlighted in a witty way the importance attached to guest privacy at Prestonfield House. It reads, 'Want no hassle? Just hang the tassel,' referring to a gold-colored tassel wrapped around the exterior handle. Mere yards outside our windows were smooth rolling hills, home to Prestonfield Golf Club.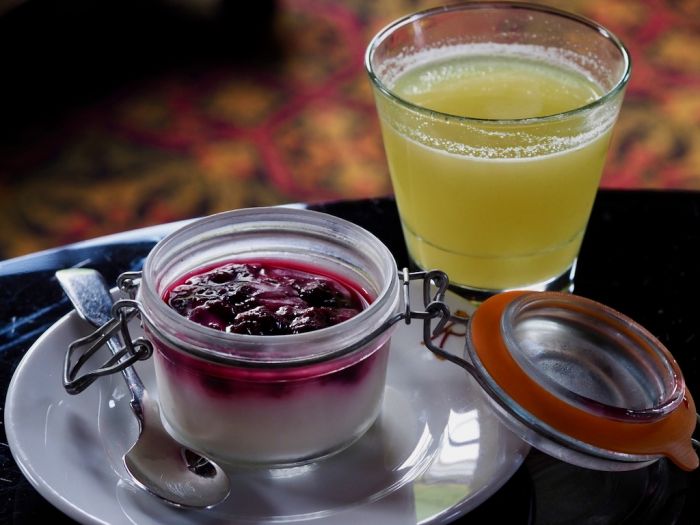 Columbia Hillen
Eating at Prestonfield is a joy, to be savored at a slow pace. Chefs are obviously particular about the ingredients they use. Breakfast for example: not just apple juice but Granny Smith and Cox pippin apple juice. Not just black pudding but Ramsay of Carluke black pudding. Not just sausages but high-quality Cumberland and Lorne sausages. Not just cheddar cheese but Isle of Arran smoked applewood cheddar.
Columbia Hillen
Hosted in the 'Rhubard' restaurant, individual dinner dishes are listed on a wide-ranging menu under the titles, 'Land and Air' and 'Loch and Sea,' with a couple giving the opportunity for two persons to share. From a selection of eight starters, we chose locally grown courgette flower tempura and barbeque short ribs, followed by mains of grilled roebuck with white beetroot and chicory and beef Wellington with portobello mushrooms. Among the menu surprises were a delicious clotted-cream bread and a dessert of curd and Chantilly ice-cream with health-giving sea buckthorn as an integral element.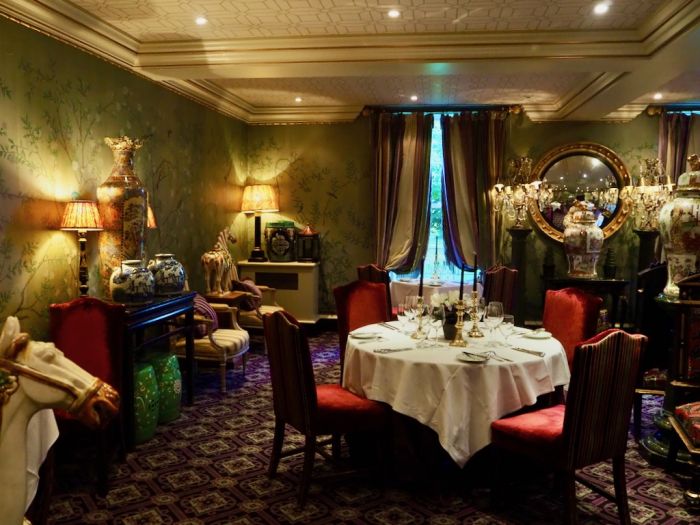 Columbia Hillen
Ambient atmospheres throughout Prestonfield for leisurely drinks are ample. The Tapestry Room features an exquisite plaster ceiling and the Leather Room is lined with Córdoba leather. And for an alfresco experience, there is always the open terrace overlooking the garden.
After basking in such an extravagant setting, I must admit, it was quite difficult exiting the main gates into the real world again.