Columbia Hillen
Standing on a broad avenue in Edinburgh's New Town within a five-minute walk of bustling downtown Six Brunton Place, is a historic, three-story Georgian house designed by William Playfair, a leading 19th-century architect.
The former home of a famous clock-maker, this luxury guesthouse is now owned by Hilary Scott, a gracious and witty hostess who has applied her impressive decorative skills to create a charming and relaxing atmosphere.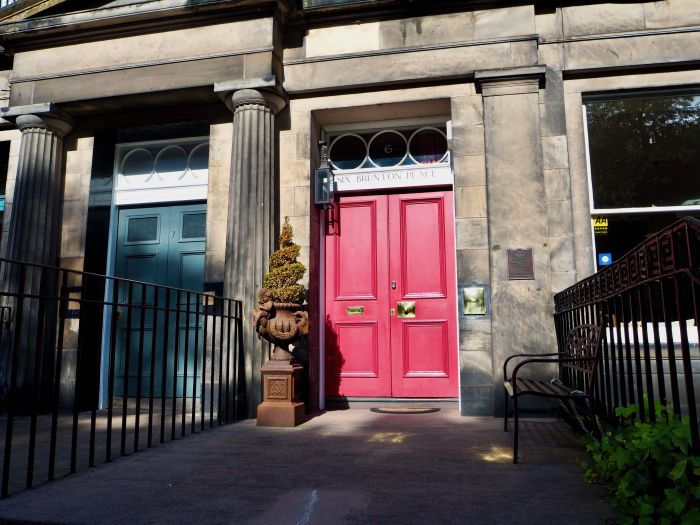 Columbia Hillen
Several stone steps lead from the street to a formidable wooden doorway, beyond which is an elegant carpeted hallway complete with hanging chandeliers, silver candelabra and a vintage grandfather clock, with a winding staircase at the end leading to the upper floors. Next door on the ground level, is a cozy drawing room, where breakfast is served, featuring varnished wood floors with rich red and blue decorative carpeting and a tall ceiling with cornices. It is a sedate place for reading and idle conversation, with broad windows looking on to the street permitting plenty of natural light and a wood-fired range heating up the room. In a generous gesture to guests, Hilary even provides complimentary wine, red and chilled white.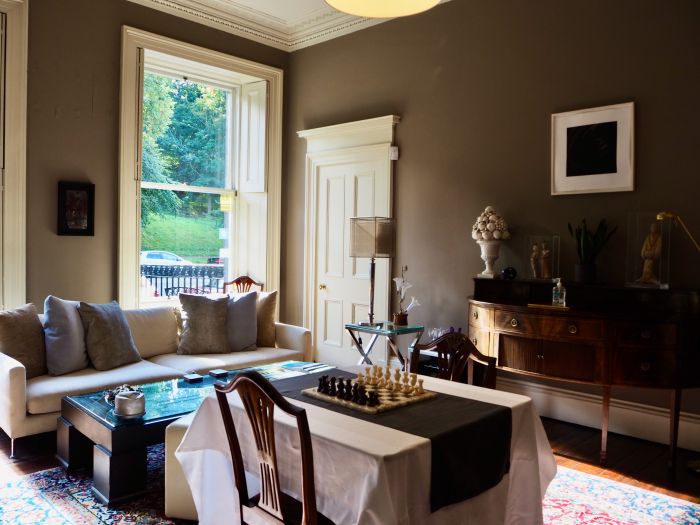 Columbia Hillen
Furnishings here include a long, glass-topped wooden mother of pearl teak inlaid table, tall table lamps, a marble chess set, Queen Anne chairs and a stone bust of a fellow who looks very much like the celebrated 16th century Bard of Avon. Reflecting Hilary's past sojourns in the Far East, several 1,000-year-old Oriental statuettes stand enclosed in glass on a shelf.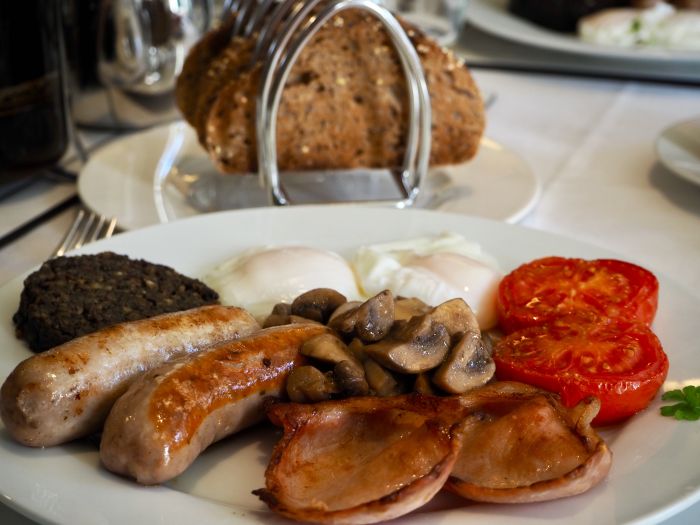 Columbia Hillen
Breakfast at Six Brunton Place is a delightful affair, served by friendly Hilary herself who also serves out key information about Edinburgh itself.
Among the delicacies to be savored are Orkney black pudding; haggis, a savory pudding containing sheep's pluck (heart, liver, and lungs), and minced with onion, oatmeal, suet, spices, and salt, mixed with stock, and cooked while traditionally encased in the animal's stomach, and Dunkeld smoked salmon that Hilary buys from a local farmers' market, which is produced at a small family-run artisan smokehouse in Perthshire.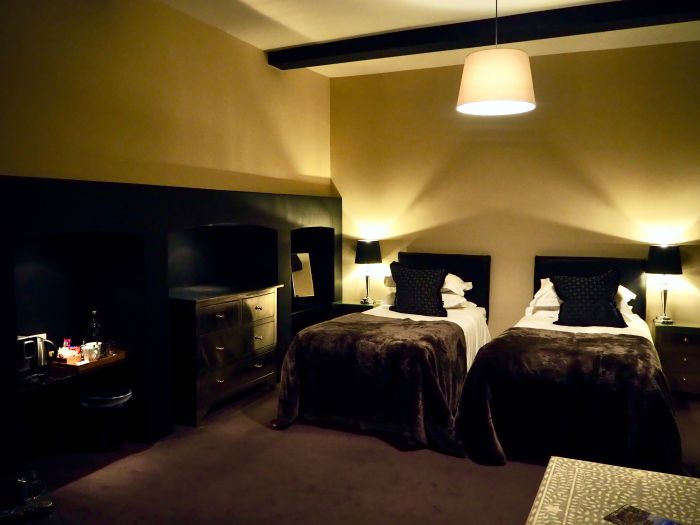 Columbia Hillen
Overall, Six Brunton Place comprises four guest bedrooms. Our accommodation, known as the Garden Room, is, in effect, a three-room suite, reached down a short flight of stone steps off the main entrance hallway. Being spacious, it could probably sleep a family of four.
Reflecting chic design with an overall color scheme of black and silver, it was furnished with a comfy double bed, flatscreen TV, large settee and a separate sunken bath and walk-in shower, with toiletries by Highland Soap Company using heather and aloe vera. Comfy bathrobes and plenty of tea, coffee and biscuits added to our overall sense of well-being.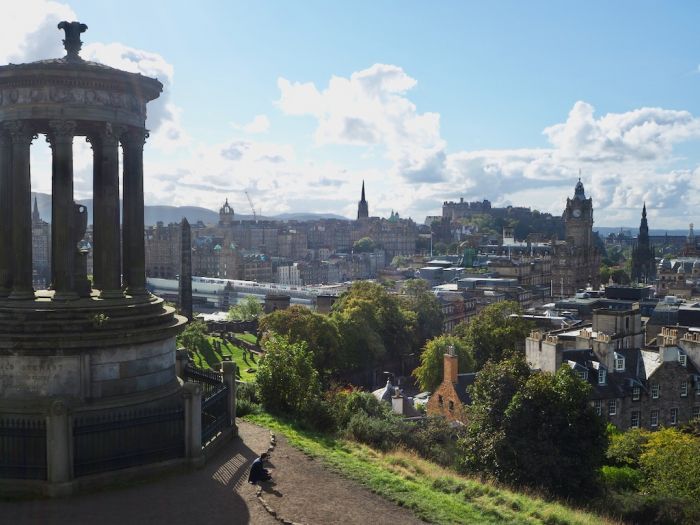 Columbia Hillen
Aside from a high-level of comfort, Six Brunton Place wins kudos for its central location. Immediately opposite is the leafy London Road Gardens, once a popular venue for duels in days gone by, on top of which is Calton Hill, site of the city's old observatory. From here, visitors enjoy a magnificent 360-degree view over the estuary, Firth of Forth, on one side and Old Town including Edinburgh Castle on the other, as well as the remnants of the extinct volcano, known as Arthur's Seat, the main peak of the group of hills which form most of Holyrood Park.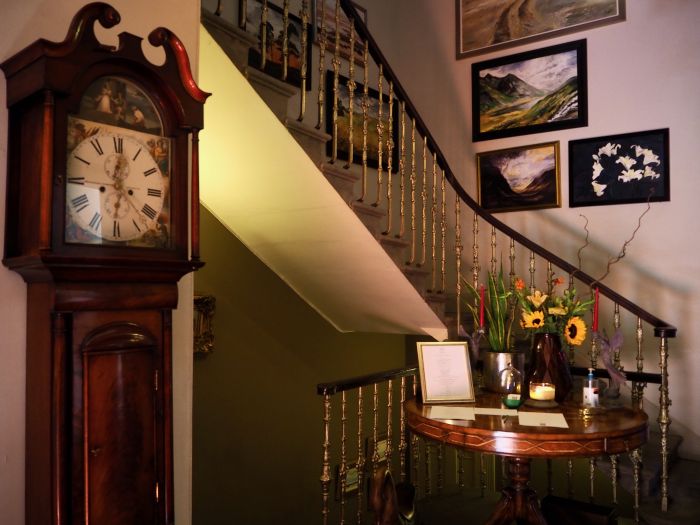 Columbia Hillen
Six Brunton Place is also a short 10-minute walk from Princess Street, Edinburgh's main shopping area, and busy Leith Walk, where the Edinburgh Playhouse stages musicals and comedies. For football fans, Easter Road, the home of Hibernian (Hibs) football club, one of Scotland's oldest clubs, is also within easy walking distance.
For sheer comfort, convenience and an informed, entertaining hostess, Six Brunton Place is hard to beat.