Courtesy of Fairmont Sonoma Mission Inn & Spa
A replica of a California Mission was built in Sonoma County in 1926. Soon it became a romantic haven for those seeking health and pleasure. Now the Fairmont Sonoma Mission Inn & Spa offers a world-class health spa with over 50 treatments and natural Artesian mineral water pools. The Fairmont Sonoma Mission Inn & Spa offers exceptional culinary and wine experiences during the holidays. Thanksgiving, Christmas and New Year's Eve meals will be served in accordance with Sonoma County's social distancing protocols.
During the holidays, the well-designed lobby features festive decorations and an enchanting and sparkling 14' foot-tall Christmas tree.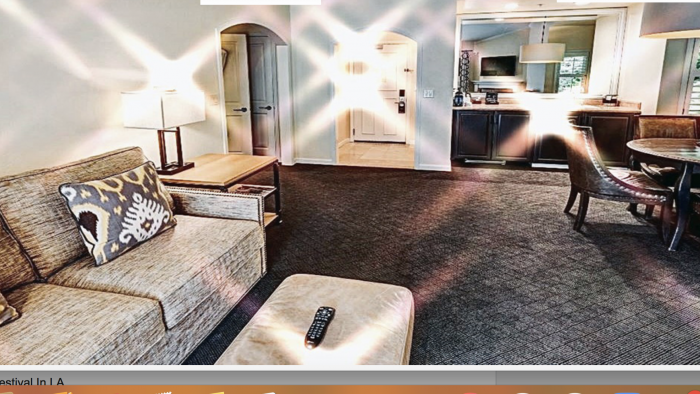 Courtesy of Fairmont Sonoma Mission Inn & Spa
New this year, the resort is offering a signature Sparkle Suite. Guests will enter the beautifully appointed holiday-themed Jack London Suite to find sparkling twinkling lights and glass bubbles. The 1010 sq. ft. suite offers a luxurious separate master bedroom with a cozy fireplace and a master bathroom with a double Jacuzzi tub. There is also a separate living area with a half bath and a couch that opens to a sofabed.
Bon vivant will also receive an inspired bath amenity, and one of Sonoma's favorite - a bottle of Gloria Ferrer Blanc de Noir sparkling wine.
This Sparkle Suite special is from December 4, 2020, through Saturday, January 2, 2021.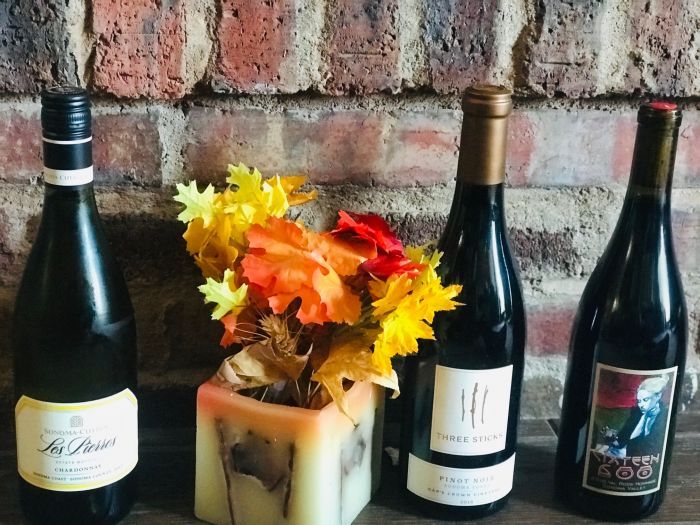 Jill Weinlein
Be sure to ask for Brian Casey, the Sommelier of the Fairmont Sonoma Mission Inn & Spa when dining at Sante' Restaurant, known for its "California fusion with a Sonoma passion." Casey is an expert on Sonoma wines and enjoys helping guests pair wine with the restaurant's holiday fare. He also can recommend some great wines to bring home with you to give as gifts. Casey is a magnificent storyteller and is happy to share his knowledge about his favorite winemakers and wineries.
According to Casey Three Sticks Wines produces exceptional Pinot Noirs in Sonoma County. He recommends a glass of this wine to enjoy with the mushroom risotto with black garlic butter on the menu. When guests ask about wine tasting rooms, Casey recommends visiting the Three Sticks Wines tasting room located in the historic Vallejo-Casteñada Adobe in downtown Sonoma. It was once a private home and now offers beautiful indoor and outdoor tasting areas.
Sonoma-Cutrer Les Pierres Chardonnay is a unique wine because the grapes are planted in what was once the site of a rock quarry. The soil is 50-70% rock content, which infuses this wine with a beautiful mineral essence. Casey recommends pairing a glass of this Chardonnay with the grilled salmon on the restaurant's menu. It's served with a white bean salad and cherry tomatoes. He also thinks this Chardonnay will be perfect with holiday turkey, yams and stuffing with sage and oregano.
Another favorite wine is from Winery Sixteen 600. Founder Phil Coturri set out to prove that organic grapes make better wines. Beyond the health and environmental benefits, organic farming allows the terroir of the vineyard to shine. Phil is one of the most prolific growers in the U.S. Since the 1970s, he has been planting almost 1000 acres of grapes in Sonoma and Napa for 35 different wineries. He selects the best rows from different vineyards to make his one-of-a-kind delicious wines. Casey said this juicy wine pairs nicely with any of the grilled meat dishes.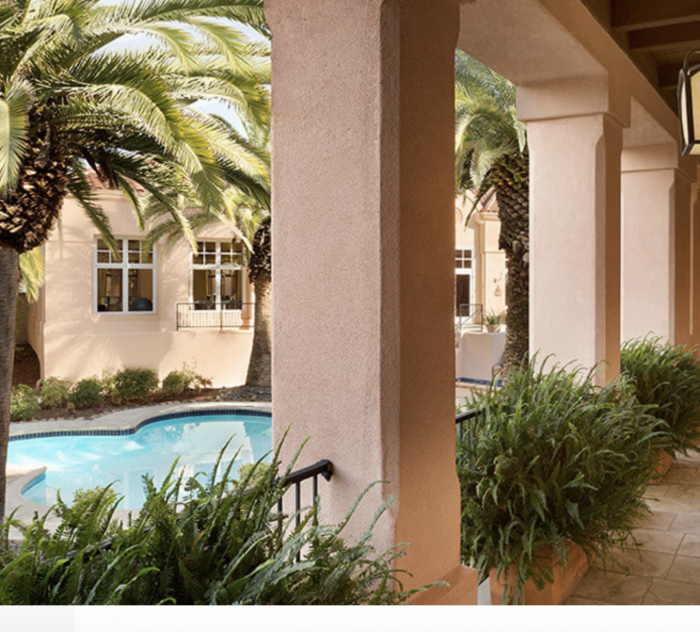 Courtesy of Fairmont Sonoma Mission Inn & Spa
Edward Roe the General Manager of the resort said there are two outdoor pools open that are heated to 86 and 90 degrees. Around the 14 acre property they have 20 fire features for guests to sit and enjoy morning coffee outside, and dessert in the evening.
Before sundown from 4:30 to 5:30 p.m., the resort invites a local winemaker to share his or her knowledge about their wines, showcasing and serving during a complimentary wine tasting hour.
Guests who book fully refundable rates may cancel or modify their reservations without penalties on all.accor.com (provided that the exact rate policy of your original booking will apply to your revised booking).