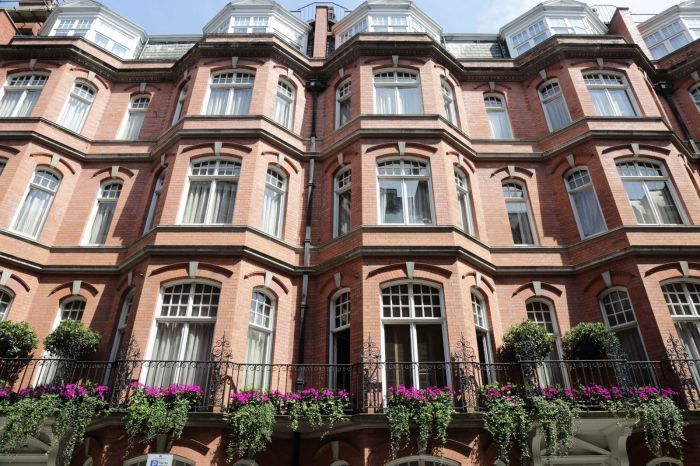 Image courtesy of The Athenaeum Hotel and Residences
Located in the tony London neighborhood of Mayfair, The Athenaeum Hotel and Residences is one of London's most elegant and unique boutique properties. With uninterrupted views spanning the leafy canopy of Green Park, The Athenaeum is a literal and figurative breath of fresh air. Taking a design cue from it's park-adjacent location The Athenaeum's picturesque facade of living plants and contemporary lines gives way to an eclectic interior filled with fresh flowers, midcentury furnishings, colorful textiles, rare antiquities and modern works of art. All of which come together to create a collection of whimsical, yet refined spaces that feel worlds away from the hustle and bustle of the hotel's prestigious Piccadilly address. The aesthetic charms of The Athenaeum extend to the property's rooms and suites, which were recently modernized and feature a range of high-end in-room amenities; including extra-large TVs, Hypnos beds, Nespresso machines, luxury toiletries, and priceless park views. For guests seeking a bit more privacy and space for social distancing, The Athenaeum offers a collection of private residences that are located on a quiet lane adjacent to the hotel. The Athenaeum's location makes it the ideal base for guests looking to experience luxury residential-style accommodations in one of London's most chic and glamorous districts. For guests wanting to explore the city, The Athenaeum is a short and scenic walk from the nearest tube station and a quick journey by tube to most of London's most popular destinations.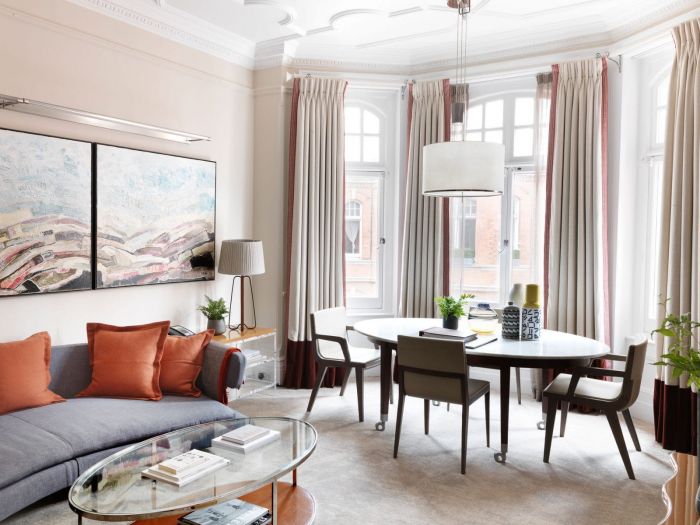 Image courtesy of The Athenaeum Hotel and Residences
Centrally located in the heart of Mayfair, an area of central London known for its stately townhouses, world-famous museums, galleries, buzzing restaurants, and high-end boutiques, the private residences are one of The Athenaeum's most unique features and a great option for guests requiring a bit more space and comfort in a new safety-first era of luxury travel. They are also the perfect choice for guests who may need to work from home, or simply prefer to remain away from the office as part of social distancing protocols. In fact, iconic film director Steven Spielberg selected one of the residences to serve as a secret editing suite while working on several of his most popular films, including E.T., Close Encounters and Raiders of the Lost Ark. Given the elegant and exclusive nature of the residences, it is not hard to imagine why. Housed within picturesque traditional red-brick townhouses, the private residences offer a taste of the quintessential London lifestyle. Each apartment-style residence is accessed either via your own front door, or a discreet internal entry corridor that connects to the main building of the hotel. A true home away from home, each uniquely designed residence comes fully equipped with a kitchenette, fully stocked mini-bar, large dining table and a spacious living area. Separate bedrooms have California King beds, topped with the state of the art Hypnos mattresses. Families can opt for a residence with a sofa-bed or bunk bed which offers additional sleeping space in the living area. Guests can also choose to adjoin multiple residences upon on request, making them ideal for families, groups and long-term stays. While the residences offer maximum privacy, guests can enjoy full access to all hotel facilities, including the gym and most notably The Athenaeum's famous Club Lounge where guests can enjoy additional rooftop space overlooking Green Park and the skyline of London. The expansive, sunlit space is designed to inspire, with an array of art and photography books, original works of art, floor-to-ceiling windows, and live plants. The Club Lounge is the perfect place to enjoy the day or conduct business in one of the several (socially distanced) relaxing spaces, meeting areas, or the stylishly appointed board rooms. Complete with a fully stocked honesty bar and shower room, it's the perfect place for business or leisure in five-star style.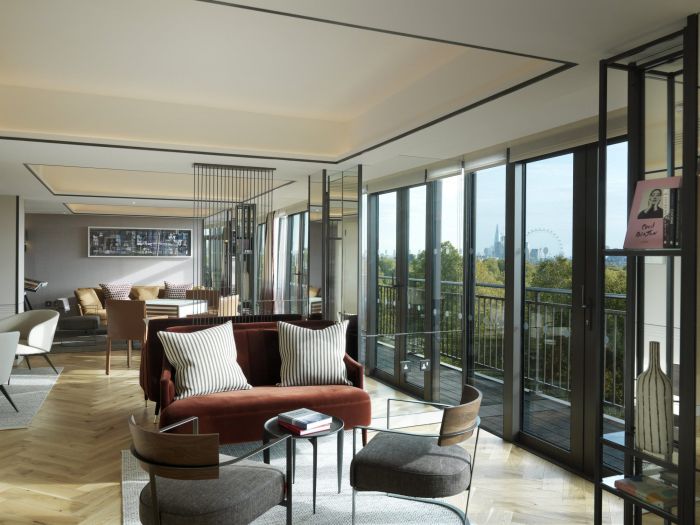 Image courtesy of The Athenaeum Hotel and Residences
Since 1990 The Athenaeum has been family-run, with a team that knows how to create a welcoming atmosphere and delivers exceptional five-star service. Starting with the friendly and impeccably outfitted doorman who personally greets each guest upon arrival. This is followed by a mandatory temperature check and hand sanitization which takes place before an efficient and touch-free check-in process. It is during this time that a friendly and well-informed member of the reception staff makes sure that your stay will be perfectly coordinated with your individual needs. Once settled, guests will find a unique environment that is more reminiscent of a private residence than a typical hotel. The building that houses the main hotel is a historic landmark in and of itself. In 1850, it was owned by MP Henry Hope who lived there and was semi-eponymously named Hope House. Known for his love of the arts, Hope House became home to one of the finest private art collections in all of Europe. Since then the property has seen many reincarnations, but the central theme of art and design remains part of the hotel's DNA. The Athenaeum continues to house a collection of classical and contemporary art pieces that can be found throughout the hotel. Some of which have been specially commissioned for the hotel by the artist Martin Hulbert, whose collage style works depict emblematic details of London life and give the hotel a unique sense of place.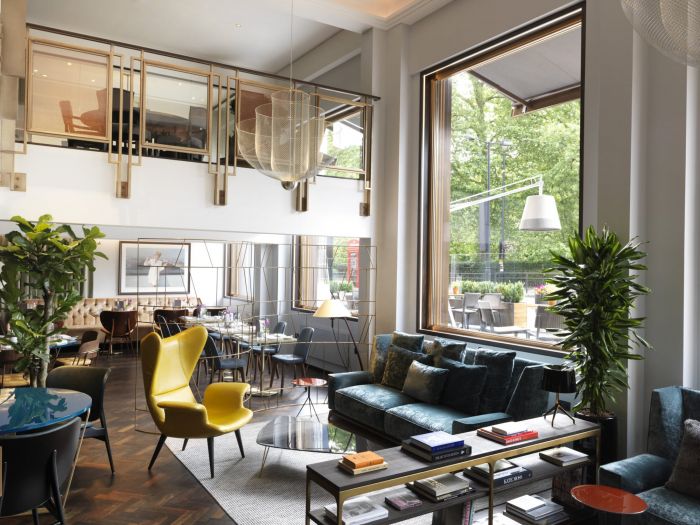 Image courtesy of The Athenaeum Hotel and Residences
Guests of The Athenaeum (and London locals alike) will find something special at 116 at The Athenaeum, the hotel's restaurant named for the building's famous address. The relaxed yet elevated interiors and impeccable service create an atmosphere that feels like an invitation to the private dining room of a friend who just so happens to be an award-winning chef. Helmed by Executive Chef, Ian Howard, the contemporary British restaurant features a menu comprised of dishes that celebrate classic British fare and seasonal ingredients. Chef Howard embraces a cooking style that is simple and fresh, but always with an unexpected twist - think treacle cured salmon with lemongrass and ginger puree, braised ox cheek with mustard mash and sautéed black cabbage, topped with crispy onions, and of course the restaurant's legendary classic Christmas pudding with brandy butter and orange custard. These culinary interpretations stem from a true passion for food that starts at the source. "One of my favorite tasks is talking with suppliers to find out what their best produce is on a given day and transforming that into something magnificent for our customers," says Chef Howard when speaking on the details of his craft. The results speak for themselves in the form of memorable cuisine that deserves every bit of its recent buzz and critical acclaim. The holidays are an especially exciting time at 116 at The Athenaeum. During the month of December, the restaurant is offering a signature Festive Set Menu option, as well as a Festive Afternoon Tea menu with seasonal treats.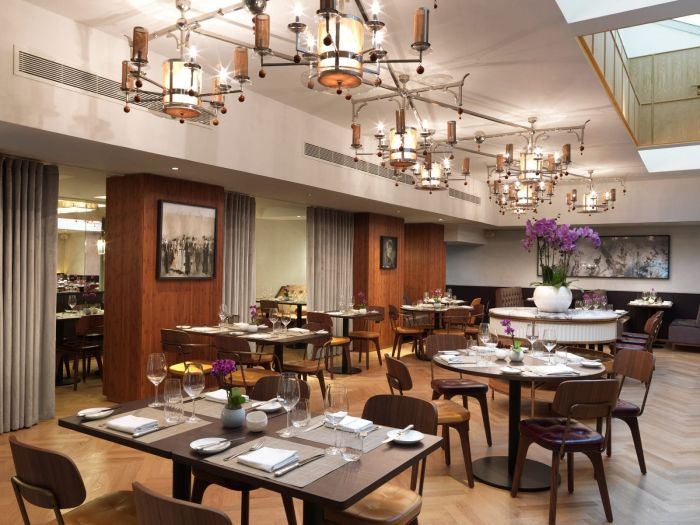 Image courtesy of The Athenaeum Hotel and Residences
The epitome of five-star luxury, The Athenaeum Hotel and Residences represents its proud pedigree by pairing British tradition and heritage with a nod to modernity and contemporary London life. The hotel captures the quintessential spirit of London by offering an elevated standard of living and a luxurious haven of safety and comfort at a time when travelers need it most. As one of the city's most unique properties, the hotel has successfully responded to the new realities of luxury travel, while continuing to embody the quirky elegance and charm for which it is renowned and beloved.