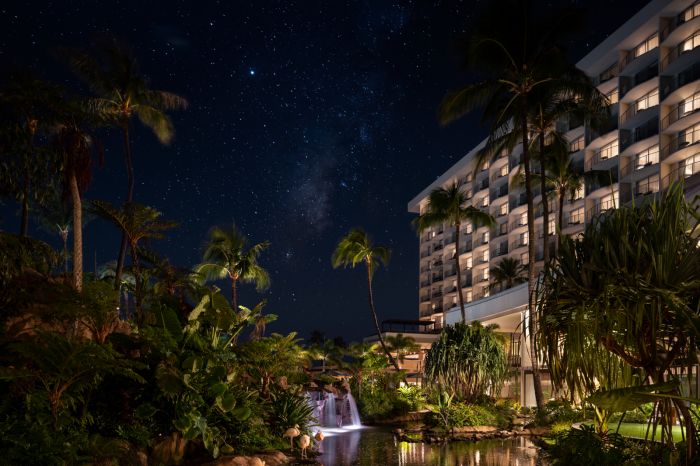 (credit: The Westin Maui Resort & Spa, Ka'anapali)
Overlooking Ka'anapali Beach, The Westin Maui Resort & Spa, Ka'anapali is a 770-room beachfront resort surrounded by lush gardens with cascading waterfalls. In 2018, the resort announced the beginning of a $120 million resort-wide renovations and in December 2020, they unveiled the final piece transformation. From its new porte cochere and refreshed main lobby to the new 87,000 square foot pool playground to Hokupa'a at The Westin Maui, the focus on wellness and sense of place are reflected in various aspects of the renovation.
The final, but most anticipated piece of the transformation, Hokupa'a is the renovated beachfront tower which was named after the North Star. Featuring 217 spacious guest rooms and suites with stunning ocean views, modern furnishings and intuitive design elements, the tower offers an elevated guest experience.
"Hokupa'a is the crown jewel of our transformation," said Gregg Lundberg, general manager of The Westin Maui Resort & Spa, Ka'anapali. "The physical and aesthetic changes we've made to the guest rooms, suites and common spaces are impressive, but what our guests will truly appreciate – especially during these times – is the emphasis on well-being. From our new culinary offerings to our soothing spa treatments, everything is focused on creating a rejuvenating and restorative experience. We want our guests to feel like better versions of themselves when they leave."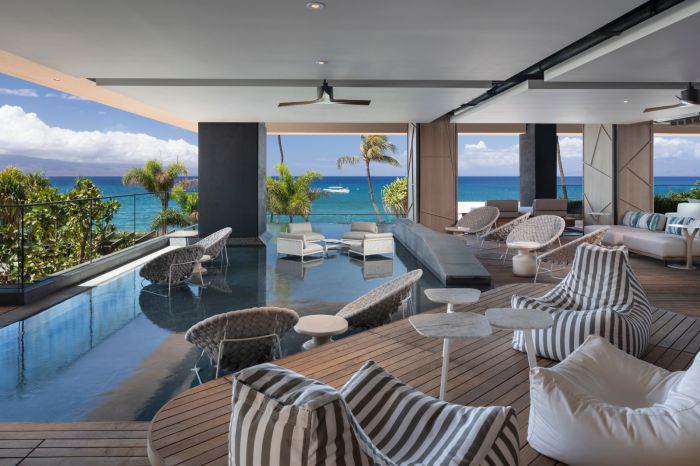 (credit: The Westin Maui Resort & Spa, Ka'anapali)
Inspired by Hawaiian culture and tradition and evoking the beauty of the pristine waters and soft sands of Ka'anapali Beach, Hokupa'a is an elegant and inviting oasis that has its own dedicated guest experience team. Guests have exclusive access to The Lanai at Hokupa'a where they can participate in lei po'o (head adornment) making, farm-fresh chef demonstrations and craft mixology tastings and mo'olelo "story telling" sessions. With stunning panoramic views, the immersive experience also features infinity edge cocktail pools.
For the ultimate private getaway with a front row view of the ocean, Hokupa'a's Extended Lanai Suite - 288 features an expansive rooftop terrace with a private hot tub, lounge area and outdoor dining area. Perched on the top floor of Hokupa'a is the magnificent Penthouse Suite - 1188, a one-bedroom 1,400 square foot luxury nest with spacious entertaining and dining areas and sweeping views of the Pacific Ocean.
"Hokupa'a is our North Star and guests who stay with us are sure to discover their own true north," added Lundberg. "Hokupa'a offers an incomparable luxury experience rooted in nurturing wellness, the sharing of Traditional Hawaiian knowledge and a real-world immersion into nature."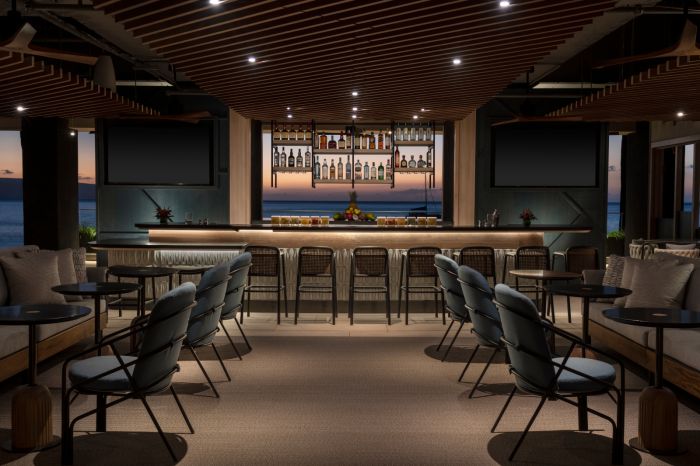 (credit: The Westin Maui Resort & Spa, Ka'anapali)
The renovated property also includes three brand new dining venues that promise to delight the palate and rejuvenate the soul. While each space has a distinctive vibe, they all pay homage to Maui's rich bounty in dramatic outdoor settings.
Hale Mo'olelo is a spacious outdoor restaurant and bar inspired by seven handcrafted cocktails, each of which is tied to a mo'olelo, or story, about Maui. The bar has an energetic, approachable vibe that encourages guests to stay and "talk story." Next door to Hale Mo'olelo is the laid-back Mahele Market, a chef-inspired grab-and-go eatery highlighting Maui-only favorites that will be open for breakfast and lunch with dine-in and take-out options. Located on the new adults-only pool deck, Hale 'A (House of Sparkle) is a sophisticated pool bar serving artisanal cocktails and bites. It's the perfect spot to relax and enjoy breathtaking sunsets.
"A beautiful meal starts with amazing ingredients, and we've been able to source the best from the waters of the Pacific and the fertile farmlands of the Valley Isle and showcase them in innovative ways at our new dining venues," added Lundberg.
At dusk, guests are invited to Chase the Sunset, an end-of-the-day experience at Hale Mo'olelo that includes the blowing of pu (conch shells) at sunset followed by a quiet moment to observe the environment, reflect on the day and toast to wellbeing.
Behind the Scenes of The Westin Maui from The Westin Maui Resort & Spa on Vimeo.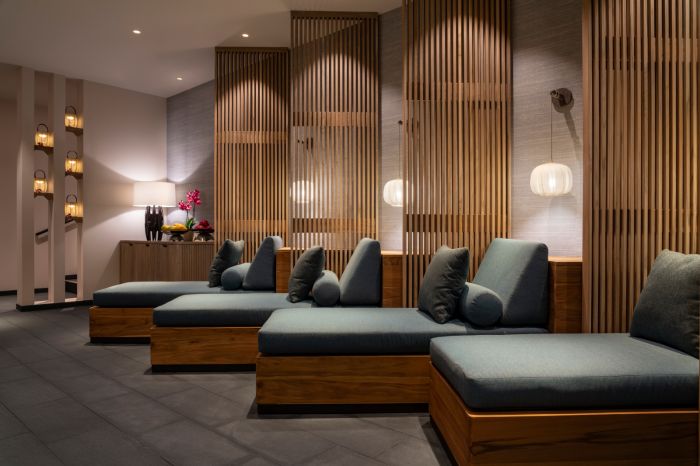 (credit: The Westin Maui Resort & Spa, Ka'anapali)
At the newly remodeled Heavenly Spa by WestinTM, a unique wellness sanctuary, awaken the senses with a full range of specialty spa treatments. Based on health and beauty practices of Hawai'i, the wide-ranging spa treatments make use of the region's exclusive natural and revitalizing ingredients, as well as an extensive range of local luxury spa products. Therapists will guide guests to experience their five senses as well as engage in the psychological senses of emotion and meaning throughout their experience.
Whether guests are looking to recover or rejuvenate, the spa provides an uplifting renewal separating a new self on the island from the one left back home. Attached to the spa is the WestinWORKOUT®Fitness Studio which offers daily fitness class, personal fitness training, three-mile lead RunWESTIN™ paths and Rise + Ride with Westin and Peloton.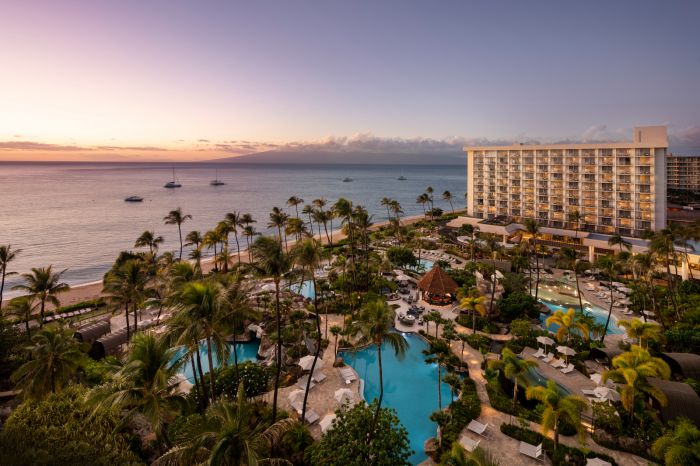 (credit: The Westin Maui Resort & Spa, Ka'anapali)
Making a splash alongside the rolling waves of the Pacific Ocean is the newly designed sprawling water oasis that includes six stunning pools overlooking Ka'anapali Beach. Wowing guests of all ages, the complex includes separate adult and children sections and a newly designed family pool and two connecting pools with swim-through waterfalls and a hidden Jacuzzi. Beautifully set amidst lush landscaping and scenic walkways, the massive complex echoes the theme of the resort transformation of "Holomua", which means improvement, progress and success in the Hawaiian language," explained Lundberg.
The resort's complete overhaul successfully achieved their vision of redefining the guest experience, one beyond just the physical enhancements. With a keen eye to highlight the rich Aloha spirit through its innovative design details and cultural offerings, the resort also was able to stay true to its philosophy and focus on wellness and sense of place. Steps away from a multitude of excursions, neighboring Whalers Village and championship golfing, it is also a short trip to historic Lahaina town.