By Jill Weinlein Jul. 10th, 2019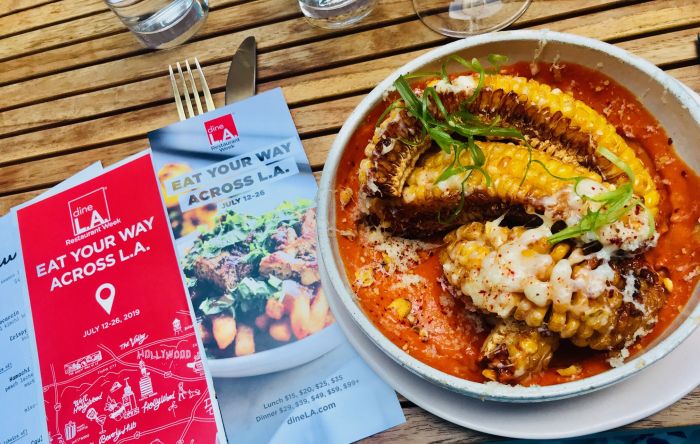 Jill Weinlein
One of L.A.'s most buzzed about new restaurant Atrium is one of the 433 restaurants featured this summer during dineLA Restaurant Week from July 12-26.
Executive Chef Hunter Pritchett is preparing a four-course dineLA menu featuring peak of the season local Farmers Market produce including corn, watermelon radish, heirloom tomatoes, cucumbers and fresh herbs.
Guests have a choice of one item in the First Course section, including housemade thick and crusty grilled focaccia with kimchi butter, and Hemet buckwheat honey or crispy Brentwood corn (grown in the San Joaquin Delta). It's not street corn or elote, it's a fusion of Korean flavors. The cob is cut into quarters and enhanced with bulgogi aioli, fiscalini cheddar, green onion and gochukaru. One can cut the kernels off, or just pick it up and eat it like a rib. It's delicious!
Course two includes one of the most colorful artistic dishes, a hamachi crudo with sliced cucumbers, red, white and green watermelon radish, raw fish and peaches on top of a swirl of tangy orange leche de tigre. The other choice is handmade Trofie pasta covered with a slightly spicy miso-heirloom tomato sauce and topped with an egg stracciatella.
Guests have a vegetarian and meat option to select for course three. The vegetarian is a grilled cauliflower shawarma with a Middle Eastern pistachio zhoug (pesto), Armenian salad made with ancient grains, pickled dates and layers of soft, thin unleavened lavash flatbread. Meat lovers will enjoy the Thai flavors featured in the curry rubbed hanger steak served with a tomato jaew sauce, grilled cucumber and Thai herbs.
Finish with a choice of two unique desserts. The strawberry-tomato Mexican ice pop called a paleta is served on a stick, with an angel food cake crumble, sliced strawberries and basil. The second dessert option is a smooth and ethereal avocado mousse on top of Meyer lemon marmalade. In the center is a crumble with a scoop of Bay leaf ice cream and wood fired meringue squares.
This dineLA menu at Atrium is $49 per person. Click here to learn about more dineLA restaurant menus.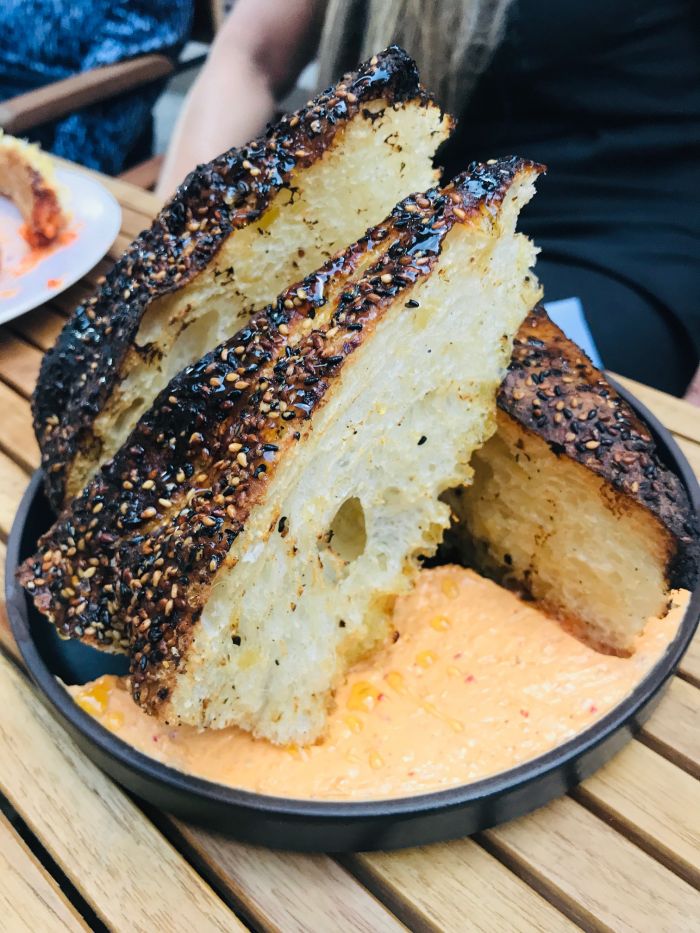 Jill Weinlein
All the bread is baked in house. The kimchi butter is spectacular with this thick bread with a crunchy crust,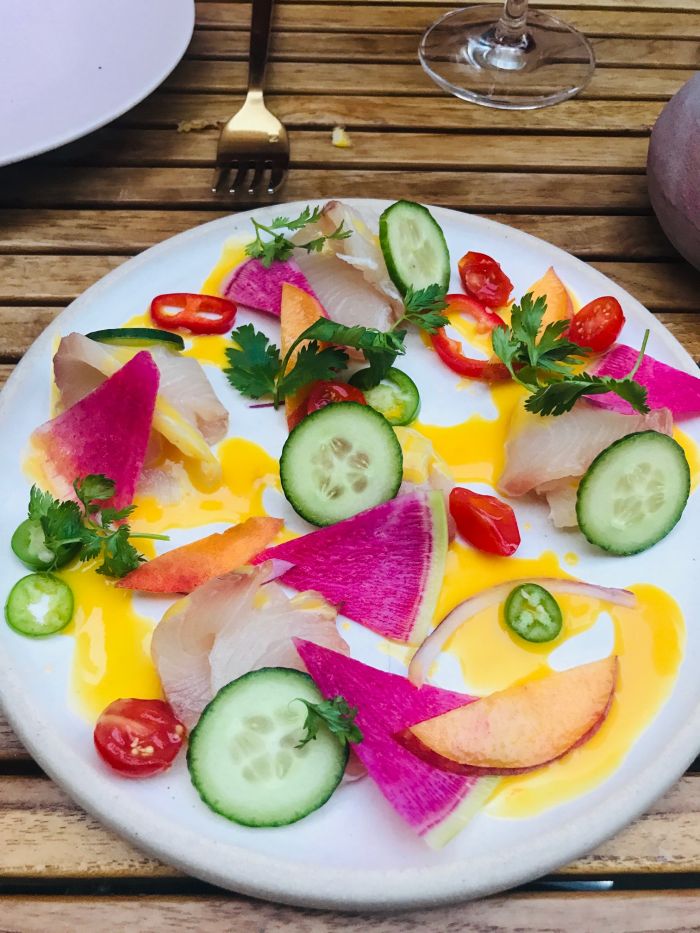 Jill Weinlein
The hamachi crudo featured on the Atrium dineLA menu offers the freshest summer flavors.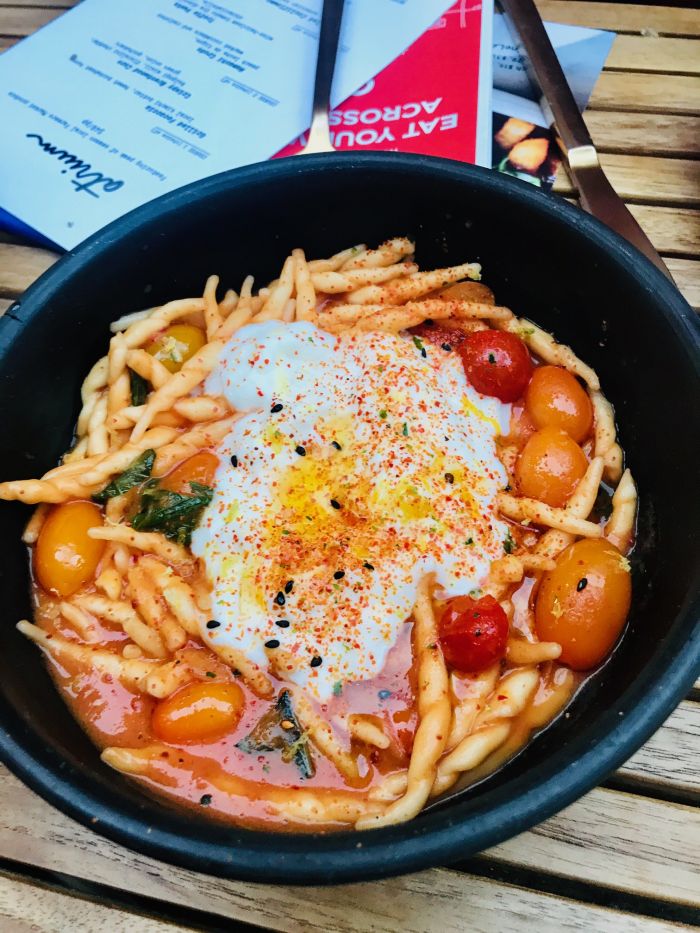 Jill Weinlein
This Trofie pasta with a miso-heirloom tomato sauce and stracciatella topping is excellent.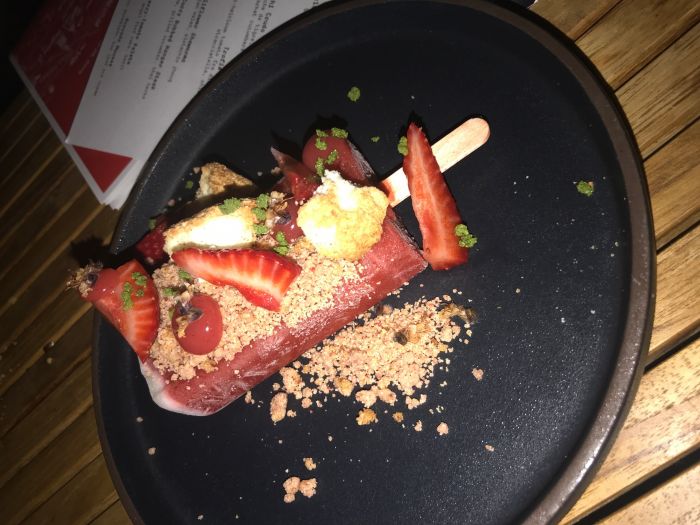 Jill Weinlein
Finish with the strawberry-tomato paleta on a stick with angel food cake crumble and fresh strawberries.
Jill Weinlein
Los Angeles based Jill Weinlein covers travel, food and lifestyle destinations for multiple newspapers, magazines and websites. Her areas of expertise include, luxury travel, culinary reviews, cruising and family travel destinations. Born in Los Angeles, Jill studied Communications and Theatre Arts at UCLA. She has a a Dine and Travel blog - www.dineandtravel.me and she writes a weekly restaur...(Read More)