By Jill Weinlein Oct. 29th, 2021

Academy Museum
Located at the corner of Fairfax Avenue and Wilshire Boulevard in the Miracle Mile, the Academy Museum is located in the historic May Company department store. It took years of restoration to bring this iconic building back to its glory as a new world-class museum dedicated to the arts and science of movies.
Throughout the seven floors guests are enlightened about the art, technology, artists, history, and social impact movies make in the world. There are a variety of diverse and engaging voices on screens in each exhibit. Explore the stories of moviemaking and see displays of movie memorablia, costumes and videos of Academy Award winners and their films.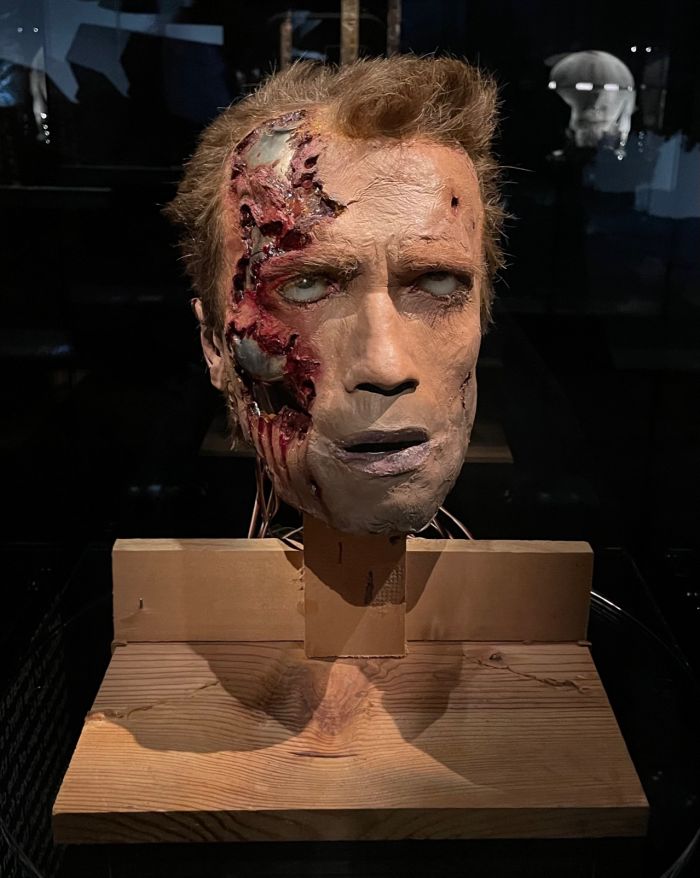 Jill Weinlein
Journey into the 'Inventing Worlds & Characters' gallery to be transported into worlds imagined by filmmakers. These cinematic settings and characters fictionalize existing places or imaginative galaxies. See some of the ambassadors on display who helped tell these incrediable stories. Learn about the team of artists, directors, designers and technicians during pre to post-production.
See the animatronic mask Arnold Schwarzenegger wore to become the Terminator in 'Terminator 2: Judgement Day' (USA, 1991). Learn who made the design and what materials were used.
Also in this area is the beloved costume of 'Star Wars' character C-3PO and the remote controlled R2-D2. See the Aries-1B lunar landing shuttle from '2001: A Space Odyssey' (1968) and the amphibian suit from 'The Shape of Water' (2017) offering close encounters with fantastical elements only known to us onscreen.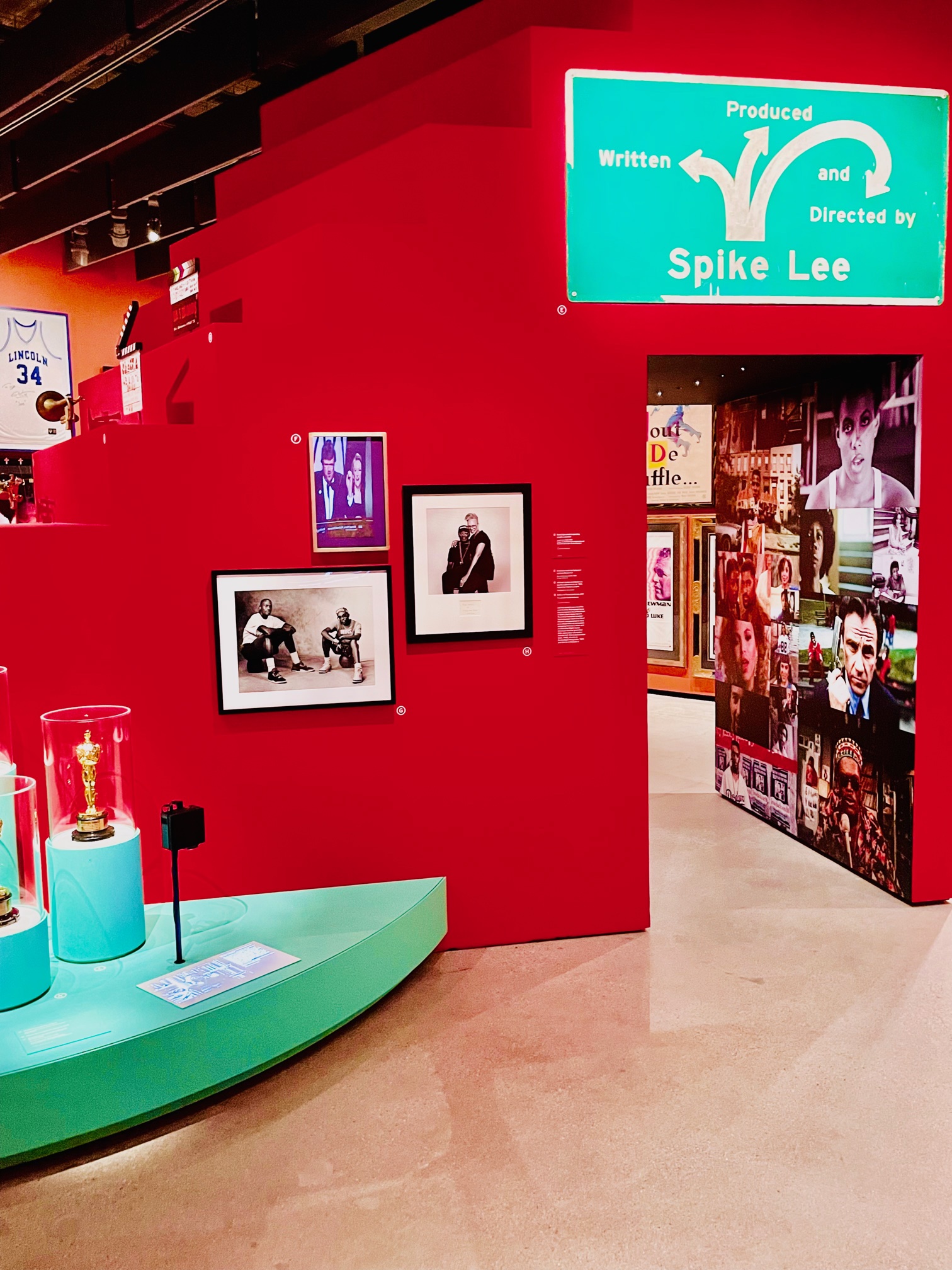 Jill Weinlein
Stories of Cinema is a multi-floor exhibit that presents stories of how international moviemakers made their animated and live action films. Walk into the World of 'The Wizard of Oz' to see props (The Tin Man's oil can and Dorothy's ruby red shoes), Spike Lee's contributions that made an impact on the world, Academy Award winning statues, and the artists, eras, genres and technologies that illuminate the history of cinema.
Walk into the 'Citizen Kane' area to see the Rosebud sled and learn how the 25 year old Orson Welles left the world of radio to make his first feature at RKO Pictures. Not only was Welles the director, cowriter, star, and producer of the movie in 1941, 'Citizen Kane' was nominated for 9 Academy Awards and won for Original Screenplay.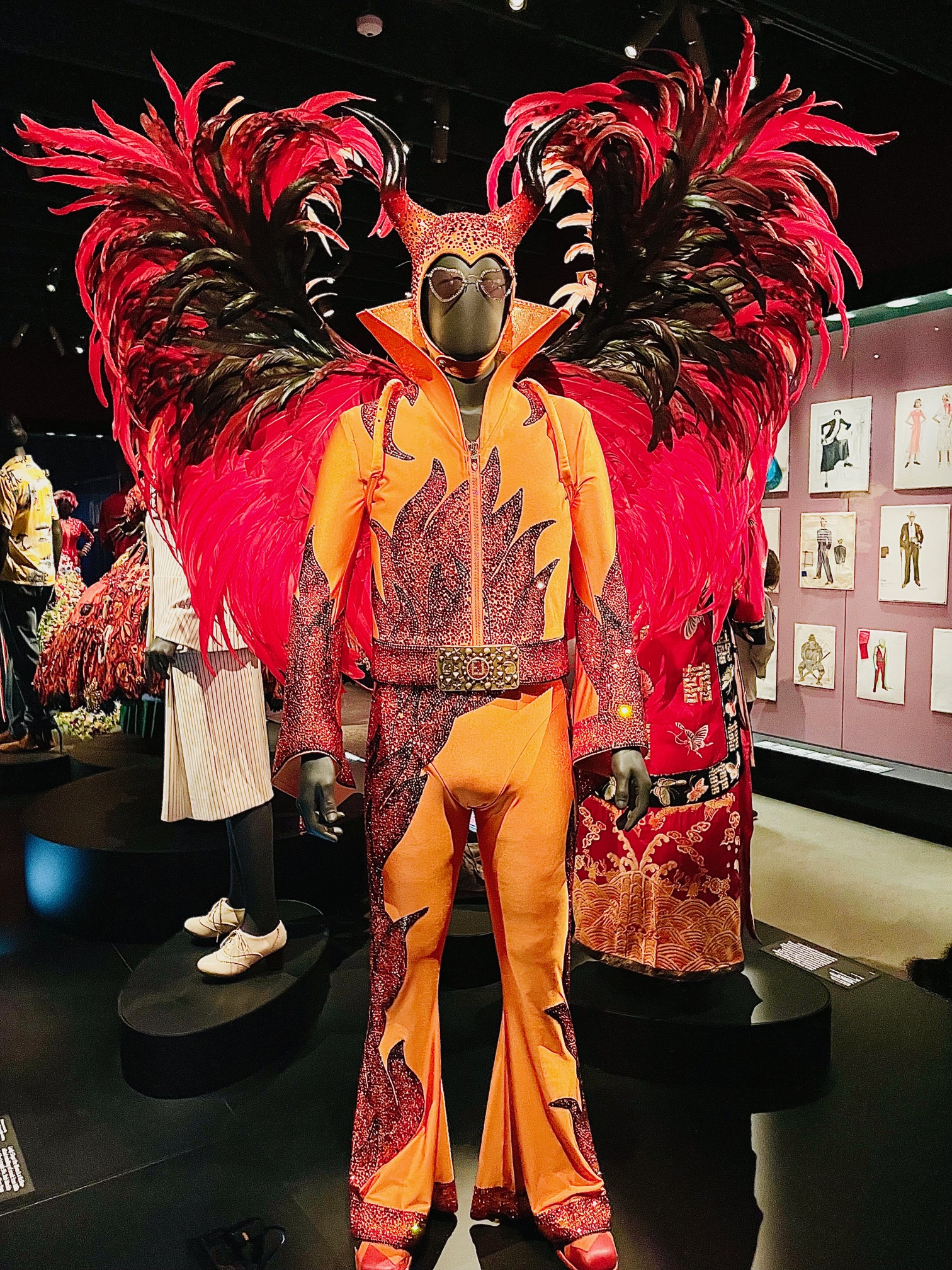 Jill Weinlein
See costumes up close that helped Academy Award winning stars become their character, such as the 'Winged Devil' costume Taron Egerton wore as Elton John in 'Rocketman'.
Other notable costumes include the red dresses worn by Marilyn Monroe and Jane Russell in 'Gentlemen Prefer Blondes' (1952) and the elegant green silk charmeuse dress is on display that was worn by Claudette Colbert as Cleopatra (1934).
One of the most outlandish designs is the elaborate 'May Queen' silk flower dress worn by Florence Pugh as Dani in 'Midsommar' (2019) with over 10,000 silk flowers. Russell Crowe fans will enjoy seeing his Gladiator challenge costume with breastplate on display.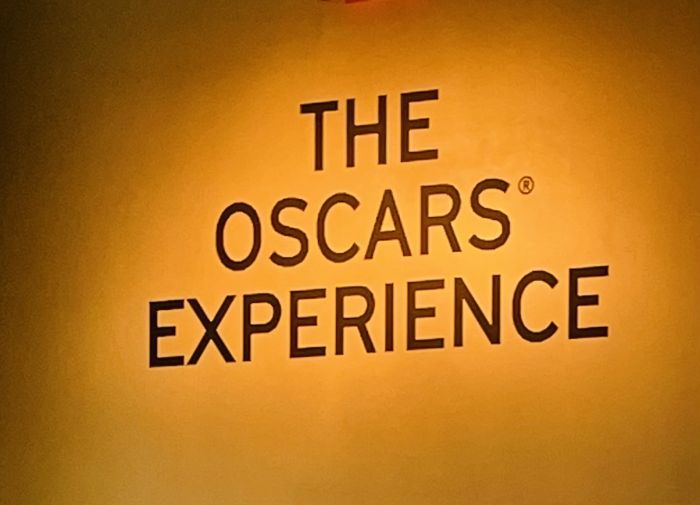 Jill Weinlein
For those who have dreamed to go onstage at the Academy Awards to accept an Oscar statue, The Oscars Experience transports visitors to the Dolby Theater stage on Oscar night. Hear your name being called as the winner, accept your award and receive a video capturing your excitement during this simulated Hollywood moment. Participants will experience truly immersive audio in Dolby Atmos.
This experience is not part of the General Admission ticket and participants must purchase a separate $15 ticket.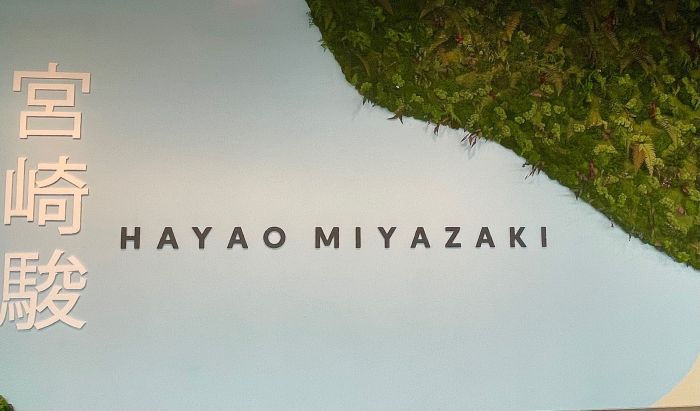 Jill Weinlein
The Academy Museum's Hayao Miyazaki special exhibition pays homage to the celebrated Academy Award winning artist and filmaker. Now through June 5, 2022, visitors see items from Miyazaki's Studio Ghibli. It's the first time many of these items have been displayed in North America.
Fans will appreciate the animated features displayed on various screens, and over 300 objects including original imageboards, character designs, storyboards, layouts, backgrounds and posters are on public view.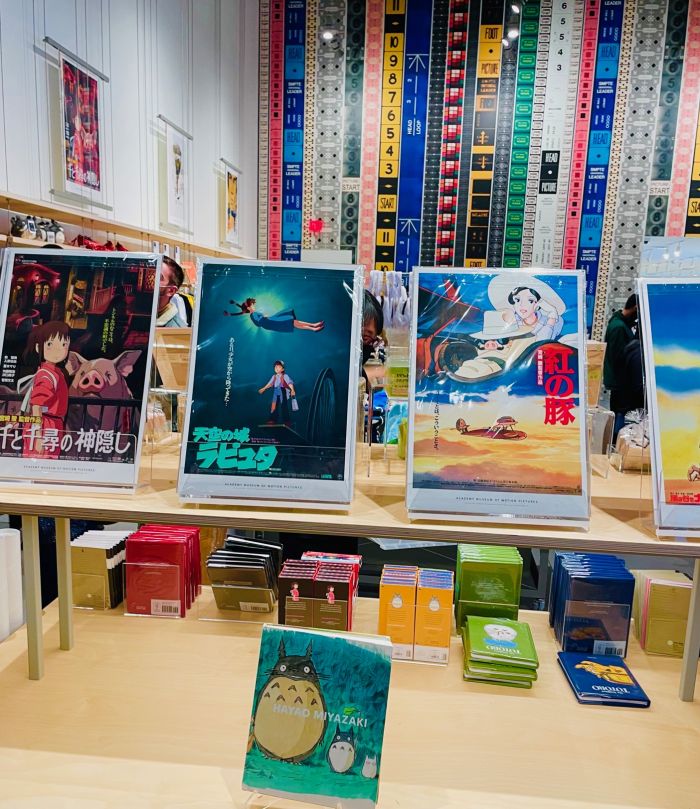 Jill Weinlein
Visit the Academy Museum Store to see art and exclusive merchandise made by Los Angeles and California based artists. Buy your own Wizard of Oz Ruby Slippers, check out the vinyl collection in the Amoeba Music, step into Spike Lee's inspired Spike's Joint, and find an array of Hayao Miyazaki items.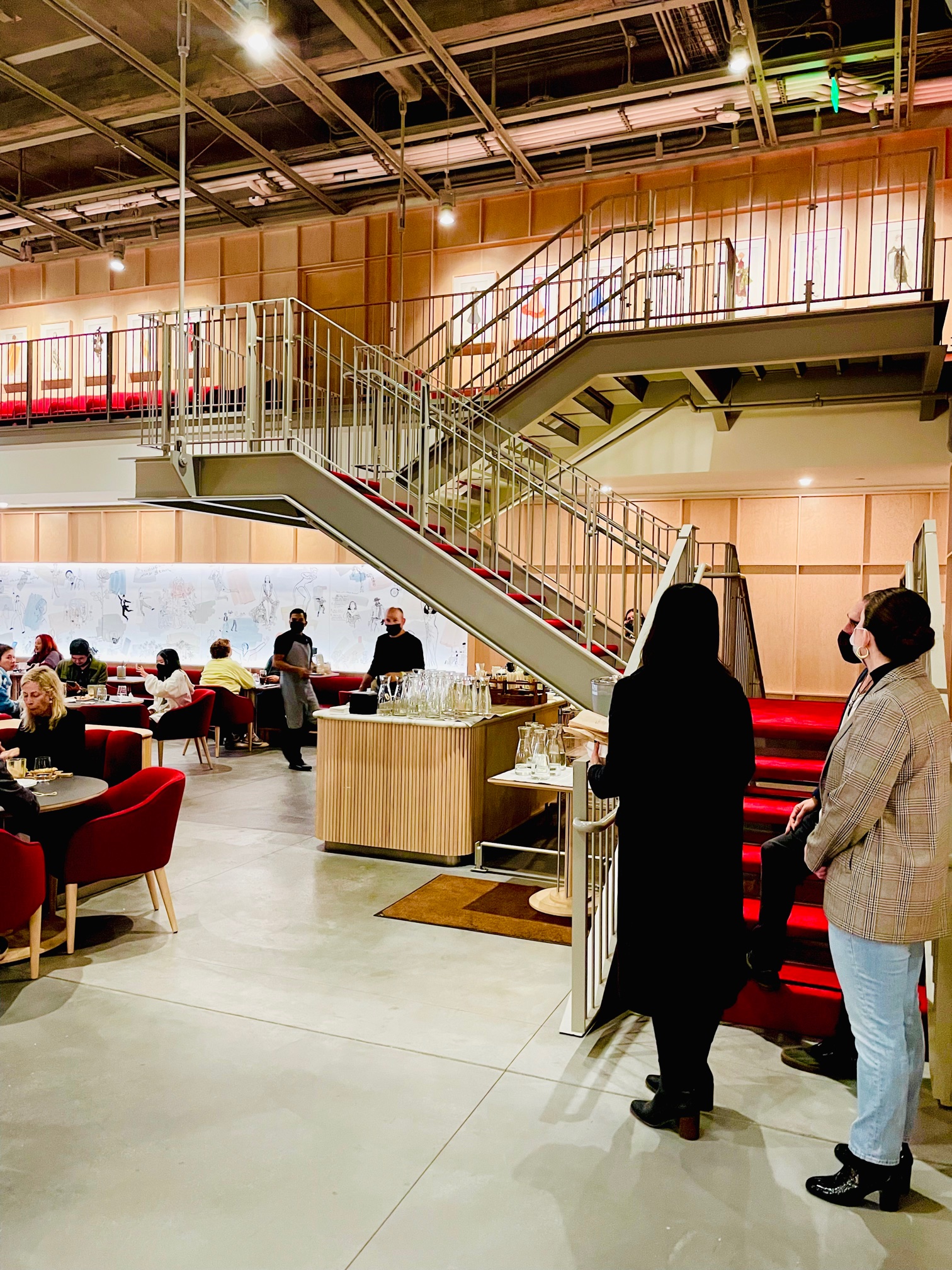 Jill Weinlein
Before or after your Academy Museum experience, visit Fanny's Restaurant and Cafe for a drink and lunch or dinner. Named after ther legendary vaudeville and film star Fanny Brice, the contemporary space offers small tables, group settings and communal tables in the soaring ceiling dining room. Julian Cox heads up the elegant art deco bar and lounge offering an array of wines, beers and craft cocktails.
Those in a hurry can select prepared items such as sandwiches, salads, quiches and pastries from the glass display cases, while others can enjoy a leisure meal with sit-down service prepared by Executive Chef Raphael Francois.
Tickets to the Academy Museum must be made online in advance of your visit. General Admission tickets are $25 for an adult, $19 for a senior and $15 for college students. Thanks to an endowment in honor of Sid Ganis, admission is free to visitors 17 years and under.
Jill Weinlein
Los Angeles based Jill Weinlein covers travel, food and lifestyle destinations for multiple newspapers, magazines and websites. Her areas of expertise include, luxury travel, culinary reviews, cruising and family travel destinations. Born in Los Angeles, Jill studied Communications and Theatre Arts at UCLA. She has a a Dine and Travel blog - www.dineandtravel.me and she writes a weekly restaur...(Read More)