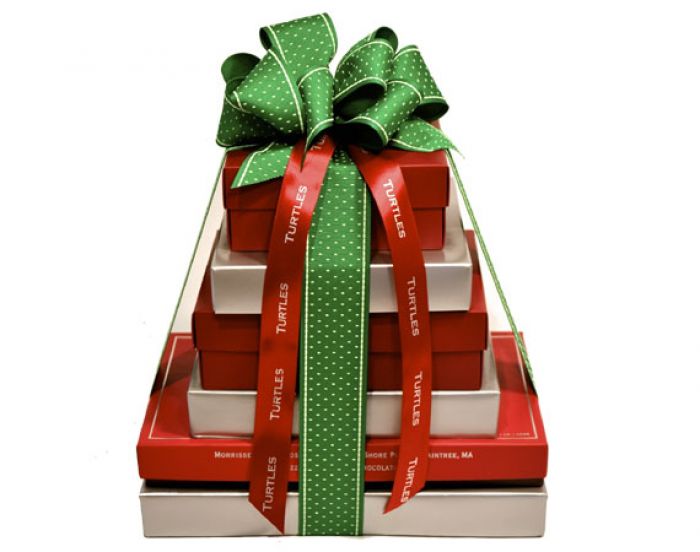 Photo Courtesy of Phillips Candy House
Most Bostonians have been to the famed Phillips Candy House; the small house located on Morrissey Boulevard, which continues to churn out
artisan chocolates
by hand in small batches. If you haven't yet been, with the holidays now approaching, there is no better time to go.
From sugar-free chocolates to milk and dark chocolates with cashews and almonds to turtles, hand roasted nuts and more than 12 flavors of fudge, Boston's oldest chocolatier continues to produce more than 100,000 pounds of confections each year. The family-owned company, which opened in 1925, has truly made a name for itself in New England.

Every item here is made by hand in small batches to ensure flavors at their natural best. More than 80 years later, they are continuing the same tradition, still making the recipes exactly as they were decades ago, filled with whole eggs, creamery butter, brown sugar, pure vanilla and their own chocolate chips (Who is counting calories over the holidays?).


We recently sampled the Turtle Lover's Gift Tower, six boxes filled with a selection of everything from fudge to nuts. The beautifully decorated tower would certainly make a perfect gift for your hostess or to simply enjoy around the holidays (go ahead, you deserve it!). The heavenly rich tower, which retails for $110, includes milk and dark chocolate selections of turtles, sea salted turtles topped with a dash of Himalayan sea salt, creamy turtle fudge, milk and dark chocolate covered caramels, freshly roasted mixed nuts and hand dipped chocolate nut cups.

Other gift selections this holiday season include a turtle basket, a much smaller version of the tower filled with melt-in-your-mouth milk and dark chocolates. It arrives in a chocolate basket that you can eat after finishing off the turtles (this is one of Boston native and actor Mark Wahlberg's favorites).

Phillips Candy House also offers a selection of designer truffles, box of chocolates, cookie collection and gift basket that includes a sampling of everything from almond butter crunch to chocolate covered pretzels and Oreos. For more information, visit Phillips Candy House at 818 Morrissey Boulevard in Boston or at the South Shore Plaza in Braintree. Both locations can be reached at (800) 722-0905 or by visiting PhillipsChocolate.com.