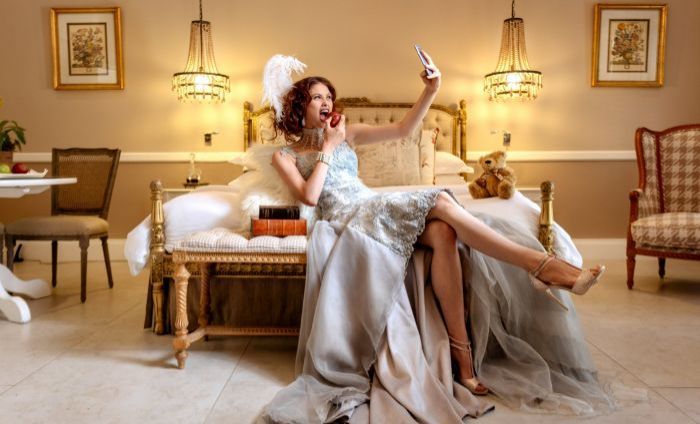 Images credit Fairlawns Boutique Hotel and Spa
Johannesburg is an exciting city offering plenty of options for the urban explorer. From first-rate shopping, night life and culinary options to cultural events and sightseeing. Joburg is first and foremost the business hub of South Africa yet offers several districts that that contrast from hectic the Central Business District. Sandton is South Africa's version of Beverly Hills with tony shoppes and quaint suburbs offering a tranquil setting and easy pace. Not far from Joburg's CBD is Sandton's bucolic neighborhood of Morningside Manor where you'll find Joburg's most prized respite, the Fairlawns Boutique Hotel and Spa.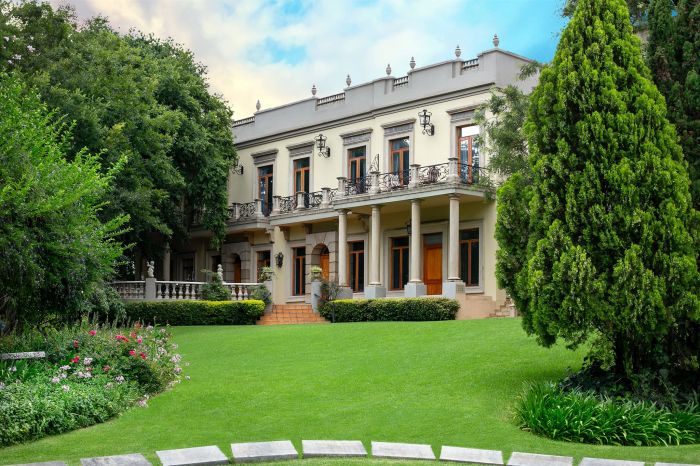 Upon arrival, you know you are in a special place. The hotel is in a tony upscale neighborhood with manicured lawns and orate Greek urns line the entryway into the hotel. Once inside the ubiquitous black and white tile floor, museum-quality paintings and elegant parlor room furnishings are an instant indication of the refined opulence and eye for detail of this boutique hotel.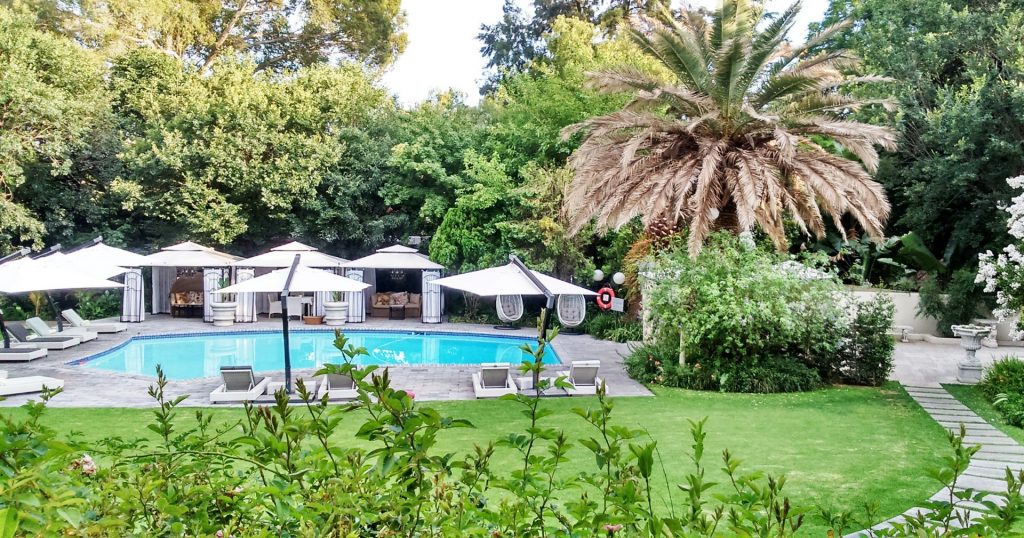 The hotel has a long history and was once the residence and farm of a wealthy aristocrat. Over the years it was converted into a boutique hotel and the surrounding properties were purchased and additional features and accommodations added. The rolling emerald green lawns, flowering plants and centuries-old trees and natural environment make one feel as they are in a refined country club. It elegant for sure but yet relaxed with welcoming staff and other well-heeled international guests creating a friendly environment.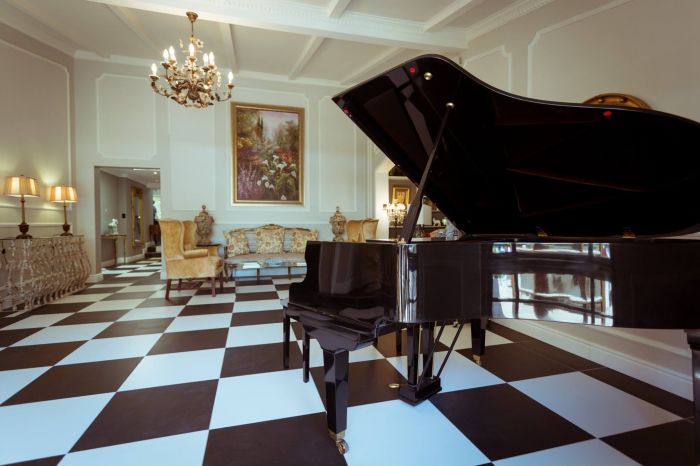 The main house offers a page out of better homes and gardens with interior spaces that exude elegance of a bygone area as you might expect in a fine French chateau. There are several parlor rooms as well as the restaurant, a champagne bar, a bistro and the outside terrace; all of which overlook the park-like grounds to the pool area and cabanas. The design offers a cross between a contemporary art gallery and refined estate with gilded framed replicas of the Italian masters juxtaposed with whimsical and quirky modern art or collections of African masks, making each room a place to discover and appreciate the hotel's treasure trove of art.
The Fairlawns Hotel offers forty elegant rooms with a euro-centric décor and high corniced ceilings, sumptuous fabrics, a lovely mix of contemporary and period pieces and bespoke classical furniture. The accommodations range in size from the 540 square foot Grand château suite to the family sized three bedroom residence with its own full size pool. The Chateau suites have been created to be environmentally centered with the highest level of green technology including solar heating and grey water systems.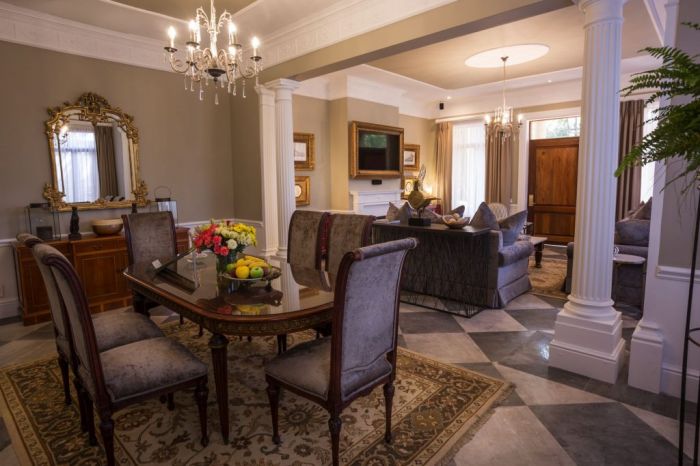 The Maison Spa Suite is a neoclassical villa and, without question, one of the finest in Joburg. The formal living room has vaulted ceilings with elaborate cornicing, a fireplace with an ornate mantel, fine crystal chandeliers with exquisite paintings, books and objects d'art. White Grecian pillars separate the living room and dining area with a table setting for six.
Beyond, the facilities continue to astonish with a full-size office, kitchen, and a spa room complete with spa table and shower. One can only imagine the laundry list of heads of state, movie stars and titans of industry who have stayed there.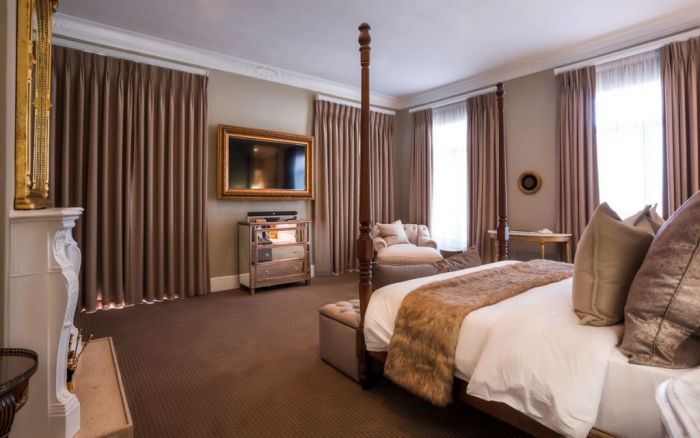 On the second floor the opulence continues in the spacious bedroom with 16' ceilings, sitting area and bathroom with a jacuzzi bath and duel head shower for you and your loved one. It is at that point you realize this actually the second bedroom and as fabulous as it is, it is not the master!
The master bedroom is what you would expect to find in the aristocratic estate in Europe. The design is exquisite with muted taupe tones, cathedral ceilings with white marble fireplace. The walls as adorned with exceptional works of art and gold framed mirrors. The centerpiece of the room is the four poster bed with tufted headboard and fur throw set between two antique side tables. Beyond the French double doors is a lovely outdoor terrace overlooking the grounds of the property with a bistro table and chaise lounges ideal for a glass of South African wine as the sunsets.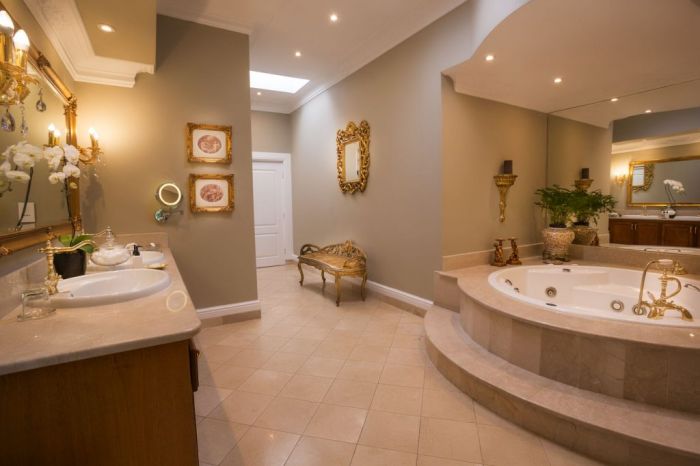 The most stunning feature of the master is the bathroom. The surreal bathroom features a jacuzzi bath the size of a plunge pool with decadent gilded artwork creating the perfect setting for a romantic evening.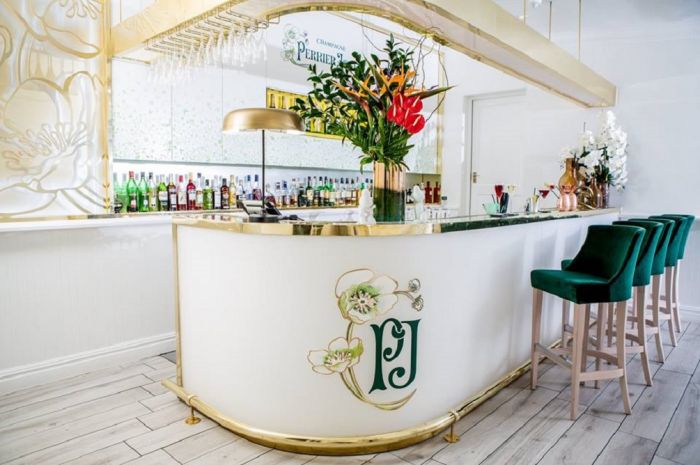 The dining experiences at Fairlawn is as delicious and decadent as the hotel's décor and setting. This destination dining experience often begins with bubbles at their Muse Champagne bar. The Muse Champagne Bar is a high-style lounge created in partnership with French champagne house Perrier-Jouët. The décor sets the tone with bright with pops of color and neon lights around the Perrier-Jouët logo and tasteful bottle display and an emerald green fireplace as the center piece. The lounge transitions to the outdoor terrace with sitting areas for friends to congregate over elevated cocktails, many of which feature Perrier-Jouët.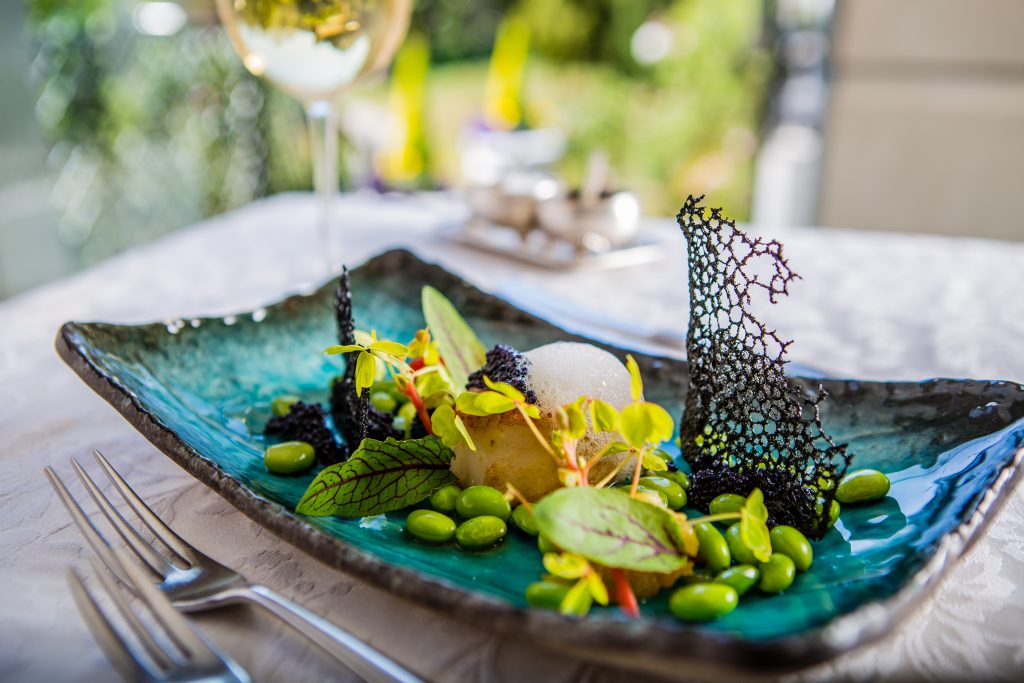 Their signature restaurant is the aptly named Amuse-Bouche and features a sophisticated a la cart menu of haute African cuisine with French influence and an extensive wine list. The setting is elegant with candlelit tables and soft music creating a romantic atmosphere.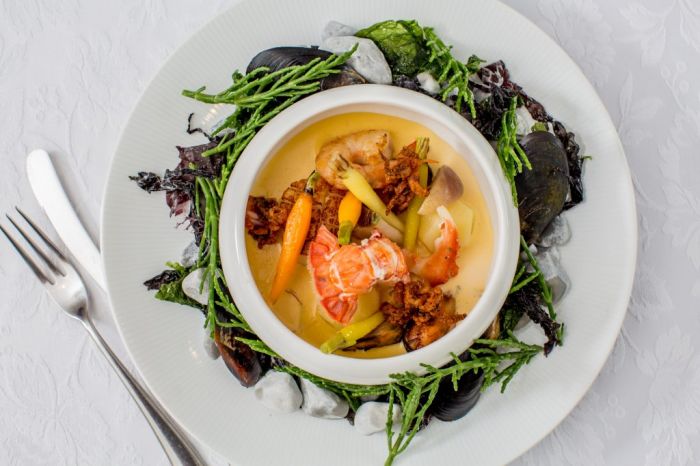 The Fairlawns Boutique Hotel provides an elegant country club environment spirit with a deliberately slow and leisurely pace. One experience created to guests to slow down and enjoy time on holiday is with their high tea. The setting is like one would find in scene from Alice in Wonderland with fine floral china that adorns crisp linen covered tables with exotic and whimsical art pieces and floral accent pieces and furnishings. A wide variety of teas is offered from Moroccan, Earl Gray and Fruit teas and South African Rooibos teas. Don't expect a Lipton tea with a flow through bag, these as loose leaf teas served the old fashion way with tea timers, as the teas steep in cute little Asian teapots. Beyond the tea a lovely offering of fluffy scones, cheese quiches and specialty treats followed by delicacies to satisfy any sweet tooth.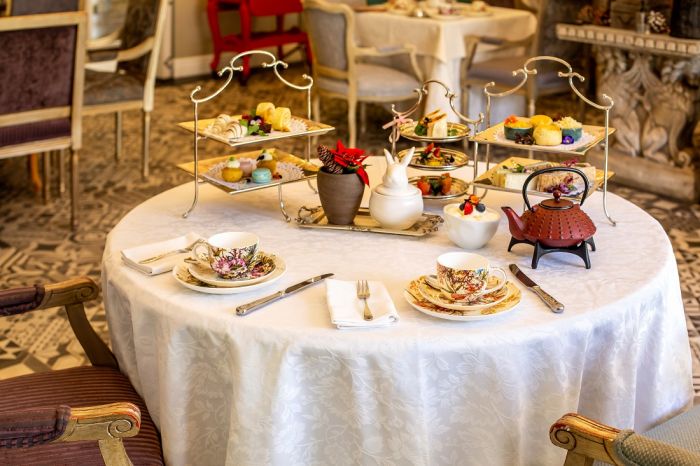 There so much to do around Jo-burg and Sandton but when guests stay at Fairlawn Boutique and Spa they typically don't stray too far away. It's a place that you just want to be there. The Balinese inspired spa is one great excuse stay put at the hotel. The spa is in an Asian forest of bamboo, lush foliage with gurgling water fountains and Buddha statues. There is a tranquil relaxation area and pool to enjoy as well as three outdoor treatment salas. This is a compete first-rate spa with five indoor treatment rooms, Vichy shower, hydro bath, large sauna, and the private Balinese Spa Villa for couples. There's also a state-of-the-art fitness center. The spa offers a complete menu of treatments from uber talented staff.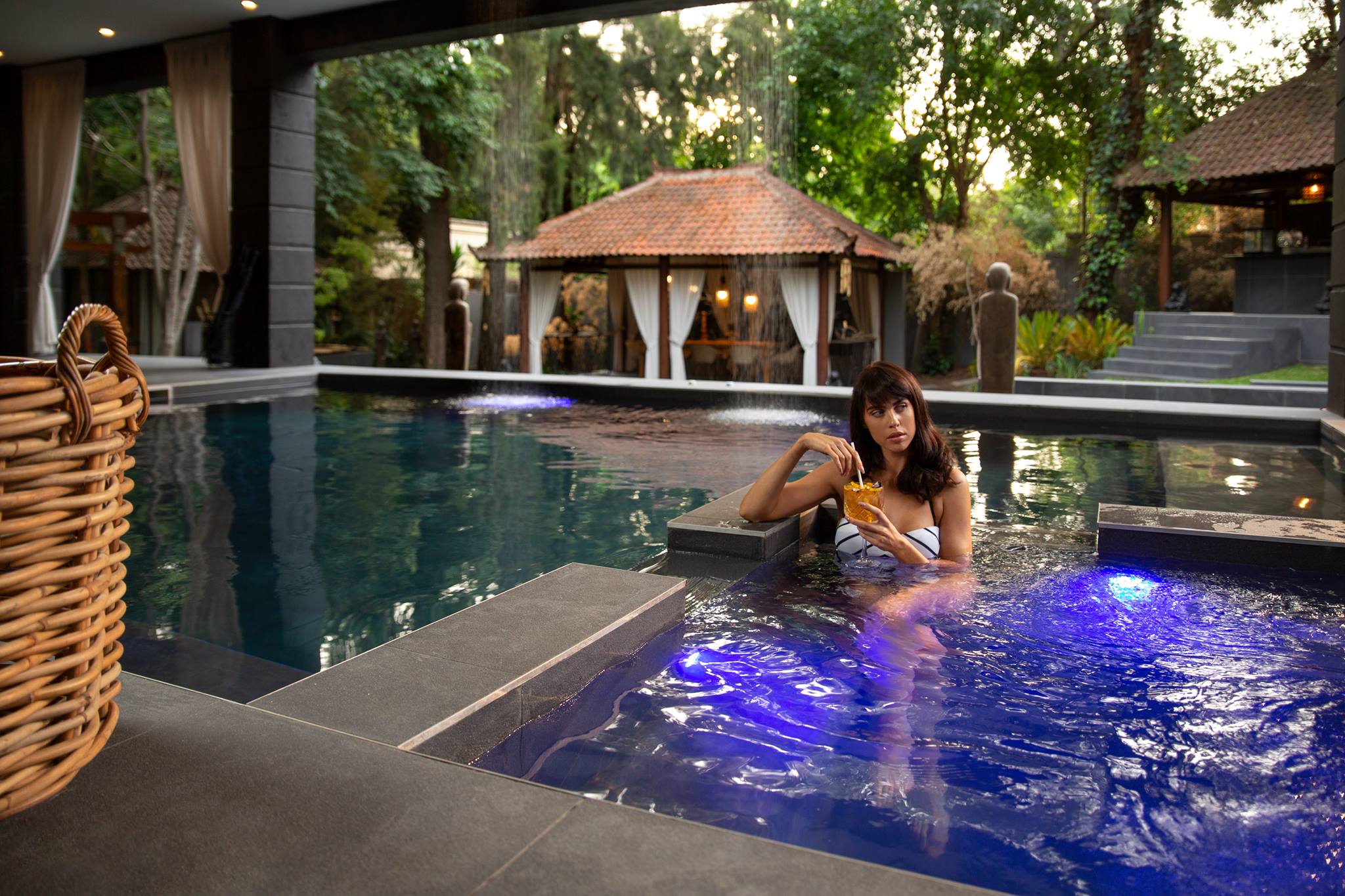 The Fairlawns Boutique Hotel and Spa is one of those special places that gets everything right. From the park-like setting, lavish interiors spaces and exquisite accommodations to the fine dining, spa and service put this abode at the pinnacle of fine places to stay in Johannesburg.

Read more articles about Africa here