Conscious Living At The Fivelements Retreat Bali, Ubud's Premier Eco-Luxe Wellness Sanctuary
Once upon a time, Bali was a simple, yet exotic place known mainly to the adventurous traveler in search of natural places of serene beauty. This was the 70s and 80s and pre the Julia Robert's Eat Pray and Loving her way around the world to land in Bali and find herself. Ubud, in particular, was then, and is still now, known as a place of natural beauty but also for its unmistakable spiritual presence. For the guest that is looking for an authentic Ubud experience of Bali's golden era, look no further than the Fivelements Retreat Bali.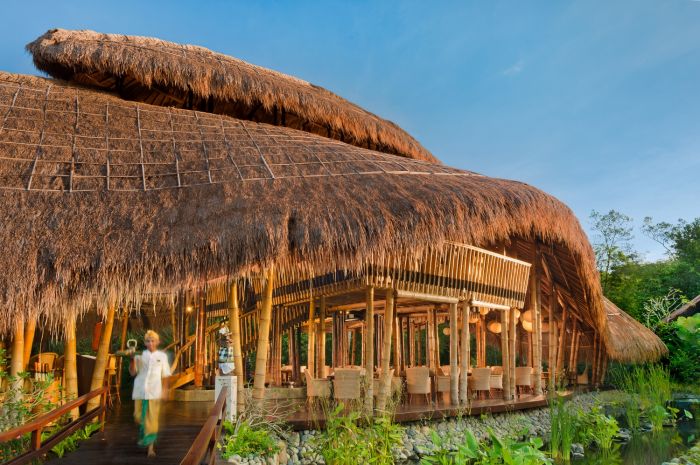 Photo Credits Courtesy / The Fiveelements Retreat Bali
The Fivelements Retreat Bali is a throwback experience to the days before the cliché of Instagram influencers, clad in flowing dresses while swinging with over rice patties, made Ubud such a been-there-done-that destination. Before the endless parade of mega-resorts such as Ritz Carlton, St. Regis, Kempinski and Four Seasons hotels stuck their hotel flags in these hallowed grounds, there were less aggrandized places that were more about looking within than to see and be seen. The Fivelements Retreat Bali is a breath of fresh air amongst an enclave of the predictable and is what most should seek out on a holiday in Bali. The respite offers natural surroundings, spirituality and time to slow down, be healthy, relax, rejuvenate and yes, to love.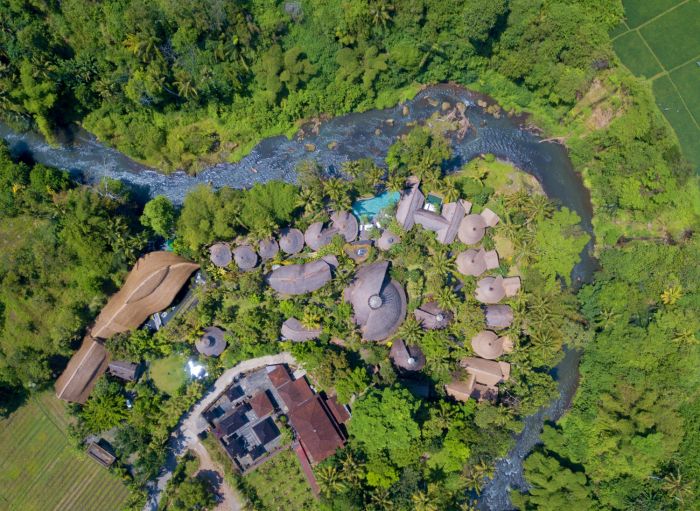 The resort is clearly five-star luxury but is proof that having less, is in some ways, a real luxury. There are no 60' plasma tv sets with Bose surround sound systems in the guest rooms nor are there Nespresso machines filled with coffee pods. Instead, there is the sound of nature, running water, frogs, and geckos chirping in the forest and walks along stone paths in the lush surroundings of the resort. The location is situated in a jungle lined valley alongside the gushing Ayung River and under a canopy of towering bamboo trees, colorful tropical flowers, gardens and ponds and unmistakable mystical energy.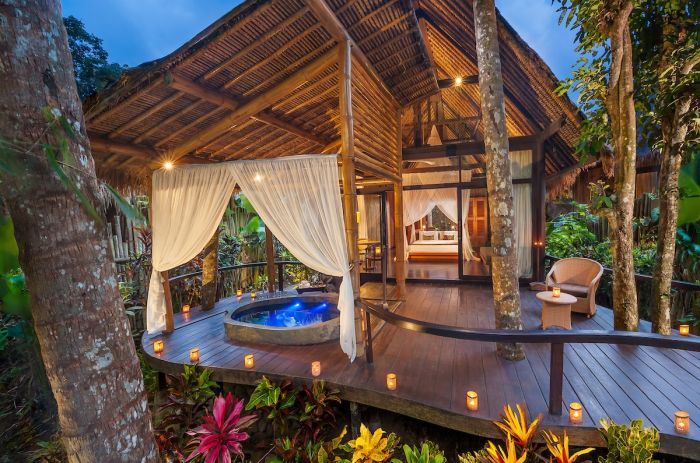 The Fivelements Retreat Bali is the anthesis of those Ubud mega-resorts. With the addition of their 11 new pool suites, there are only a total of only 20 suites on the property. The feeling is that of an eco-village where the concern for the health of the planet is evidenced through the sustainability practices from using replenishable bamboo for the construction, solar heating and countless other measures. The bamboo structures are impressive from the massive two-story restaurant overlooking river area as well as a sky-scraping conical bamboo pavilion, used for yoga classes and special events. The sustainable bamboo and thatch roofs are used throughout the construction of the villas as well.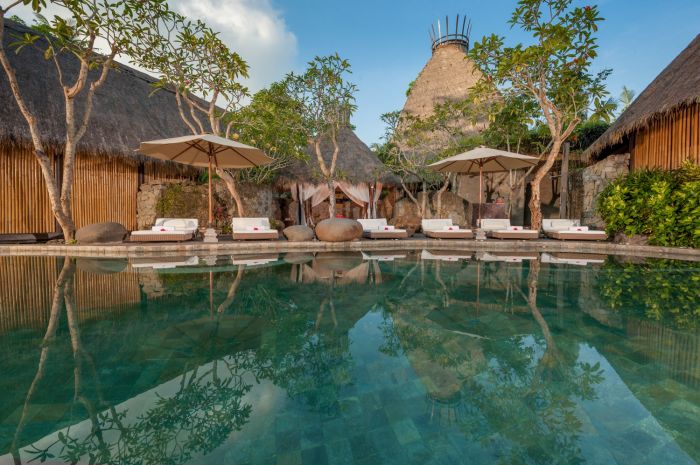 The resort offers a complete array of holistic services from a compressive spa, yoga classes, and a lovely riverside swimming pool. Some guests come as a romantic retreat while others come for healing, detox, and wellness. This is a comfortable space for solo travelers as well as friends traveling together and mother-daughter holidays.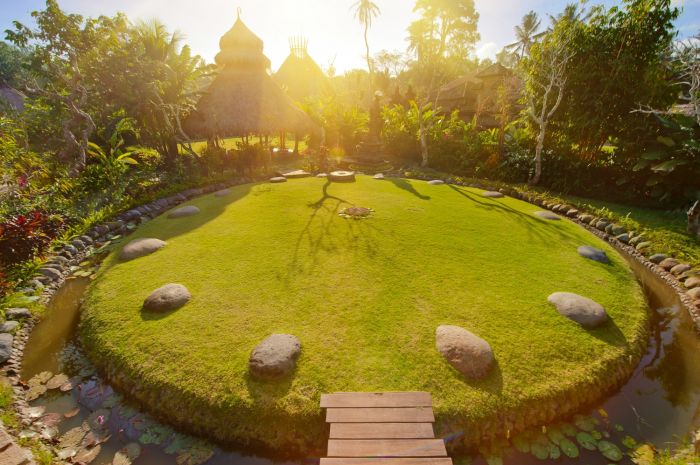 The spiritual energy of the area is undeniable. Upon entering guests will see a circular clearing with closely cropped green lawn surrounded by a water element. The area is one of the resorts Sacred Spaces with large rounded stones laid around the edges and at its center in a placement mark. The mark signifies a holy spring and is the crossroads of eight major energy lines where the charkas or ley lines of the Earth convene.
Across a footbridge, there is a traditional Balinese altar ornately decorated with colorful fabrics and in the center of the temple is a pit fronting an altar. An experience is called an Agni Hotra or Fire Blessing Ceremony is something that one will never forget begins with the local Hindu priest making his preparations. His manner is gentle and kind as he prepares the fire with prayer and chanting while chiming a bell. The participants watch him and the fire as he sprinkles them with water before anointing their forehead and third eye with a Tilak, red in color. As the fire begins to blaze and intensifies with heat, the priest and the couple begin to sweat, the chanting escalates, and the ceremony intensifies. Along the way they chant Sanskrit mantras and make sacrifices to the fire god, throwing food items into the burning flames, in order to find peace and to release a heavy heart. Oranges are sacrificed for unwanted desires, brown sugar to forgive, and then they must crack a coconut and then throw it into the wild flames to let go of their ego which is holding them back from positive blessings. The fire begins to smolder into ashes so does the intensity. As it began, the ceremony ends with all chanting, receiving more blessings but then leaving the spirit freed and emotional burdens lifted.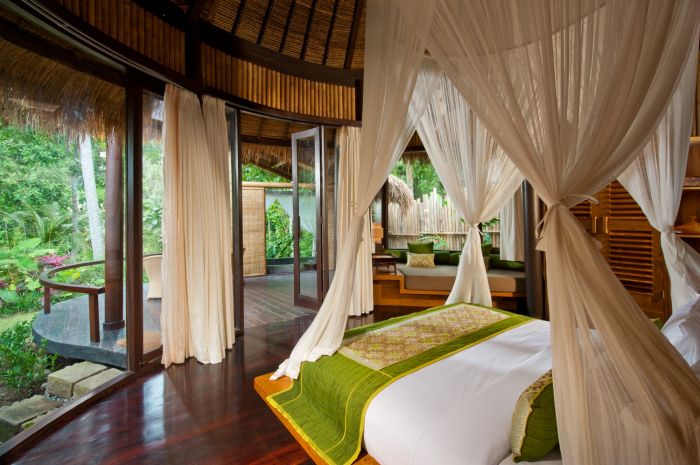 Through a stone path and over a bridge and water elements are the resort's riverside suites villas that are clearly made for romance. The suites dot the riverside and are completely private with rustic Balinese décor, king-sized canopy bed with white gauze netting, sitting area, and alfresco shower. The creature comforts are there as well including, air-conditioning, sound system with iPod dock, Wi-Fi, and mood lighting all controllable from a bedside control tablet. The large glass doors when open create in cohesive indoor and breezy outdoor living space. Here you'll find the villa's most luxurious feature, the outdoor bathhouse with a built-for-two black bath carved of volcanic stone with ambient lights that change colors from yellow to red to blue. The guest's welcome includes a specially prepared bath filled with colorful and fragrant flowers beautifully arranged.
The Fivelements Retreat Bali recently unveiled their 11 new Pool Suites. The posh accommodations are modern in design and décor with private outdoor pools surrounded by lush gardens. There are four categories of new suites ranging in size and amenities. The most impressive is the 2800 square foot Signature Pool Suite with a spacious outdoor living area, large pool, and balé for meditation practices and massages.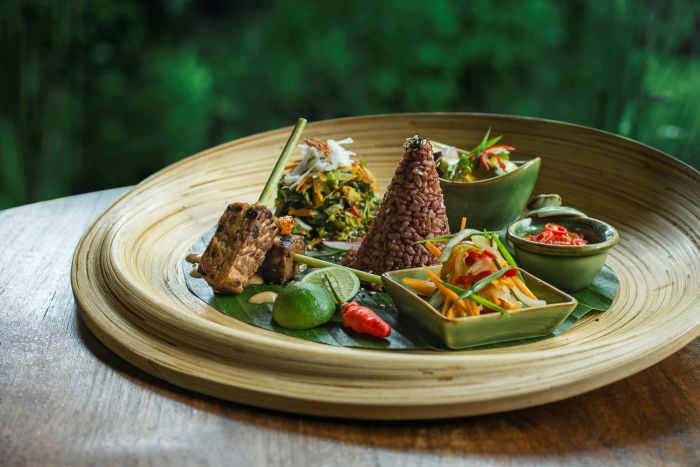 The Fivelements is first and foremost a wellness retreat and seeks to be free of impurities. As such there is no smoking permitted nor is there any alcohol or meat served. What is provided is exquisite gourmet raw vegan cuisines that are so delicious for the non-vegan, it is hard to believe that the food is actually good for you. In place of alcohol are tasty smoothies that accelerate the detoxing process. After a day or two the impact of the surroundings, yoga and spa, and diet are noticeable.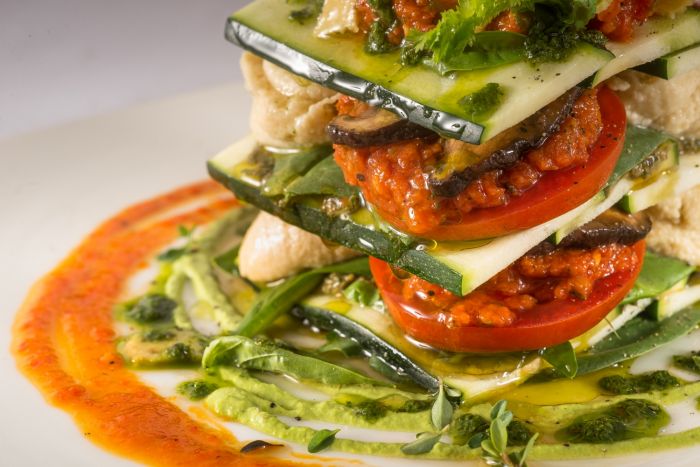 Often when we think of vegan dishes we think of bland, but nothing could be further from the truth. Each meal is imaginative, delicious and complex with a wide variety of flavors tastes texture and color and exceptional presentation. The menu changes often and guests can choose a three, five, or seven-course degustation menus with dishes such as the Asian tomato caprese with cashew tofu, chickpea and cassava flatbread and raw carrot hummus. This is haute cuisine that is good for your body made from local organic raw vegetables which contain more nutrition, vitamins, and enzymes for energy.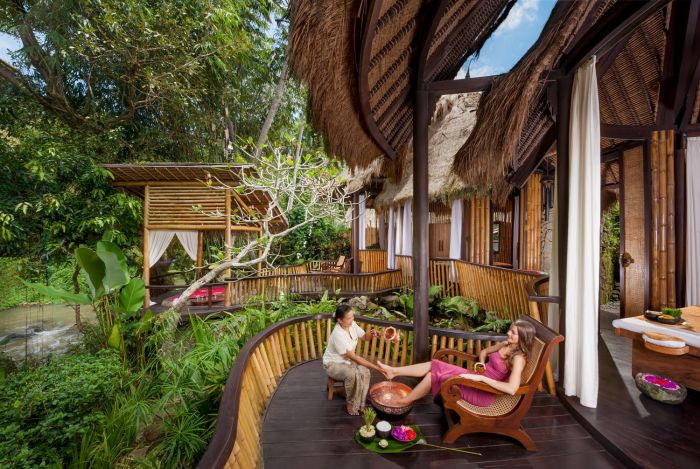 The Spa experience is unlike any other you'll find at the major resorts with treatments such as their Fivelements Signature Massage. There are only a few treatment rooms and suites ideal for couples with an outdoor shower for two, his and her massage tables and outdoor deck terrace. Beyond is a large private bath on a terrace suspended over the river. The sounds of the river are intoxicating as the full body massage begins. The spa therapist and healer goes to work, applying her Balinese inspired techniques with super-nourishing virgin coconut oil as she prods here and pulls there while applying acupressure deep into sore muscles. From there the treatment evolves into the full body skin scrub taking away layers of dead skin to leave the body smooth and soft to the touch. The heavenly treatment goes on to lull the guest in and out of consciousness as the gurgling waters hypnotize the mind. Upon completion,the body and mind have been restored to equilibrium and the journey ends with a bath filled with ginger, orange and herbs to enjoy along with private time to connect with your loved one while taking in the jungle views over the river.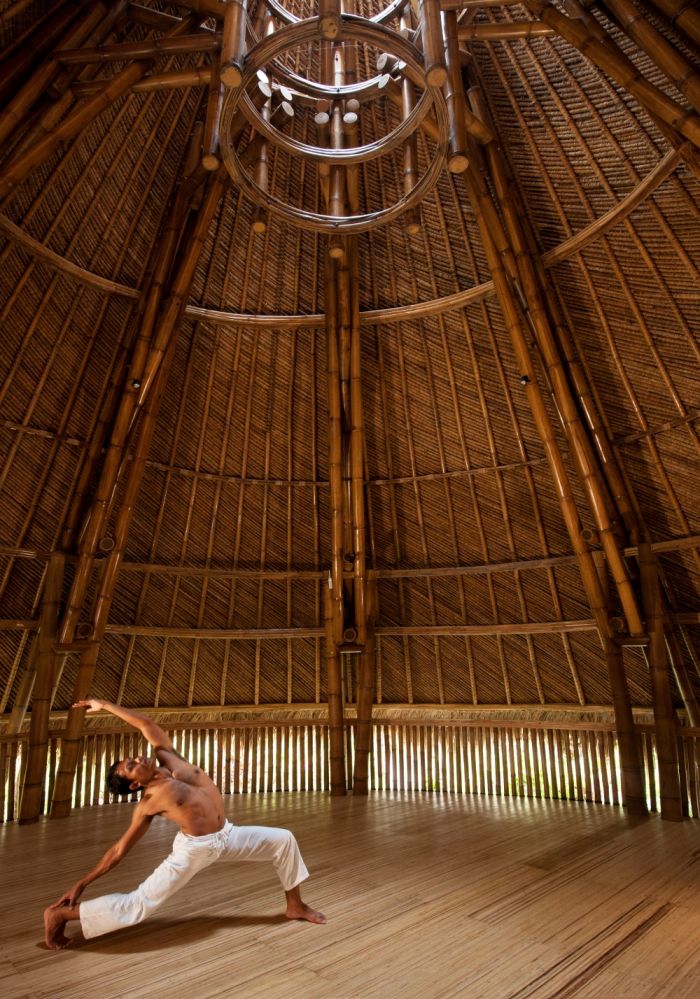 The treatments run the spectrum from manicures and pedicures to 21-night healing journeys for those seeking weight loss, reducing issues caused by stress, poor diet, and negative energy. The exceptional yoga classes are also a key benefit of a stay at Fivelements with well trained locally based instructors as well as acclaimed visiting instructors from around the world.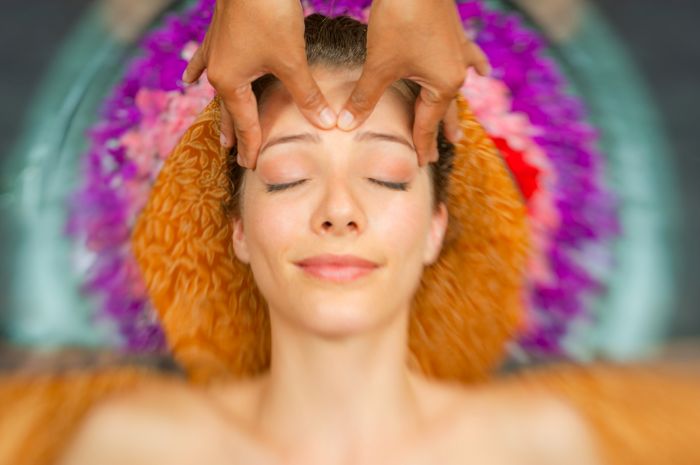 Bali is at its core a spiritual place. When travelers can get away from the trappings of modernization, forget the 'look at me' distractions and slow down, only then they find Bali's true message. The Fivelements Retreat Bali is where this happens in a resort that allows us to focus on what's really important, our health, spiritual and physical, and relaxation, good healthily living and connecting with the ones we love.