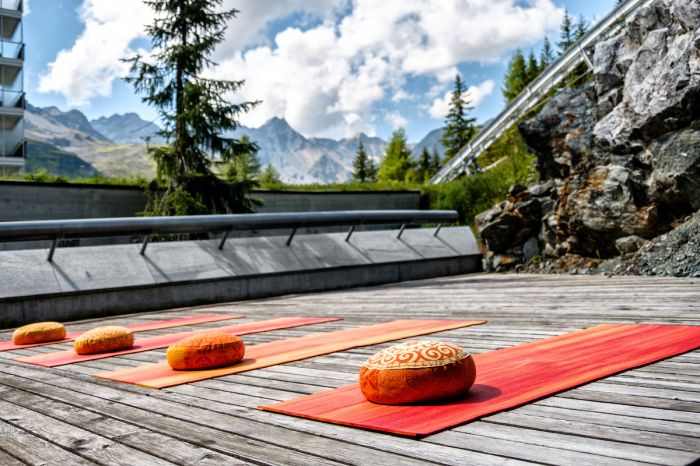 Tschuggen Grand Hotel
Yoga is an excellent way to practice physical, mental and spiritual wellness, especially while traveling. Here are some Om-mazing yoga settings and spaces at hotels around the world that offer exquisite surroundings for a memorable flow.
Tschuggen Grand Hotel
The Tschuggen Grand Hotel, located in the Alpine region of Arosa, is known for its uniquely designed Tschuggen Bergoase Spa and the various wellness experiences they offer, including yoga classes. Taking place both at the spa overlooking the spectacular Alps and outside in a secluded spot on the Tschuggen Mountain, guests are invited to begin their morning or unwind after spending the day on the hiking and biking trails by becoming one with nature and taking in their peaceful and stunning surroundings. Directly following their yoga class, travelers can indulge in a relaxing spa treatment or take a dip in one of the Tschuggen Bergoase's indoor or outdoor pools, bringing their experience to the next level.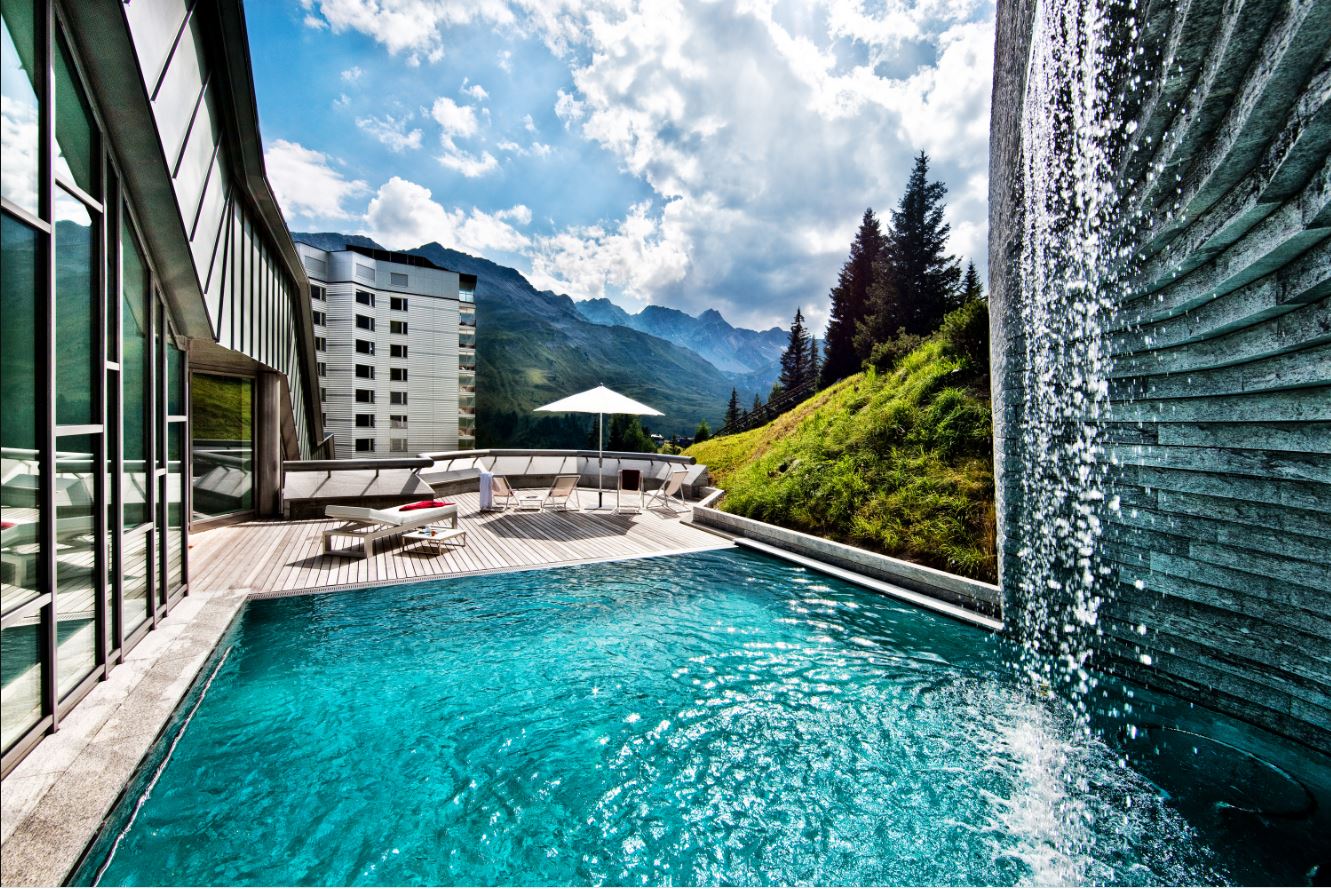 Tschuggen Grand Hotel
Fregate Island Private — Seychelles
Located in the beautiful Seychelles, Fregate Island Private is one of the most revered hideaways in the Seychelles. Surrounded by sparkling Indian Ocean, Fregate Island Private offers guests a complimentary yoga session and welcome ritual to help them become attune with the island's rhythm. Yoga sessions are held every morning during the week where guests can join the island's instructor for group class at Fregate's peaceful Rock Spa. Yogis can also book private session to practice their favorite kind of yoga anywhere on the island. Locations range from the lush jungle to the pristine sands of Fregate's seven beaches.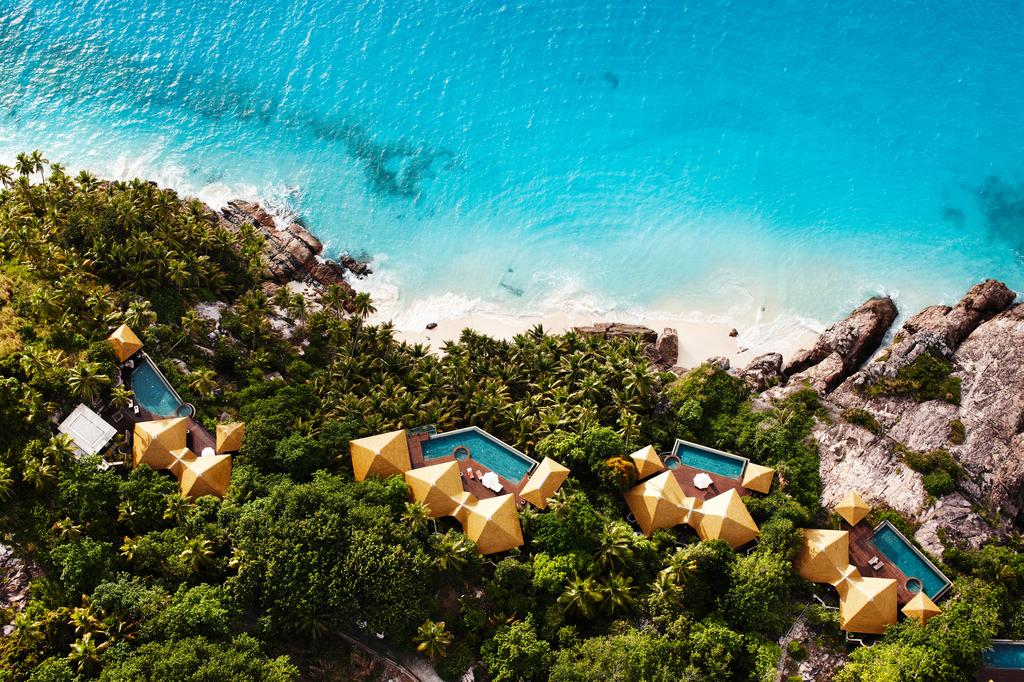 Fregate Island Private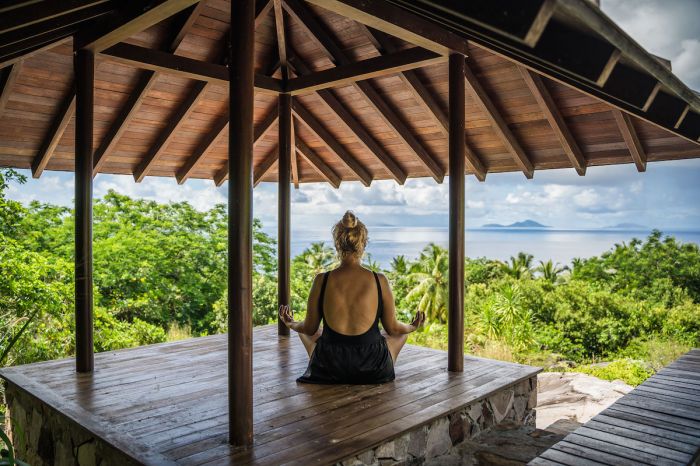 Fregate Island Private
Hotel Lou Pinet — Saint-Tropez
Hôtel Lou Pinet is a luxury hideaway in Saint-Tropez embodying the bohemian charm of the iconic village and perfectly located between Place des Lices and the peninsula's most sought-after beaches. Far from the crowds, but still near everything, Hôtel Lou Pinet strikes a perfect balance for the ultimate Saint-Tropez vacation and was designed for those looking for an equilibrium between the thrill of partying and peaceful refuge. Each morning a yoga class to start the day is offered to guests in the hotel's secret enchanting garden with the sound of cicadas, a natural Zen sound to help block out other noises that might disturb focus. The carefully curated lush and secret Mediterranean garden of the hotel also provides pure and raw scents as it includes a lavender field, orange and lemon trees, and herb garden along with large outdoor art installations. The garden serves as a majestic backdrop to the hotel's grand emerald green swimming pool, spacious terrace and the hotel's three houses — a lovely space for yogis to meditate and practice yoga. For additional wellness experiences, just a short walk from the garden is an intimate spa and fitness center.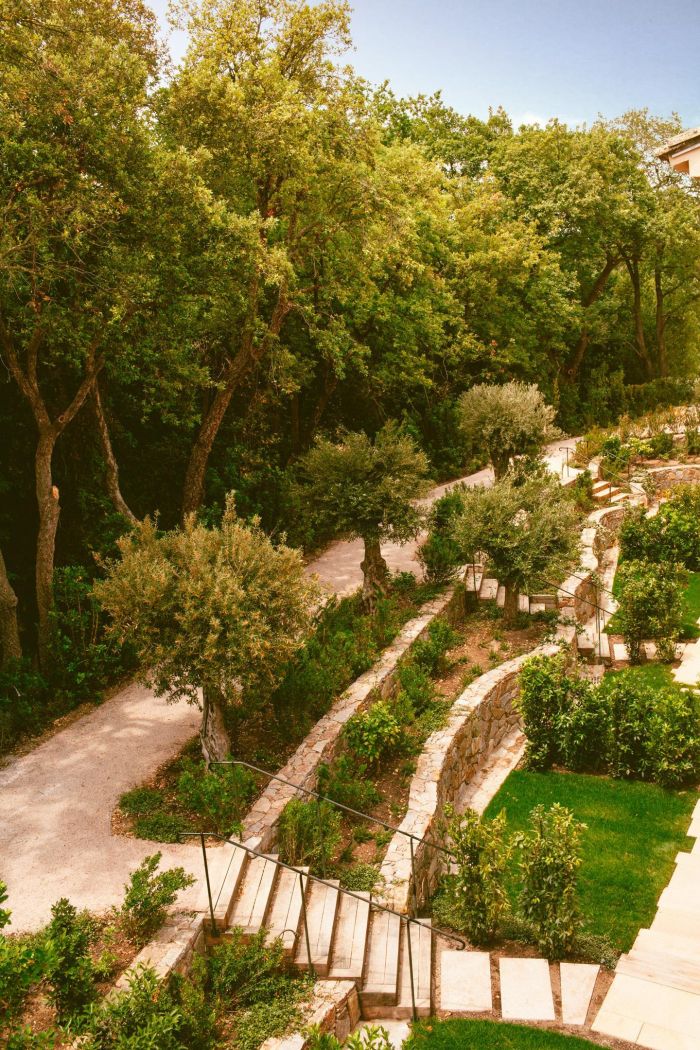 Hotel Lou Pinet
Pangkor Laut Resort
Located on its own 300-acre private island off the west coast of Malaysia, Pangkor Laut Resort invites guests toregain their physical and mental harmony by exploring the resort's yoga ortai chi quan morning sessions amidst the fresh ocean breeze and soothing sound of the waves. Featuring therapeutic breathing, postural and moving exercises,tai chi quan develops inner stamina and circulates energy while yoga unites the body and mind. Travelers are sure to feel re-invigorated, relaxed and ready to start the day following their session set against a backdrop of wild rainforests, sandy beaches and turquoise waters.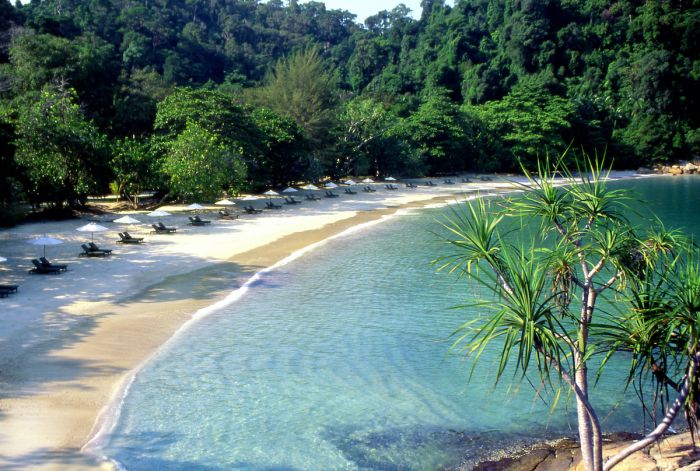 Pangkor Laut Resort