All Images Credit Beatus Wellness and Spa Hotel
Wellbeing on the Sunny Side of The Lake at Switzerland's Beatus Wellness and Spa Hotel
At most times of the day, its peak pierces through the clouds. This flawless pyramid mountain stands alone except for its reflection of the glacier lake in front of it. This is the magnificent Niesen Mountain, sat upon the shores of Lake Thun, a gorgeous glacier lake in central Switzerland. Around the lake are quaint little towns, and in the mountainside, more villages where the cows and sheep outnumber the residents. This perfect little corner of the world is where you'll find one of Switzerland's most loved wellness retreats, the Beatus Wellness and Spa Hotel.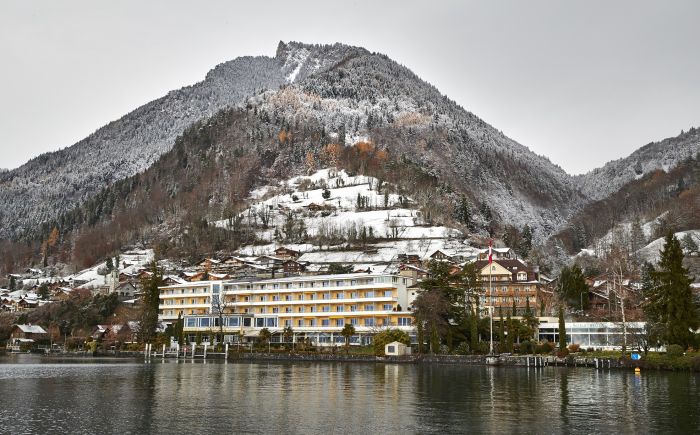 © MORITZ HAGER
The Beatus Wellness and Spa Hotel has been a respite for guests to indulge in the natural wonders of Lake Thun and the Bernese Alps for over 100 years. Today this five-star wellness center is a mecca for weary bodies to restore, active travelers enjoy pursuits in nature, and for others to just get away from it all. The hotel's main attraction is its sublime position on the shores of Lake Thun surrounded by three acres of parklands, manicured lawns and, sunbathing areas. The recreation in the water is as exceptional as the stunning mountain adventures to discover just a few minutes away. Indoors, the hotel is sleek and modern with posh sitting areas and fireplaces, a piano bar with cozy nooks, and three restaurants with alfresco seating, all of which are positioned to take advantage of the unfettered views of this spectacular nature.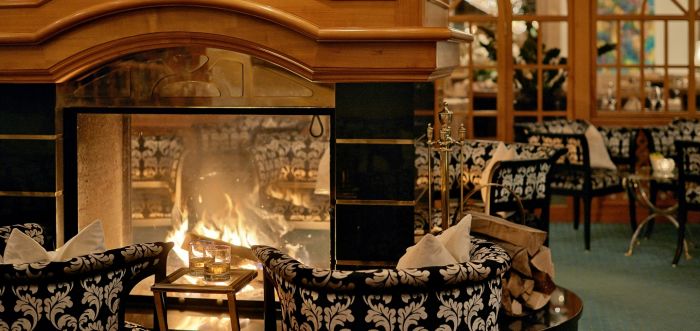 One of the many things that make this property special is that most of everything you'll want is included in the rate. Other than beverages, a first-rate breakfast, light lunch, and gourmet dinner are provided at no additional cost. During the stay, there are plenty of other included extras that make the holiday complete such as afternoon cakes and sweets and fresh fruit in the rooms each day.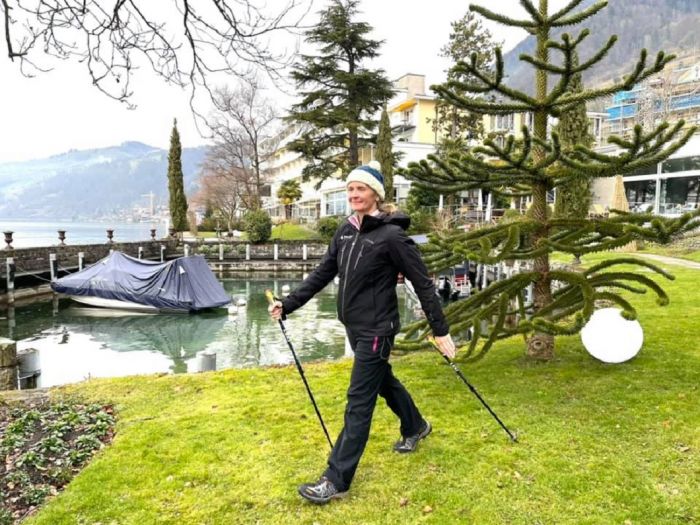 The hotel ensures that guests never get bored, either physically or intellectually, and includes complimentary activities from guest speakers and authors to musical performers playing acoustic guitar or piano tunes. At the world-class spa, there are exercise classes from yoga to water aerobics or rejuvenation in their large heated indoor pool and balmy saltwater outdoor pool. Their crackerjack activities team is at the ready to provide hiking trips into the mountains, excursions around town, or boating activities, all at no extra charge. Their motto loosely translates to: This is the Sunny Side of the Lake, So You Must Feel Good and after a day or two, guests soon understand that this is much more than just a slogan.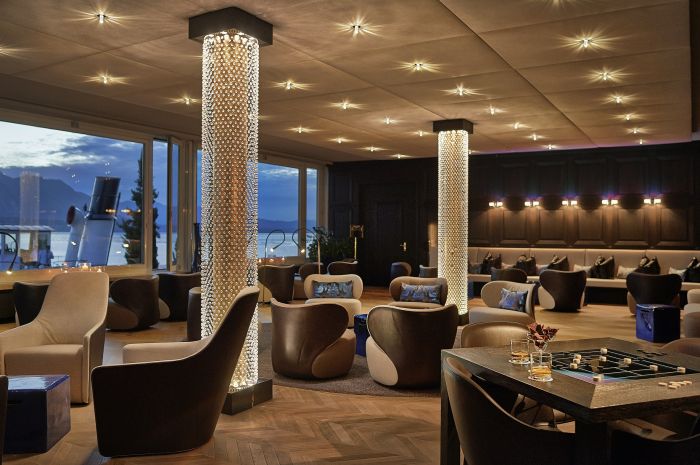 The Beatus Wellness and Spa Hotel is located in the pint-sized village of Merligen which lies at the halfway point between the city of Thun and the town of Interlaken, both of which are about five miles away. The hotel is no Johnny-come-lately by any stretch of the imagination. Its earliest rendition was built on these shores in 1628 and over those centuries has changed ownership and form several times. Even today, the hotel continues to reinvent itself each year with upgrades, renovations, and reinvestment, as well as adding new services to surprise and delight their legions of repeat guests.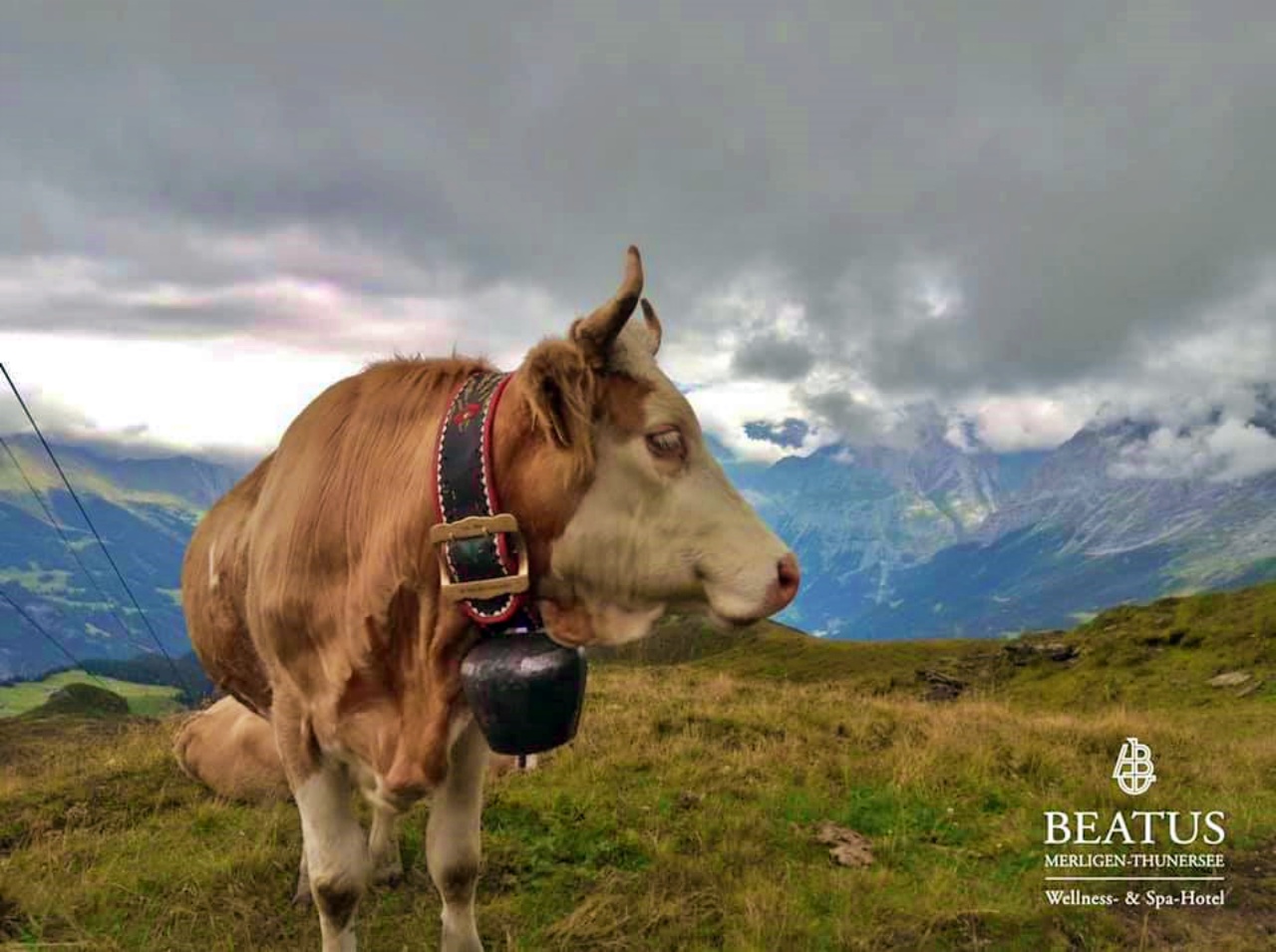 The Bernese Oberland is what most of us imagine when we think of the Swiss Alps. Stunning mountains, glacier lakes, thick-furred cows, and wooly sheep grazing on lush green grass. Throughout the mountainside you'll see little villages with nary a stoplight, but plenty of those iconic Swiss chocolate box wooden chalets, many dating back hundreds of years. Any time of year there's an exciting adventure to be had in those mountains from hiking and unhurried nature walks or snowshoeing in winter. In the warmer seasons, guests go swimming, boating, water skiing, windsurfing, or sailing on the lake. Most of the tours are complimentary, given with the personal attention of their switched-on and cheerful excursion guides who enjoy sharing the wonders of their homeland with guests.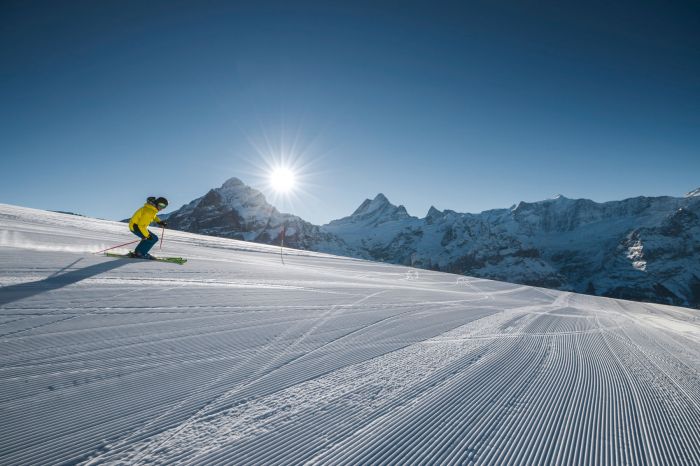 © Jungfraubahnen
This is after all the Swiss Alps so for skiers snowy adventures are just a short distance away in the Jungfrau Ski Region. Many of Switzerland's favorite ski resorts are a short train ride on the away including Murren, Grindelwald, and Wengen; all of which are easy to reach from the nearby Interlaken Ost train station and connected by Jungfrau Railway trains and lift system. Any visit to the region must include a visit to the Jungfraujoch which is the highest rail stop in Europe at over 11,000 feet and offers stunning views of the Aletsch Glacier.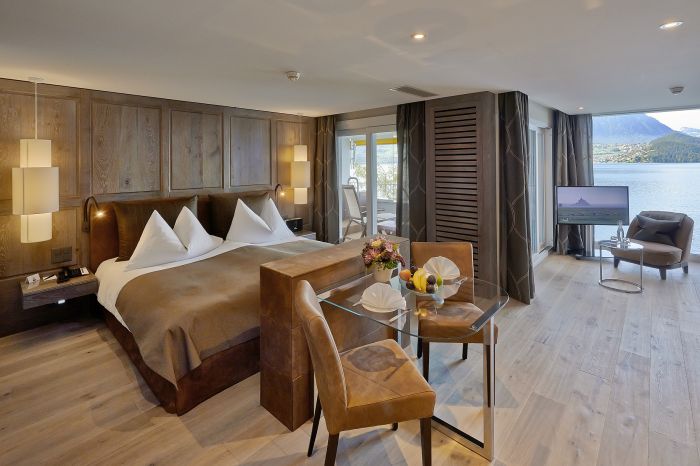 Guests retire from the day's activities to one of the 71 rooms and suites which are elegantly furnished with all the amenities required by today's sophisticated traveler. There are several room categories that vary in size, décor, and accouterments with most offering decadent Niesen Mountain and Lake Thun views. The recently renovated Tower Suites are gorgeous with rich wooden floors and wall panels, chic furnishings, an uber-comfy bed, and balcony. Not to be outdone is the suite's lavish bathroom with a whirlpool bath, big enough for two, and a steam shower with colored lights and a sitting area made for resting after an active day and letting the steam do its work.
However, the room's most spectacular feature is the floor-to-ceiling glass wall fronted by two chaise lounges to laze about and take in the beguiling vistas before you. Yes, the suite does have two high-tech televisions, but you probably won't use them. The outdoor views mesmerize from sunrise to sunset as the lights of the village around the lake twinkle in the offing.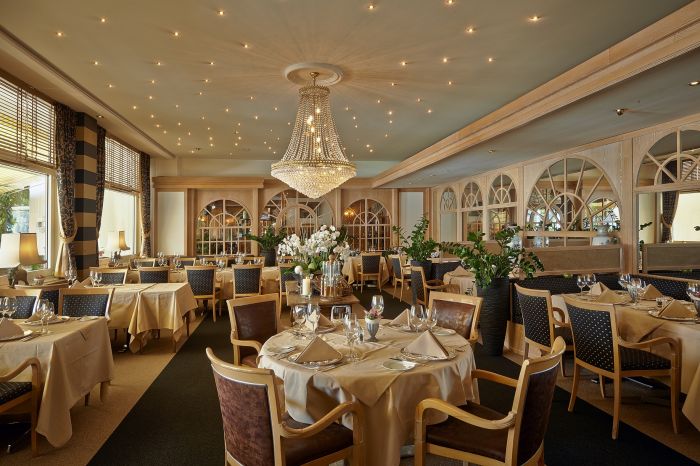 Dining at the Beatus Wellness and Spa Hotel is a serious gastronomic matter. From breakfast to dinner, the gourmet experience does not disappoint with several dining options in their three restaurants. Most guests will have predinner drinks in the Orangerie Piano Bar with live acoustic guitar or piano music adding to the ambiance. For something even more special, the Beatus Wellness and Spa Hotel allows guests to make the most of their lakeside location and offers boating excursions that include a fondue meal or an apertivo just before sunset.
The gastronomy focuses on healthy dining and a menu that features Alpine-Mediterranean cuisine with ingredients selected primarily from regional products and sourced from local suppliers. The five-course meal is a treat on white cloth-covered tables and meals served by their well-trained staff. As mentioned, other than beverages, meals are included in the nightly rate.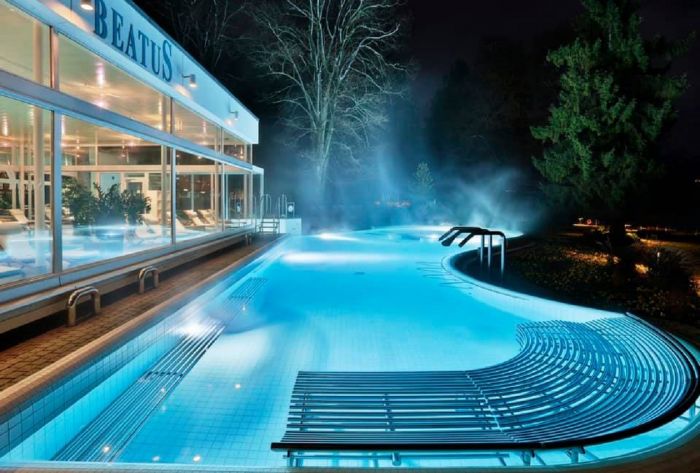 One of the resort's many stand-out features is its destination wellness center. The 20,000 sq ft oasis offers two temperature-controlled pools, fitness centers, and a world-class spa. There is a daily schedule of fitness classes as well.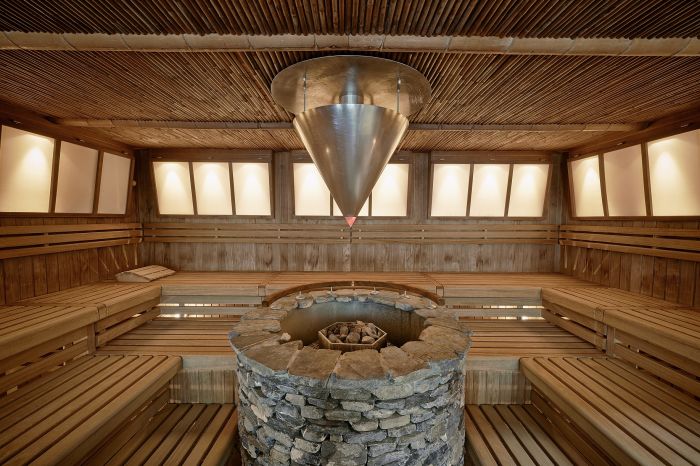 The facilities are expansive with two sauna parks. The classic park offers Kneipp Roundel to stimulate the lower legs, a bio sauna, a flower steam bath, and an Ottoman hammam steam bath. There's a Finnish log cabin sauna and polar bear fountain where guests alternate between the freezing cold and heat to revitalize their bodies and to improve circulation, immunity, and respiratory systems. The Bamboo sauna park is their second offering with a Zen sauna, Thai sauna, brine grotto, and Kneipp area. In winters, an eerie mist rises over the outdoor pool, with bodies swirling through the balmy brine water to detoxify the body and repose in the whirlpools or under pulsating water jets that massage neck and shoulder muscles.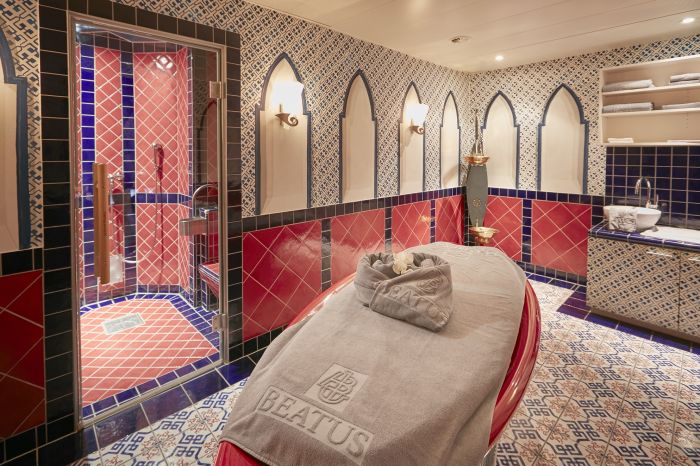 This is a comprehensive wellness center with a complete spa and offers healing rituals, couples' treatments, and beauty services. Swiss pine is a local element, known to have healing properties, and has been incorporated into several of their treatments. The Beatus Wellness and Spa Hotel offers their signature Arolla-Pine Vital Massage using pine-infused oil and an Arolla-pine rod and other shapes as the therapist provides a range of movements that penetrate deep to relieve tense muscles and blockages. For wellness on the water experience, guests may request their massage treatment on the lake as the boat gently rocks with the waves adding another dimension of relaxation.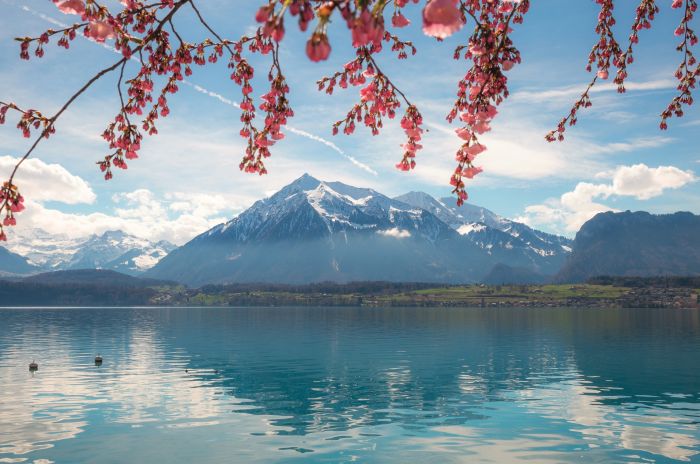 Many will say that mountains like this have a soul. That may or may not be true but those in the presence of the Niesen Mountain feel something tangible that moves and inspires them. The pleasurable pursuits in this region are endless with countless ways to immerse in nature from the waters of Lake Thun to exploring the highlands of the Bernese Alps. The hotel offers world-class wellness, posh accommodations, and cuisine delivered flawlessly by their warm and caring staff. For those and a myriad of other reasons, The Beatus Wellness and Spa Hotel is the ideal destination for a vacation to dive into all that this remarkable region has to offer.