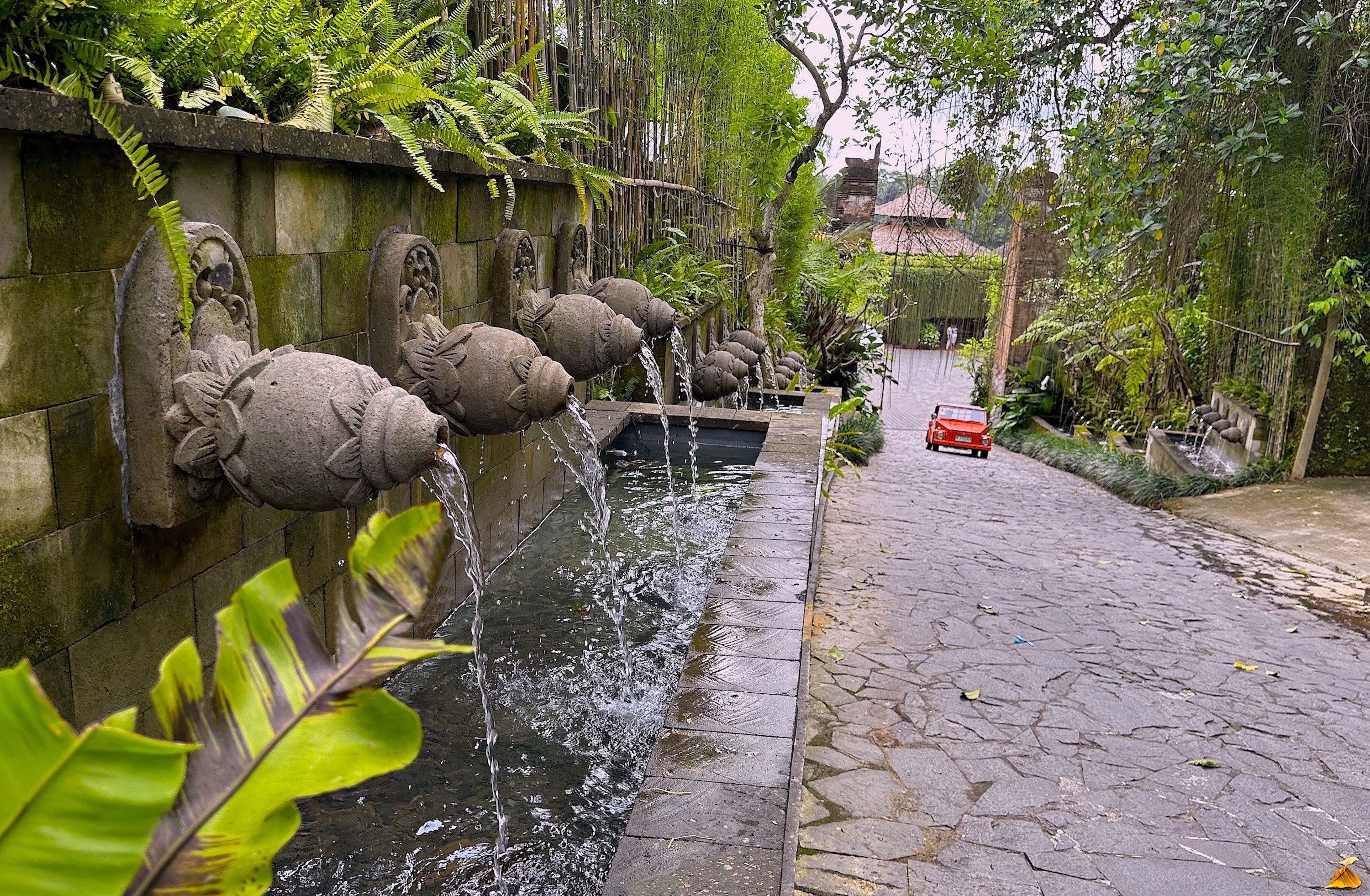 Photo by Michael Reiss
If Bali is the island of the gods, then surely, they reside at Mandapa, a Ritz-Carlton Reserve in Ubud, Bali, Indonesia. As you make your way into the valleys, rivers and rice fields that are so distinctive to Bali, you will arrive at this hidden treasure through a small country lane that gives rise to the splendor of the lush interior landscape and the exclusive entry gates to an otherworldly part of the island.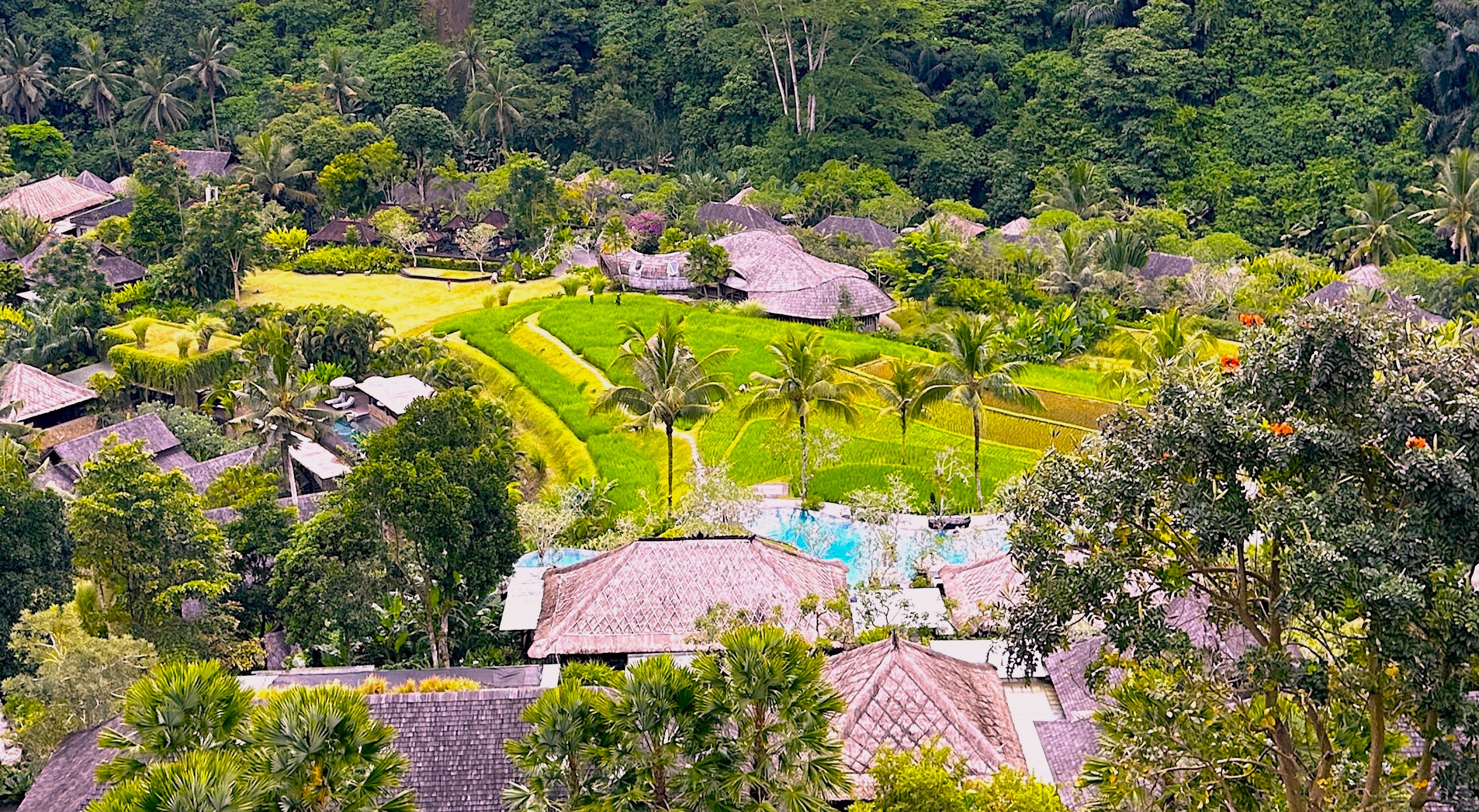 Photo by Michael Reiss
Perched on a promontory overlooking an ancient temple, rice fields and the raging Ayung River is Mandapa, the Ritz-Carlton Reserve, one of a select number of "Reserve Properties" in the world. As you enter the grounds, you are greeted by the ladies and gentlemen of the Ritz Carlton whose main mission is to exceed expectations at every moment of your stay.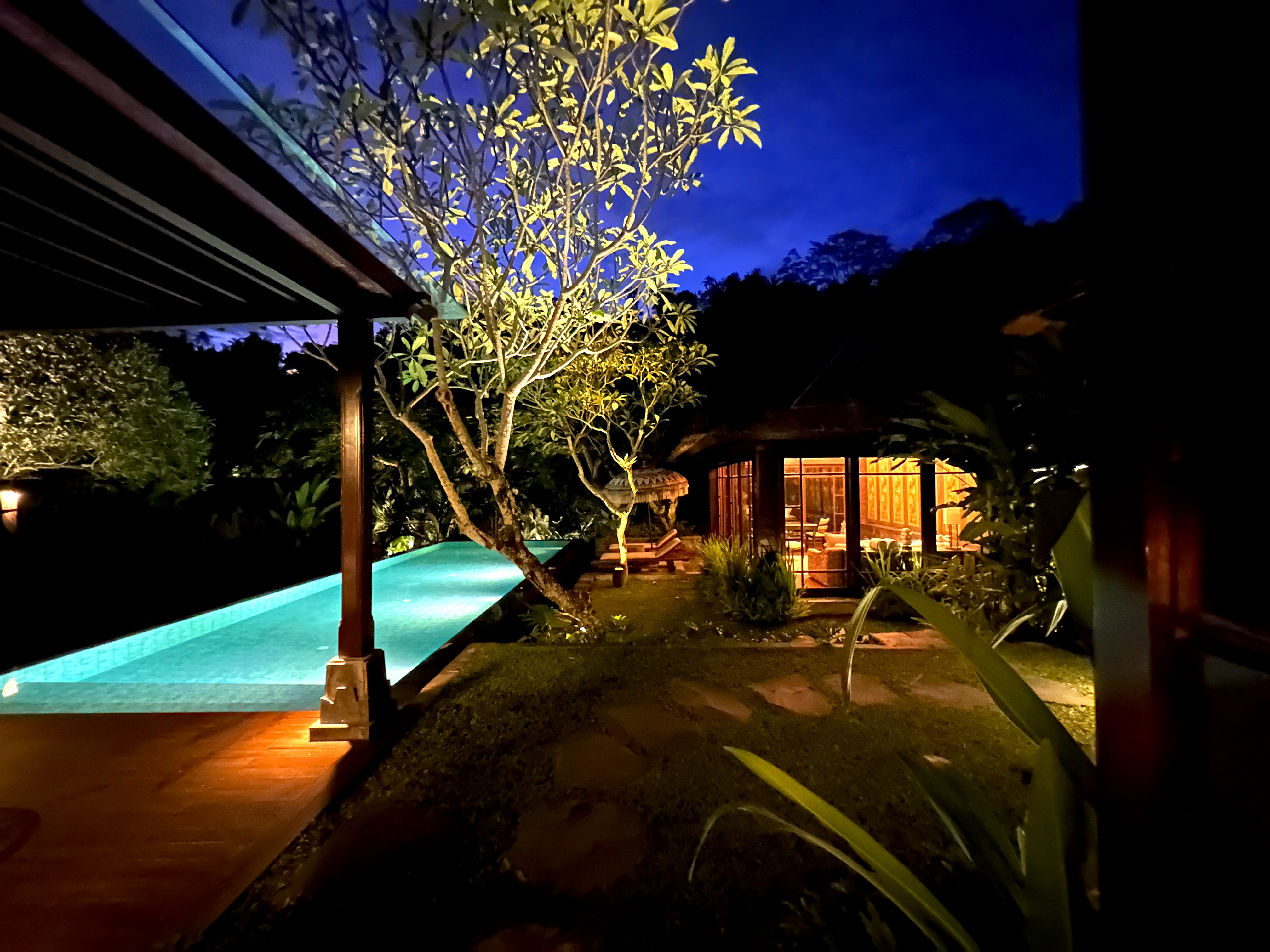 Photo by Michael Reiss
Our personal butler escorted us to our villa complex complete with separate living room pavilion, a huge private lap pool and outdoor lounge areas and a main villa pavilion fit for royalty.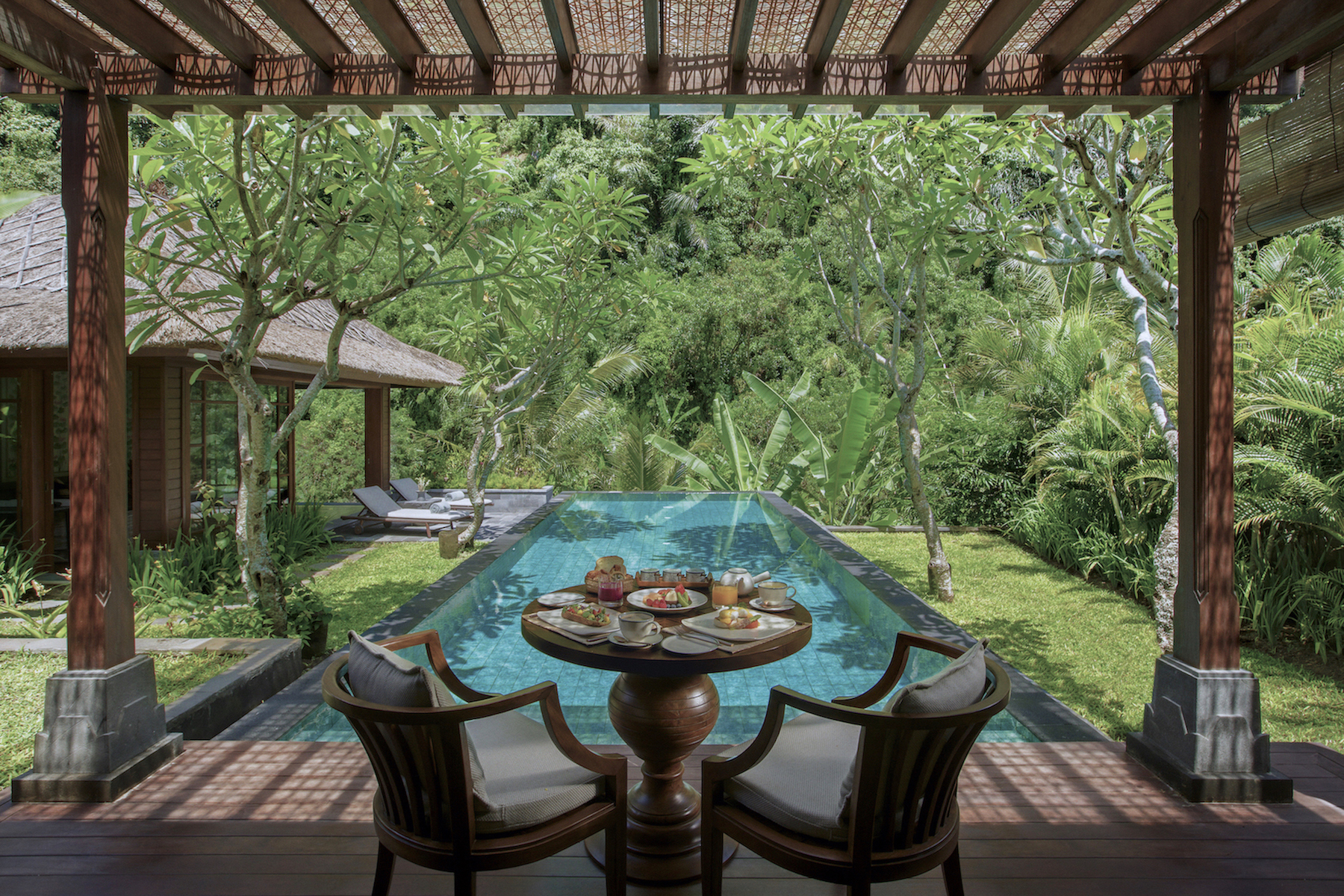 Photo by Mandapa
Every aspect of your visit is carefully curated to surprise and delight. The location, views and vistas are breathtaking and at the same time quietly peaceful and private.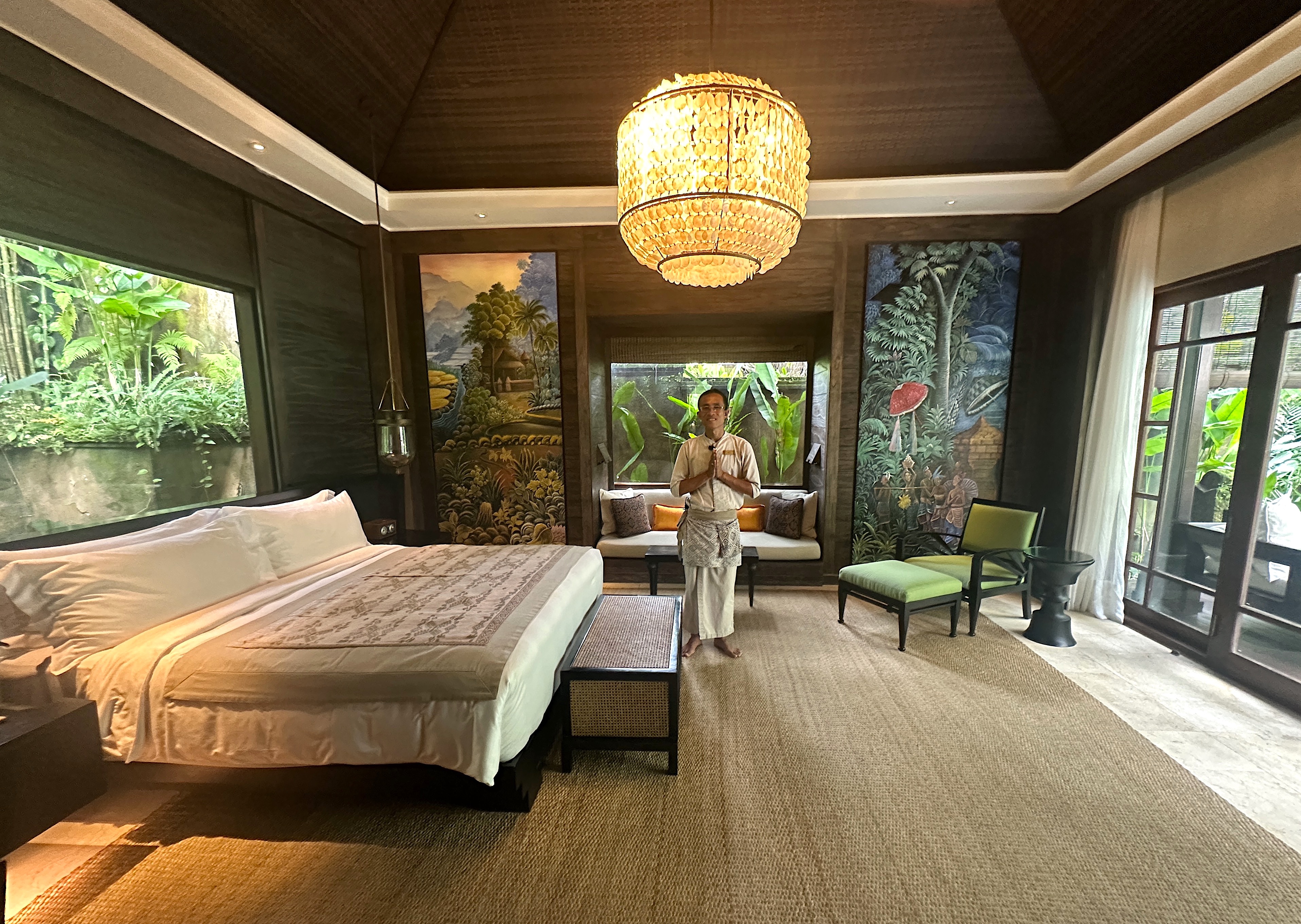 Photo by Michael Reiss
The architecture, custom design elements and overall layout offer every modern convenience with a nod to Balinese sensibility. The suites, villas and public areasThe lobby level has a commanding overlook of the forest, the rice fields, temple and river.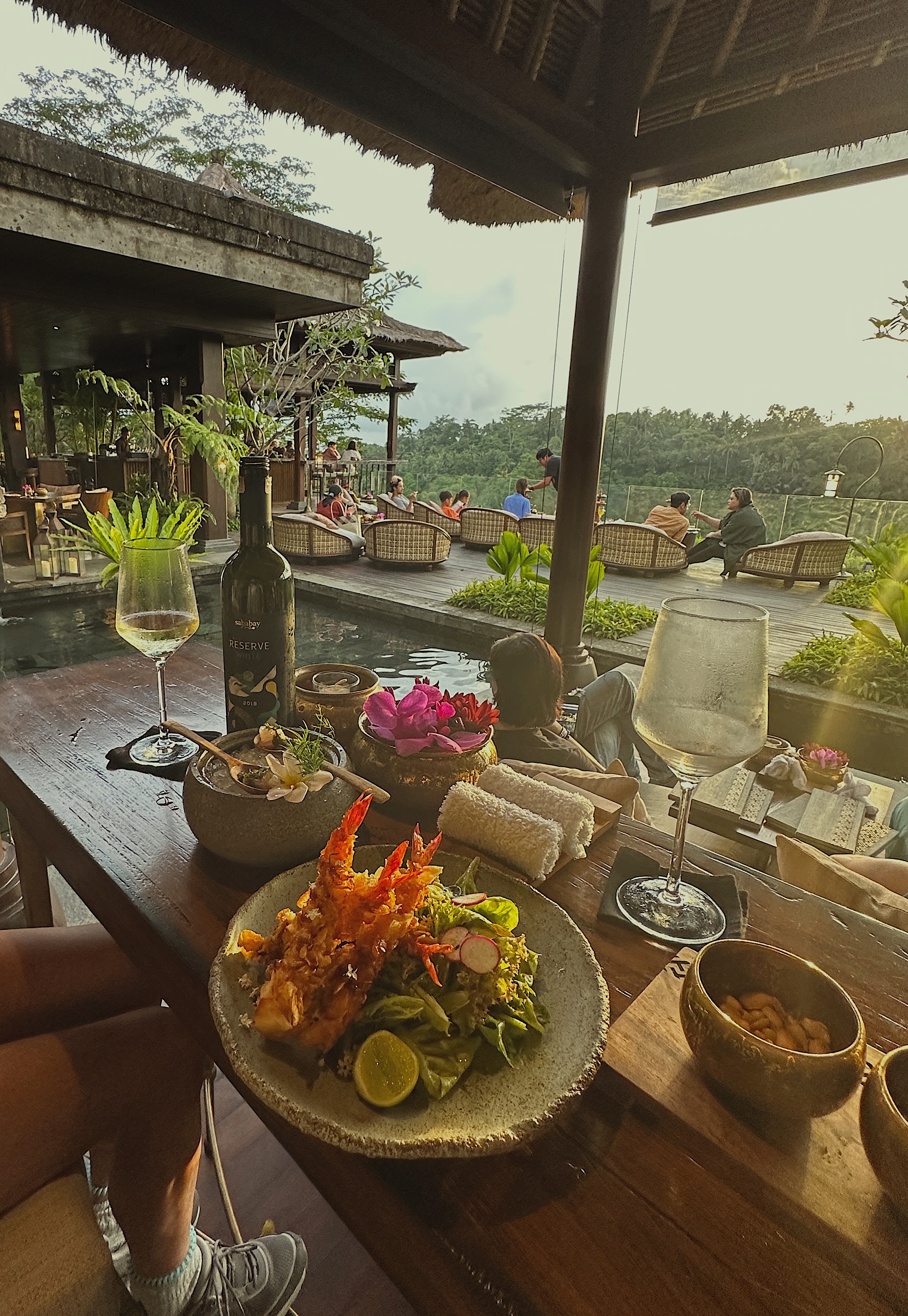 Photo by Michael Reiss
Ambar, one of the food and beverage outlets located on this level, is the perfect location for exquisite sunset views offering live jazz and superb Japanese fusion fare with a full bar including Balinese wines. Be sure to request the locally grown and vinified white wine called Sababay Reserve White Wine, if on offer for a surprisingly well constructed and delicious sip that perfectly pairs with the Tuna Tartare and Scallops, fresh from Hokkaido and Soft-Shell Crab Ell Rolls.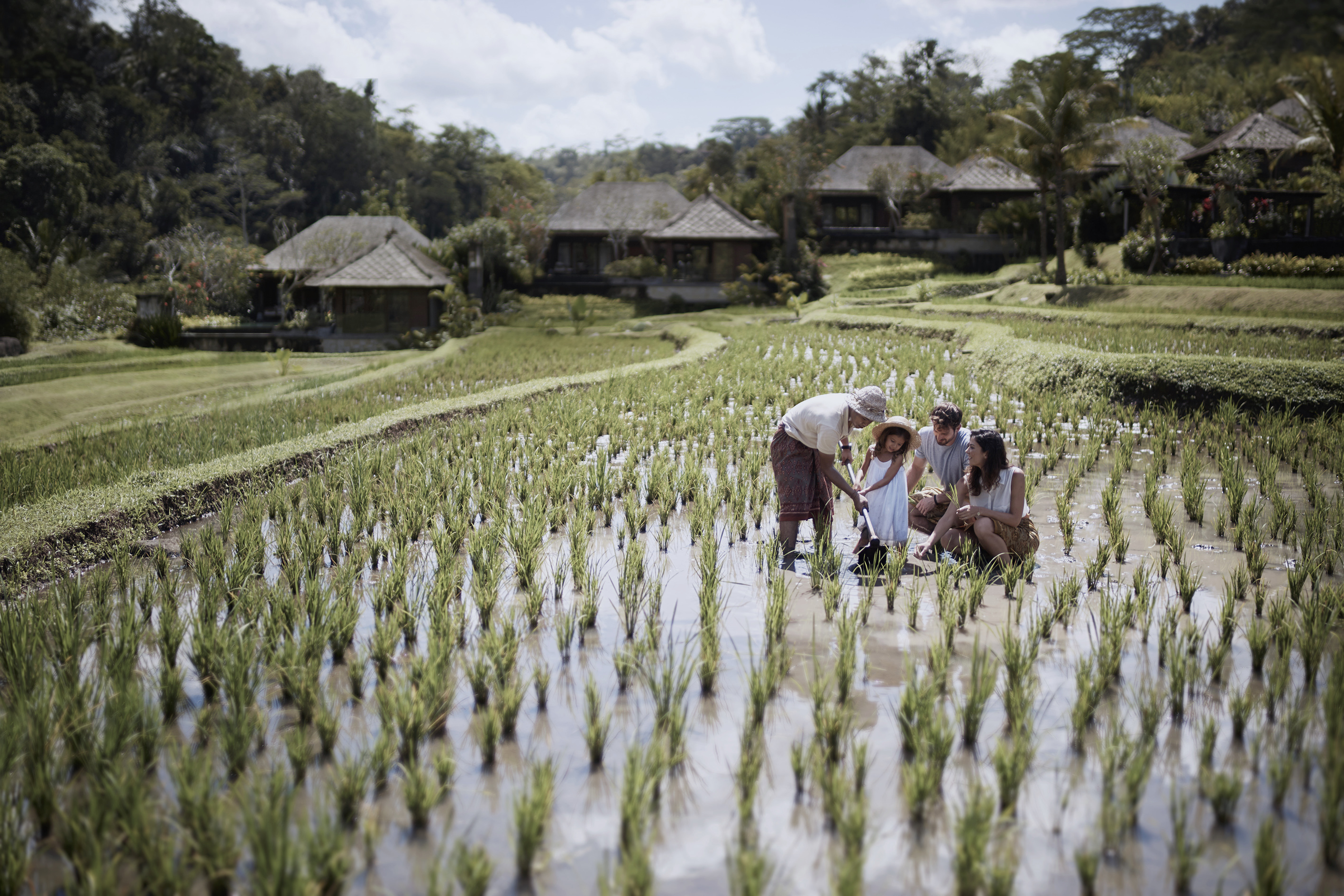 Photo by Mandapa
There are distinctive complementary learning activities available daily to enhance your sense of place. We experienced the traditional method of rice planting in the rice paddies surrounding the property.
We also experienced meditation, weaving, and a village walk including a visit to a local family compound during our stay. Each experience deepened our knowledge and appreciation for the land and its inhabitants.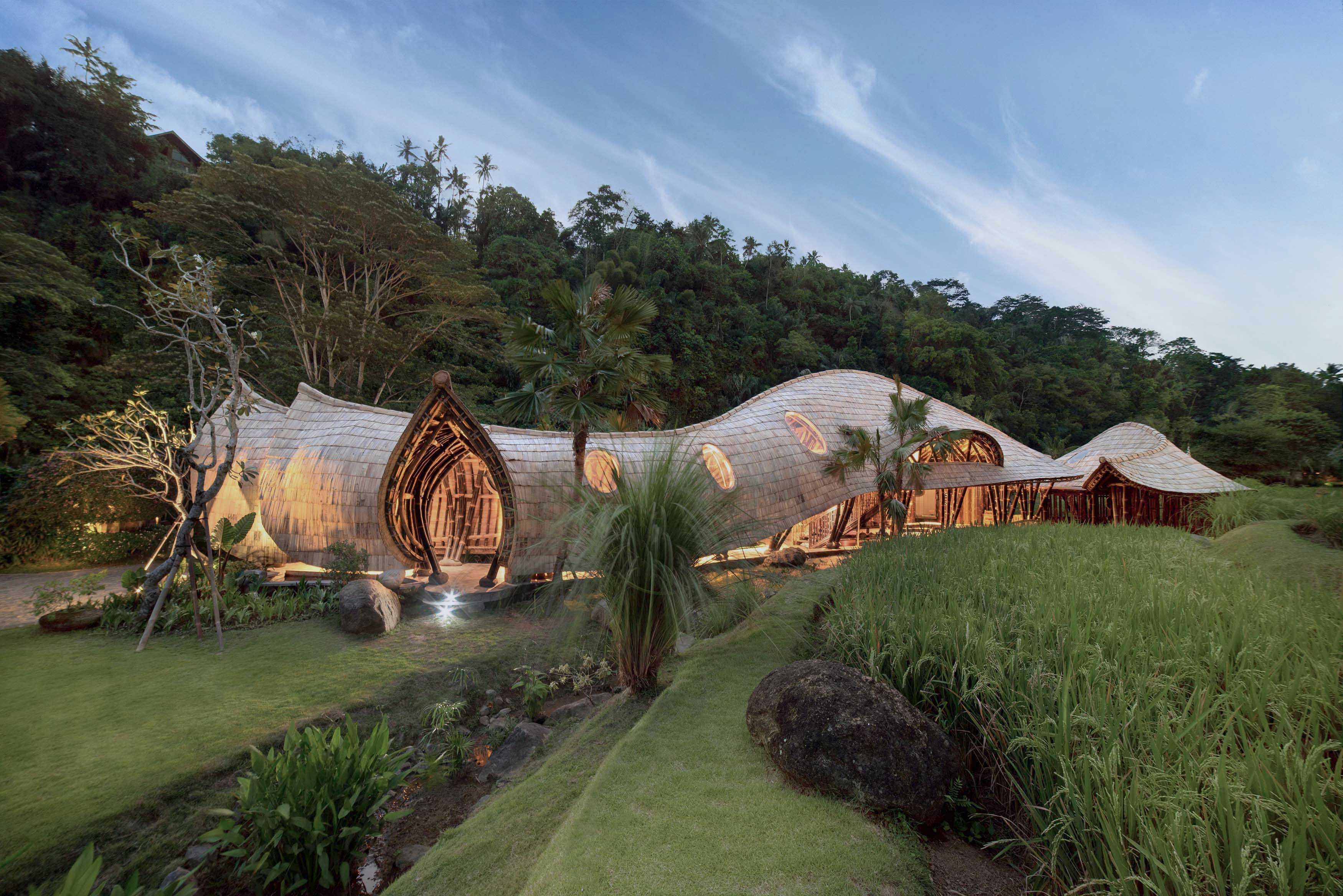 Photo by Mandapa
The kids club area, called "Mandapa Camp," is noteworthy for its striking bamboo structural design and host of uniquely local activities including educational encounters with the resident cow, chickens and ducks.
Start your day at the expansive breakfast buffet at Sawah Terrace, including sashimi and sushi as well as every western and Balinese item imaginable. Be sure to order from the a la carte menu including a creative take on avocado toast and a Seared Foie Gras on Brioche placed on a coddled egg that is sheer indulgence.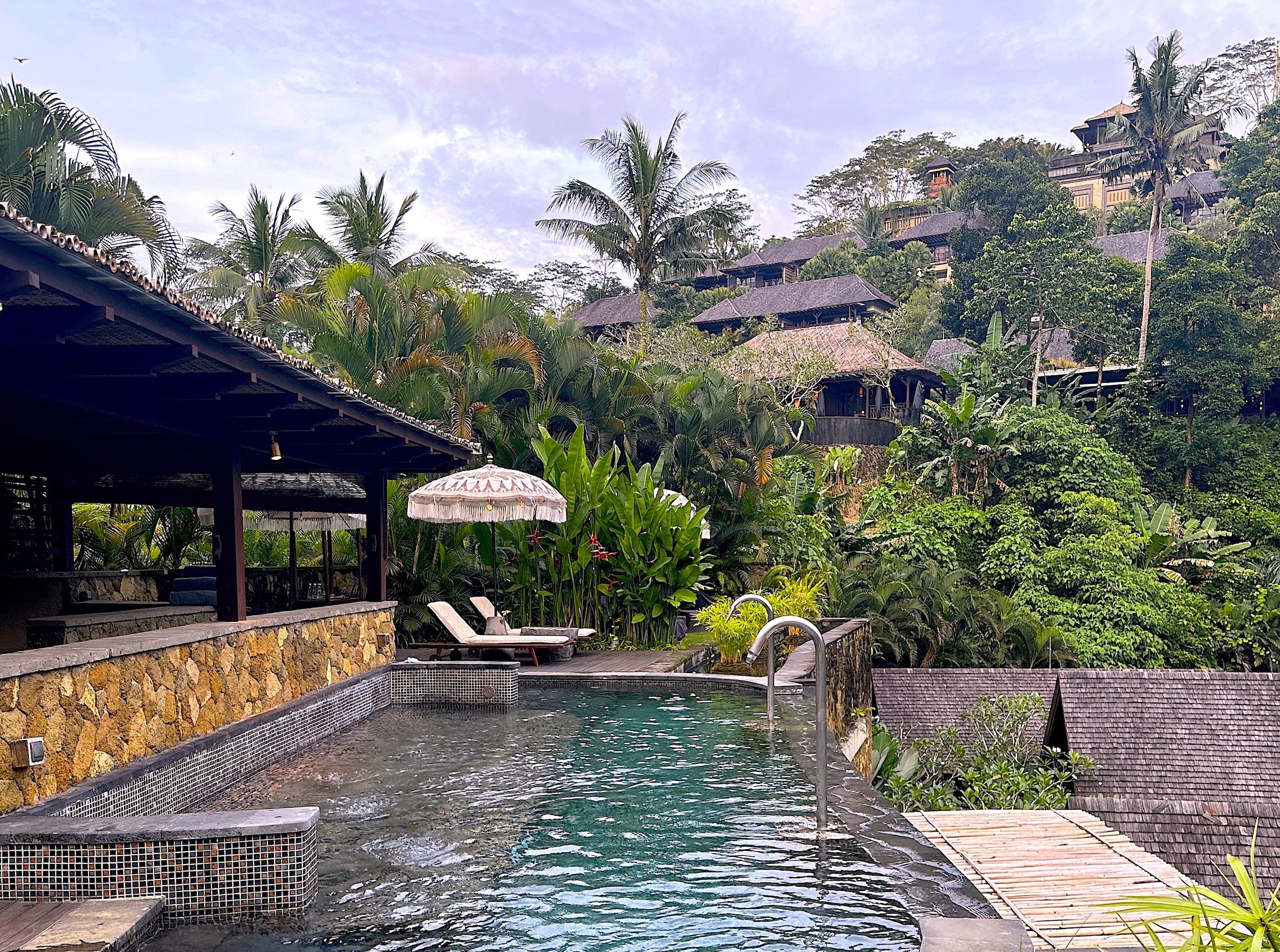 Photo by Michael Reiss
Then head to the fitness and spa area located on the river with the added feature of a large infinity jacuzzi perched in sight of the river rafters plying their way through the rapids.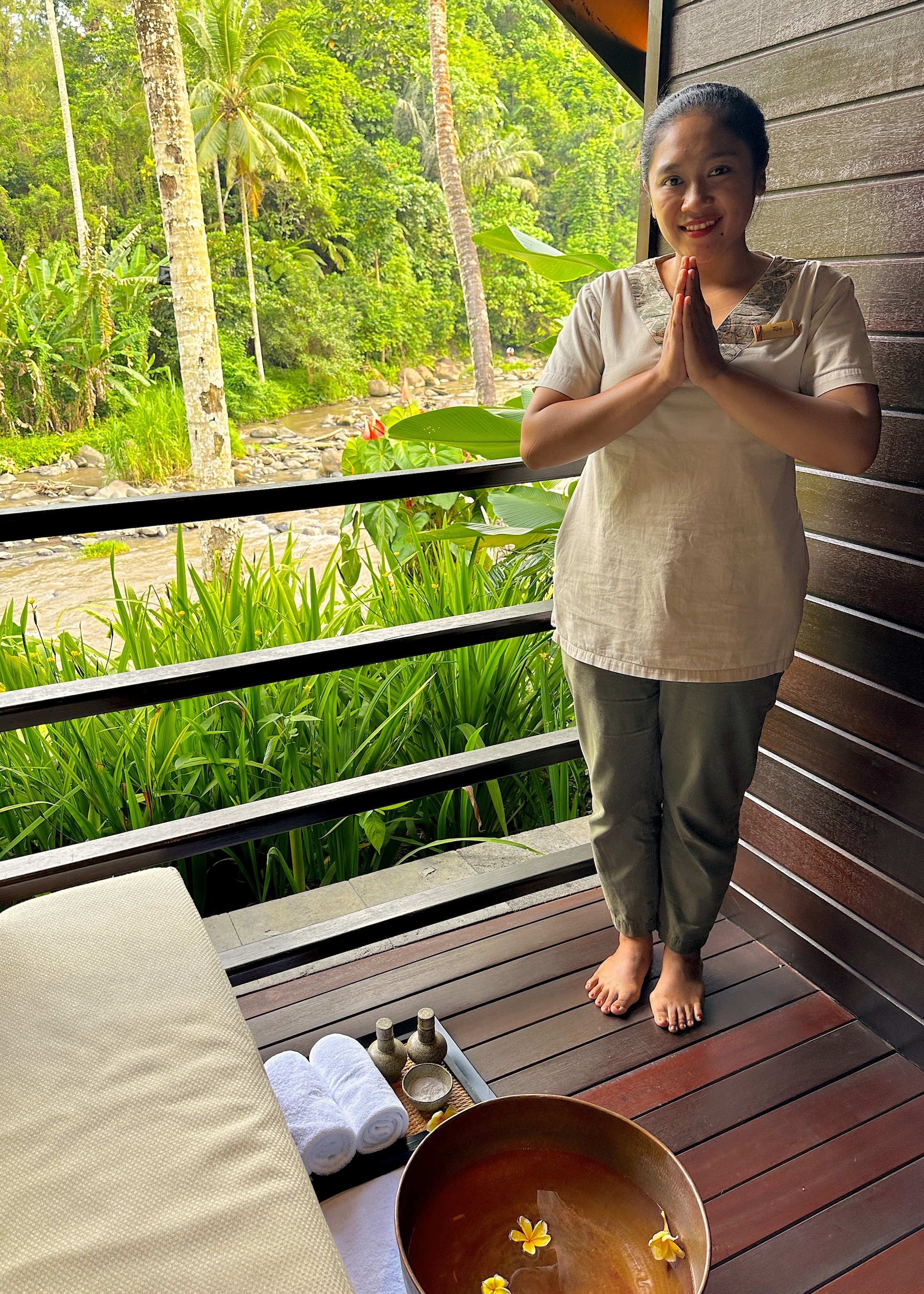 Photo by Michael Reiss
Be sure to include a traditional massage in your visit to Madapa Spa for the Balinese bliss that your body, mind and spirit deserve. Each of the treatment rooms and lounging area overlooks the river to provide soothing ambience and sound.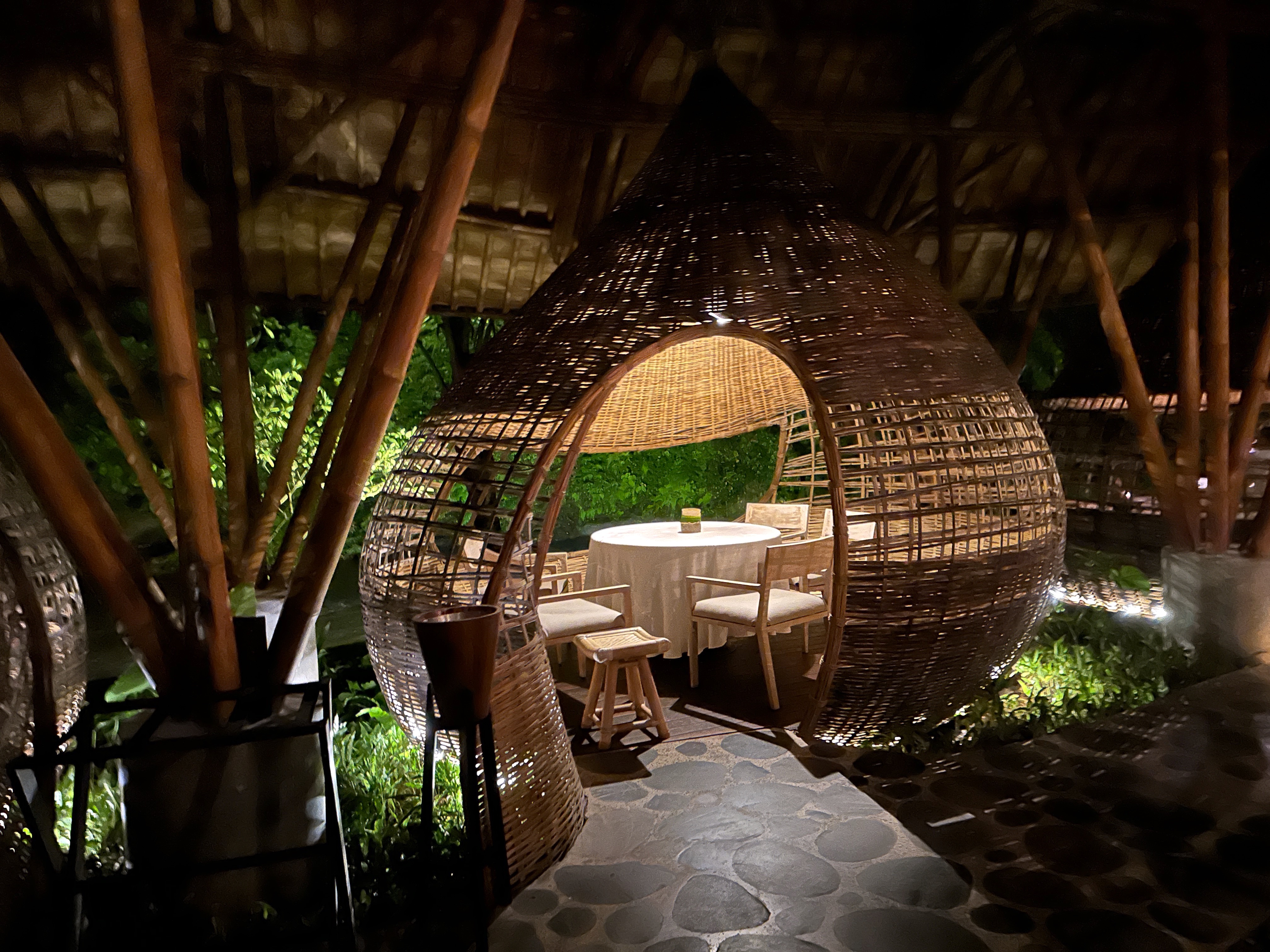 Photo by Michael Reiss
After a day of utter relaxation, indulge your gustatory pleasure with dinner at Kubu, the signature Mandapa restaurant. The magnificent bamboo structure set on the banks of the Ayung River suggests the anticipation of a special evening.
Whether you choose a table right on the banks of the river or in one of the private bamboo cocoons, it is clear that an exceptional dining experience will ensue. With just 14 tables, you are in for some major pampering.
There are two tasting menus with wine pairings on offer. We selected "The Essential," an 8-course degustation menu that did not disappoint in flavor or presentation. Intended as a Mediterranean menu with European influences, you could easily be at any Michelin-Starred spot in the world and yet, you are in a blissful Balinese inspired cocoon on the banks of the famed Agung. Each course creatively combined the elements of its culinary tradition with the added allure of locally sourced Balinese products. Of note was the Sun-Dried Cherry Tomato Tart. This was placed in a crisp shell of lentil humus glazed with mint coriander chutney and garnished with tomato sorbet. This was just one example of the tour de force of flavors and textures to be savored.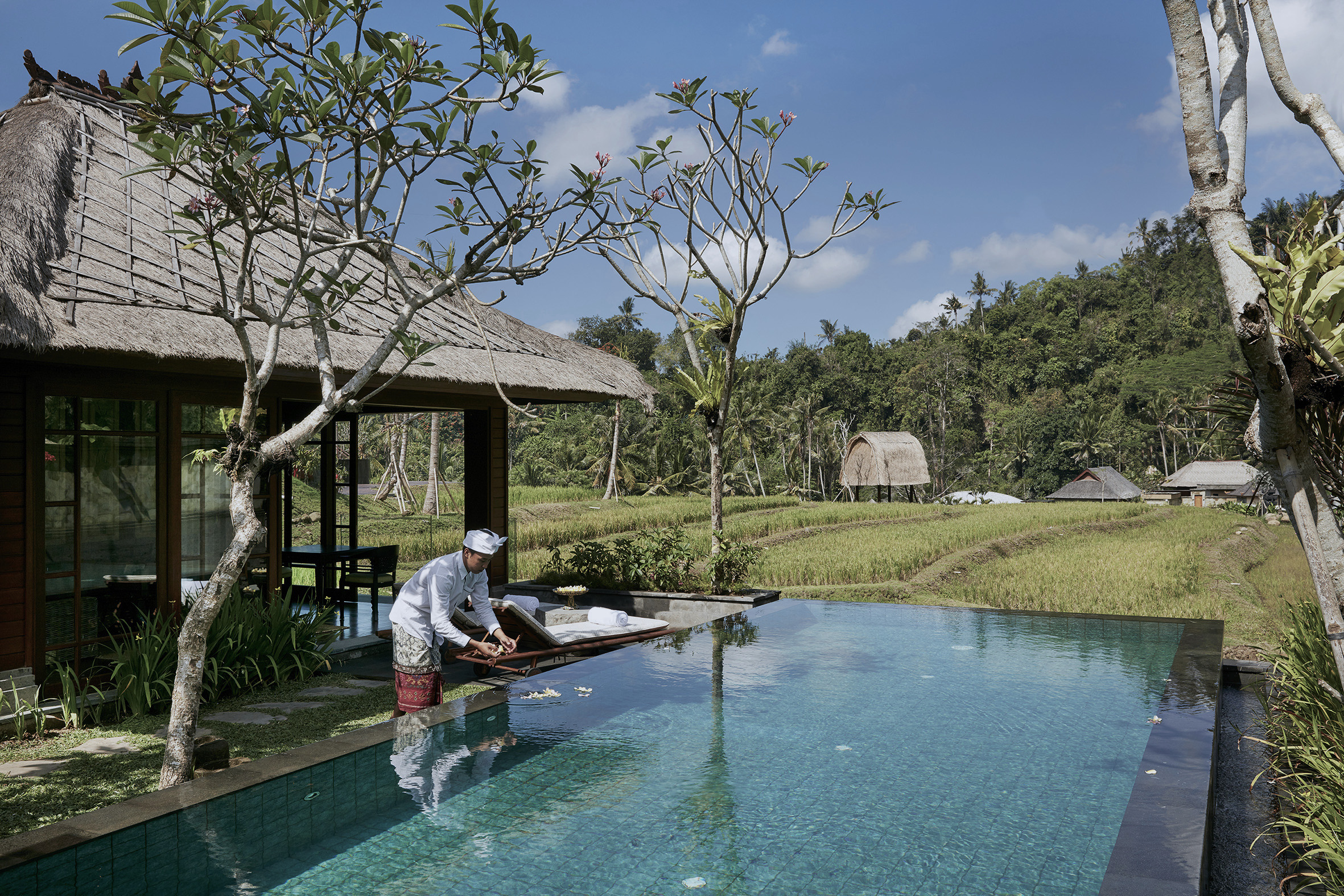 Photo by Mandapa
Perhaps the most compelling reason to choose Mandapa, a Ritz-Carlton Reserve in Ubud, is its exquisite sense of place. You are near enough to the center of Ubud, yet far from the fray and in a world of exclusive luxury that redefines relaxation, repose and revitalization. And you deserve it!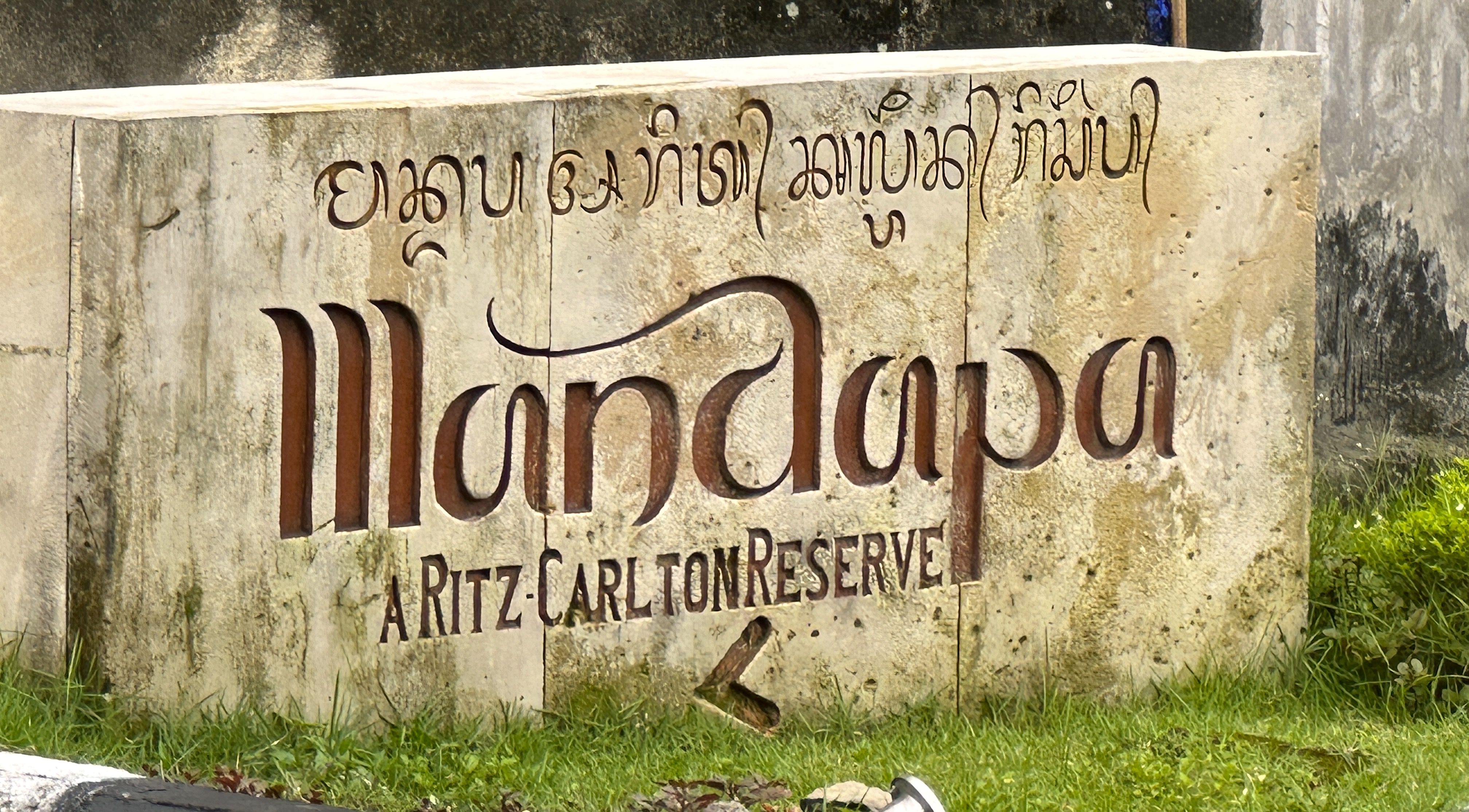 Photo by Michael Reiss