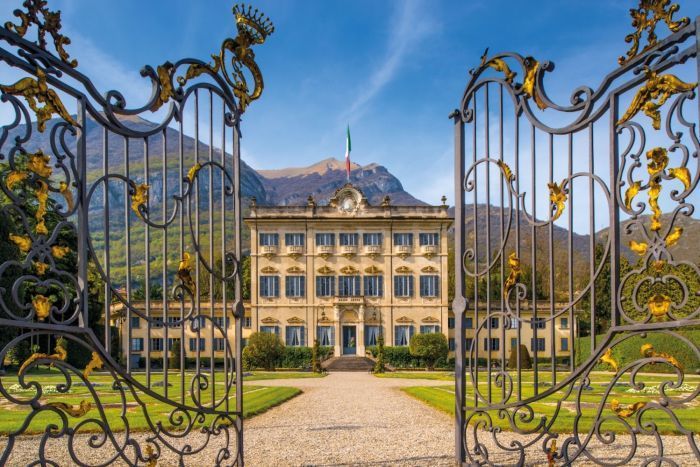 Villa Sola Cabiati, Lake Como, Italy
Europe abounds in luxurious hotels and resorts, but to truly raise the bar on a decadent vacation, a European villa offer the most lavish hospitality. Featuring history, art, beauty, and all of the amenities enjoyed at the most exclusive resorts, a private villa can elevate every getaway with personalized and bespoke attention to detail. These Haute Retreats villas feature personal chefs catering to every culinary desire, butlers who ably handle the most minute of details, and house managers who ably plan entire itineraries based on the most particular of interests. Each also offers that which is most valuable in today's crowded world: ultimate privacy.
"Staying in a villa allows for bonding and exceptional quality time with your travel companions," says Sabrina Piccinin, CEO and founder of Haute Retreats. "Our villas are the ideal choice for families, groups of friends, or couples looking to create unforgettable memories together. Whether you're lounging by the pool, sharing meals in the spacious dining area, or enjoying the comfort of the sumptuous communal areas, our villas provide an intimate setting that fosters togetherness and connection."
Ready to indulge? These Haute Retreats villas check all the boxes: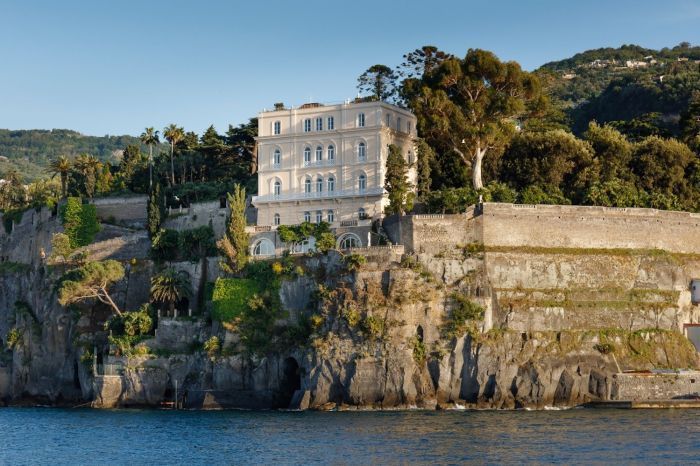 Villa Astor, Sorrento, Italy
Live like Renaissance royalty at this enchanting Amalfi Coast villa with views of the Bay of Naples, the island of Procida, and Mount Vesuvius. Inside, six gorgeously appointed suites (each with ornate, en suite marble bathroom) feature period décor and museum-worthy objets d'art, and a variety of elegant salons offer space to explore. Outside, a stunning garden lined with statuary features Gothic, English, and Italian Renaissance styles and a private path leads to the shoreline and private boat dock. Walk just minutes to charming Sorrento, or take a short drive to the towns of Positano, Praiano and Amafi. Tip: This is an absolutely stunning setting for a wedding.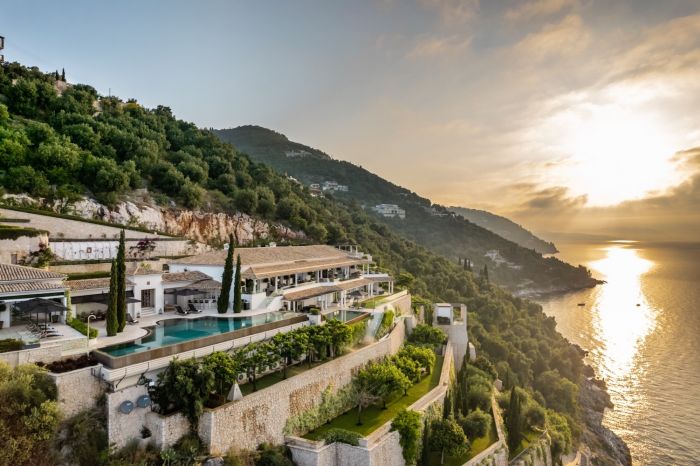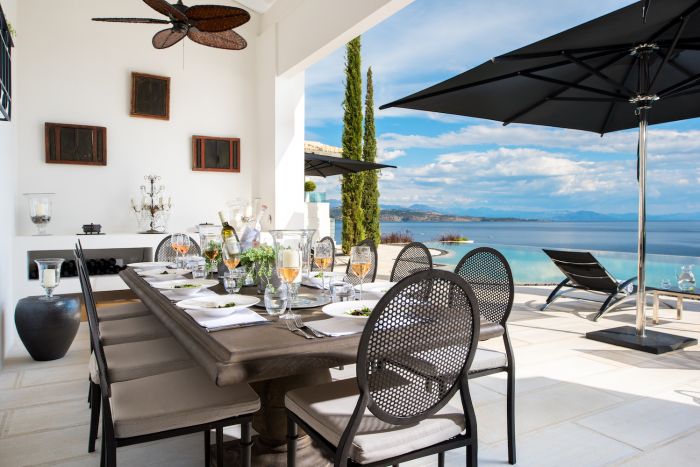 This and above: Villa Ultima Corfu, Greece
Villa Ultima Corfu, Corfu, Greece
This thoroughly modern paradise of tranquility features two swimming pools and immaculately tended, terraced gardens that lead directly to the sparkling sea. Six spacious suites located on varying levels have their own private patios. Enjoy a state-of-the-art fitness facility, dedicated massage room, and a large hot tub that provides the perfect spot from which to enjoy both sunrise and sunset. Al fresco meals have never been more enjoyable than within the villa's outdoor kitchen and dining room, from which you can surround yourself with your favorite tunes.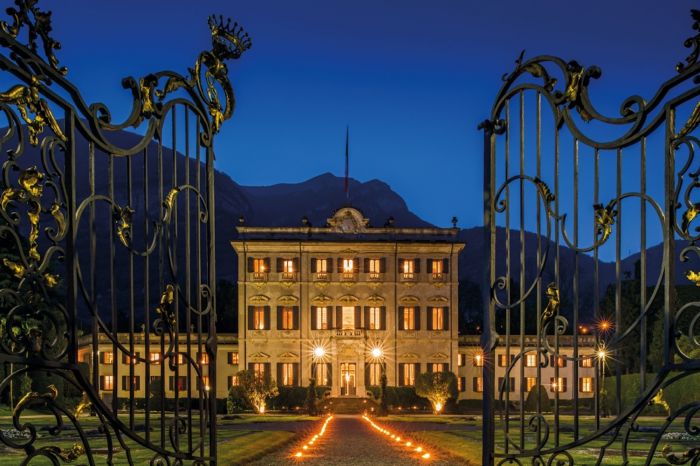 Villa Sola Cabiati, Lake Como, Italy
Villa Sola Cabiati, Lake Como, Italy
16th century Villa Sola Cabiati, sister property to nearby Grand Hotel Tremezzo, makes its guests feel as if they are living within a fairy tale. Though thoroughly updated with the most modern amenities, the villa seems frozen in time. Richly appointed with immaculate 18th century frescoes, gleaming chandeliers, and mosaico Venezia flooring, the villa is home to additional treasures of historic tapestries, paintings and majolica. Six spacious and sumptuous suites accommodate larger groups. This is a gorgeous villa at which to celebrate the most special of occasions.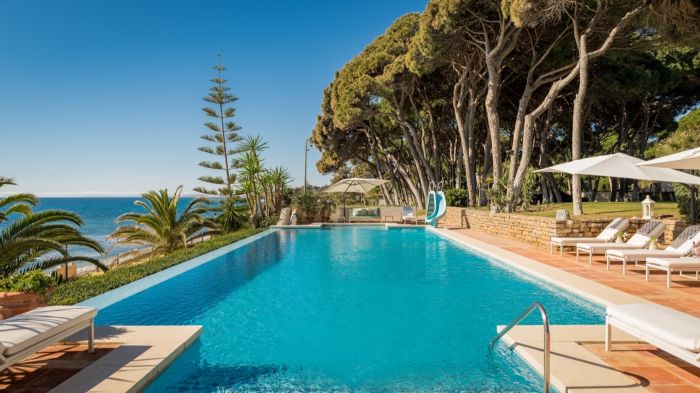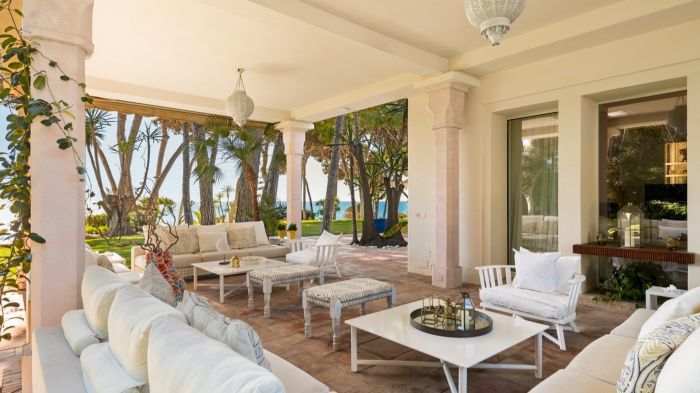 This and above: El Rincon, Marbella, Spain
Located on Marbella's Golden Mile, this exquisite beachfront property is a masterpiece of Andalusian Moorish architecture designed by Robert Mosher, a student of Frank Lloyd Wright. 15 bedrooms are spread throughout the main house, guest house, and pool house. A full service staff (from personal chef, to yoga instructor, to private masseuse, to babysitter) caters to every need. Enjoy two swimming pools, a sauna, gym, and cinema, or simply stroll the peaceful, beautifully maintained gardens.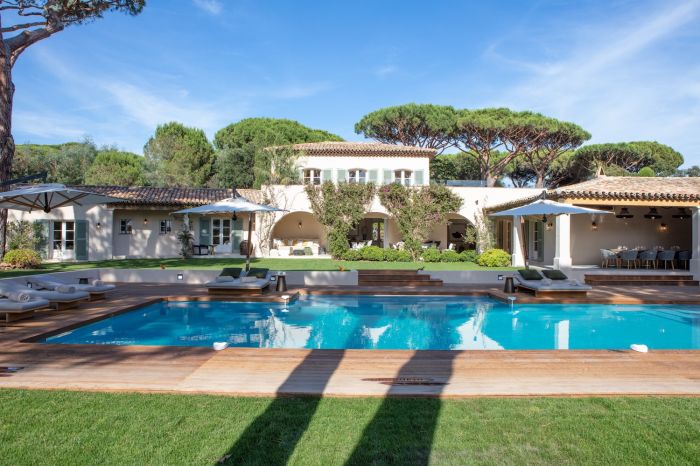 Villa Malko, Côte d'Azur, Frane
Villa Malko, Côte D'Azur, France
This stunning Provencal Bastide on the southern hill of the Parks of Saint-Tropez captivates with architectural beauty. Featuring an abundance of indoor and outdoor living spaces, Villa Malko oozes Mediterranean ambiance. This six-bedroom haven of peace provides unforgettable holidays whether for extended family and friends or as a tranquil solo retreat. The villa's star attraction is its beautiful pool and pool house, featuring plenty of sunbathing nooks for everyone in your group.
Photos courtesy of Haute Retreats