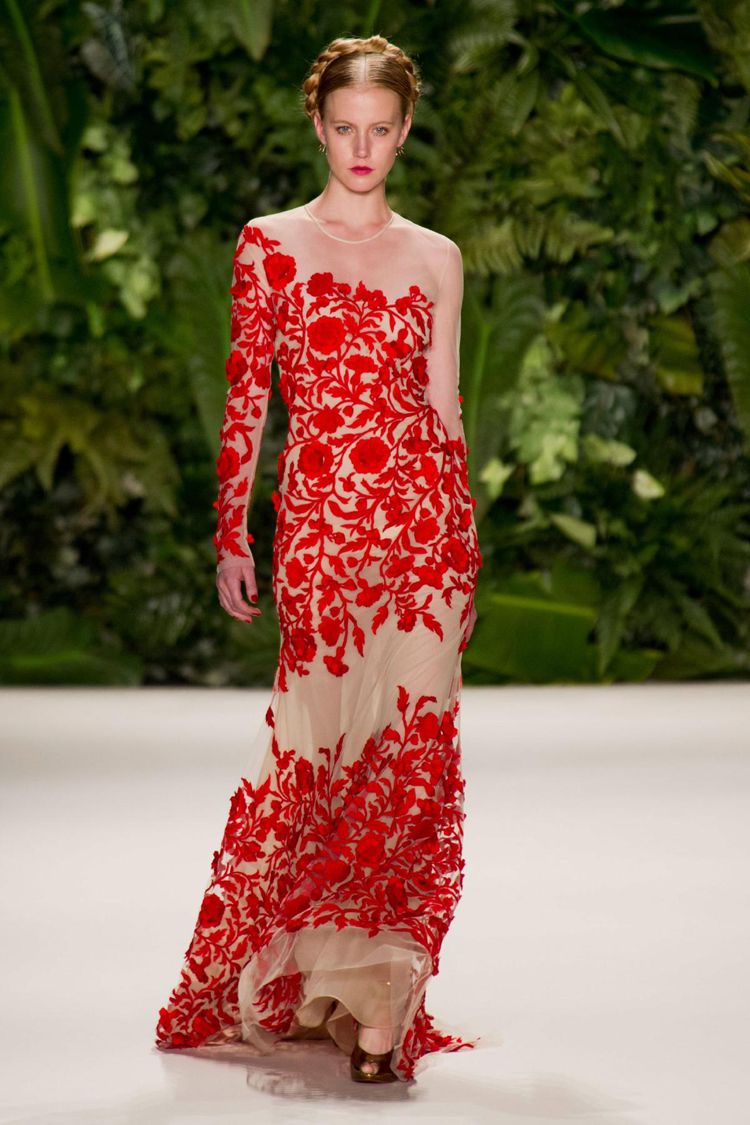 Photos Courtesy of Naeem Khan
It should be obvious by now that this coming spring is going to be a wash of black and white with designer after designer showcasing monochromatic collections during New York Fashion Week. And while each label has its own artistic interpretation of how the new trend should play out in the coming seasons, none have mixed the two contrasting hues with any real color. There's been a little tan here and there, a few garments in blue, a wisp of red in a scarf or handbag, but an unbroken chain of black and white seems to be the name of the game. When designer
Naeem Khan
sent his red-carpet worthy gowns down the runway, he didn't stop at black and white, red, or even pink—he filled his collection with color, keeping it connected with the two new trend-worthy hues.
Khan may have started off his show with an all-white lace dress, but as each piece came out the designs progressively became more eclectic, before out of nowhere—color—with sequins, rose prints and animals emblazoned on dresses and shirts. While I can appreciate his intention to bring life to spring, the collection as a whole is not as cohesive as others that we've seen this week. Separately the pieces are a hodgepodge of beading, florals, and bridal; as a unit it's the cuts and ever-prevalent black and white that help keep everything together.
The formal evening wear and bridal was really the highlight of the show, all with long trains and tasteful sheer fabrics. Lacey floral winds it's way up and down gowns in white, black, red and gold while metallic beading and nude fringe hangs off other gowns in a surprising delicate way. Nothing in the collection is simple or basic, layers of fabrics, lacing and sequins give the dresses their character and appeal. Each gown, while very feminine, lack subtly, but then again—who wants to be a wallflower anyway?