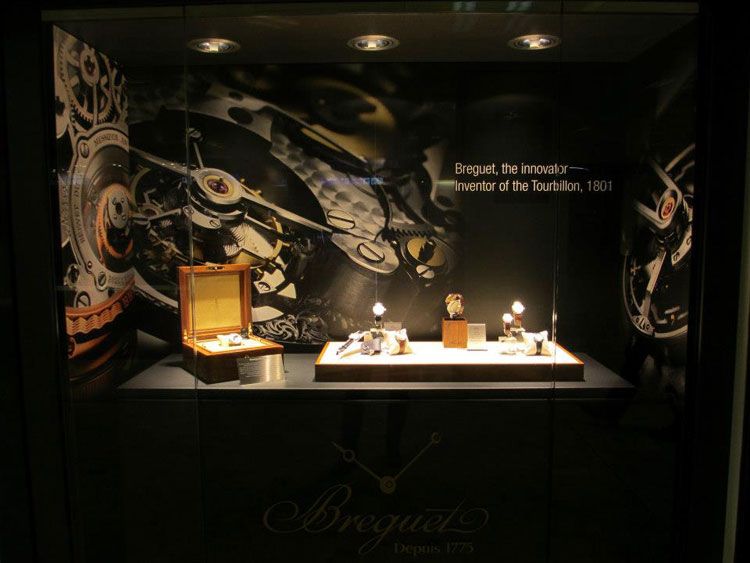 Photo Courtesy of Breguet
Legendary horologist and founder of
luxury watch
company Breguet, Abraham-Louis Breguet made timekeeping history in 1801 with the invention of a much-needed, but highly complex watch mechanism. Seeing the adverse effect gravity had on reliable timekeeping, he created the tourbillon— an escapement housed within a mobile carriage that performs a complete rotation every couple of minutes. Basically, the regular repetition of the tourbillon's variations offsets those made by gravity. It was a tough assignment for Bregeut to pull off, as it requires a certain durability while nonetheless maintaining its light weight.
Even after two centuries, the mechanism is still celebrated and incorporated by the House of Breguet into their exclusive timepieces. The brand is further honoring its tradition and their innovative founder's genius with a new exhibit called "Breguet, the innovator. Inventor of the Tourbillon." The event showcases modern tourbillon timepieces as well as those from the past. Through February 24, visitors can begin to learn the secret behind this brilliant invention at Geneva's Cité du Temps. The global reaching exhibit will go on to tour other European cities, as well as Asia, Middle East, and the U.S.
The House of Breguet lists itself as the world's number one luxury watchmaker, and continues its rich heritage of precision watch-making by completing new tourbillons for its exclusive Grandes Complications collection. Acquired by Swatch Group in 1999, they have expanded their manufacturing site in order to continue pioneering original mechanisms. With mechanisms still in use after over 200 years, Breguet takes their time seriously.