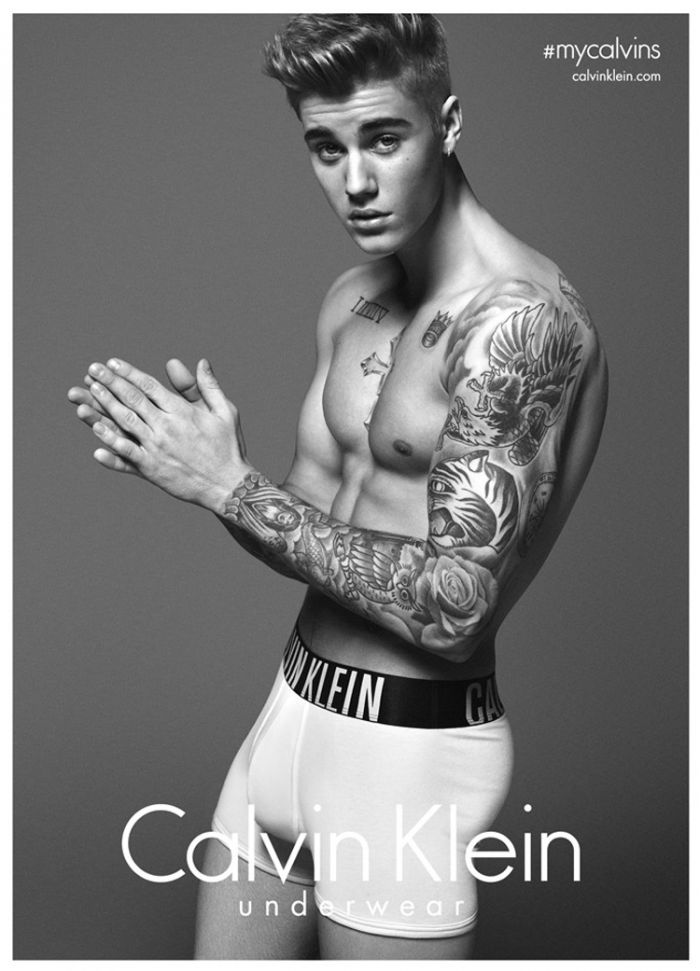 Photo Credit: Calvin Klein
You have got to be kidding. Admittedly we thought this was a joke when we first saw it, maybe some fashion-loving Bieber fans were quick on the draw or hell had frozen over and it hadn't started trending on Twitter yet. Nope, it's legit. Guys, Justin Bieber is the new face of Calvin Klein underwear and jeans. The brand actually confirmed it this morning. Done in the same black and white imagery as the original Mark Wahlberg and Kate Moss campaign, the latest shows the musician in all his tatted-out, buffed-up, boxer-clad glory. Girls are going to flip.
Photo Credit: Calvin Klein
In addition to Bieber, the new campaign will also feature women's Calvin Klein model Lara Stone, and will be used globally in 20 countries on billboards, print, social media, outdoor advertising and digital spots (it seems the Biebs' reach is far and wide). And since he's known to strip off his clothes anywhere and anytime he chooses, it almost seems like this underwear campaign is perfect for him. He told WWD he's "a longtime fan of the brand and have worn their jeans and underwear for a while, so this is kind of like a dream come true. This is the beginning of an exciting new year for me personally and professionally and being a part of this campaign has been a fantastic opportunity and experience."
And it seems Bieber and fans aren't the only ones who are happy he just secured a new gig that consists of him capitalizing on his exhibitionist tendencies. "Justin joins a long list of musicians, models, celebrities and fashion icons that have been featured in our global advertising campaigns," Melisa Goldie, chief marketing officer for Calvin Klein, told WWD. "Justin's global recognition, expressed affinity for the brand and powerful persona bring a compelling energy to our jeans and underwear brands." Personally we don't know any men that want to wear the same panties as the Biebs, but you can bet your girlfriends and wives will be out there scooping up those boxer briefs by the dozen. Yay.