Santa Fe hotels With so much to do and see in Santa Fe, it's easy to find the right hotel.
Santa Fe
Travel Guide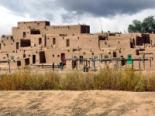 Taos
The laid-back mountain resort town of Taos, about 70 miles (113km) north of Santa Fe, is in the centre of New Mexico's most sparsely populated region, serving as a popular ski resort in winter and artist's colony all year round. The main attraction at Taos is Taos Pueblo, the largest of northern New Mexico's Indian pueblos where life has changed little since ancient times. In the town, which sits between the majestic peaks of the Rocky Mountains and the deep Rio Grande Gorge, the old Spanish plaza is full of shops and museums and an unusual community who live in half-buried houses and reject materialism. The arts scene is particularly lively, and there are some excellent restaurants. Some of the diversions on offer include llama treks, hiking, biking and white-water rafting.


Telephone: (505) 758 3873
Travel guide by (c) Globe Media Ltd. By its very nature much of the information in this travel guide is subject to change at short notice and travellers are urged to verify information on which they're relying with the relevant authorities. We cannot accept any responsibility for any loss or inconvenience to any person as a result of information contained above.