Prague hotels With so much to do and see in Prague, it's easy to find the right hotel.
Prague
Travel Guide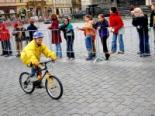 Traffic Rules Playground Prosek
The modern (Traffic Rules Playground) is an exciting attraction for kids in Prague. The playground features mini roads, with traffic lights and stop streets, which can be explored on bikes and automated scooters or in fun, child-size cars. This playground offers a great learning experience for kids of all ages, and is a great place to let children run off some steam on a nice day sightseeing in the city.


Address: Litv?­novsk?? 500, Prosek, Prague 9
Opening Time: Monday to Friday; 10am to 7pm (June to August), 1pm to 6pm (April, May, September and October)
Admission: 10 CZK for an adult with a child
Travel guide by (c) Globe Media Ltd. By its very nature much of the information in this travel guide is subject to change at short notice and travellers are urged to verify information on which they're relying with the relevant authorities. We cannot accept any responsibility for any loss or inconvenience to any person as a result of information contained above.