Prague hotels With so much to do and see in Prague, it's easy to find the right hotel.
Prague
Travel Guide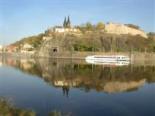 Vy┬?ehrad
Vyaehrad, a hill fort perched on a rock above the river, is an integral part of the Prague skyline. The twin spires of the Neo-Gothic Saints Peter and Paul Church are visible from afar and the fa?žade has beautiful carvings. No other site in the city has as much distinction attached to it. Behind the church is the Slavin Cemetery where many distinguished Czech artists, scientists and academics are buried. From the battlements the view of the Vltava valley is superb, and many tourists in Prague come to Vyaehrad simply to take pictures of the impressive vista.


Address: V Pevnosti 159/5b, Prague 2
Website: www.praha-vysehrad.cz
Email: info@praha-vysehrad.cz
Telephone: 241 410 247 or
Transportation: Metro to Vy┬?ehrad on the C line. Trams 7, 8 or 24 to Albertov or 3, 7, 16 or 17 to V??ton
Opening Time: Daily 9.30am to 6pm (April to October), 9.30am to 5pm (November to March)
Admission: Vysehrad Gallery: 20 Kc; the Brick Gate: 20 Kc; Casemate: 50 Kc. Concessions available. Entrance to the grounds is free
Travel guide by (c) Globe Media Ltd. By its very nature much of the information in this travel guide is subject to change at short notice and travellers are urged to verify information on which they're relying with the relevant authorities. We cannot accept any responsibility for any loss or inconvenience to any person as a result of information contained above.