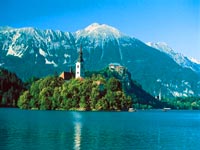 Overview:
A small country, half the size of Switzerland in the south of central Europe, Slovenia is packed with unusual and often unique attractions and experiences, from primeval forests to a lively and architecturally beautiful capital city, and from thermal springs to its mysterious karst (limestone plateau) caves.
The country is sandwiched between Italy, Croatia, Hungary and Austria, with a coastline on the Adriatic Sea to the south west.
Visitors to this picturesque corner of Europe can enjoy several amazing and contrasting experiences in the space of one day: start with a morning dip in the Adriatic, followed by a couple of hours skiing on Alpine slopes, then explore the subterranean wonders of the karst caves or become invigorated with a thermal bath, before strolling through vine-clad hills or ancient forests and ending the day in a sophisticated casino. Ideally though, it takes much longer than a day to sample all the delights of this fascinating country.
The vibrant capital city, Ljubljana, sports a mix of Baroque, Renaissance and Art Nouveau architecture, exuding an Austro-Alpine atmosphere gleaned from belonging to the Austro-Hungarian Empire for many centuries.
Finally, Slovenia boasts of having 2,000 hours of sunshine a year in which to enjoy all its offerings. The locals are proud to explain why visitors are enchanted with their country: Slovenia is the only country in the world with 'love' in its name! An up-and-coming European holiday destination, visitors are strongly urged to check out Slovenia before the inevitable effects of mass tourism begin to take hold.